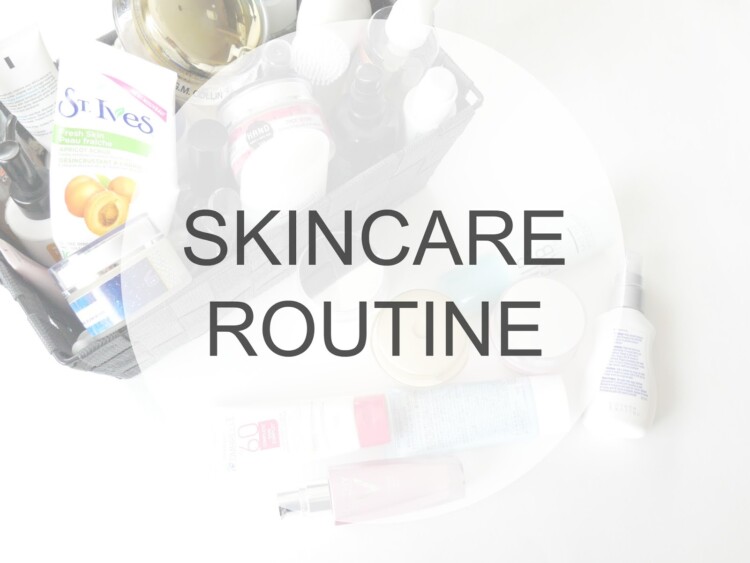 If there is one thing that has been consistent throughout my blogging journey, it would be I always get compliments for my skin. Every time I post a picture of myself, I will get a couple of comments about my skin. Never mind the wonky eyeliner or terrible lipstick application or even the product that I was reviewing, it's usually my skin that gets the attention.
So today I'll be sharing my in-depth skincare routine which I promised to feature yonks ago however, given that I use so many things plus my pure laziness, it took me forever to write this post. I was even tempted to create a video so I could explain everything in detail but I looked at the camera, the camera looked at me and we came to an agreement that we'll never be in a YouTube relationship.
I will put out a disclaimer that I am not a skincare expert, not a dermatologist or a physician (check out Anne's blog (here) because she is a physician so this mama knows what she's talking about) but I'm just sharing what works for my skin. I'm also 37 years old with dry, dehydrated skin but not sensitive so some steps and products will not work for you. Unfortunately I will not be talking about the ingredients or sharing how each product performs because it would be too long for a post however, if you have any questions regarding the products and would like to know more then let me know in the comment section below. I promise to answer you as best as I can or I will create another post which will have more in-depth explanation if many are asking the same question. I also won't be including my face masks in this post as it needs a whole post by itself so look out for that in the upcoming weeks.
With all that out of the way, grab a coffee, tea, beer or wine (oh yea!) and let's get into my skincare routine.
CLEANSERS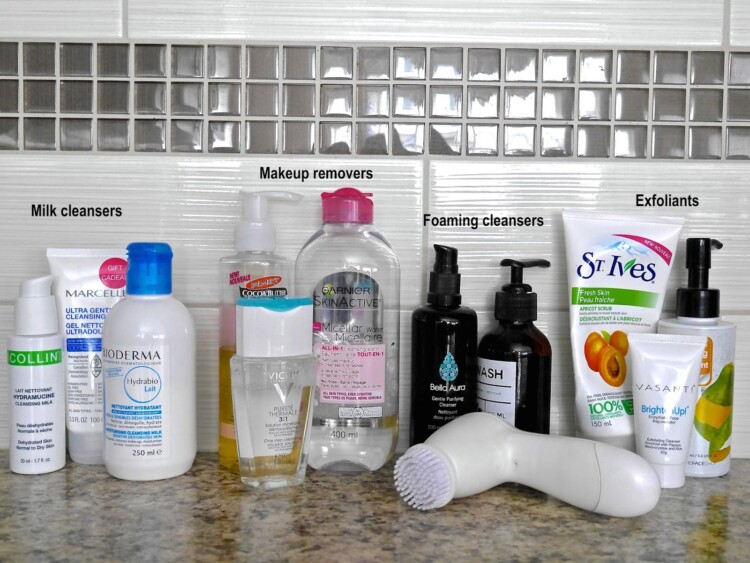 I don't believe in splurging on cleansers or anything that lasts less than a minutes on my skin. Now I get away with this because I don't have problematic skin, my pores are not congested, I don't have blackheads or breakouts and pretty much the only thing I combat is dry spots. And to combat my dry skin I use only milk cleansers in the morning; foaming cleansers are like VIP invitation to dry spots. In the evenings I use either Garnier Micellar Water, Vichy Pureté Thermale 3-in-1 Cleansing Micellar Solution* or Palmer's Cleansing Oil to remove my makeup (first cleanse) and then followed by a foaming cleanser used in conjunction with my old trusty, Olay Pro-X. Finally, as the third cleanse which I do two to three times a week, I'll use an exfoliator.
TONERS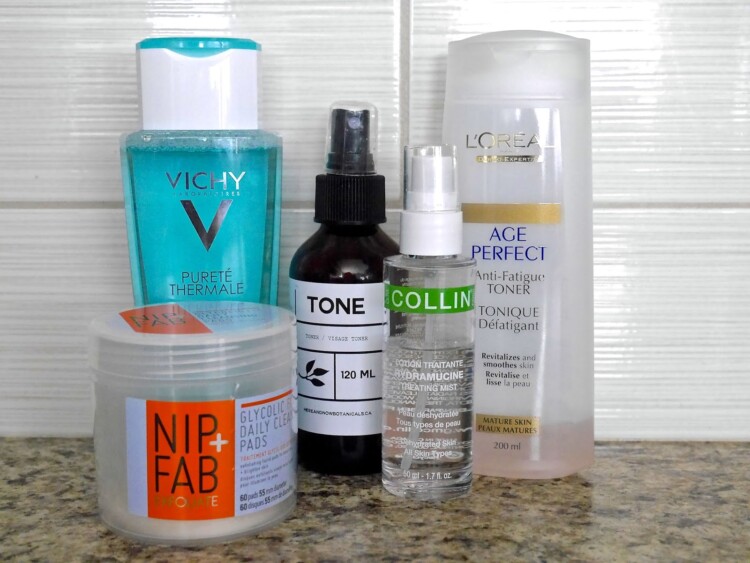 I know many don't believe in toner but I do and I treat it as a primer for all my other skincare; facial oils, serum, eye cream, etc. Depending on how my skin feels that day, I have a few toners to target certain problems.
· Hydration ~ L'Oreal Age Perfect Anti-Fatigue, Vichy Pureté Perfecting Toner*, GM Collins Hydrating Mist* (reviewed here)
· Spots ~ Here & Now Botanicals Toner* (reviewed here)
· Exfoliating ~ Nip + Fab Glycolic Cleansing Pads (once every couple of days and only in the evenings)
FACIAL MISTS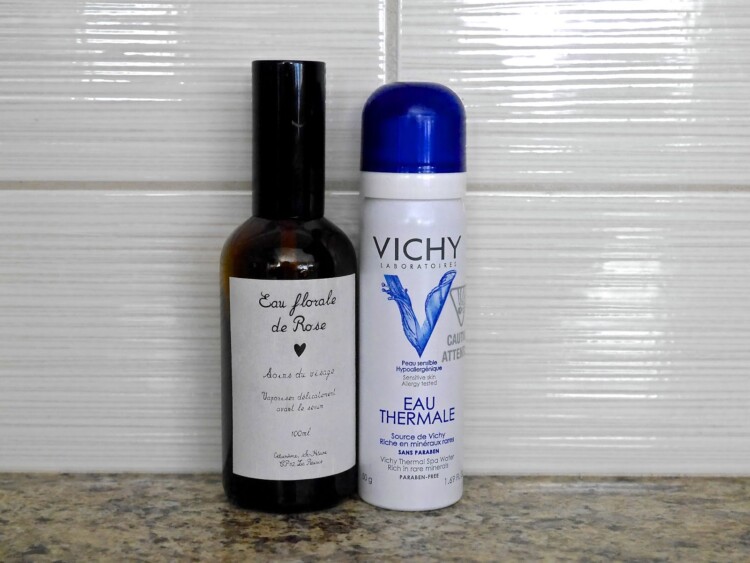 I started using a facial mist everyday because it allows faster and better absorption into the skin for facial oils. And the two that I have are Vichy Mineralizing Thermal Spa Water* and Les Soins de Jacynthe Rose Water* (reviewed here). I have not changed my mind about the latter, I still think it's overpriced for what it is and frankly I am only using it because I hate to throw a full bottle away but so far I'm enjoying Vichy Thermal Spa Water*. I feel that it does a great job in hydrating and freshening up my skin and it's something that I will be repurchasing once this little can runs out.
FACIAL OILS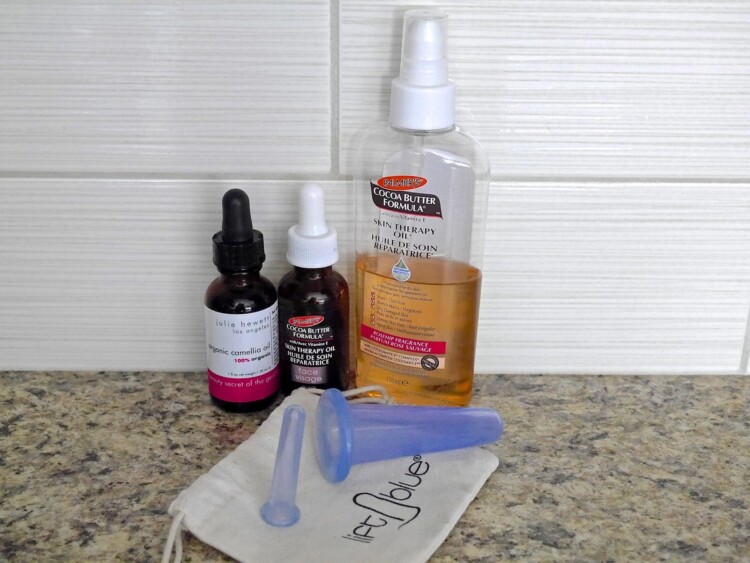 Currently I have three facial oils in rotation; Palmer's Skin Therapy Oil (Face), Palmer's Skin Oil Therapy with Cetesomate-E Complex and Julie Hewett Organic Camellia Oil*. I use solely the camellia oil* during the day but for the evenings, I will first layer either one of the Palmer's followed by the camellia oil*. I find this has been extremely beneficial for my dry, mature skin as it locks in the much needed moisture to my face. I am also  still dedicatedly using CelluBlue Anti-aging cups* (reviewed here) because I swear this duo helps to keep my fine lines at minimum!
RETINOL & SKIN PEEL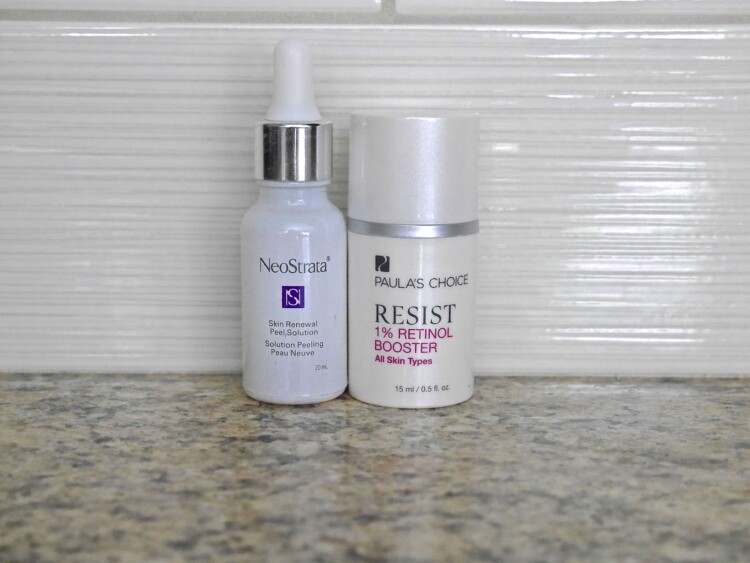 I still have a tiny bit of Paula's Choice Resist 1% Retinol Booster (reviewed here) and I use this once every couple of evenings (only in the evenings). I use half a pump and apply it to my skin after layering my two facial oils.
Once a month I will use Neostrata Skin Renewal Peel Solution to slough away my dead skin. This product is amazing, like seriously I can't be without it. This  peel contains 10% glycolic acid and 10% gluconolactone and my skin looks super radiant after every treatment. I apply this after cleansing, leave it on the face for 20 minutes, rinse and then followed by toner and the rest of my skincare.
SERUMS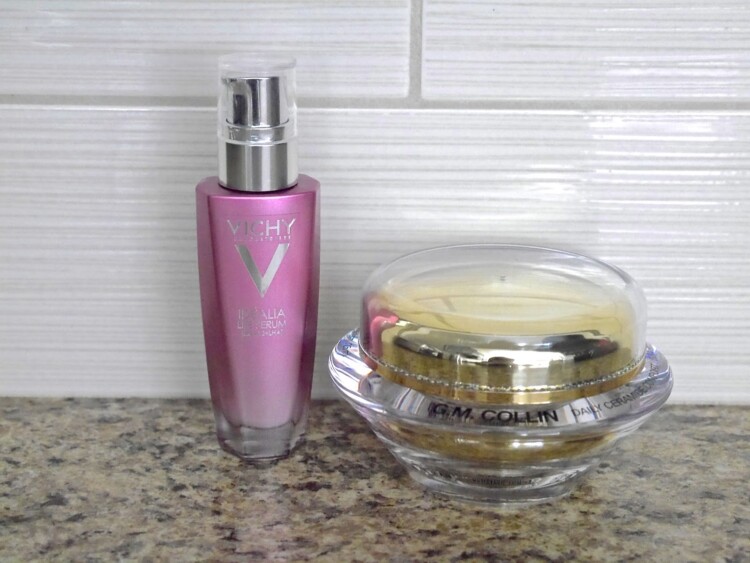 There is never any shortage of serums in my stash but my current obsession is Vichy Idéalia Life Serum* for both day and evening. It's a beautiful serum which softens and plumps the skin however, I do wish it wasn't as strongly scented. I don't mind it as much but I think many will not be a fan of it. Occasionally when I am feeling a little fancy then I will use GM Collin Ceramide Comfort* (reviewed here) instead but such occasions are at most once or twice a month and right around that bloody time of the month when my skin decides to go bat-shit crazy on me.
EYE CREAMS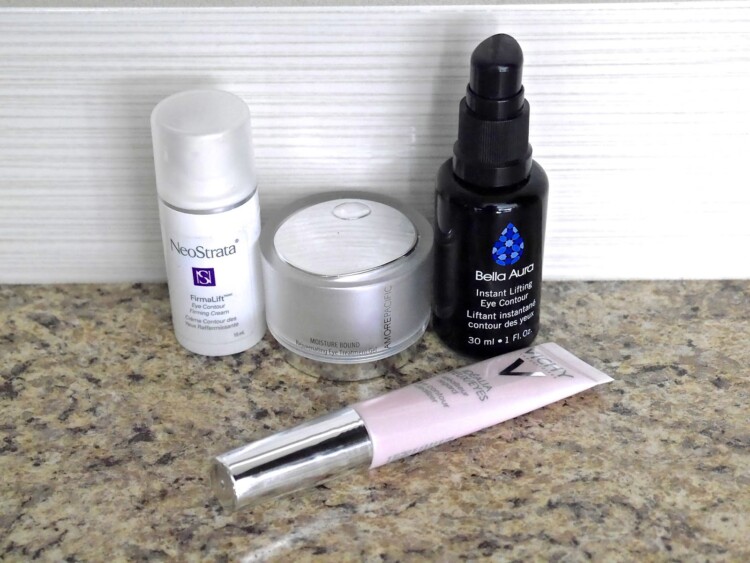 Again, I have a few eye creams in rotation; Neostrata FirmaLift Eye Contour Firming Cream* (reviewed here), AmorePacific Moisture Bound Rejuvenating Eye Treatment Gel* (reviewed here), Bella Aura Instant Lifting Eye Contour (reviewed here) and Vichy Idéalia Eyes*.
It can be quite tricky when it comes to treating dark circles and bags under the eyes. I really love using Vichy Idéalia Eyes* for day time as it has illuminating properties and I find my under eye areas looking really bright and fresh with it. However, I do find it to be too light for the evenings so I stick to either Neostrata, Bella Aura or AmorePacific.
MOISTURIZERS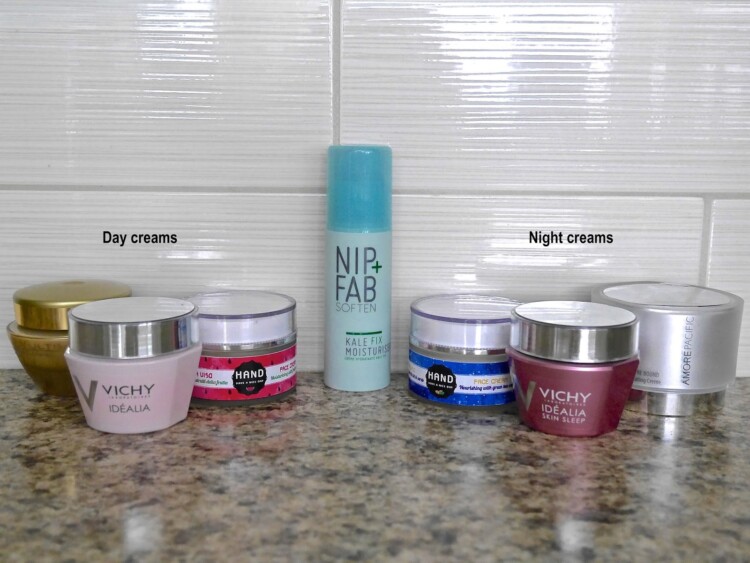 Now this is the trickiest part for me as I get extremely fickle depending on how my skin feels that moment. If it's a very sunny day and my skin is feeling normal-ish then I will reach for Avon Anew Ultimate Cream SPF25 but if my skin is feeling dry and crappy and needs the extra loving then my choice will either be HAND Goodmorning Cream* or Nip+Fab Kale Fix Moisturizer* or Vichy Idéalia Day Cream*. The latter three choices are thick and rich creams which hydrate my face almost instantly. I do think they would be slightly too rich for oily skin lovelies but my dry skin drinks them up almost instantly. The evenings are even trickier as it depends on what face masks I use but I will go into more details in my face masks post later. For now I will share the few evening moisturizers that are in my rotation; HAND Goodnight Cream*, Nip+Fab Kale Fix Moisturizer*, Vichy Idéalia Skin Sleep* or AmorePacific Moisture Bound Rejuvenating Crème*. HAND and Vichy are for nights when my skin is feeling pretty good but when my skin is feeling extra parched and dry then I reach for Nip+Fab or AmorePacific. I also have two overnight face masks that I use once or twice a week while skipping my evening moisturizer (sometimes used on top of evening moisturizer) but again, I will get to it in another post.
SUNSCREENS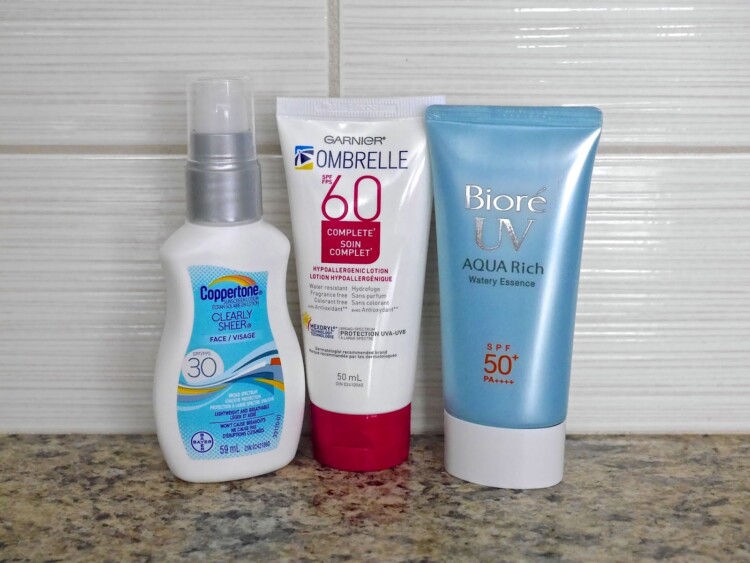 I never ever felt the need to use the extra sunscreen back when I was living in Malaysia. I spent 90% of my time indoors whether it's in a mall, office or at home but that all changed now that I'm living in Canada. The sun rays also feel way deadlier here maybe because the lack of high rise buildings to provide shade. Currently I have three facial sunscreens in rotation; Bioré UV Aqua Rich Watery Essence SPF50+ PA++++ (a lovely gift from Emmy, say hello here), Coppertone Clearly Sheer Face SPF30 Broad Spectrum UVA/UVB Protection and finally, Garnier Ombrelle SPF60 Complete. I do avoid using Bioré if my skin is feeling dry because it has high alcohol content but otherwise, it's a beautiful sunscreen, absorbs very quickly and makes the perfect base for makeup. If I use Garnier or Coppertone, I do have to wait for a couple of minutes before applying my makeup but both are equally lovely under makeup. And…that's it! Phew! If you made it to the end then you are a freaking superstar, Superman, or Superwoman because I know this is a very long post. Again, I am so sorry for not going in-depth into each product but please leave your questions in the comment section and I will answer to the best of my ability. *Products marked with * were received for free but my thoughts and opinions are 100% unbiased, honest and my own. There is no place for any sort of BS here.