Farmacy Beauty is a brand that has been making huge waves in the beauty blogsphere since early this year. Or at least that's when I took notice of the brand after reading a few reviews on it especially on Rowena's blog (say hello here).
About the brand:
"Farmacy Beauty prides themselves as using farm-grown and hand-picked botanicals and fuses age-old wisdom with cutting-edge technologies to create irritant-free bioactive formulations for fresh, radiant skin.
The products are powered by Echinacea GreenEnvy™ which contains the highest known concentration of the phytochemical Cichoric Acid, a potent natural antioxidant which helps protect and firm the skin by inhibiting the enzymes that break down collagen. Cichoric Acid also normalizes the skin pigmentation process to promote a more evenly toned complexion.
All their products are not tested on animals and free of parabens, formaldehyde and artificial colouring."
It will come as no surprise that when I saw the opportunity to try and review Farmacy's latest face mask; Honey Potion Renewing Antioxidant Hydration Mask* on Brandbacker, I was more than quick to apply. I was over the moon when I was accepted into the campaign and was eager to test for myself to see if all the amazing reviews on this brand were well deserved.
I have been testing this mask twice to three times a week for almost a month and let's see how I got along with it.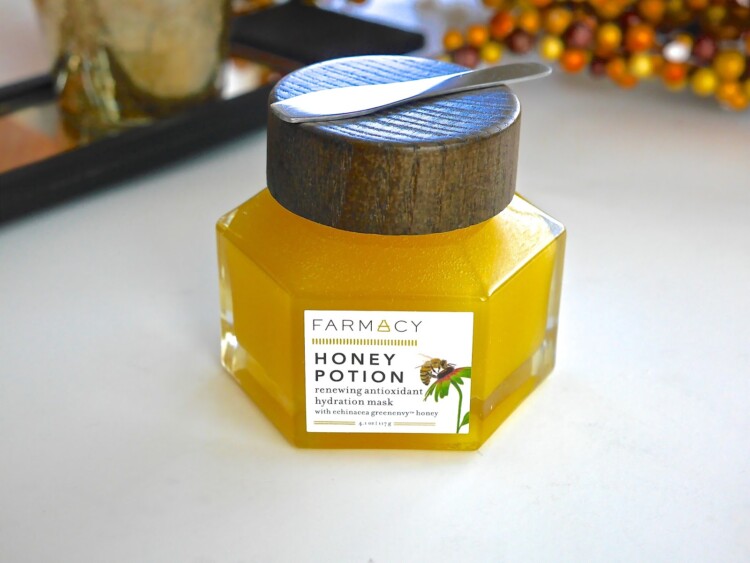 Farmacy Beauty's Honey Potion Renewing Antioxidant Hydration Mask* is the first in the brand's debut line of honey products. What makes it unique or at least to me, Honey Potion* is a warming massage mask that supposedly helps nourish and revitalize the skin. It has a moisturizing combination of honey (a natural humectant), propolis (a healing antiseptic found in beehives which I've recently read about on Rowena's blog) and amino acid-rich royal jelly to enhance skin renewal for a younger looking skin.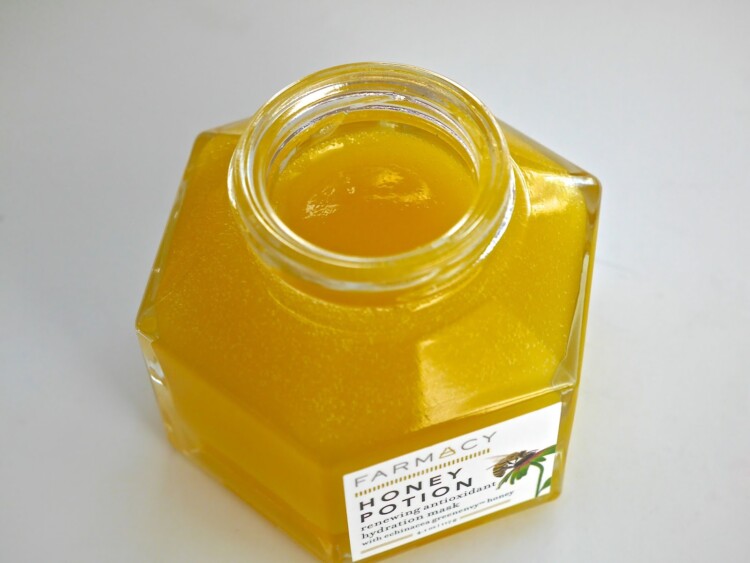 Ingredient: Glycerin, Diglycerin, Polyglyceryl-10 Stearate, Honey Extract, Propolis Extract, Royal Jelly Extract, Panthenol, Caprylic/Capric Triglyceride, Hippophae Rhamnoides Oil, Zingiber Officinale (Ginger) Root Extract, Allantoin, Phenoxyethanol, Echinacea Purpurea Root Extract, Honey, Water, Flavor, Vanillyl Butyl Ether.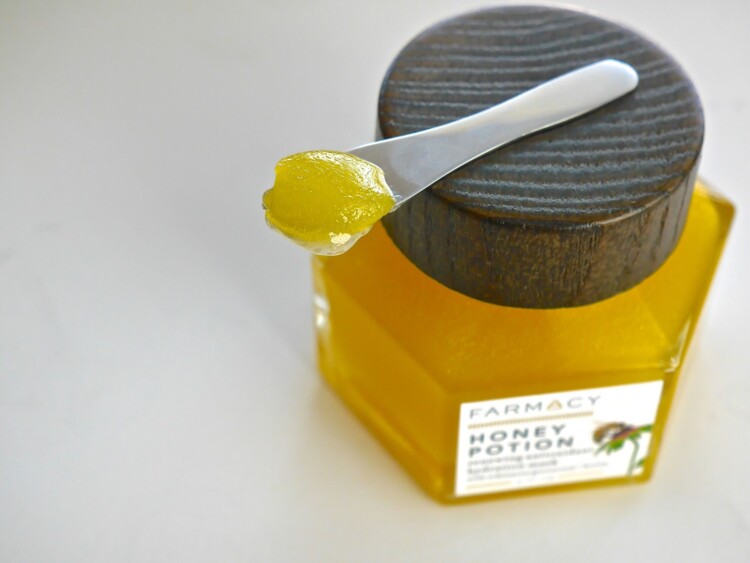 First and foremost, let's take a couple of seconds to appreciate the beautiful glass jar with wooden screw top lid packaging. The lid is actually magnetized so the spatula remains on it instead of going MIA after a week of usage.
The texture of this mask is very thick, it's similar to honey when it's left in cold temperature. It does have a very subtle scent to it and again, it's also similar to honey. To use is fairly easy; after cleansing and toning, spread a thick layer on the skin (avoiding eye areas and lips), massage it for a minute, leave it for 10-15 minutes and then rinse.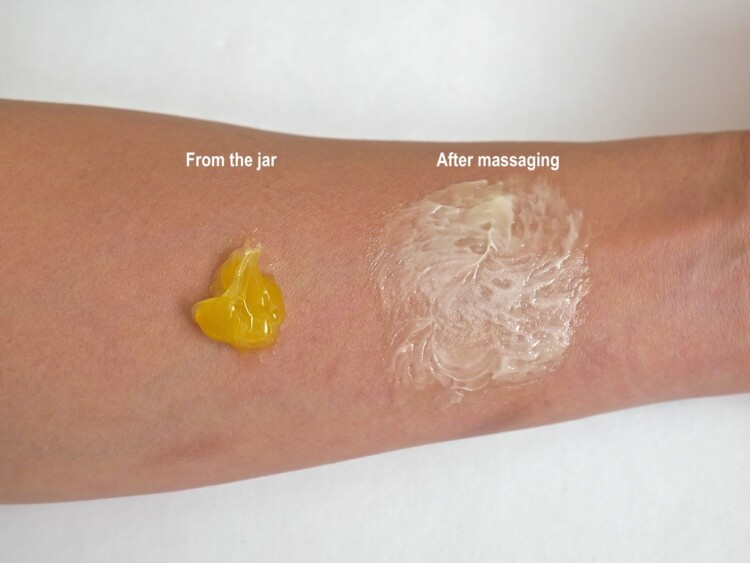 As I said earlier, this mask is unique to me as I have never tried a warming mask before so my first time using this mask was an interesting experience. The mask transforms into a thick, tacky, whitish cream as I massage it and I can definitely feel the warm sensation for as long as the mask is on my face. Rest assured the warm sensation is not uncomfortable on the contrary, it's lovely and I can see myself reaching for this mask a lot in Winter. I was a little worried that this mask would be hard to rinse off but to my surprise it actually washed off easily.
I was fairly disappointed after I didn't notice any differences to my skin after the first use, there was no suppleness or plumpness that I usually get from most face masks. And it was the same during my second and third use however, the second week I used it I started noticing my skin had noticeably cleared up (yessss!) and is looking much fresher, softer and smoother. And dare I say my skin is actually brighter and glowing too!
This has been the mask that I reach for whenever I need my skin to look its best, I love using it the night before when I have an important day the next day. I also have been getting compliments on my skin recently and the only changes to my routine has been the addition of this mask three times a week.
My first experience with Farmacy Beauty has been an amazing one albeit it took some time for me to notice the results. I highly recommend this mask for all skin types as I think even the sensitive skin lovelies will enjoy it thanks to honey, propolis and royal jelly being some of its main ingredients.
Farmacy Beauty Honey Potion Renewing Antioxidant Hydration Mask* can be purchased through the brand's website (here) or through Sephora (here) and for every bottle sold, Farmacy Beauty donates $1.00 to City Growers. This nonprofit engages city kids in active learning about where food comes from and including the importance of bees, pollination and the production of honey.
Are you a fan of honey in your skincare? *I received this product for free but my thoughts and opinions are 100% unbiased, honest and my own. There is no place for any sort of BS here.