I have been working so much recently that it's honestly been taking a toll on my blogging side. I have been working till closing almost everyday and to say I'm exhausted is an understatement. I know I have not visited and caught up on blogs and comments but I promise I will so please bear with me.
Today's post is a short summary of the best highlighters that I have in my collection. I asked if anyone was interested in reading about it and some of you did so without further ado, let's get to it. Now I know not everyone has the budget to spend lots of $$$ on highlighters or wants to especially if they have never used one before so there is something for everyone with all sorts of budget.
THE BUDGET FRIENDLY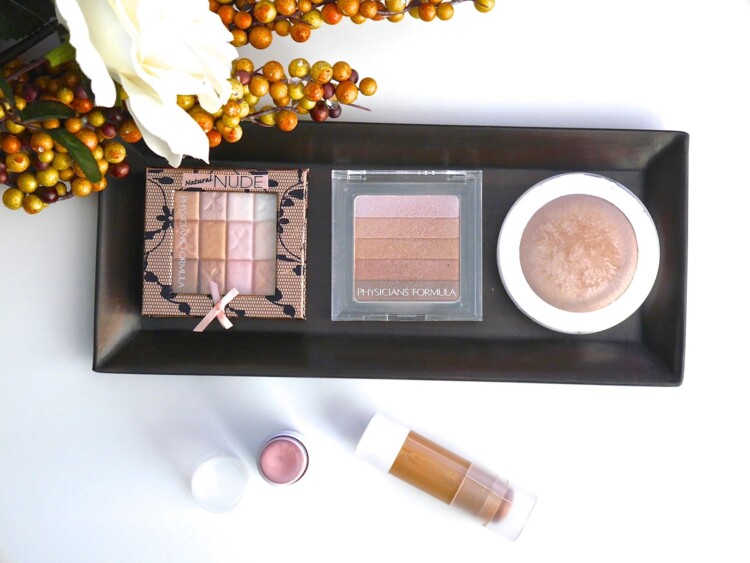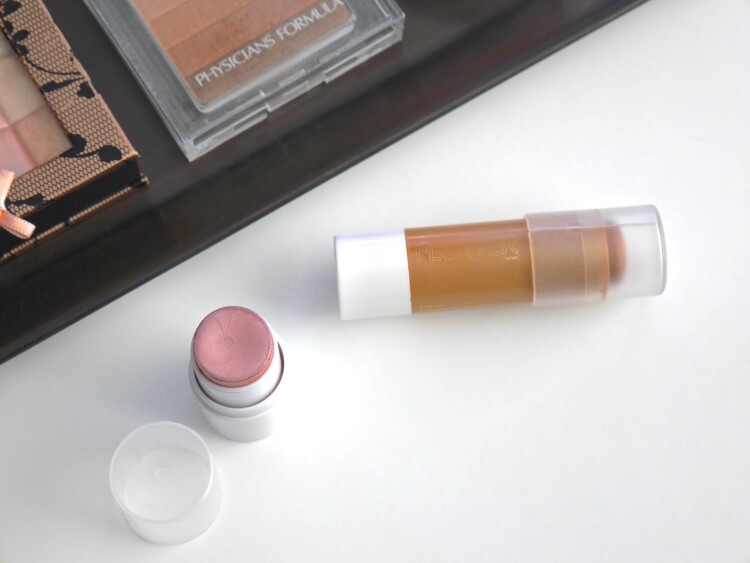 I personally find 
Physicians Formula
 makes the best bronzers and highlighters in the drugstore. Two of my favourite highlighters are from the brand, 
Shimmer Strips All-in-1 Custom Nude Palette for Face & Eyes
 in shade 
Natural Nude
 and 
Shimmer Strips Custom Bronzer, Blush & Eyeshadow
 in shade 
Miami Strip
 which was highly recommended by KathleenLights. The former is very pigmented and has a buttery soft texture that is similar to ABH eyeshadows which means a little goes a long way and it's easy to over-apply. The latter on the other hand has a hard surface, almost baked like so it allows you to slowly build up the intensity. Both highlighters are hands down the best from the drugstore and last the whole day on me without fading.
Another recommendation by KathleenLights and my first powder highlighter is 
Hard Candy Baked Bronzer
 in shade 
Tiki
. Why this is marketed as a bronzer is beyond me because this without a doubt is a highlighter and it's a stunning one too. If you are looking for high shine that can be seen from space then this is not for you as it gives the most beautiful but subtle healthy sheen to the skin. It also lasts the whole day on me and is my third favourite from the drugstore.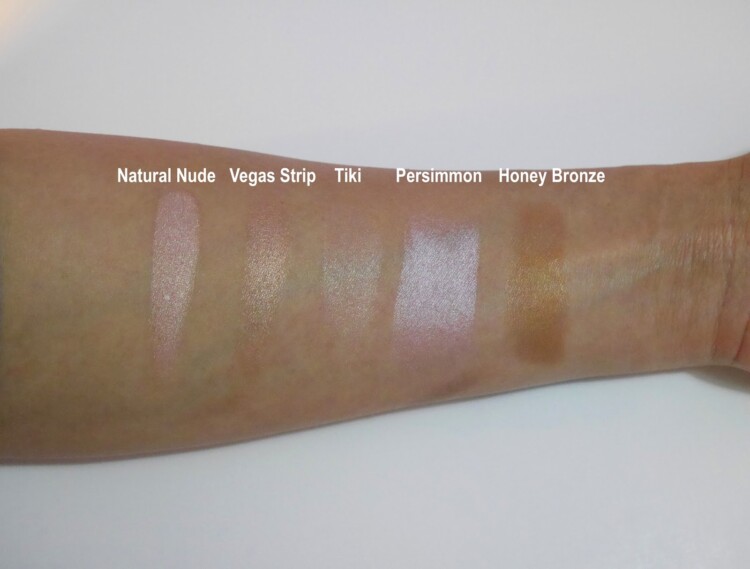 If powder highlighters are not your cup of tea then 
e.l.f All Over Stick 
or 
Flower Beauty Glisten Highlighter Chubby 
might suit you better. I have 
e.l.f Persimmon 
and I used it non stop for months after adding it into my growing highlighter collection. It has a smooth texture, blends beautifully on the skin and lasts all day without fading too. The only downside is it has a bubblegum scent to it that might be bothersome to some. 
Flower Beauty
 in shade 
Honey Bronze
 was bought on a whim as it was on clearance and gosh, it is beautiful. Again, it has a smooth texture, blends seamlessly into the skin and gives the most beautiful natural looking radiance to my skin. It is very bronzy which suits my medium skin tone well but if you are fair then it would make a gorgeous shimmery bronzer. Be warned that it does fade a little after 6 hours so if you are planning to wear it all day then you're better off with 
Persimmon
.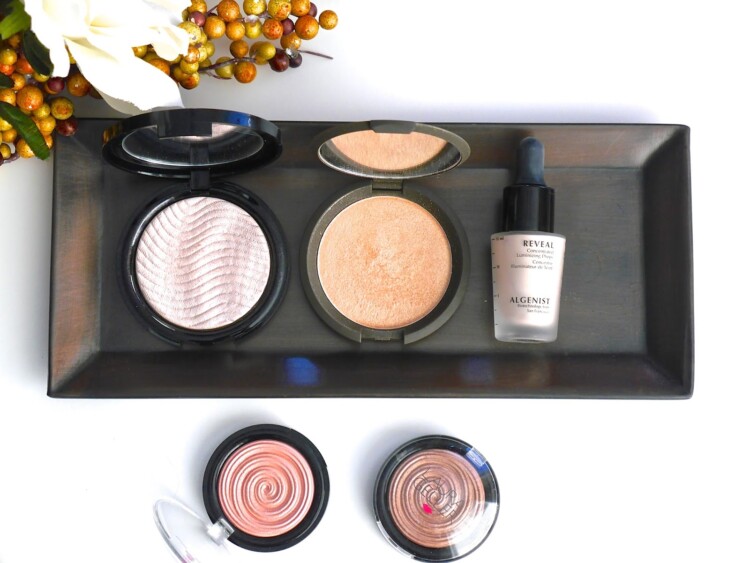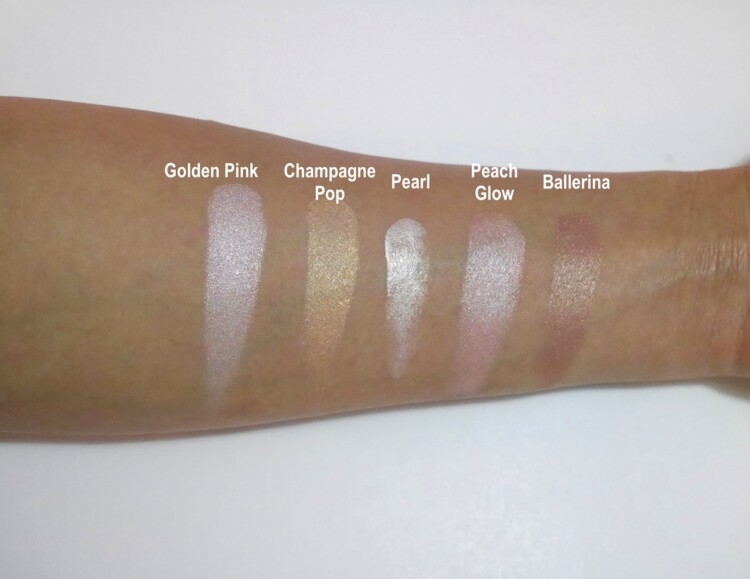 These are 
not-so-wallet-friendly
but if you can't afford real diamond dust then these are the next best thing. First up, 
Make Up For Ever Pro Fusion Highlighter
 in shade 
Golden Pink*
. Yes, I know you are probably sick of me talking about it but there's a whole lot of good reasons why I can't get enough of it so hop over and read my full review 
here
. Next up, the cult favourite 
Becca Shimmering Skin Perfector
 in shade 
Champange Pop
. I'm not going to explain myself but let's just say all the amazing, glowing reviews on it are true. It's by far one of the most stunning champagne gold highlighters in the market. It is intense but 
ermahgaddd
, so beautiful.
Laura Geller Baked Gelato Swirl Illuminator in shade Peach Glow and Ballerina are some of my favourites to use. Actually I would even go as far as claiming that I might prefer them to Champagne Pop. Shocking? Maybe but it's the truth. Peach Glow shows up as a soft, pale pink on my skin tone while Ballerina is a beautiful and confusing mixture of peach, bronze and gold and both are equally stunning. Both give a soft, subtle radiance when applied with a light hand but can be easily built up to give Champagne Pop a good run for the money. I can't thank Kim (say hello here) enough for these as they are part of a lovely package that she sent me.
Finally, meet my latest obsession…Algenist Concentrate Illuminizing Drops in shade Pearl. I am officially hooked and I want to get my hands on the other two shades. Yes, this bottle comes with only 15mL of product but trust me when I say, 1/3 of a drop is enough for my cheekbones, nose and cupid bow. I used half a drop once and mama's face was like a lighthouse beckoning the ships to shore. I love this not only for its beauty, it also can be mixed with foundations to impart the most dewy, radiant finish.
2016 has been an amazing highlighter discovery year and my collection has grown immensely within the year. I went from zero highlighters to almost 20 within a year which I know is not much for many but it was enough to make my husband understand and know what highlighters are. Or at least it was enough for him to say"Don't you have like 90978968767 highlighters already?!!".
Men…why do they always learn things that you don't want them to learn…
*Products marked with * were received for free but my thoughts and opinions are 100% unbiased, honest and my own. There is no place for any sort of BS here.
ps: This will be the last post of 2016 from me and I'll see you guys again after the New Year! Wishing all of you lovelies a very Merry Christmas and Happy New Year! Mwahhh! 💖 

Customer of the week: A man wandered in and when asked how could I help him, he said "NYX? It's a familiar brand". Two minutes later and after a few different recommendations, I chatted with him while ringing up his purchases and he said "last year I asked her what she wanted for Christmas and she said take her to Sephora…never making that mistake again. I'm NOT spending $1000plus every Christmas!". He left looking mighty pleased with $200plus worth of makeup and chocolate for this Christmas. 😂