I made no secret about being all shopped-out, saled-out all over my social medias. My bank account is begging and waving the white flag but….when there is a brilliant, fabulous sale to be shared, I just have to do it.
My adoration for Vichy and La Roche Posay is well documented over the years and both brands are currently having a brilliant Black Friday sale. You really can't go wrong with any of their products but I am sharing just the very few that I, myself have repurchased multiple times and will continue to do so.
As always, shop wisely (advice that I should really follow myself) and purchase products that you need or know will get a lot of use and don't buy just for the sake of buying or because it's on sale.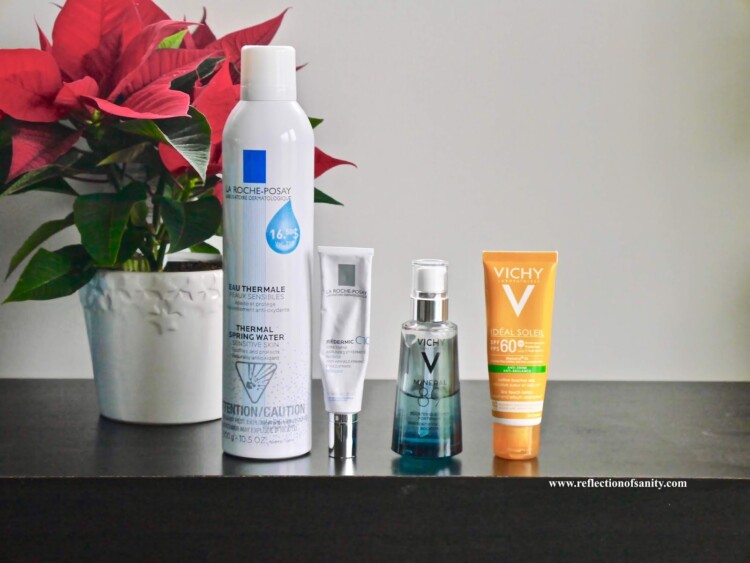 VICHY MINERAL 89 (retail: $39.95CAD sale:$29.96CAD)
Any surprise here? I lost count how many bottles I've gone through and will continue to purchase it. It contains only 11 ingredients and it helps fortify and plump up the skin. I use it right after cleansing and FTE (first treatment essence) or mix a pump of Paula's Choice 1% Retinol Booster with it for the evenings. It's a brilliant product that can be used alone or mixed and matched with others. Forever love.
VICHY IDÉAL SOLEIL SPF60 ANTI-SHINE DRY TOUCH LOTION (retail: $28.95CAD sale:$21.71CAD)
Now don't get me wrong, I love all Vichy's sunscreen but this…this is one of the best sunscreens of all time. It leaves a smooth almost matte finish and doubles up as a smoothing primer. This was my saving grace this Summer, keeping my makeup intact in the crazy heat while protecting my skin from the sun. Anti-shine is the perfect way to describe this sunscreen but it works so well even for my dry-normal skin. I'm on my second tube and another forever repurchase.
You can use code: SHIREEN to receive 25% off sitewide + Free Shipping + Free 16 pieces gift www.vichy.ca. I do receive a small commission if you use the code but if you're not comfortable doing so then you can use any code that is available on site.
LA ROCHE POSAY THERMAL SPRING WATER (retail: $15.00CAD sale:$12.00CAD)
Holy grail. I have gone through so many bottles and will continue to have it in my routine. It helps neutralize any irritation or redness and I love spritzing it after rinsing my cleanser. It's rich with minerals and I adore how fine the mist is. I have tried Vichy and Avene thermal spring waters and I always come back to this. Love, love, LOVE this and will never be without it.
LA ROCHE POSAY REDERMIC C10 (retail: $59.00CAD sale:$47.20CAD)
This serum contains 10% Vitamin C and I have been using it since 2016 and no surprise that I have gone through multiple tubes. I first fell in love because it helped to significantly fade my pimple scars and freckles and over time, I also noticed my skin looking much smoother, brighter and healthier with it. Yes, it's a little pricey but the results are worth it.