A few months ago I suffered one of the worst breakouts of my life (yes, I will be 90 and still bitching and moaning about the bloody breakout caused by The Ordinary serums (read here)) and it took me a long time to get my skin back on track. There were many trials and errors, many frustrations and disappointments but eventually my skin healed. It took time and patience with the latter being something that I am infamously known to lack.
Today I will be sharing a few products that helped my skin through its journey to recovery. There are old favourites that I should have never wandered away from and new discoveries that took me by surprise. I hope this post will help someone whose skin is going through a rough patch and maybe one of these products will help you too.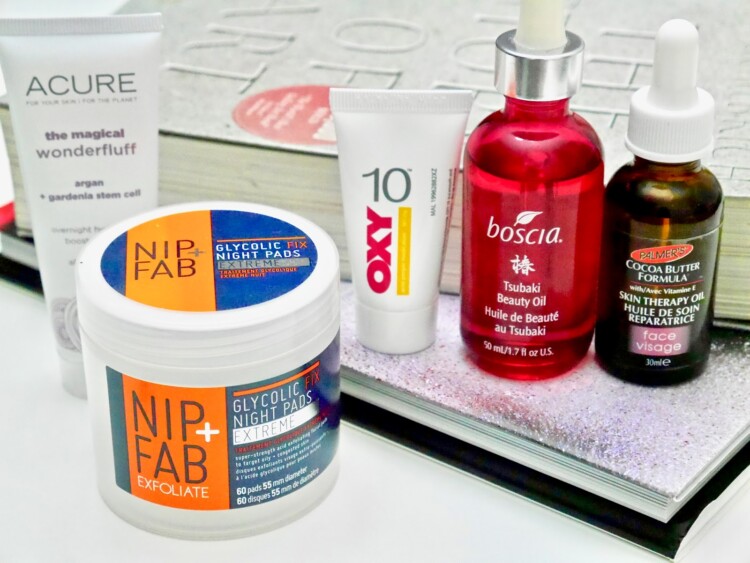 Palmer's Cocoa Butter Formula Skin Therapy Oil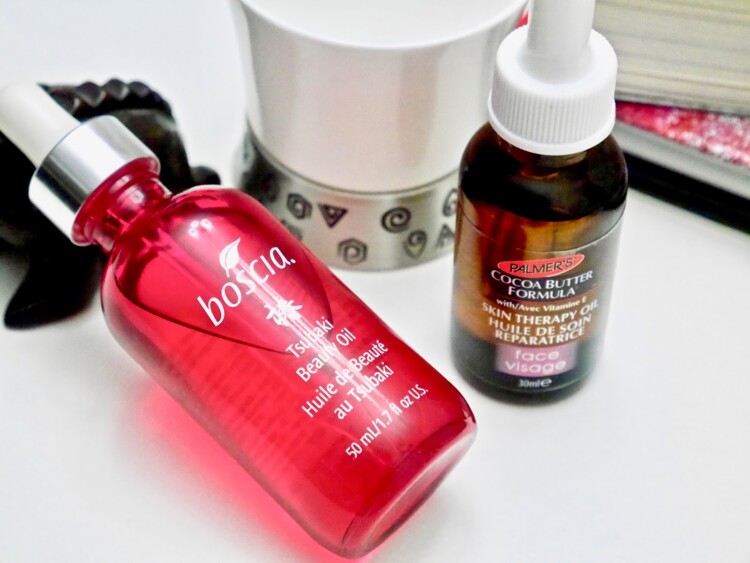 I honestly can't believe nobody is talking about this oil. It has a blend of 10 pure oils, Retinol, Vitamin C and Cetesomate-E® Complex and it's only C$9.99. I wake up to clear, radiant skin every time I use this oil and I either mix a couple of drops with my night cream or use it as the last step of my skincare to seal in everything. If you are new to Retinol and Vitamin C and wish to add both into your skincare routine then I highly recommend trying this oil.
I will not be talking in-depth about this oil as you can read it here but in short, this is one of the lightest oils that I have ever tried. Don't let the lightness fool you into thinking it does nothing because it delivers an amazing punch of hydration without the heaviness and greasiness.
No, I didn't notice any reduction in my fine lines but it helped calm down my skin and brought back the much needed radiance.
 Nip+Fab Glycolic Fix Night Pads Extreme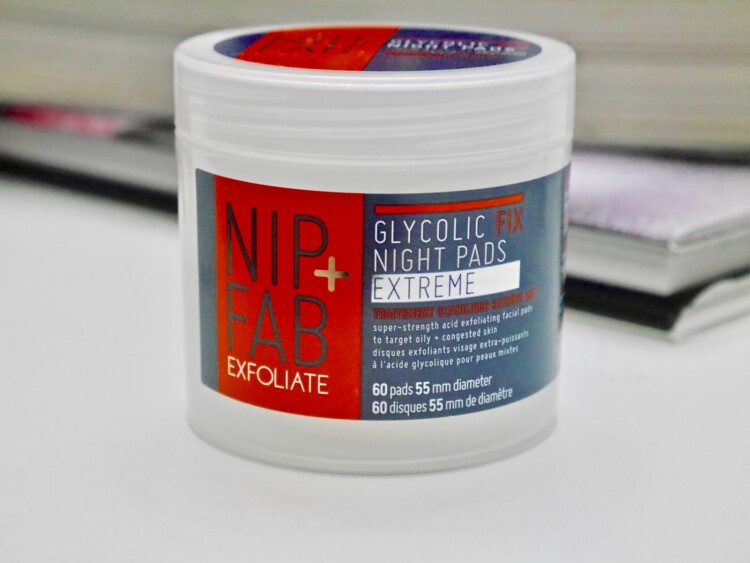 Oh boy, oh ohhhh ohhhhhh boy did my skin miss these pads when I went about a month without them. I noticed my skin looking dull, my pores congested and the breakouts…well, you guys already know the story.
It only took a week of having these pads back into my routine and my skin almost immediately started to heal itself. My skin was still going batshit crazy but it was only a spot or two instead of a family of ten. 
Sorry about this product not in the picture, I really need to repurchase it soon but I'm waiting for a good sale before snapping it up. This serum didn't stop the breakouts but it made a massive difference with the scarring. I kid you not, 4 days after using this serum every night, my scars were 70% faded and my skin was almost back to normal. Not only does it help with the scars, it also brightens, plumps up my skin and most importantly, I noticed my fine lines softened to the point I can barely see them.
Let me know if any of you want an in-depth review on this. 
Acure The Magical Wunderfluff*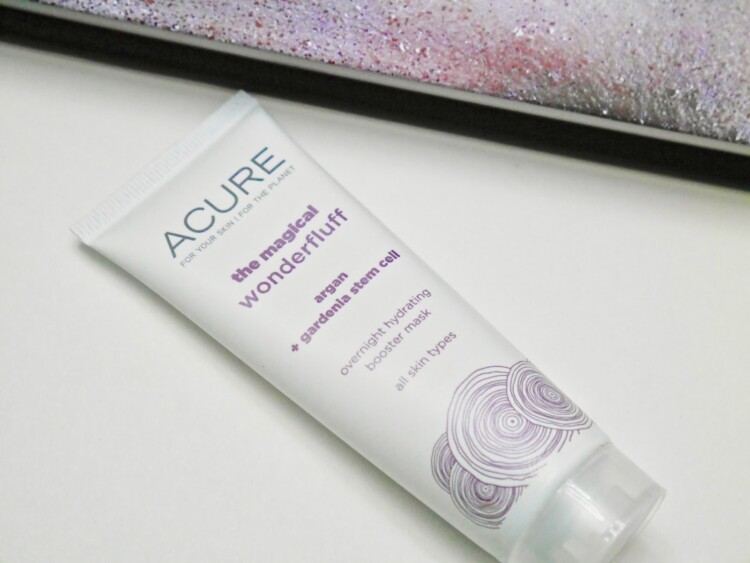 If you have been reading my blog since last year then you'll probably remember how much I love this overnight mask. Again, I will not be writing in-depth about it as you can read about it here and my feelings towards it haven't changed. It's the one that I will reach for whenever my skin is feeling parched and looks like I'm about to have a field of spots and I will always wake up to my skin looking and feeling calmer the next morning.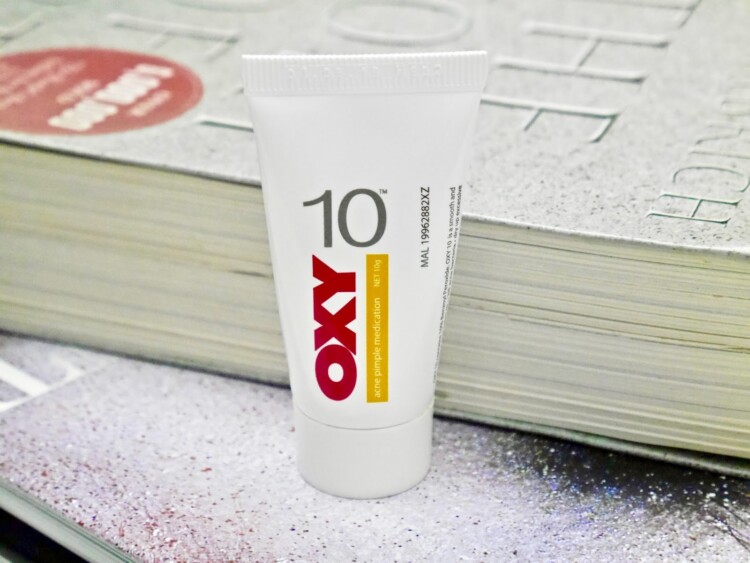 Holy grail of all holy grails. That's all I have to say abut this acne/pimple/spot medication.
I kid…I would be a terrible blogger if I end it there. This medication is easily available in Malaysia, it's displayed on racks and anyone can buy it. You don't need a prescription and neither is it hidden behind the pharmacy counter but I can't find it here in Canada. I think it's high concentration of active ingredients is the reason why it's not sold here but hey, there's always eBay which is where I bought this tube when I ran out of my old one that travelled with me from Malaysia to Canada.
It contains 10% Benzoyl Peroxide and preservatives Methylparaben 0.15%, Propylparaben 0.05%. I and probably 99.9% Malaysians have this in their stash and this dries down spots like no other. Be warned that this is not for everyone, do not use this all over your skin but only on your spots and if any of you are interested but unsure then you could try the 5% Benzoyl Peroxide instead (here).
This product is forever in my stash and I swear by it but please, please read the instructions and start from the lower dosage because you risk severely drying out your skin. Again, use it ONLY on your spots and not like a moisturizer!
I hope this post is helpful to you and anyone who needs an inspiration or idea on what product to try if your skin is acting up. What is your skin saviour? *Product marked with * was received for free but my thoughts and opinions are 100% unbiased, honest and my own. There is no place for any sort of BS here. ps: There won't be any post on Friday as it's Good Friday and I will be taking time off from blogging. We're also in the midst of listing our home for sale and it's been crazy having to leave the house again and again for potential buyers to view the place. I'm exhausted, we are exhausted especially little tyke because his nap time is disrupted. I will be slower in replying and visiting blogs so please bear with me.