Recently I have been looking more into Asian skincare and makeup, something that I failed to get into back when I was living in Malaysia. The only two Asian skincare brands that I had tried back then was Shiseido but only because my mum was obsessed with the brand so she gave me whatever product that didn't suit her skin. And the other was THEFACESHOP because the nail polish was dirt cheap.
Thinking back it was silly of me for not even batting an eyelid to the huge variety of Asian brands available to me at a much cheaper price than here. I blame it on my naivety and ignorance but now that I am wiser and more well informed, it's almost impossible for me to get my hands on Asian brands.
Wishtrend is an online site which offers the latest Korean beauty trends and products at a reasonable price. I first heard about Wishtrend last year and actually signed up as an affiliate but if you're wondering why there are no adverts or affiliate links to the site before this, well I try not to promote anything that I have never experienced myself. So when Wishtrend reached out and offered me the opportunity to test two of their best selling products, I didn't hesitate to agree.
I was kindly sent dear, Klairs Illuminating Supple Blemish Cream (BB Cream)* (check here) and dear, Klairs Creamy and Natural Fit Concealer* (check here).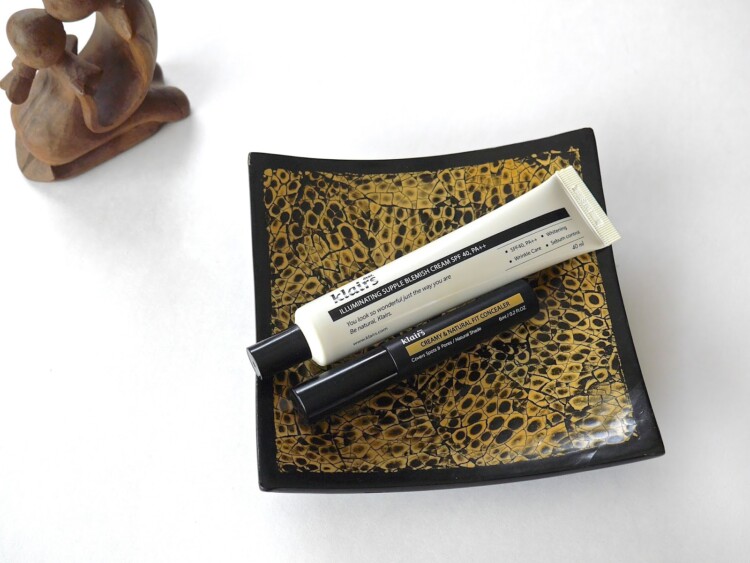 dear, Klairs Illuminating Supple Blemish Cream (BB Cream)* USD$24.99 (check here)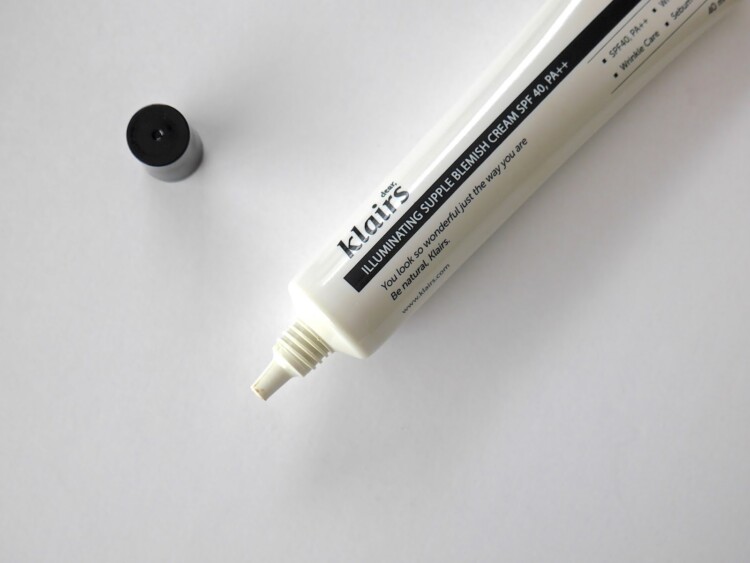 Ingredient list: Water, Cyclopentasiloxane, Butylene glycol, Ethylhexyl methoxycinnamate, Betaine, Cetyl ethylhexanoate, Titanium dioxide, Caprylic/capric triglyceride, Niacinamide, Polysorbate 60, Dimethicone, Cetyl peg/ppg-10/1 dimethicone, Zinc oxide, Yellow oxide of iron, Isoamyl p-methoxycinnamate, Diethylamino hydroxybenzoyl hexyl benzoate, Bentonite, Sodium chloride, Silica, Red oxide of iron, Bis-ethylhexyloxyphenol methoxyphenyl triazine, Stearic acid, Dimethicone/vinyl dimethicone crosspolymer, Chlorphenesin, Talc, Black oxide of iron, Tocopheryl acetate, Fragrance, Centella asiatica extract, Sodium hyaluronate, Glycyrrhiza glabra (licorice) root extract, Portulaca oleracea extract, Piper methysticum leaf/root/stem extract, Illicium verum(anise) fruit extract, Citrus paradisi(grapefruit) fruit extract, Nelumbium speciosum flower extract, Paeonia suffruticosa root extract, Scutellaria baicalensis root extract, 1,2-hexanediol, Caprylyl glycol, Adenosine, Sodium ascorbyl phosphate, Linum usitatissimum (linseed) seed extract, Hibiscus esculentus fruit extract, Aloe barbadensis leaf juice, Arctium lappa root extract, Hibiscus mutabilis flower extract, Corchorus olitorius leaf extract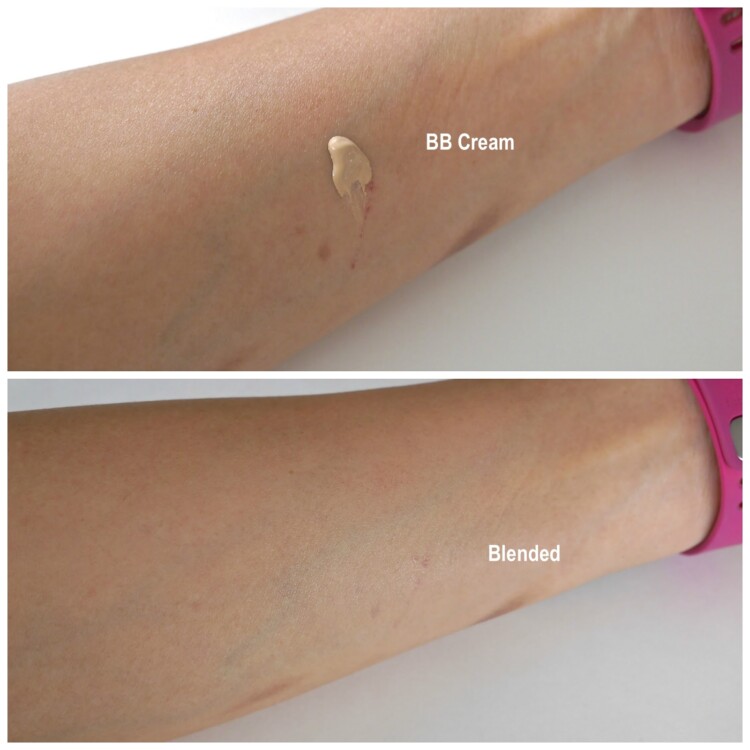 From Wishtrend:
+ No grey cast / No dry patch / No cakey
+ Redness and pores coverage.
+ Anti-irritation formula.
+ SPF40 PA+++
I am no stranger to BB creams, on the contrary, they are my favourite base products and I often reach for them more than normal foundations. I love a sheer, light base that feels like skin especially in the warmer months.
At first glance, I instantly liked the packaging because it comes in a tube which allows me to easily control the amount needed. It also comes in 40mL instead of the usual 30 and well hello there, SPF40 PA+++. Just FYI, the PA+++ means the amount of protection that the product gives against UVA rays. The higher the + is the better protection it offers. Thank you, Allison, for this info and just thought I would put it here so anyone who is not well informed like I was will now know about it too.
It has a very thick gel-like texture and the best way to apply is with fingers. I find that the heat from my fingers helps to melt it into the skin and it gives a light-medium coverage depending on the amount used. My pores are blurred, some spots are concealed and it leaves my skin looking bright, healthy but very natural.
This BB cream also lasted more than 8 hours on my skin without primer and the best part, it's hydrating. My dry skin could easily get away with using only serum, sunscreen and then this BB cream. It kept my face hydrated the whole day and I didn't get any dry spots despite testing it without moisturizer for a whole week. I still use the extra layer of sunscreen despite this BB cream having high SPF because I would need a lot of product to have proper protection and I like to keep my makeup base as light as possible. I think this BB cream is suitable for all skin types even for oily skin lovelies but you probably have to powder a little throughout the day.
dear, Klairs Creamy and Natural Fit Concealer* USD$14.00 (check here)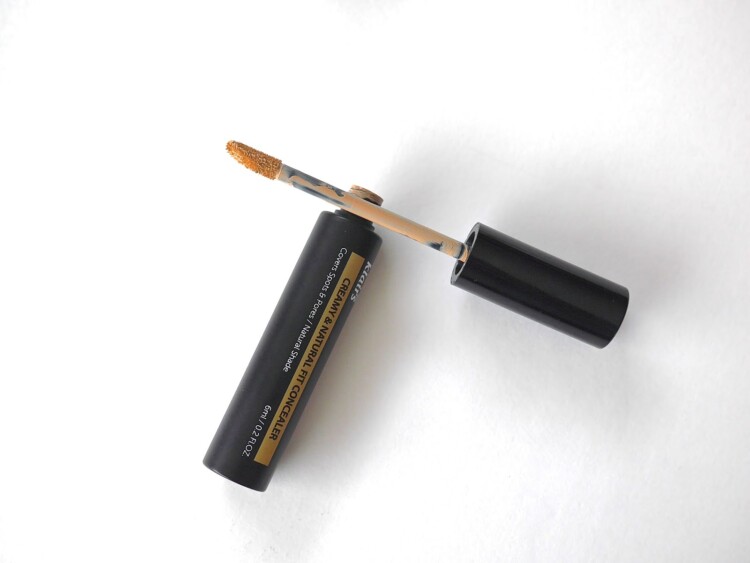 Ingredient list: Water, Cyclopentasiloxane, Caprylic/Capric Triglyceride, Butylene Glycol, Titanium Dioxide, Ethylhexyl Methoxycinnamate, Glycerin, Polysorbate 80, Silica, Sodium Hyaluronate, PEG-60 Hydrogenated Castor Oil, Yellow Oxide Of Iron, Dimethicone, Dimethicone/Vinyl Dimethicone Crosspolymer, Bentonite, Sodium Chloride, Black Oxide Of Iron, Sodium Acrylate/Sodium Acryloyldimethyl Taurate Copolymer, Red Oxide Of Iron, Cetyl PEG/PPG-10/1 Dimethicone, Chlorphenesin, Talc, Xanthan Gum, Centella Asiatica Extract, Glycyrrhiza Glabra (Licorice) Root Extract, Piper Methysticum Leaf/Root/Stem Extract, Portulaca Oleracea Extract, Fragrance, Tocopheryl Acetate, Linum Usitatissimum (Linseed) Seed Extract, Hibiscus Esculentus Fruit Extract, Aloe Barbadensis Leaf Juice, Arctium Lappa Root Extract, Hibiscus Mutabilis Flower Extract, Corchorus Olitorius Leaf Extract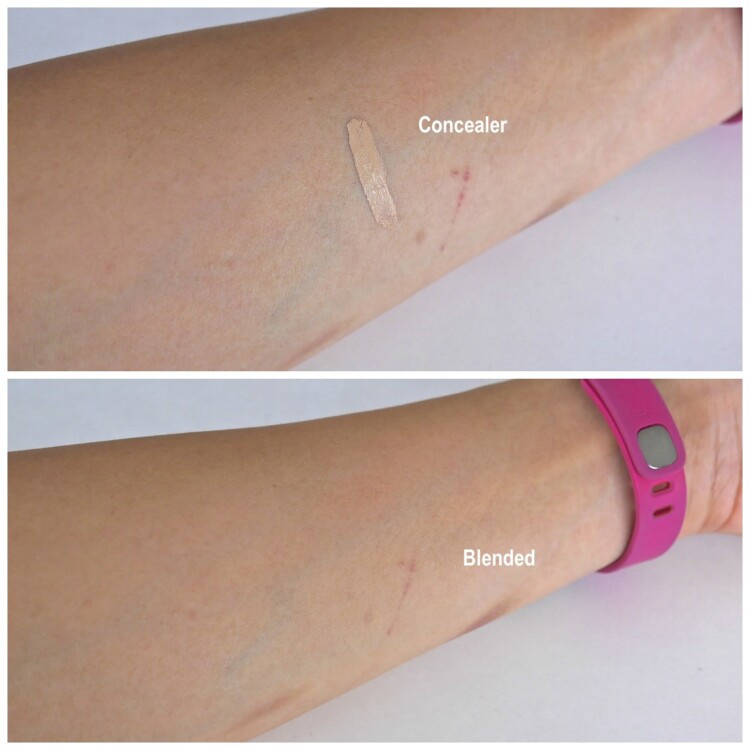 This concealer comes in the usual tube with a doe-foot wand and it has 6mL of product. Just in case you are wondering how much is it in comparison to other concealers, Maybelline FitMe concealer has 6.8mL, Maybelline Instant Age Rewind has 6mL, Make Up For Ever HD concealer has 7mL (reviewed here) and IT Cosmetics Bye-Bye Under Eye Concealer which I truly despise has 8.3mL.Hmm, honestly I'm not sure how I feel about this concealer. I don't usually have lots to conceal but since my skin was still trying to recover from the breakouts (those bloody spots take forever to fade away!), I really put this concealer to test. I'm on the fence. It's light, melts into the skin beautifully and doesn't cake up despite building multiple layers. It also doesn't crease throughout the day which is not something that wows me as most concealers don't due to my dry skin. While all those listed don'ts sounded great, I also find that it doesn't do anything much on my skin. I can still see some redness peeking through, my spots are not fully concealed and I find it to melt into almost nothing. Forget about using it as an under-eye concealer, it doesn't do a great job at concealing dark circles. So what have I been using it for? I used it on top of my usual concealer as a highlighter and it gives a natural-looking brightness to my face.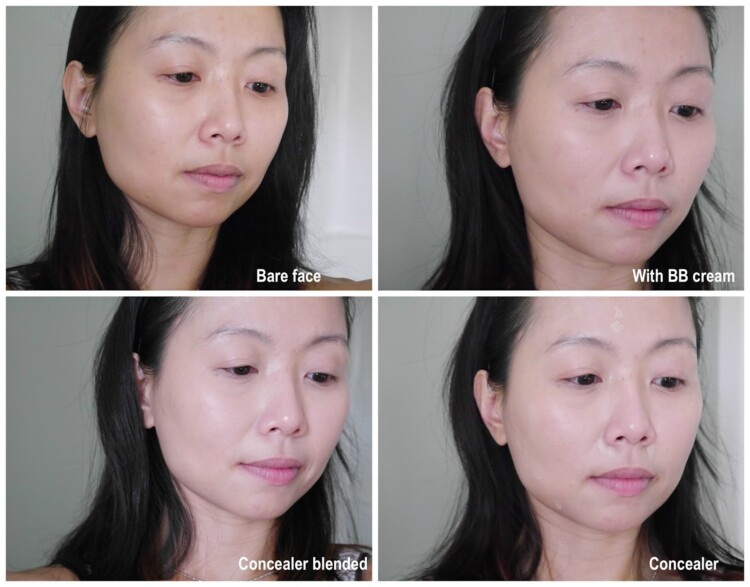 You can still see my spots after concealing on the bottom left picture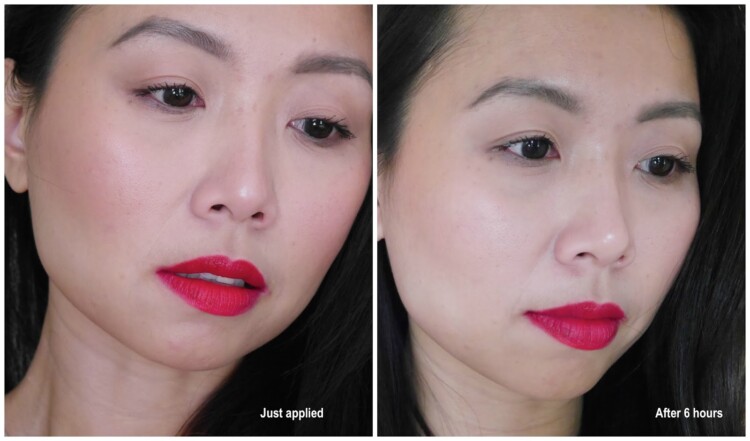 Without primer and I had to take the picture after 6 hours as it was a really cloudy day and I was losing natural light
As you can see, the BB cream holds up really well, my pores are still blurred even though my blusher has faded and eyebrows are wonky as hell. The concealer has definitely faded as well as you can see my spots and dark circles peeking through. If you are looking for a light BB cream that offers decent coverage, blurs out pores while looking natural then I highly suggest checking out dear, Klairs Illuminating Supple Blemish Cream* (check here). It's fast becoming one of my favourite BB creams and this has been my go-to the whole of May. I don't recommend purchasing the concealer unless you have blemish-free skin and have very little to conceal. Wishtrend offers free worldwide shipping over $69.00 and currently, you get 10% off on all orders $50.00 with code 'JUNE16WISH'. You also get ONE FREE Klairs illuminating supple blemish cream (BB cream) on order $99+ (LIMITED AMOUNT) with code 'MYSKINBUTBETTER'.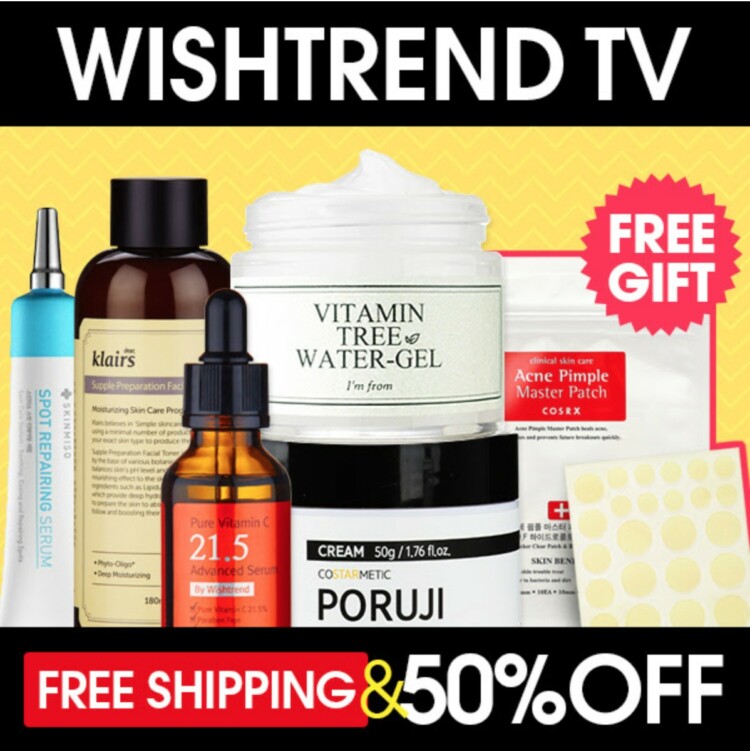 JUNE DEAL: You get 5 amazing products plus one free gift. Free standard shipping is included in this deal and you get 50% off! This deal is $68.99 instead of $137.96. Check deal here.
Have you tried any of the products before and are you familiar with Wishtrend? Do you prefer BB creams or foundations in the warmer months? *I received this product for free but my thoughts and opinions are 100% unbiased, honest and my own. There is no place for any sort of BS here.