Juice Beauty is a brand that I've had hit and miss experiences with, well, to be fair, it's not quite a miss but the Green Apple Brightening Essence didn't do anything for my skin at all. I gave it a fair trial for about 5 weeks but the results were…nada. And for $50.00CAD, I expect to at least see a touch of radiance.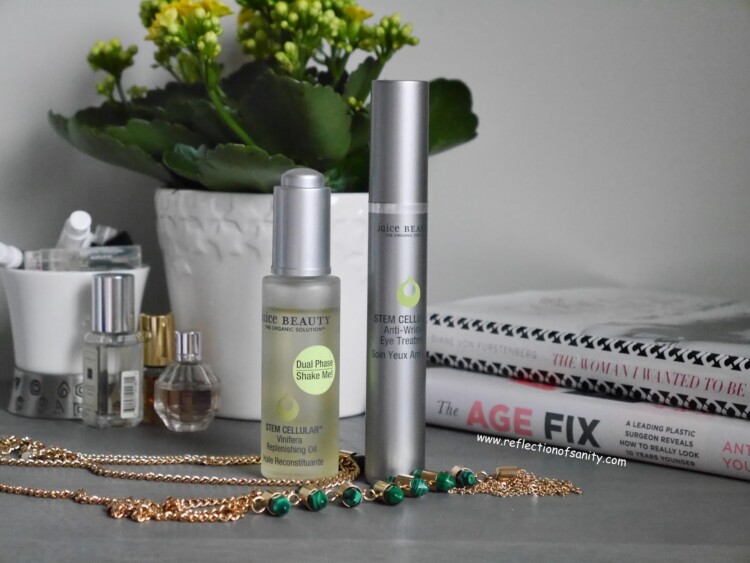 Recently I had the opportunity to test one of the newer launches, Stem Cellular Vinifera Replenishing Oil* and it's no secret that I absolutely adore it. I have been gushing about it all over Instagram and there are plenty of reasons why it's one of my best beauty discoveries of 2019.
Full ingredients:
Helianthus annus (organic sunflower seed oil)* , jojoba esters, vitis vinifera (grapeseed oil), simmondsia chinensis (organic jojoba seed oil)*, punica granatum (organic pomegranate seed oil)*, jojoba oil/macadamia seed oil esters, phytosteryl macadamiate†, phytosterols†, malus domestica (apple fruit cell culture extract), vitis vinifera (grapefruit cell extract), citrus medica limonum (lemon leaf cell extract), squalene, ascorbyl palmitate (Vitamin C), tocopherol (Vitamin E), citrus reticulata (mandarin oil), cinnamomum camphora (ho wood oil), litsea cubeba (organic may chang fruit oil)*.
*certified organic ingredient
† plant-derived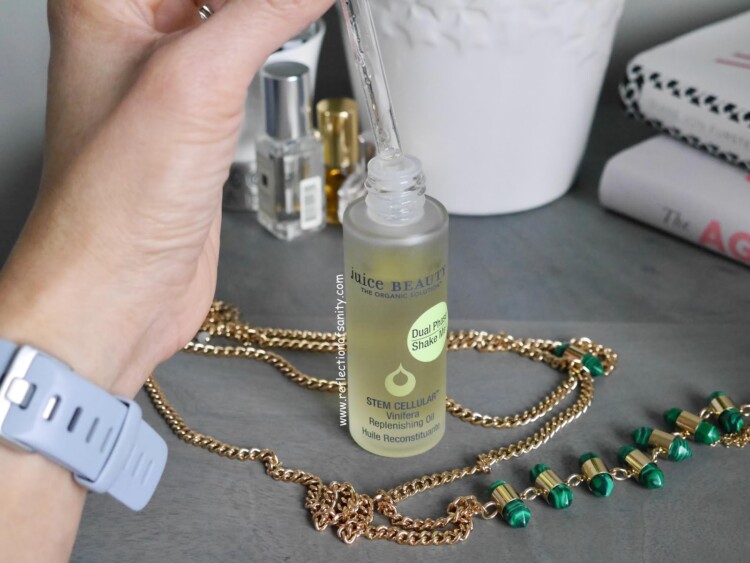 Don't let the word oil scares you into thinking this will transform you into a greasy mess because it is one of the lightest oil that I have ever tried. It's a dual-phase oil so you need to shake it well before application. It's housed in a heavy frosted glass bottle with a pipette and all I need is 2-3 drops, warm up in between my hands and pat onto skin. It does feel heavy initially but it absorbs within minutes leaving smooth and baby soft skin.
I've noticed huge increase in hydration and radiance after 3 weeks of adding this into my routine. It has replaced all my other day time moisturizers and in the evenings, I apply it as my second last product, either under my night cream or overnight mask. Juice Beauty also suggested that it can also be used as a primer but I don't see it making any difference to my makeup. I prefer adding a drop to my foundation to sheer it out and it adds a touch of luminosity.
All that said, there is a couple of things I need to point out; it has a strong lemongrass scent which I adore but others might not and, the price. This little 30mL bottle comes with a price tag of $94.00CAD. I personally feel the results worth the hefty price tag but I also understand that it's a tough number to swallow.
Verdict: This is a hydrating, nourishing and antioxidant-rich product which results reminds me of the super pricey Caudalie Premier Cru Serum but for half the price. 110% recommended if it's in your budget and I will be repurchasing when I am done with this bottle.
I've been using Stem Cellular Anti-Wrinkle Eye Treatment for only 2 weeks but it's already a firm favourite! It's fast becoming one of my best purchases in 2019 and I have BoxyCharm to thank as I managed to buy it as an add-on product.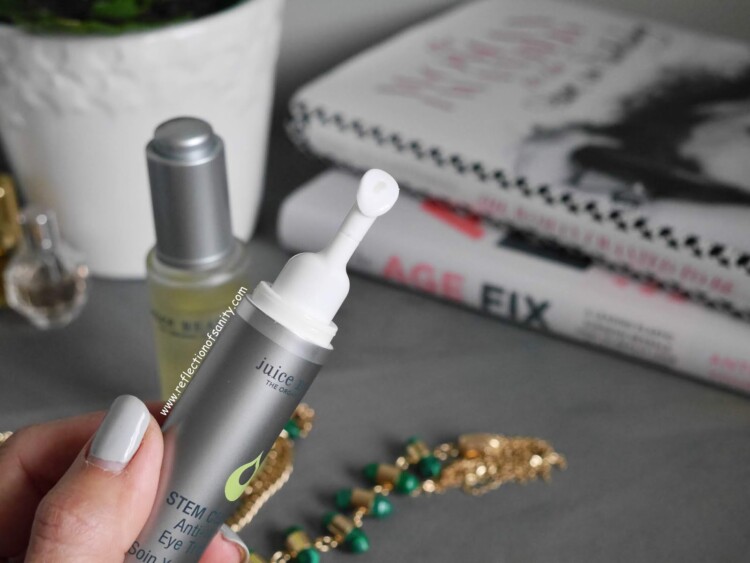 Full ingredients:
Juice Beauty proprietary blend of fruit stem cells: apple buds, grape buds & lemon leaf.
Pyrus malus (organic apple juice)*, vitis vinifera (organic white grape juice)*, citrus medica limonum (organic lemon juice)*, aloe barbadensis (organic aloe juice)*, glycerin†, xanthan gum, glyceryl stearate†, ethyhexyl palmitate†, caprylic/capric triglyceride†, cetearyl alcohol, helianthus annuus (organic sunflower seed oil)*, simmondsia chinensis (organic jojoba seed oil)*, oenothera biennis (organic evening primrose oil)*, linum usitatissimum (organic linseed oil)*, borago officinalis (organic borage seed oil)*, malus domestica (apple fruit cell culture extract), vitis vinifera (grapefruit cell extract), citrus medica limonum (lemon leaf cell extract), sodium benzoate, potassium sorbate, ethylhexylglycerin†, panthenol (Vitamin B5), magnesium ascorbyl phosphate (Vitamin C), tocopherol (Vitamin E), sodium hyaluronate†, stearic acid, butyrospermum parkii (organic shea butter)*, allantoin.
* = Certified organic ingredient
† = plant derived
Let's talk packaging; it comes in an opaque grey pump bottle and the plastic tip is perfect for applying and massaging the eye areas. I must admit that I don't use the tip for massage as I prefer patting with fingers but this is a matter of personal preference.
The texture is a lightweight gel that absorbs within seconds leaving no tackiness whatsoever. It was so lightweight that I was initially worried it won't be hydrating enough! Rest assured that it is and after a mere two weeks, I've noticed my eye areas appeared to be smoother and brighter. It wears well under makeup and doesn't cause my concealer to crease.
One thing to note that it contains Shea Butter, a hydrating and nourishing ingredient which my dry skin loves but I know some are sensitive to it. It's listed as the second last ingredient in the list and I haven't had milia after using this eye cream twice a day for two weeks but please bear in mind that skin can be very finicky.
Verdict: A brilliant lightweight, hydrating and nourishing eye cream that brightens the under-eye areas. My fine lines are noticeably smoother and I look more awake. Highly recommended and for the price of $65.00CAD, I think the price is quite reasonable.
I am very impressed with both products and they are now permanently in my routine. While the price range may not be the friendliest to my wallet, I will definitely be repurchasing both once they are finished.
Have you tried Juice Beauty?
*Stem Cellular Vinifera Replenishing Oil is gifted but my thoughts and opinions are 100% unbiased, honest and my own. There is no place for any sort of BS here.