More than a month ago I had the pleasure of connecting with the founder and CEO of LAFACE Laboratories, Lisa Alexander through Twitter. The couple of tweets led to email exchanges and a phone call and I was given the opportunity to test and review a few of her products.
A quick introduction, LAFACE Laboratories is an organic, natural skincare line that is committed to offering only the best products to their clients. The range is paraben free, hypoallergenic and is not tested on animals.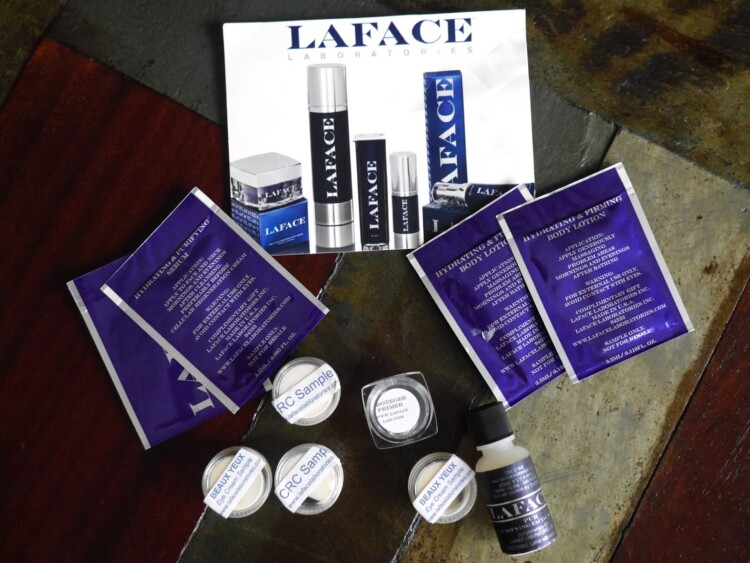 I was kindly sent BEAUX YEUX eye cream*, PUR purifying facial wash*, Cellular Regeneration Cream*, Hydrating & Purifying serum*, Hydrating & Firming body lotion* and finally, PROTÉGÉR Age Defying primer*.
While I initially was a little worried about the size of the samples, believe it or not, these samples actually lasted me a whole five weeks of testing with the exception of the body lotion. LAFACE products are concentrated so a little goes a very, very, very long way. I made the mistake of using my usual amount on the first day and it left my skin feeling a little greasy however, once I cut the amount in half, my skin absolutely drinks it up. This review is written after using solely LAFACE products for both day and night for 5 weeks. Please note that I will not be commenting on the packaging because I received samples but from what I saw on the website, the packaging is sleek, straight forward and unisex.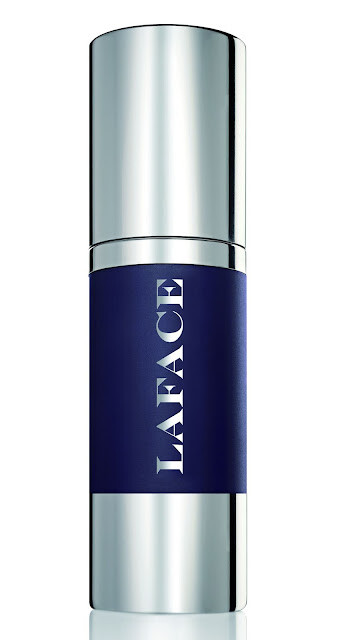 HYDRATING & PURIFYING SERUM* ($140.00)
This quick absorbing oil based serum targets fine lines, acne, eczema, hyper-pigmentations and dark spots. While I don't have most of the concerns, I do have fine lines…lots and lots of them. Did it banish all my fine lines? No, but it sure did come close. I have tested and used so many serums over the years but this serum made my skin look so much younger, plump and it definitely smoothed out the new emerging lines. What I like most about it is it gave my skin the radiance that was slowly disappearing with age.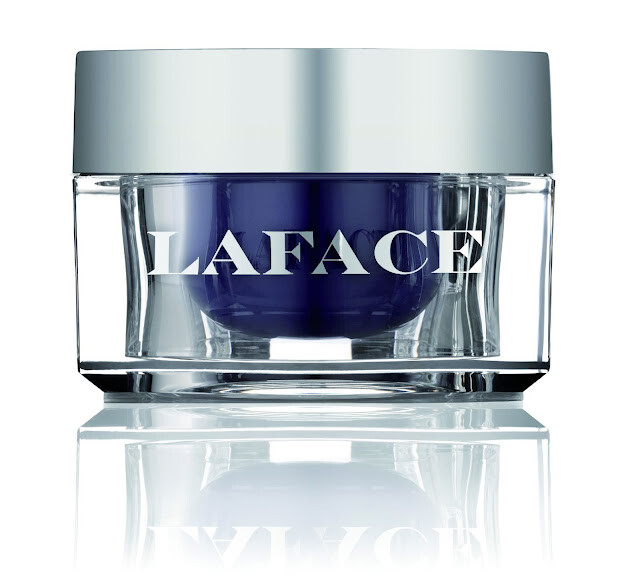 CELLULAR REGENERATION CREAM* ($300.00)
This is one of the most luxurious face creams that I have ever tried, the texture is very rich and thick so a little goes a very, very, veryyyy long way. I still have 1/3 of the last sample left and I have been using it day and night for 5 weeks! My skin which has always been good was taken up a notch with this cream. Smooth? Check! Hydrated? Check! Fresh and young? Check! Check! This time last year my skin was littered with dry spots due to the weather changing but there has been not one sign of it throughout me using this cream. It also wears beautifully under makeup and I actually find my foundation to apply better.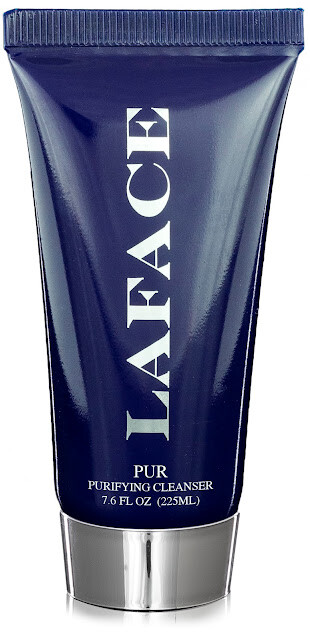 PUR PURIFYING CLEANSER* ($48.00)
For anyone who knows me, I am not one who believes in splurging for a facial wash. My motto is, if the product lasts less than a minute on my skin, then it's not worth the splurge. However, this facial wash leaves my skin so clean, soft and smooth. Despite having dry skin, my face doesn't feel tight with this cleanser. I left my face without moisturizer for 20 minutes and it felt fine whereas with other cleansers, my skin would almost instantly scream for mercy. If you have sensitive, very dry skin and most cleansers trigger some sort of discomfort then I highly suggest this.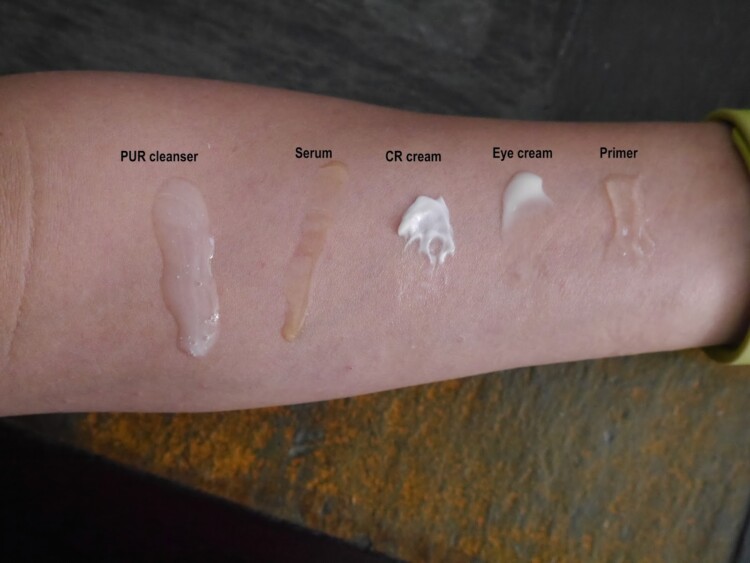 BEAUX YEUX BEAUTIFUL EYE CREAM* ($145.00)
This eye cream has successfully knocked off my all time favourite from Strivectin. The texture of this eye cream is like a light lotion and again, a little goes a long way. It does take roughly 20 seconds of patting for the cream to be fully absorbed but my eyes have never looked so fresh and hydrated. It didn't banish the deeper lines that have been camping around my eyes for many years but it did diminish the newer forming lines.
PROTÉGÉR AGE DEFYING PRIMER* ($50.00)
I'm not a fan of primer and this is a well known fact by my long time readers. I've always found primer to be unnecessary and a waste of money. Am I new to using a primer? Well no, back in Malaysia my mum endlessly insisted that I needed to try/buy/use Laura Mercier primers, she has a couple of them which I have tried and neither interest me. And I've also received Benefit Porefessional and Smashbox Photo Finish primer through ipsy and you guessed right, used a couple of times on both and never touched again.
So you probably would be surprised when I say that I have been consistently using PROTÉGÉR age defying primer. There's something very different about it, the texture is smooth however no where as siliconey as Smashbox and Benefit. But the best part about it is it leaves my skin looking dewy and fresh. It doesn't matter if I sweat through a tough yoga session, my skin remains looking fresh. I know it's not the best explanation but I am hooked on this primer. My foundation looks absolutely flawless with it.
HYDRATING & FIRMING BODY LOTION* ($60.00)
Unfortunately I can't say much about this, the samples that I received were small and I only managed three usages out of them so I can't say anything about long term effects. The lotion was very light, fast absorbing and left my skin feeling soft and smooth the whole day.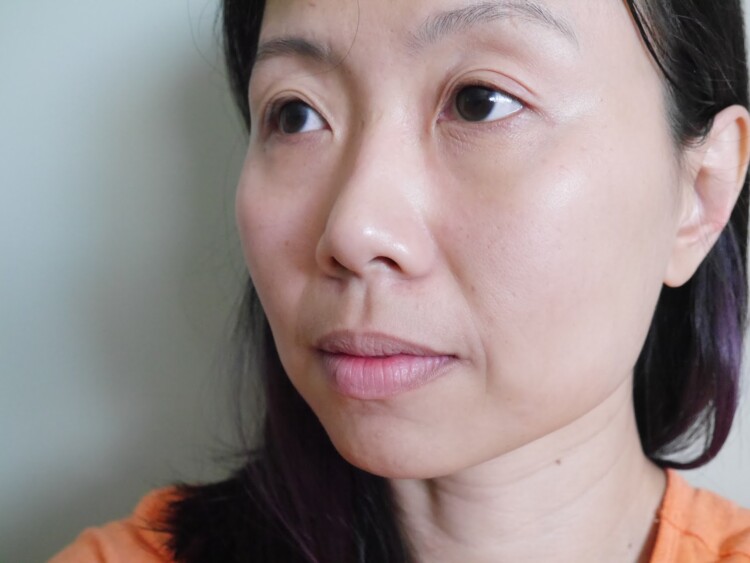 Picture is not altered in any way: Completely makeup free and I hope my skin will remain this good when I hit 40 which unfortunately is just a couple of years away for me.
LAFACE Laboratories really took me by surprise at the quality of the products. The price point may seem high however, bear in mind that the products are concentrated and a little goes a very long way so I can easily see each product lasting 5 months if not more. Another interesting fact is LAFACE Laboratories do not have a PR or marketing team, their business is solely thriving by word of mouth and boy, are they spreading like wild fire.
You can find out more about LAFACE Laboratories through Facebook, Twitter and Google+ or click here to find out the nearest retailers to you.
Now I'll hand it over to you, are you familiar with LAFACE Laboratories? Do any of the products interest you?
*I received this product for free but my thoughts and opinions are 100% unbiased, honest and my own. There is no place for any sort of BS here.