Guys, I am beat.
Honestly I just arrived home two hours ago after a long almost 6 hour trip for a what supposedly a 3 hour drive. If you have a young child then you know the multiple bathroom breaks, restlessness and 'get me out of this car before I strangle someone' stops in between.
3 hours = 6 hours. Oh Lord… 
But the show must go on and here I am sharing one of the most delightful serums that ever graced my skin. If you guys read my previous post on Mother's Day gift ideas (read here) then you already know that this will be a positive review…make that a very positive review. Let me introduce to you, Neal's Yard Remedies Frankincense Intense Lift Serum*.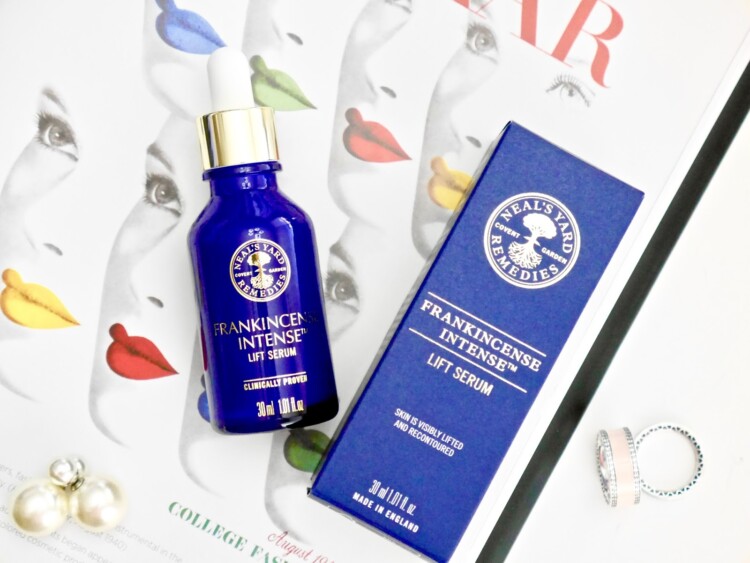 First we shall get the one and only negative out of the way…well, not really a negative but because I am tired, cranky and have been dealing with a 3 going on 13 year old for the past many hours that felt like a couple of centuries, THERE SHALL BE A NEGATIVE.
The packaging.
Please dear Lord, let beauty companies be done with dropper packaging.
This is a pretty thick serum and the bloody pipette doesn't always extract the serum and I have to insert (am I the only one whose mind instantly goes South whenever I hear, see, speak that word? 🙈🙊🙉) the pipette again and again and then more to get a couple of drops.
The heavy blue glass packaging is not a complete bust though, it's completely opaque to preserve the serum and exudes luxury with its gold lettering.
Now to the good stuff and make that the very good stuff.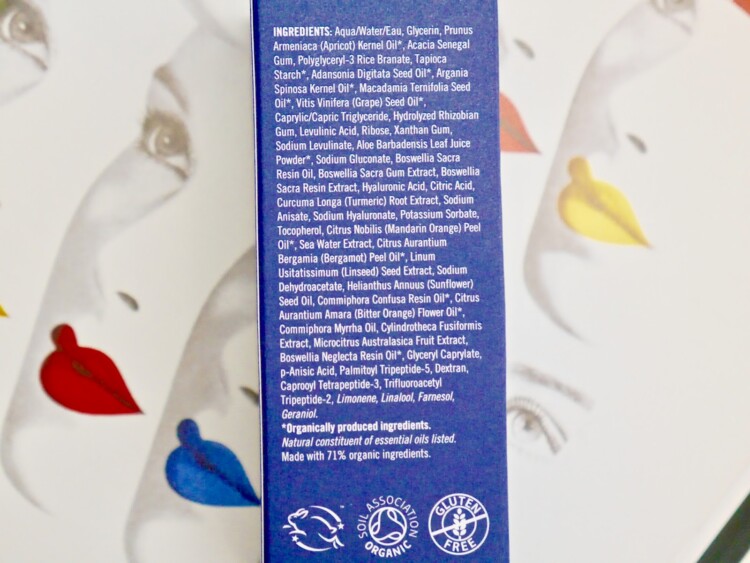 As you can see this serum is filled with lots of botanical extracts and I can actually smell the ingredients whenever I apply the serum. The herbal scent is definitely strong with a slight earthiness to it and while I personally love inhaling the scent, I know it would bother many.Neal's Yard Remedies Frankincense Intense Lift Serum* key ingredient is frankincense which is highly valued for its healing and therapeutic properties. This serum uses the highest grade of frankincense which is from Boswellia Sacra trees of Omani origin and contains three different types; Boswellia Sacra  resin oil, gum extract and resin extract. They are listed in the medium of the ingredient list so I believe the concentration is enough to make a difference. Frankincense oil has antiseptic properties and is a powerful astringent which helps protect skin cells. It is also known to heals and fade scars and I'm surprised that not many beauty companies are using it in their products.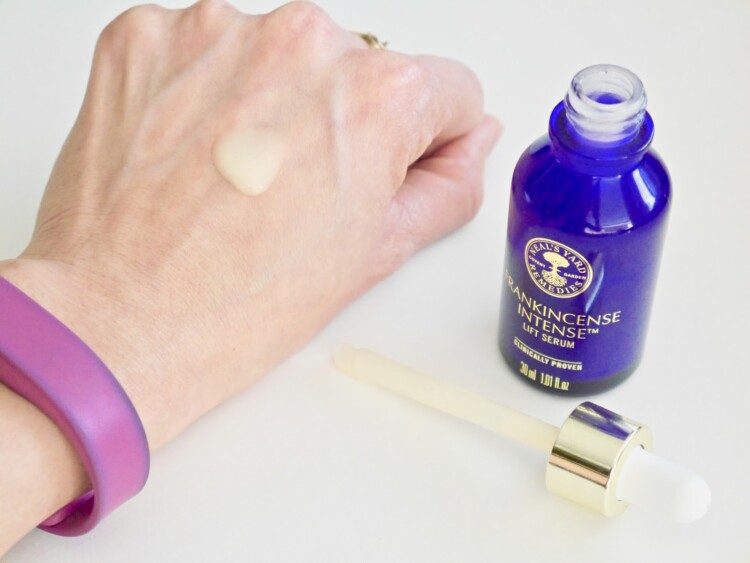 As I said earlier in the post, the serum has a thick texture however it spreads easily across the skin. It absorbs within seconds and does leave a slight tackiness to it which dissipates after a while. It layers beautifully under moisturizer and makeup and I have no problems with products pilling up on top of it. The only issue that I think others might have with it is the scent does linger for a few minutes. If you love therapeutic scents like me then it wouldn't impose a problem, if not then you probably wouldn't enjoy this as much. One of the first things I noticed about this serum is it gives an instant firming effect to the skin. Initially I thought it would be a temporary effect but as the weeks passed, I noticed not only my skin looking smoother and brighter, it also appeared firmer and the effect didn't fade away even after I washed my face. I also tried gently pressing my face with my fingers and I could feel a slight bounciness with my skin. This is my first skincare that I have tried from Neal's Yard Remedies and I have a strong feeling that it will not be my last. I have been using serums in my routine ever since I can remember so it's pretty hard to impress me but this serum definitely exceeded all my expectations and more. I also think it will suit all skin types as it feels light on the skin but I recommend giving this a whiff first before purchasing. If you are looking for an amazing firming and lifting serum which contains plenty of organic and natural ingredients then I highly suggest checking out Neal's Yard Remedies Frankincense Intense Lift Serum*. We all know chocolate is food for our soul (and waist line but we will ignore that for now), this serum is a healthy diet for your skin. Neal's Yard Remedies Frankincense Intense Lift Serum* retails for £75.00 and can be purchased through www.NealsYardRemedies.com  *Product marked with * was received for free but my thoughts and opinions are 100% unbiased, honest and my own. There is no place for any sort of BS here.