I get extremely nervous whenever a brand decides to do an overhaul of their long standing crowd favourite product or range. Most of the time the new, upgraded, reformulated version is a dud which leads me to wonder…'why fix something that isn't broken?' So you can imagine my horror when I saw the old Vichy Idéalia range was being sold on clearance where I work. I knew something was up….and that 'something' meant it would be the dawn of a new thing and that new thing might, just might be a terrible thing. I am a huge fan of the original range that I have featured here multiple times before (read here, here and here) so let's see how I got along with the newly launched Idéalia range. This new range boasts the addition of Vichy Mineralizing Thermal Water that is rich in 15 minerals, 2% Blueberry extract that contains 9 times more antioxidants to shield the skin from free radicals, 3% Fermented black tea extract that is rich in AHA, vitamins and polyphenols and finally, Adesosine which is an amazing skin soothing and restoring ingredient.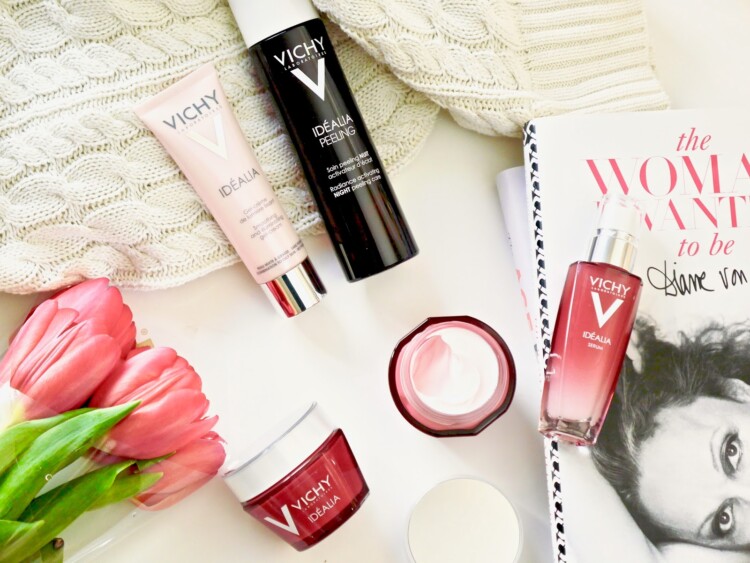 Idéalia Radiance Activating Night Peeling Care* (C$39.95/100mL)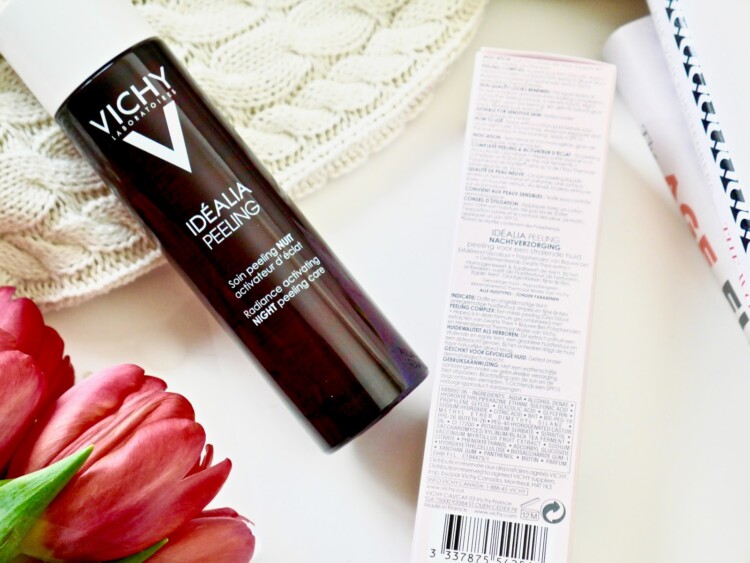 One of the most exciting additions to this range is Idéalia Radiance Activating Night Peeling Care*. This gentle acid toner contains 4% glycolic acid and 5% HEPES which makes it suitable for sensitive skin and anyone who is new to acid toning.
To use is easy; damp a cotton pad with the toner and apply it all over the face after cleaning. It does have a strong scent to it which might bother some but I personally don't mind it. I've been using this every morning and night and it helped in keeping my skin clear without any irritation.
Idéalia Radiance Booster Serum* (C$49.95/30mL)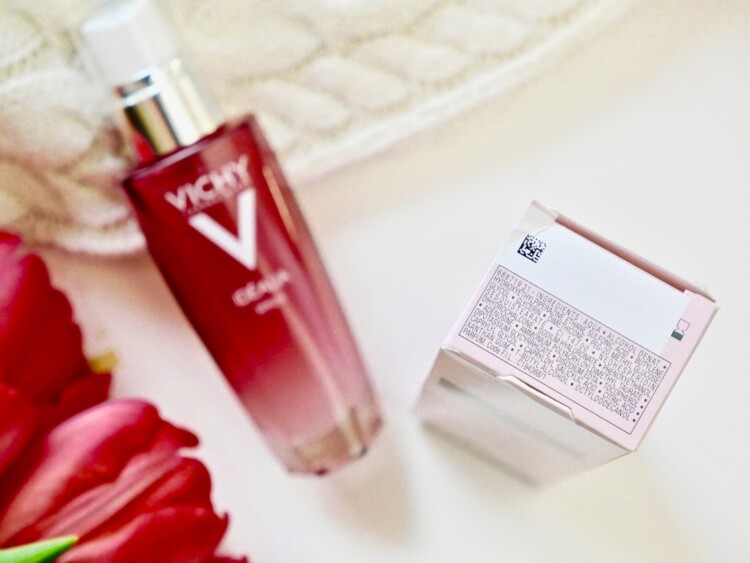 I adore the original Idéalia serum but I love this new version. It took me weeks to appreciate it but I don't think I can be without it now. This serum is infused with antioxidant citrus flavonoids, adenosine and liquorice root extract and promises to reveal first effect of smooth glowing skin within 8 days. Now I wouldn't go as far as saying I was blown away after 8 days but I definitely fell in love more as the weeks passed by.
The serum has a thicker texture and I only need one pump to cover both face and neck because it has a lot of 'slip' to it. It does feel slightly tacky upon absorption but the tackiness goes away after a few seconds. This serum also has the usual Vichy scent…if you are a long time user of the brand then you will know what scent I'm talking about. I do wish Vichy would launch an unfragranced version in the future.
I noticed radiance after using this serum twice a day for 3 weeks so you do have to be patient with it as it's not a miracle worker. The best part is the radiance was not a temporary effect, I'm talking the whole day and I still noticed the glow even after I washed my face in the morning. My skin seems smoother with it too.
Idéalia Smoothness & Glow Energizing Cream For Normal* and For Dry Skin* (C$45.00/50mL)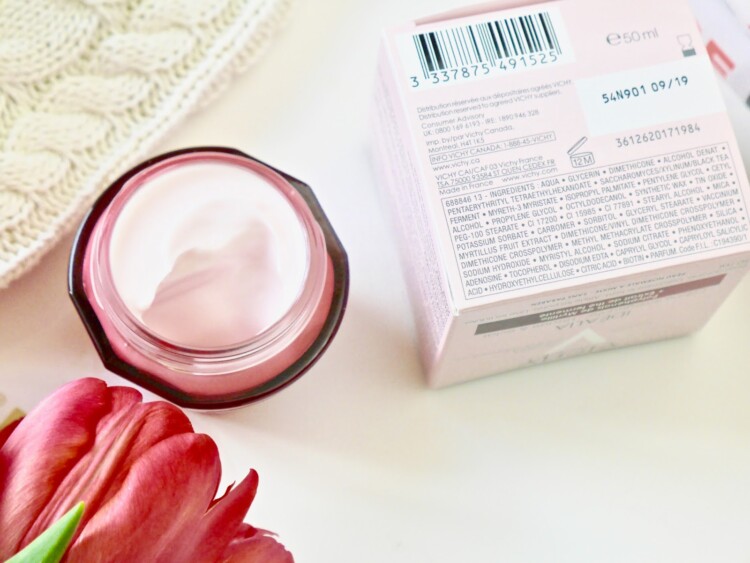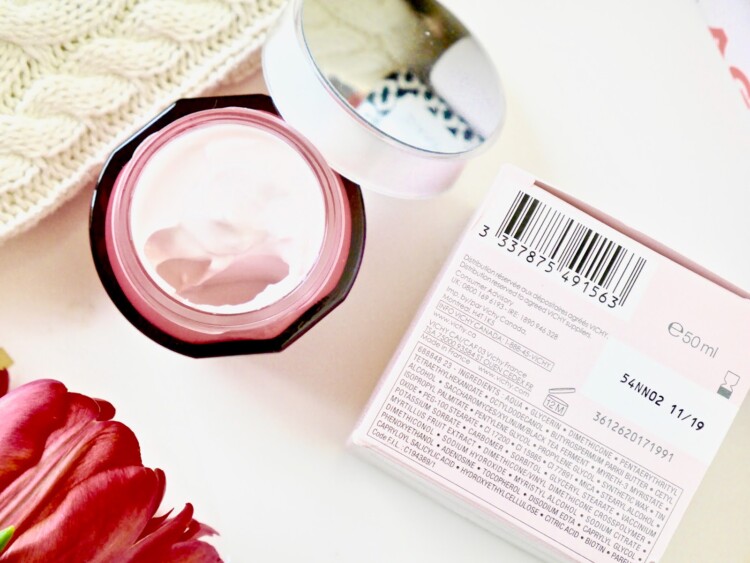 Now this is where things started to go a touch downhill for me, I didn't enjoy these creams as much as I thought I would. Don't get me wrong, I do like them but I personally find the one meant for dry skin* is a tad bit too rich for me while the one for normal skin* is a little too light. Both are scented and have cream texture but the moisturizer meant for normal skin* feels a little lighter and absorbs faster without leaving any residue on the skin however my skin feels dry after 3-4 hours. On the other hand, the one meant for dry skin* seems to sit on top of my skin despite using very little and takes a long time to sink in. I am unable to use it under makeup because it makes my foundation shift so I could only use it in the evenings. Looking at both the ingredient lists is also another disappointment to me, the old version has Niacinamide listed as the 7th ingredient while nothing spectacular really jumped out at me in the new ones. Again, don't get me wrong, both are decent moisturizers but not ones that I would repurchase as I think my skin needs more than what both can offer. If you are in your late 20s or early 30s then these might suit you better.
Idéalia Energizing smoothing and radiance gel-cream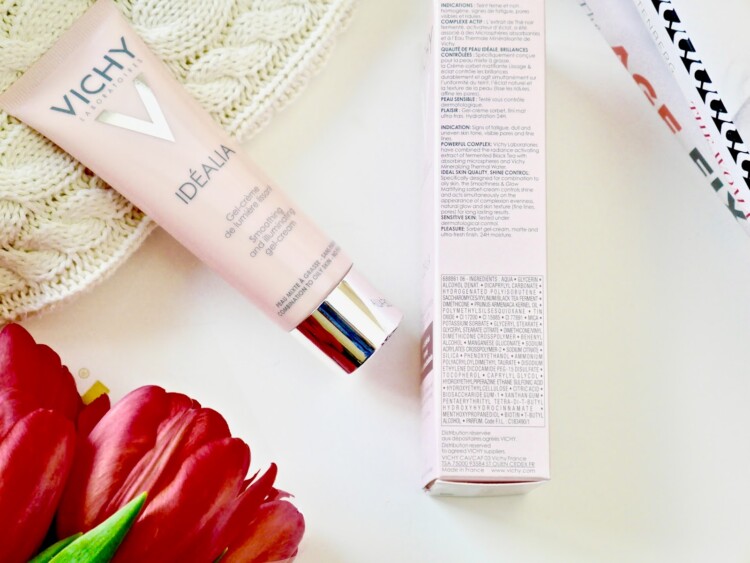 This cream is meant for combination-oily skin so I passed it to a colleague to help me test it. She has oily skin so I thought this would have suited her much better than me who has dry, mature skin. She loves that the cream gives her skin a touch of luminosity without making her look greasy and she also loves the texture and spreadability of it. It wears beautifully under makeup which is a huge bonus. She's not the biggest fan of the scent however on the plus side, it doesn't linger and dissipates quickly. Now to the not so good part, this cream actually makes the oily parts of her face oilier if she doesn't wear makeup on top of it and this has led to minor breakouts around her temples and the sides of her nose. She did find this to be a minor setback and will continue using it. I love that Vichy has revamped one of their oldest line of products and introduced an acid toner to the range however I wish they didn't cut out niacinamide from their moisturizers. All in all, it was a hit and miss experience with the new Idéalia range but I will definitely be repurchasing the serum and peeling lotion. Have you tried the new Vichy Idéalia range? What are your thoughts of these new products?
*Products marked with * were received for free but my thoughts and opinions are 100% unbiased, honest and my own. There is no place for any sort of BS here.