While I would love nothing but to write up a whole post on body hair, I am seriously lacking in that department. Blessed according to many as I never have to shave or wax, I sometimes wish I am hairier than a gorilla so I can show off my thick, long, luscious eyelashes and eyebrows. So what if I walk around with legs hairier than my dad's, all that matters are beautiful eyelashes and eyebrows, no? Actually scratch that, I've my dad's genetic stream to thank for my lack of bodily hair….
All jokes aside, this post was inspired by my recent trip to the hair salon. I recently had my long overdue hair cut and the hairdresser kept asking me what shampoo am I using. She got really curious after it took her 4 attempts to clip my hair on top of my head because the hair clip kept sliding off. My hair is so healthy to the point it is waxy, her words not mine so I thought, hmm…maybe it's time for me to do a post on my hair care.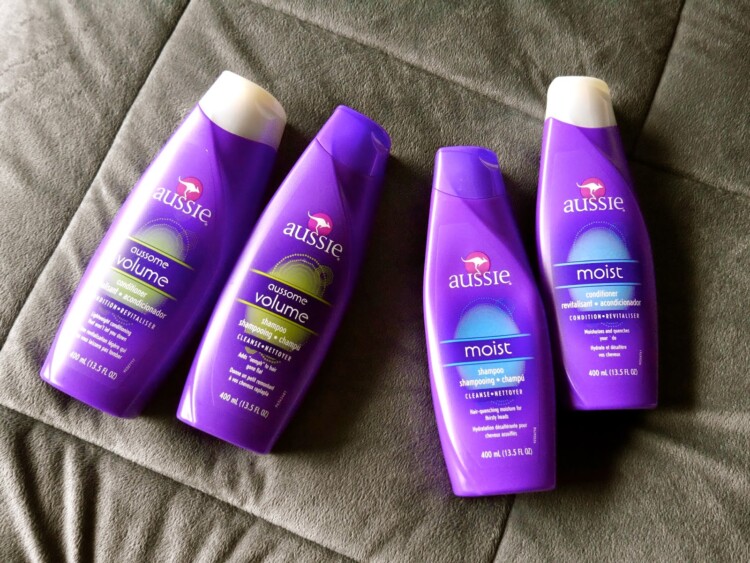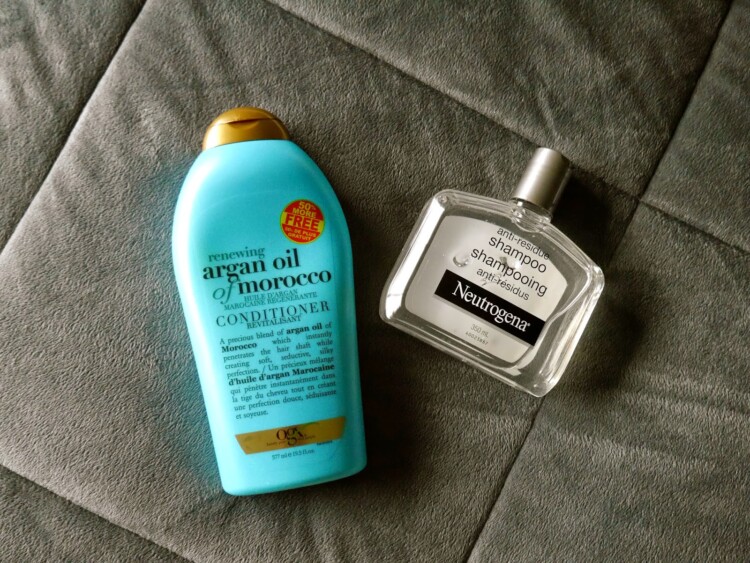 I will admit that I am not one who splurges on hair care, cleanser, body wash or anything that lasts less than two minutes on me. I think it's a waste of money or maybe I just haven't found one that is worth splurging on, yet.
Aussie has been a brand that I wanted to try since well, forever. I have read countless beauty blogs raving about the brand so 2 days after arriving Canada, I purchased Aussie Volume and Aussie Moist range to try. Beauty blogs are the reason why my purse is getting lighter? Or for the lack of a better term, dead fucking broke.
Aussie Moist shampoo and conditioner are amazing in keeping my hair soft without weighing it down. The conditioner is very thick and I only use half of my usual amount or it will take a long time to rinse it out. I am not a fan of its sickeningly sweet scent but I tolerate it because of the great result on my hair. Side note, am I the only one who uses a lot of conditioner? My usual ratio is one bottle of shampoo to two or three bottles of conditioners!
Aussie Volume shampoo and conditioner is a tricky one for me. My skin and hair went absolutely bonkers the first month arriving here so when I first used this shampoo and conditioner, my hair was so frizzy and puffed up, I looked like an Asian version of Diana Ross.
You're welcome to that mental image.
I was horrified and both were kept away for more than a month until recently. If you have thin and fine hair like me then you will absolutely love this. My hair actually looks a little thicker after using this and the effect lasts well into the next day, major love. Best part? They are only CAD3.99 each, oh yea, you read that right. Cheap but good, just the way I like it.
Next up, Neutrogena Anti-Residue Shampoo is something that I reach for once every two weeks. It helps to wash off all the residue that my hair collected over the week. And trust me, there are all sorts of nastiness that manage to find their way to my hair, no thanks to little tyke. Long hair + watery poop = stuff of nightmare
And you know it, I save the best for last. Every single glowing, rave review that you ever come across about OGX Renewing Argan Oil of Morocco Conditioner is true and I can proudly attest to that. Best conditioner that I have ever used and I don't need a lot of it for my previously close-to-waist-length hair. It also smells amazing, like a little slice of conditioner heaven. I only use this after Neutrogena shampoo because it is that moisturizing and I don't want my hair to get used to it. I do apologize because I don't remember the price of Neutrogena shampoo and OGX conditioner. Bad, bad, bad me.
So that's it for my shampoos and conditioners. Nothing fancy but so far it worked wonders for my hair. Also, please let me know if you want me to do more hair care posts, I appreciate your feedback because the last thing I want to do is to bore my readers away.
What shampoo and conditioner are you using? Do you have any hair wash products that you can't be without? Do share!

NOTE: A huge shoutout to my Smashbox Full Exposure Palette giveaway winner, Lucie Palka who blogs at A Blog About The Good Things In Life and Run Mummy Run. Congratulations and please check your email! xx