Retinol aka vitamin A has been touted as one of the best anti-aging ingredients for the longest time. Personally I started taking note of it back in 2015 but didn't start incorporating it into my routine until 2016. If there is one thing I would change, I would start using it when I turned 30 which was back in the year 2009.
Better late than never, eh?
So what makes Retinol so special? It's an amazing skin transforming and rejuvenating ingredient which encourages cell turnovers, fights free radicals and boosts collagen production. Now, these reasons might not be as important when you are in your teens and 20s but once we are in our 30s, our skin doesn't bounce back as quickly.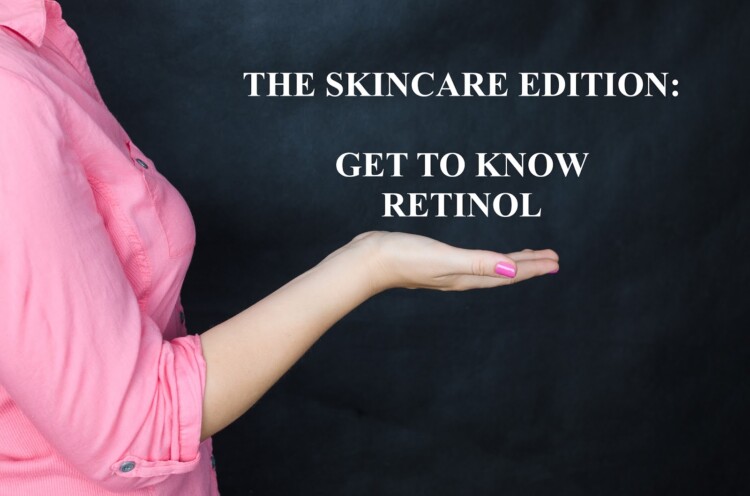 So what are the differences between Retinoids and Retinol?
Retinoids are chemical compounds that are related to vitamin A which encourage skin cells to turn over and die quickly making way for new cells to grow. They also boost collagen production and thicken deeper layers of the skin where wrinkles start. They also tackle pigmentation related issues by sloughing off brown spots and curbing melanin development. Retinoids (tretinoin and retinoic acid) are prescription only. A form of retinoid that you can get without prescription is Retinaldehyde but I don't think I've seen it in any of my products before.
Retinol on the other hand is commonly used in over the counter beauty products and usually comes in 0.05% to 1% concentrations. Retinol converts skin enzymes into retinoic acid aka tretinoin which is clinically proven to improve fine lines, wrinkles, pigmentations and rejuvenates the skin. The catch? The process of converting retinol into retinoic acid can take several weeks. In fact it could take months of daily usage for retinol based products to provide a noticeable difference. Just like all beauty related products, our age, skin type and issues do come into play so different people will have different results even though using the same product. If you read about how to incorporate retinol into your routine, you will notice a lot of conflicting methods; use/don't use it with AHA/BHA, use/don't use with Vitamin C, use/don't use during day time and the list goes on and on but one thing is for certain, always use high SPF when using retinol. Personally I have no problems using acid exfoliator before retinol because they work on different levels. Acid exfoliators work on skin surface while retinol works on a deeper level. What's most important is to listen to your skin. Some people have higher tolerance than others. Currently I rotate in between 3 retinol products and I reach for them depending on my mood and how my skin feels.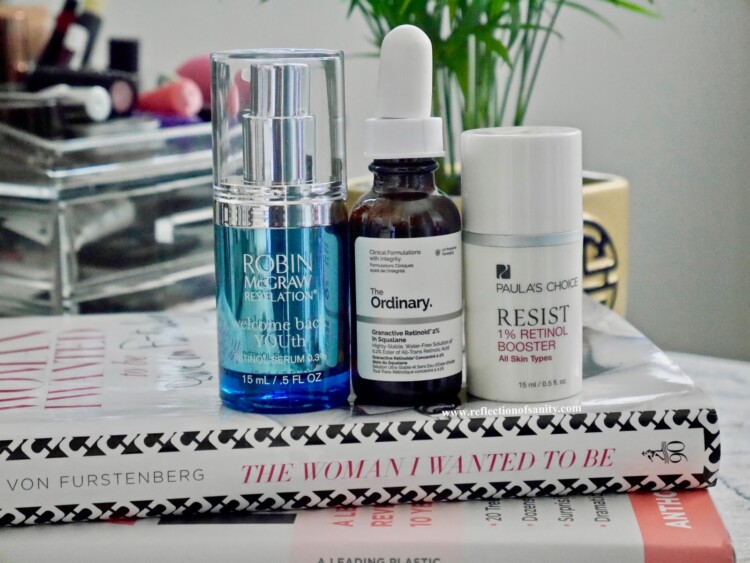 PAULA'S CHOICE RESIST 1% RETINOL BOOSTER* (US$52.00/0.5oz)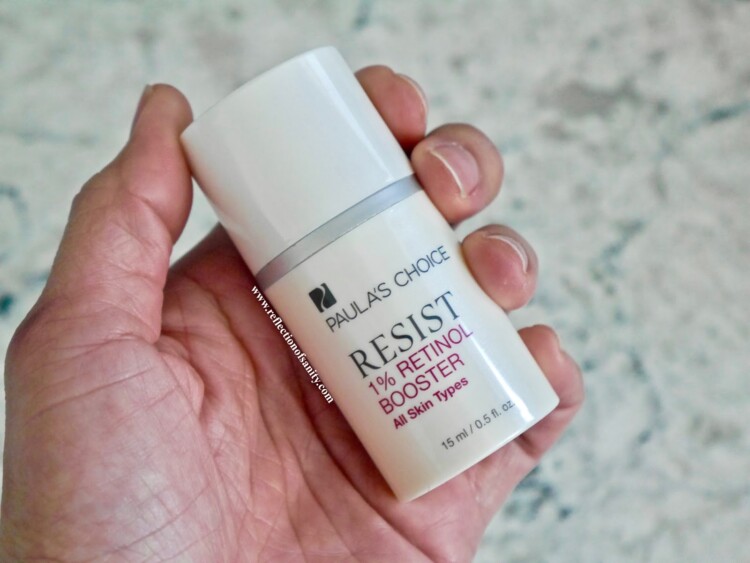 This was the product that started my retinol journey in 2016. It's a yellow very fluid lotion made up of pure retinol, ceramide, peptide and also filled with antioxidants. The packaging is one of the many reason why I love this booster, it's in an airtight opaque plastic with a pump. Bear in mind that Retinoids and Retinol are antioxidants (like Vitamin C) which are highly unstable and break down when repeatedly exposed to air, light and heat hence this packaging is ideal.
It can also be used in different ways; add a couple of drops with your favourite serum or moisturizer or use it on its own. On the days where my skin is looking especially dull and tired, I will use one pump on its own right after toning while the other days, I add two drops into my serum. You can read my first experience with this booster here. I loved it then and I still love it as much today.
ROBIN MCGRAW REVELATION WELCOME BACK YOUTH RETINOL SERUM 0.3%* (US$38.00/15mL)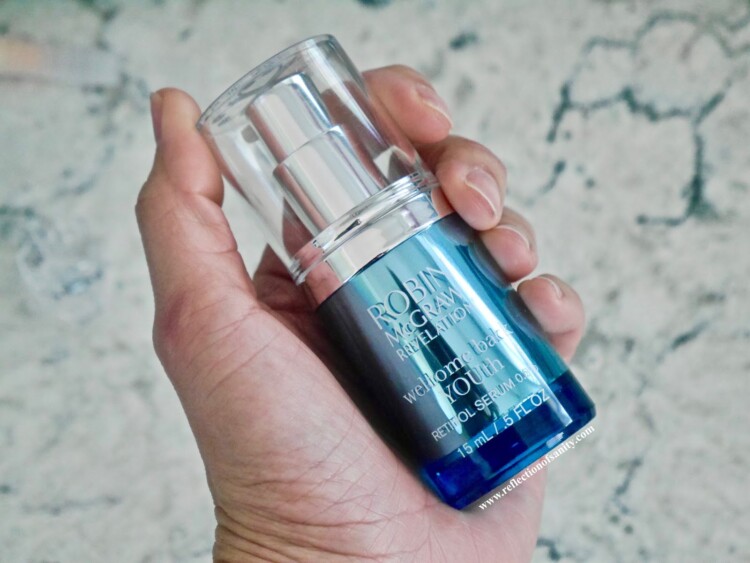 I love this serum and am actually paranoid that each pump will be my last pump. I hate that there is no way for me to tell how much product is left but I love how amazing it makes my skin look and feel. You can read my full review on it here.
THE ORDINARY GRANACTIVE RETINOID 2% IN SQUALANE ($9.60CAD/30mL)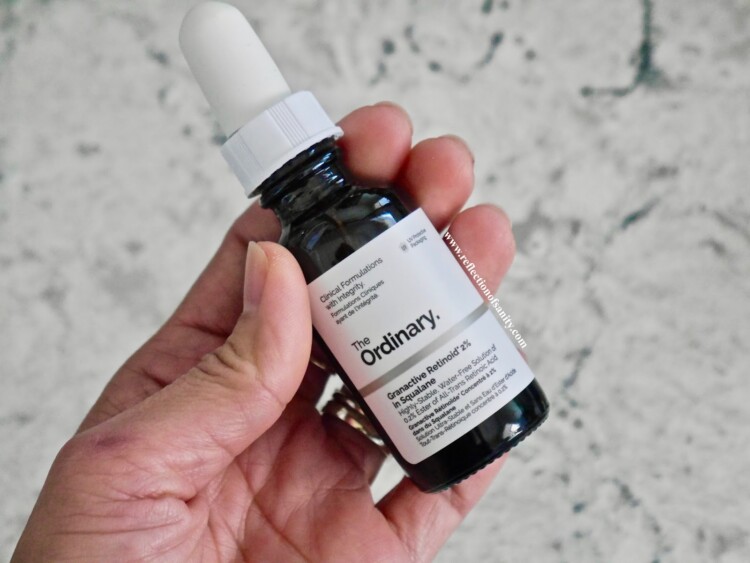 I am in two minds about featuring this product no thanks to all the drama surrounding the founder's non-conventional ways in running his business and the way he has been acting on Instagram. That said, my best friend passed this bottle to me because he suspected that it's the cause of his breakouts and he hoped I would have better luck with it. Granactive Retinoid 2% in Squalane replaced my favourite Advanced Retinoid and the difference is the formula is now based in Squalane, a stabilized oil. If you are curious about what the hell is Granactive Retinoid then this article explains it in layman's terms so everyone can understand it. This lightweight oil is scentless or at least I didn't detect any scent and it absorbs quickly without leaving any residue on the skin. The good? It doesn't cause me to breakout and the Squalane really hydrates my skin. The downside? Well, to be fair it's not really a downside but I don't see any results with it. It does nothing for my skin or at least none that I noticed. It's suggested that this is gentle enough to be used around the eye areas so I might warm up a drop in between my fingers and tap it on the high points of my cheeks and around my eyes where the fine lines are creeping like crazy.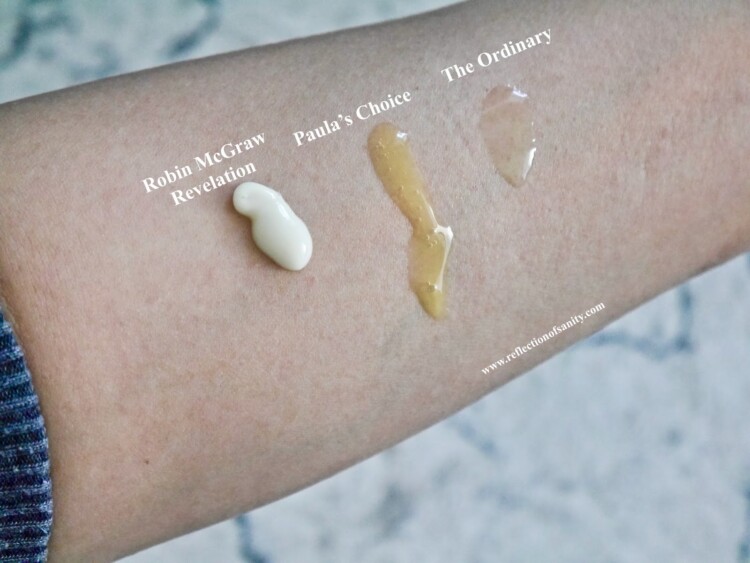 Bottom line? Retinol is our skin's best friend and it's one of the best ingredients that I have discovered through blogging. Do you use retinol in your routine? What are your favourite retinol products? *Products marked with * were received for free but my thoughts and opinions are 100% unbiased, honest and my own. There is no place for any sort of BS here.