Okay, finally it's time for some Asian dish to come out from my kitchen! For some weird reason, I have cravings for Asian dishes so after taking a peek in my fridge, this was what I came up with. As usual, nothing fancy but only a quick and simple dish. Enjoy luvs!
Teriyaki Sesame Chicken

Ingredients:
2 skinless, boneless chicken breast; cut into bite size
1 inch ginger; sliced thinly
2 cloves garlic; minced
1 small onion; sliced
1 stalk scallion; cut into 1 inch length
1/4 tsp chilli flakes
Breading:
1/2 cup flour
1/4 cup cornflour
1/2 tsp paprika
1/2 tsp salt
1/2 tsp pepper
Sauce:
1/2 cup reduced sodium soy sauce
1/3 cup sugar
1 tsp sesame oil
Oil for frying
Cooking method:
1. Mix breading ingredients together in a ziplock bag.
2. Add chicken, seal and shake to make sure chicken is coated well with breading mixture. Leave it in the fridge for an hour or at least 30 minutes. This will let breading stick well to chicken pieces..
3. Heat oil in pan and cook chicken until no longer pink. Take it out and set aside on paper towel to absorb the extra oil.
4. Drain most of the oil in pan EXCEPT for roughly 1 tbs and fry onion and ginger until fragrant, around 2 minutes.
5. Add garlic and chilli flakes and cook for another 30 seconds.
6. Add sauce ingredients into pan and stir well.
7. Add chicken and scallions into pan and cook for 2 minutes.
8. Serve and enjoy it with white rice!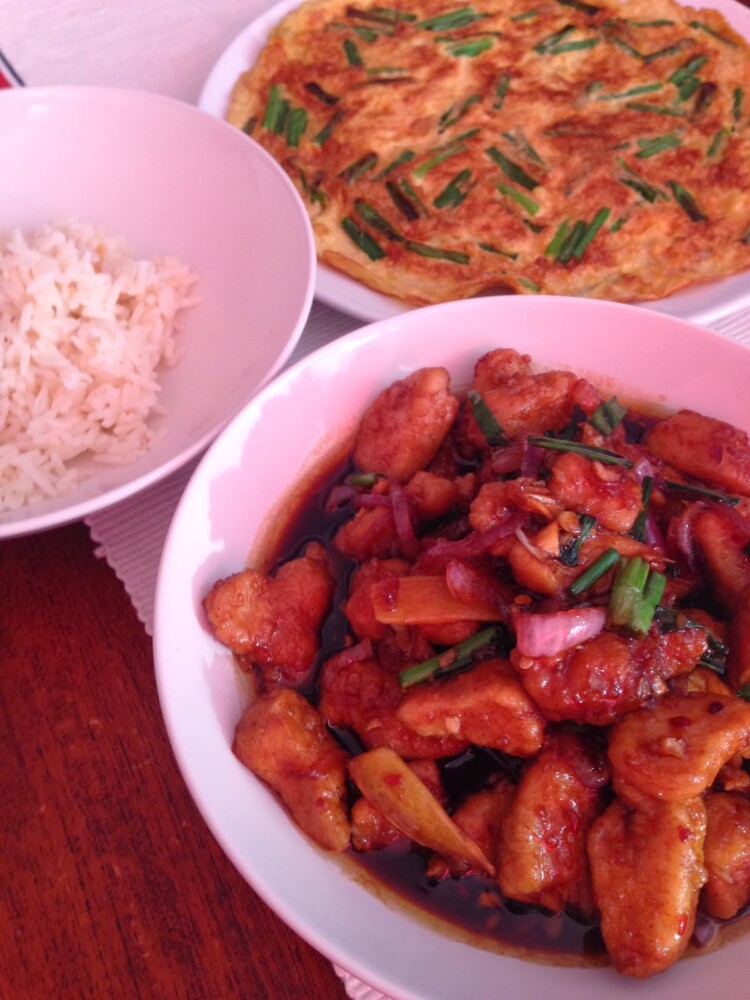 My simple dinner last night!