So here's my thought…I plan to do a non beauty related post on every Monday. It may be a food, rant or life update post and I think it will give everyone a break from my usual beauty related posts and hopefully (fingers crossed!) that it'll be a more refreshing read for my readers. Usually when I have an idea, it never turned out right, actually I managed to get myself into the biggest, crappiest situations whenever a light bulb goes ping! in my head. Such was one time when I decided to perch on a bar stool and dance with my 3 1/2 inches high stilettos and learned the hard lesson that alcohol and gravity will never be best friends, ever. Lesson well taught with me falling flat on my face, skirt flew up to my waist, exposed in all my glory and whatever that's left of my modesty was protected by my knickers that was looking more like a wedgie, or so my dearest friends told me the next day. Me and ideas are never a good thing so please, please, pleaseeee let me know in the comment section if you agree or disagree with this.
We have been waking up to -3 to -4 Celsius and I am seeing frost everywhere! It's on the street, the roof, the lawn…everywhere. I have a confession, I am loving the cold so far and the part I am enjoying the most is seeing my breath in the freezing cold air. I'm just so matured, I know. Anyhoot, the cold weather made me want to use the oven twice as much so I decided to bake some soft dinner rolls to go with a beef stew I made. The dough is done in a bread machine because I will die if I have to knead it myself so I pretty much dump everything and let the dough magically appear later. I found this recipe online but of course, me being me, I just had to tweak it and hubby dearest said it's perfect (the stew was shit…) so here it is, hopefully this dinner rolls will be great for you too. Do let me know if you try it and please share on how you tweak it to make it better.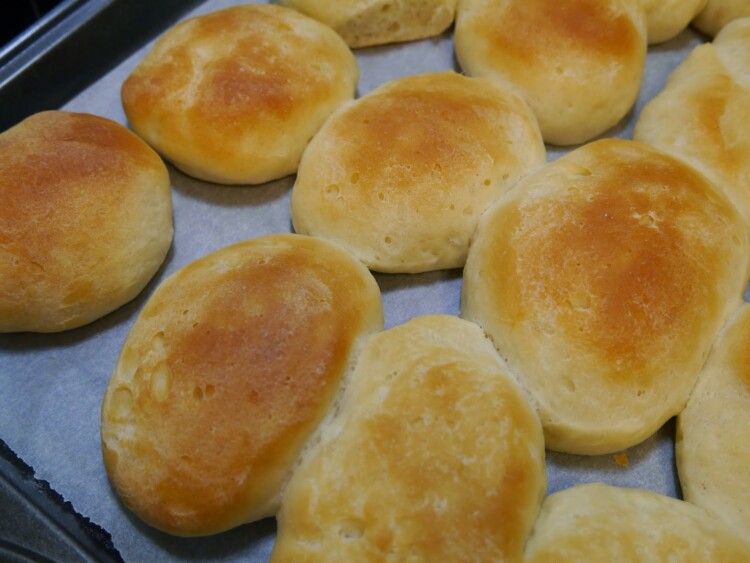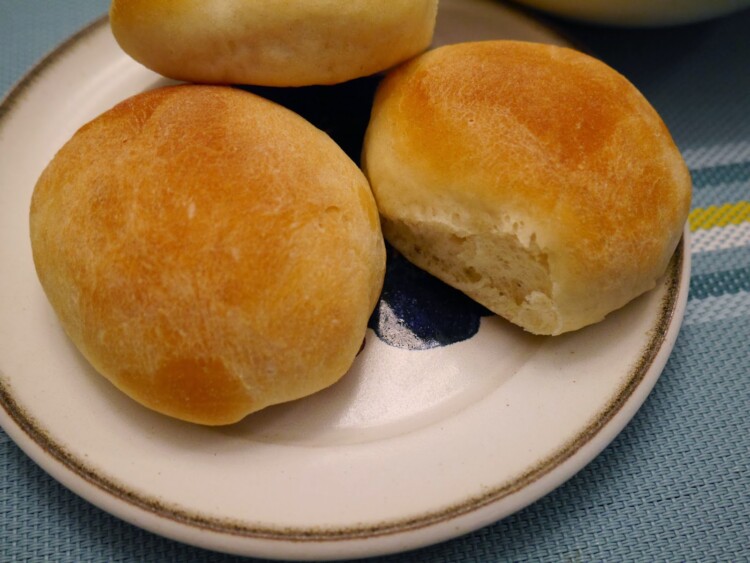 Ingredients: (A) 3 3/4 cup all purpose flour 1 1/4 cup room temperature soy milk 1 extra large egg, beaten 2 tbs butter; soften 1/8 cup sugar 1 tsp salt 1 1/4 tsp active dry yeast (B) 1 tbs melted butter Baking method: 1. Dump (A) into bread machine, set to 'DOUGH' cycle and let the magic begin. 2. Once the dough is done, take it out and place it on a lightly flour large tray. At the same time, heat the oven to 100 Celsius and then turn it off. 3. Turn your attention back to the dough, punch the crap out of it. Just imagine the person who recently annoyed you, trust me it helps. It was almost therapeutic. 4. Roll the dough out and slice it into 15 pieces (roughly 2 inch round), depending how large your want your dinner rolls to be and place it on a tray lined with parchment paper. 5. Brush the top with (B), cover it with a cloth and let it RISE FOR THE SECOND TIME in the previously heated oven for 45 minutes. 6. Bake the rolls at 180 Celsius for 15 minutes or until the top browns. NOTE: 1. You can add garlic powder and herbs of your choice to make savoury dinner rolls. 2. Increase the sugar to 1/4 cup and decrease the salt to 1/2 tsp if you wish to bake sweet dinner rolls. 3. I didn't take many pictures because my 'artistic' abilities or lack thereof were unable to make a lump of dough look pretty….