For anyone who knows me, I love cooking with a passion, I honestly do. But things have slightly changed now after the arrival of little tyke because he loves attention…which means I usually have no time to cook or am too tired to cook or in other words, I can't be arse about cooking. My creativity and motivation to discover new recipes have pretty much flew out the window, flushed down the toilet and said Adios bitches! to me. However, during the few rare occasion that I did managed to wander into the kitchen without carrying little tyke, a simple and very quick meal is prepared and this was one of the few recipes that popped into my head.
I think it's brilliant for anyone who wants a quick, fuss free meal. Enjoy!
Cajun Breaded Chicken Chop (2 pax)
Ingredients:
2 chicken breasts; butterfly cut
Flour breading:
1/3 cup flour
1 tbs Cajun spice
1/2 tsp garlic powder
1/2 tsp onion powder
1/2 tsp sea salt
1/4 tsp black pepper
Breadcrumbs breading:
1/3 cup breadcrumbs
1 tbs Flour Breading
1/3 dried sage
1/3 tsp sea salt
Egg mixture:
1 egg
1 tbs milk
1 tsp Dijon mustard
Oil for frying
Cooking method:
1. Mix flour breading in a ziplock bag and set aside.
2. Mix breadcrumbs breading in a shallow bowl and set aside.
3. Place chicken into ziplock bag and shake well till chicken is well coated with flour mixture. Leave it in the fridge for at least half hour or until ready to cook.
4. Beat egg mixture ingredients together.
5. Heat oil in pan with medium fire.
6. To cook: Dip chicken in egg and coat it with breadcrumbs mixture. Cook each side for 5-7 minutes or until crispy. 7. Enjoy with your favourite side dish!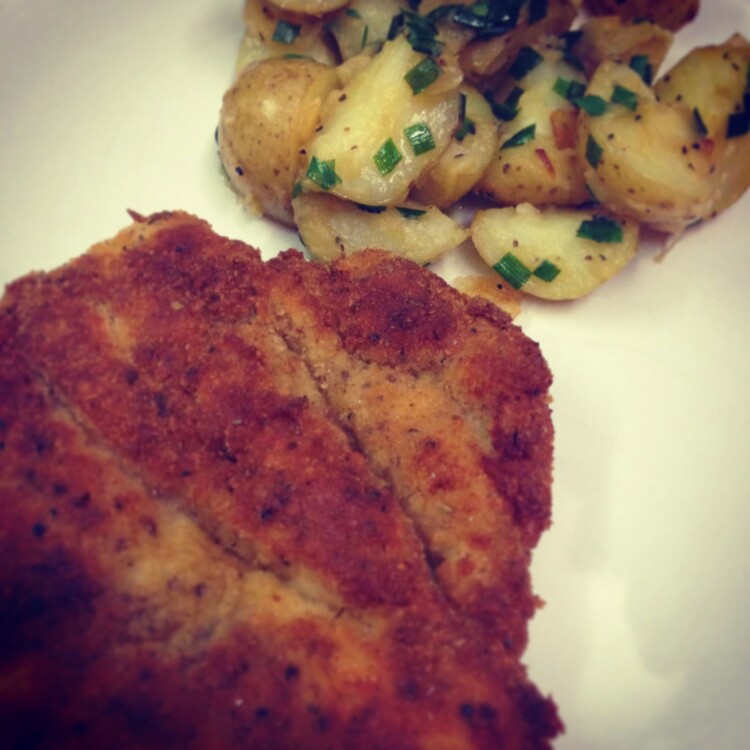 NOTE: I served this dish with Pan Fried Potatoes…easier, quicker and definitely fuss free!