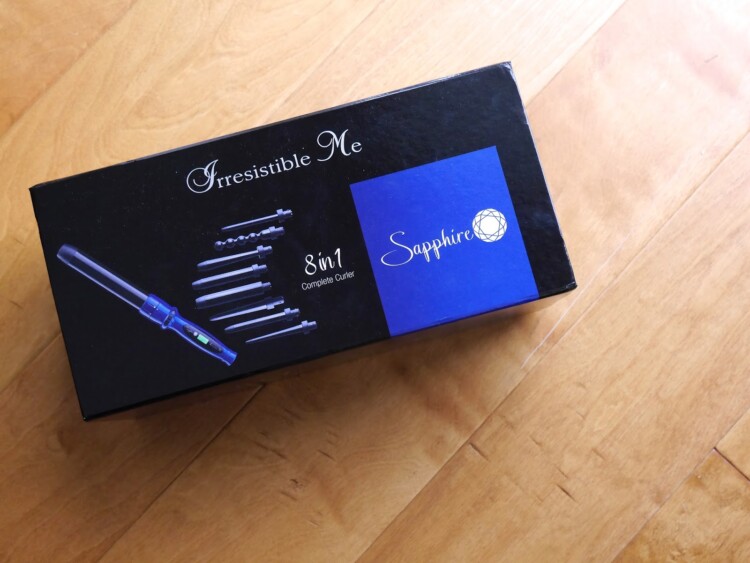 There's a good reason why there are minimal hair posts on this blog…I have the ability of an ogre when it comes to hair styling. If you want to see me at my clumsiest best then spend 2 minutes watching me attempting to style my hair.
Hence you see my mane straight, flat and sometimes, very flat.
So when I gleefully told my husband I agreed to review Irresistible Me Sapphire 8 in 1 Curler*, he merely raised an eyebrow to me.
Determined to prove him wrong and that I could style my hair into something chic while praying hard that I won't burn myself, I was beyond excited to test the curler. From the brand: Irresistible Me Sapphire 8 in 1 Curler* comes with eight different ceramic, tourmaline infused, interchangeable barrels: 13mm, 19mm, 25mm, 32mm, 18/9mm, 25/13mm, 13/25mm and pearl.
No frizzy hair – the tourmaline technology with negative ions leaves your hair smooth and shiny by sealing hair oils, color and moisture in
Longevity – the tourmaline barrels are much more resistant than plain ceramic barrels
Fast heating  (up to 20 seconds) and variable temperature control (230C/450F) – because we know you need a tool that helps you save time
Intelligent  – the LED screen shows you the temperature you`re at – this means it`s impossible to damage delicate hair by setting it to the wrong temperature
Cool tips – the rubber tip of each barrel doesn't heat up which helps with maneuverability and safety
Comes in good company – you get a heat-proof pouch that doubles as a nice travelling pack that you can take with you anywhere and a heat-resistant glove to avoid getting burned while styling your hair
It has an auto shut off feature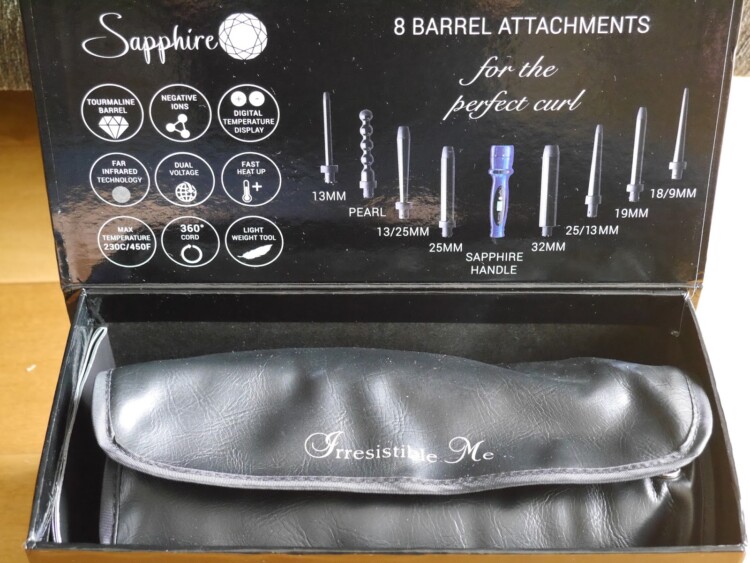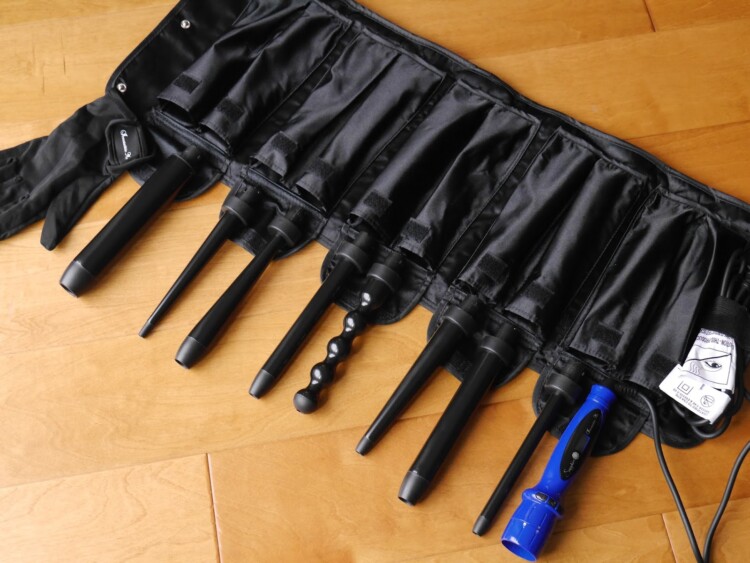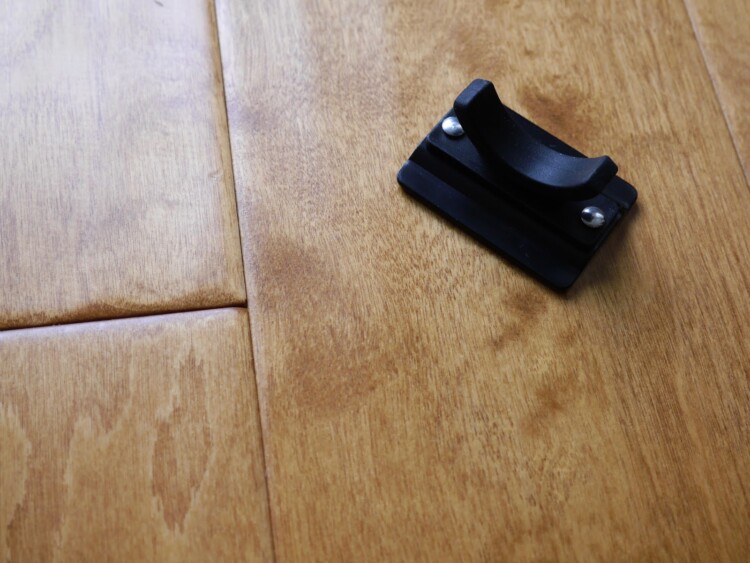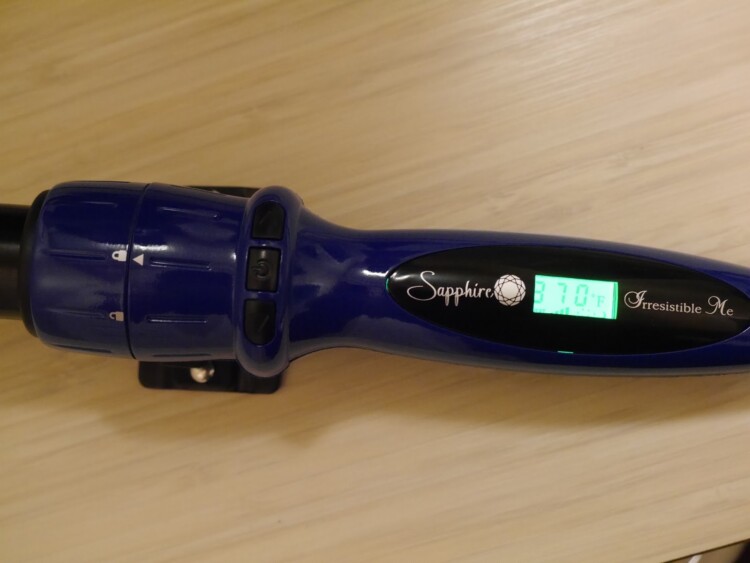 Comes with a 'lock system' to ensure the wand doesn't fall off while curling. LED display shows temperature.
The first time I tried this curler, I picked Pearl wand, why? Because it looks like a very naughty thing. The result was an absolute failure on my part as I had no idea how to wrap my short hair around it and I couldn't drag my damn mind out of the gutter. Next I tried 13/25mm wand and the results were better however my very fine hair poof'ed up and I ended looking like a poodle gone wrong. And no, you're not getting a picture but you're welcome to whatever mental image you have in your mind now. Finally, I turned to Youtube and after going crossed eyes watching countless videos, I then picked up 18/9mm wand and the results were soft, gorgeous waves. I did try it with a lower temperature (310F) because I wanted a much softer look and I love it!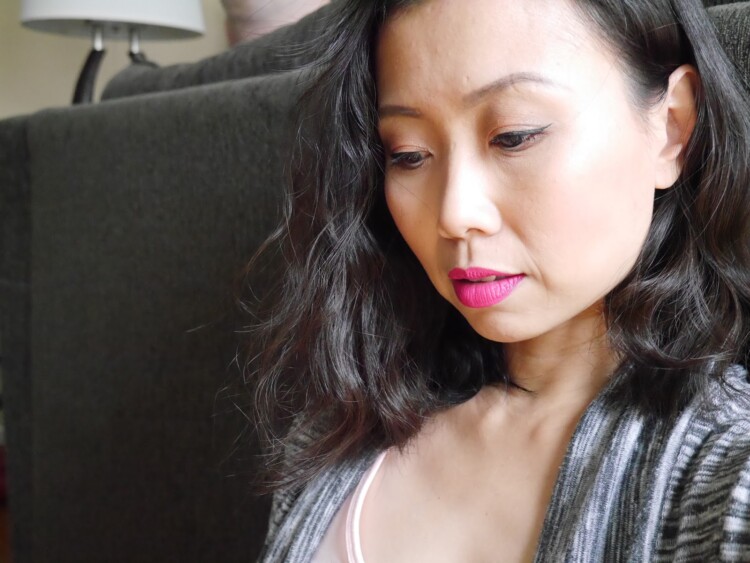 This curler is idiot proof and if someone like me who has zero ability in hair styling is able to use this with ease then this would be amazing for everyone. The 360° swivel cord made it even easier as my hand doesn't get tangled while trying to curl. And I am so thankful that this curler comes with a heat resistant glove, super helpful for a klutz like me.
Irresistible Me was not joking about how fast this curler heats up, it's heated up by the time I sectioned half of my hair and sprayed heat protectant. I didn't experience any breakage and my hair didn't feel dry even though I used this curler more than 7 times in the past two weeks. The best part is all I needed was to hold my hair around the wand for 4-5 seconds for a perfect curl. There are many curlers out there that needed more time than that. Two thumbs up from me because less time on the curler means less damage.
Is there a downside? Well, yes. As much as I appreciate the huge variety and the travel friendly bag, I personally feel it's too bulky for travelling. Realistically I would need something light and compact for travelling so I will probably pack just one or maybe two wands with me when I head back to Malaysia next year. Is this a huge negative? I don't think so and it's up to personal choices on how you like to travel. Some bring the whole house with them during travel and others only the basic necessities.
I am actually looking forward to grow my hair long again so I can experiment with more styles using this curler. If you are looking to invest in a good quality hair curler then I highly suggest this set.
Irresistible Me Sapphire 8 in 1 Curler is currently on sale for $50 off if you want to purchase (check here) and shipping is FREE when you purchase above $150. 
*I received this product for free but my thoughts and opinions are 100% unbiased, honest and my own. There is no place for any sort of BS here.
ps: The House of Platt will be away for the whole of next week! Hubby dearest had to finish his 2014 annual leave so we'll be kicking back, relaxing and will be taking a trip to Victoria! It's a beautiful city 3 hours drive away and the best part? He promised me that we'll be visiting Sephora. YAY!  
I'll be back posting on Monday, 14th September and until then, stay naughty!