"Feminine" mens' fashion isn't novel. Whether or not it's appropriate for men to rock fashion choices generally reserved for women, such as anklets, has caused friction for decades.
Anklets, or ankle bracelets, are universally considered "girly." However, guys have challenged the masculine dress code in more powerful ways than ankle bracelets. So is it too far outside the realm of possibility for a dude to look hot in an anklet?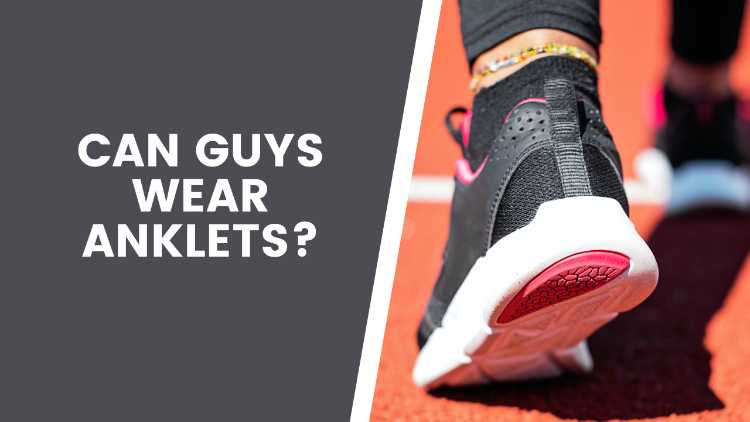 Quick Answer
Anklets can definitely be worn by men to flatter and accentuate their wardrobe. There are lots of different styles that are set apart from women's anklets by size and material—among the most popular being leather anklets or silver anklets. Like a bracelet or necklace, men's anklets simply should flow with their aesthetic and pair well with the rest of their outfit for maximum effect!
Not every anklet is going to fit every guy (a common tragedy amongst all genders), but there are styles of anklet made to compliment the male form and feel!
How To Choose The Right Anklet For Men?
Amongst the most important things to consider when selecting an anklet for a man are his style, personality, and the outfit it's being paired with! It has to flow with everything else he's got going on—here are some popular kinds to test out!
Gold/Silver chain: the go-to, a silver or steel chain link anklet fits most men well because chains, especially thicker ones, are generally considered masculine. On the flip side, a thin, gold Figaro chain anklet is a great contrast against a pair of dark, cropped trousers! If you plan to keep it on regularly, be mindful of the fragility of your anklet and the level of activity you regularly engage in. They're easy to forget down there and could unnoticeably break. Considering that, metals work best for less active lifestyles and situations such as semi-formal events or casual gatherings. It's also worth it to note that men's anklets aren't typically bedazzled with lots of sparkles and diamonds. However, if shiny things are your thing you can find plenty that are tastefully peppered with gems!
Leather: leather anklets are generally made exclusively for men! This kind specifically works best for the outdoorsy or active type because they're more durable. Leather anklets come as thick bands, thin ribbons, braided, and even strung with beads or shells! Consider a leather anklet on top of a pair of boots, rolled-up jeans, and a plaid shirt.
Crocheted: another durable option, crocheted anklets add a flavorful touch to any Boho (bohemian) or hipster aesthetic. They can also commonly be found on the beach scene, popularly worn by surfers and lovers of the sand and sea! With that in mind, try a crocheted anklet with a pair of vibrant beach shorts and trendy sandals!
What Kind Of Anklets Can Men Wear?
Ultimately, a man can wear whatever kind of anklet he wants (there's no official authority on the subject)! At its core, it has everything to do with going against gender-specific societal norms and how comfortable the wearer is doing that.
It's also valuable to consider which kind would be best for your lifestyle! Certain elements can affect the integrity of your anklet. Here are a few things to think about before making your selection:
How much time do you spend in the water? – For water-enthusiasts, metal anklets or anklets with metal clasps are least feasible. Metal is eaten away by ocean salt. Constant exposure to moisture makes fake precious metals rust and change color.
What sort of outdoor activities do you engage in? – If you live an active lifestyle, the safest bet for you would be a leather anklet. Sweat presents the same potential hazards pertaining to moisture damage as constant exposure to water. Rigorous outdoor activities (rock climbing, hiking, etc.), a crocheted anklet could potentially snag or rip.
How much sun do you get? – In the same way UV (ultraviolet) rays from the sun do a number on your skin, they're not so good for leather either. These rays suck the moisture from the leather, leaving it faded and fragile over time. If you endure constant sun exposure, metal or crocheted anklets will maintain their integrity longer.
There are a wide variety of anklets that can be found with ornaments such as skulls, metal or wood beads, or even your name! You can have your leather anklet engraved as well. Nothing is guaranteed to look better on you than something personalized!
Which Leg Should a Man Wear an Anklet On?
The leg a man chooses to wear an ankle on has no established significance. I'll say it again: there's no official authority on men's ankles and what to do with them! With that being said, preferring to wear your anklet on your left leg instead of your right is not detrimental to your reputation.
What Does Wearing an Anklet Mean for Men?
Anklets are worn across a number of different cultures to signify status and as charms. In Indian culture anklets are worn to show that you're married or for luck. In Egypt, they're used to exhibit social status—lower class individuals adorning anklets of string or wood while the upper class displayed metal anklets with small, jingling jewels and bells. There are no significant meanings for anklets in Western culture—they're simply a charming fashion statement! However, you can choose to draw from these international meanings and incorporate them in your choice. You can also personalize your anklet to give it your own meaning!
Do Straight Men Wear Anklets?
The short answer: yes! Western society has a history of discouraging men from indulging in things that have been deemed "feminine". However, I think it's safe to say that an accessory on your leg doesn't determine your sexual orientation! In truth, it's all about what you're confident wearing.
Anklets are most commonly seen on teen and young-adult boys, but there's no expiration date on a tasteful accent piece. Plus, the idea of men wearing them is much more widely accepted today so no matter your age, style or sexual orientation, you can experiment in confidence!
Which Color Anklet Is Best for Men?
To maintain a masculine feel, I recommend sticking to darker colors such as black, dark brown or gray. Black and silver metals (for example, black stainless steel or classic silver) are stunning on men as well. Monotone colors have the advantage of pairing well with any outfit. Colors that coincide with nature are also safe to opt for: dark greens, sandy brown or beige, navy blue, or brick or clay red.
Warm colors tend to complement darker skin tones. Medium to dark tones can enjoy a red leather, beige crocheted or gold chain anklet with a little extra flair. Men with fairer skin tones can more easily experiment with brighter colors or cool ones like dark blue or forest green.
Are Anklets Haram for Men? Is Wearing Anklets a Sin for Men?
Fashion is meant to be everything but set in stone; it's fluid, shapeless, and meant for everyone. It's entirely about self-expression! There is nothing wrong, disgraceful, shameful or otherwise about a man wearing an anklet.
This might seem obvious, but keep in mind also that you're not bound to an anklet for life if you decide to put one on! If you're curious then find one you like and try it on. Then, if you're not feeling it, take it off! Easy!
Wrap Up
A guy can just as easily look handsome in an anklet as a girl can look beautiful! Experiment freely with different styles and find what you feel comfortable in!
When choosing an anklet, make sure you select one that matches your personality or the outfit you plan on pairing it with. The most common kinds of anklets for men are leather, (thick) metal chain, and crocheted. Personalized anklets are even more flattering—try one engraved with your name or threaded with beads, shells or charms!