Cargo pants are great because they have plenty of pockets, making them perfect for carrying small items on-the-go. If you don't want to sacrifice comfort make sure to pick the right shoes to wear with your cargo pants when you go out.
So which shoes should you wear with your cargo pants? This guide will teach you everything you need to know about wearing the right shoes with your cargo pants.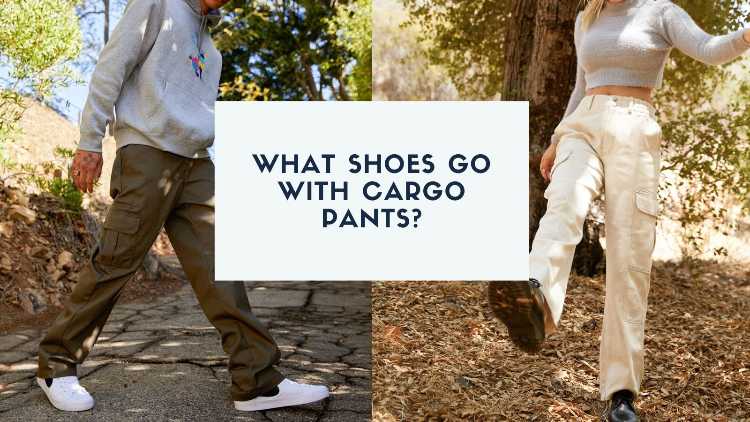 Quick Answer
If you've got some sporty cargo pants on, we recommend a nice pair of sneakers, but if your cargo pants are more casual and laid-back, a pair of boots would go great with them. In general, you'll want to opt for low-profile shoes. Remember, the baggier your cargo pants are, the higher-profile your footwear should be.
Okay, so you have a pair of cargo pants and you're looking for a suitable complement. Follow these guidelines to find out which shoes will look good with your cargo pants.
What Shoes Go with Cargo Pants?
There are dozens of different types of shoes that can be worn with cargo pants. You can wear sneakers, boat shoes, canvas sneakers, or even boots with your cargo pants. But no matter what you choose to wear on your feet, one thing is for sure – you'll want a shoe that is comfortable and goes well with your outfit.
Let's take a look at seven great pairs of shoes that go with cargo pants, so you can pick out your favorite type:
1. Canvas sneakers – high-top sneakers look great when paired with casual trousers. They are particularly nice if you want something more rugged than tennis shoes but don't want to break out boots either. However, these shoes might not work very well in cold weather because there's not much material covering your toes.
2. Slip-On Loafers – Slip-on loafers aren't only stylish, they are also extremely easy to slip on and off as you walk around town. In terms of comfort, these shoes rank near the top of any list. Provided that you find ones made from quality materials such as suede or leather.
3. Boots – A good pair of leather boots is always a great way to complete an outfit. They have been popular fashion staples for decades. This makes them ideal footwear options if you're trying to keep your wardrobe modern and trendy. Whether it's cowboy or combat style, make sure that your boot has laces as opposed to Velcro straps. Otherwise, they will probably look weird while being laced up.
4. Sandals – A lighter option that still looks great with most outfits would be sandals. Sling-back sandals, for example, are exceptionally versatile because they don't need to fit tight around your foot, thus giving you plenty of room in your shoebox.
5. Oxford's – Oxford shoes often get overlooked when people try to think about matching their footwear with cargo pants. The reason is simple: people typically associate oxfords exclusively with business settings where dress clothes are required. However, oxfords actually go with practically anything, including cargo pants.
6. Casual Sneakers – Casual sneakers are perhaps some of the most common shoes among young adults today. These shoes should look okay whether you're on campus or running errands downtown. Although you can use casual sneakers with cargo pants, you may run into problems if you plan to do a lot of physical activity.
7. Athletic Shoes – If you're going to be doing a lot of running or playing sports, then, athletic shoes are your best bet. Running shoes are great for quick jaunts between buildings. They will look great with cargo pants especially when you're using them for cross-training purposes.
What Shoes to Wear with Cargo Pants? By Occasion Type
When it comes to getting dressed, it is important to consider what occasion you are dressing for and which shoes go with cargo pants. When you know what type of event you will be attending, you can make an educated decision about your clothing and footwear choices.
For example, a nice dinner would warrant different shoes than a day at work or going shopping. In general, there are three occasions when we typically wear cargo pants; casual events, formal events, and athletic events.
While each setting has its own dress code regulations, there are similarities in which types of shoes go with cargo pants in any situation. In each case, you need to think about whether you'll be standing or sitting most of the time; standing requires more comfortable dress shoe options while sitting necessitates a pair that doesn't have too much extra space in them for comfort purposes.
For example, hiking shoes work best for everyday wear with cargo pants; tennis shoes or running shoes are also good options depending on your needs. Dress up your look for a night out by pairing dress shoes like oxfords with cargo pants.
What Shoes to Wear with Cargo Pants in Spring?
Wear sneakers, boat shoes, or sandals. Sneakers and boat shoes can also be worn without socks, which is a very comfortable choice if it's warm enough outside. There are, of course, many other options. You can also wear flip-flops because they're so easy to throw on quickly and they look nice with any pair of cargo pants. The goal is to wear shoes that won't make you uncomfortable when the weather becomes warmer.
What Shoes to Wear with Cargo Pants In Summer?
Wear flip-flops with your cargo pants during summer. They're as comfortable and fashionable as they are durable. Plus, they're a great choice for running errands or wearing to work on casual Fridays. When it comes to cargo pants, flip-flops will keep your feet cool and comfortable throughout the summer months.
If you decide flip-flops just aren't for you (or if you live in an area where temperatures reach below 70 degrees). Choose lightweight sneakers with canvas uppers and rubber soles that can be slipped off easily when needed. Just remember, no socks with these babies!
What Shoes to Wear with Cargo Pants In Winter?
Winter is here, which means bundling up in warm layers and boots to battle icy streets. But even if you're opting for warm boots, that doesn't mean your feet can't be stylish.
If you have a pair of cargo pants hanging in your closet, there are plenty of ways to wear them with shoes such as hiking boots or sneakers. Consider wearing combat boots. Although they're commonly worn in warmer months, combat boots make an awesome winter shoe choice thanks to their cushioned rubber soles.
Can You Wear Formal Shoes With Cargo Pants?
It all depends on what kind of cargo pants you're wearing. Are they shorts with pockets on them? Yes. Can you wear dress shoes with those? No. But it is also possible to pair a more classic style of cargo pants with nice lace-up shoes.
You just have to pick out an eye-catching design that matches your style and includes lots of color and flair. There are many different kinds, so take some time shopping around until you find something you love.
What Shoes to Avoid with Cargo Pants?
Loafers, Flats, and Dress shoes are all bad choices to wear with cargo pants. A lot of people make this fashion mistake without knowing. Loafers seem too casual, flats aren't comfortable for walking around in and dress shoes really have no place at an office that allows for cargo pants.
They can make you look clunky and disorganized which goes against what you want to achieve when wearing a pair of cargo pants. It would be better to just avoid any shoe style listed above when going out or traveling in your pair of black, brown, or olive green cargo pants.
Wrap Up
Cargo pants have passed the test of time to prove they are modern and trendy. While wearing cargo pants makes one stylish, wearing the wrong shoes can mess up your look. Sneakers or casual boots are often the way to go with cargo pants. The next time you want to rock cargo pants, take this into consideration when picking the shoes you are going to wear.
Hope this article has been informative to help you rock the right shoes with your cargo pants. What do you think? Which shoe styles would work best? Let me know in the comments section below.