I am no stranger to body scrubs and have personally used some from The Body Shop (not a fan!) and even DIYs with sea salts but ever since arriving Canada, this habit of mine has taken a back seat.
The cold winter weather has created havoc not only on my face but also on my body. I see dry, rough and sometimes itchy patches emerging on my thighs and around my arms and despite my attempts to moisturize my skin, those pesky patches never fully go away. On the contrary, they are like a bunch of nomads, migrating from one area of my body to another.
So when the Jealous Body team contacted me with an offer to try their all natural Jealous Coffee + Coconut Body Scrub*, I said yes without a second thought. Okay I lied a little, I did quick research on the company and product before saying yes. Last thing I need is my skin to fall off me….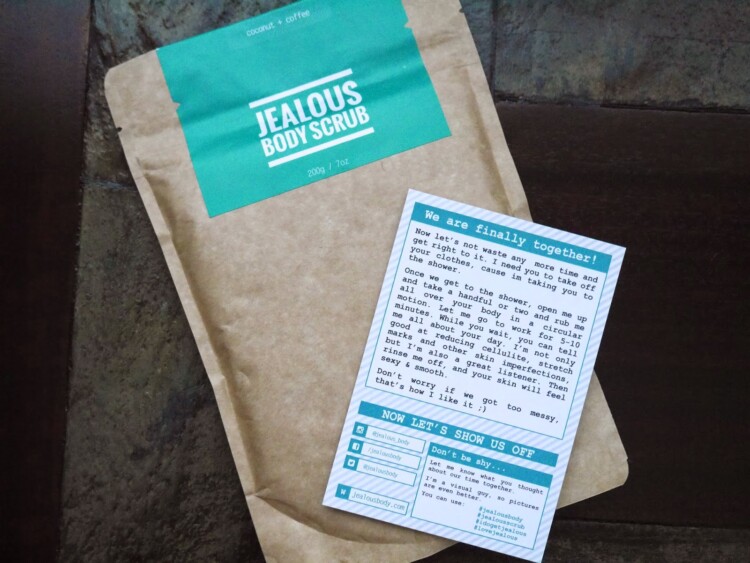 I lurveeee how cheeky the card is!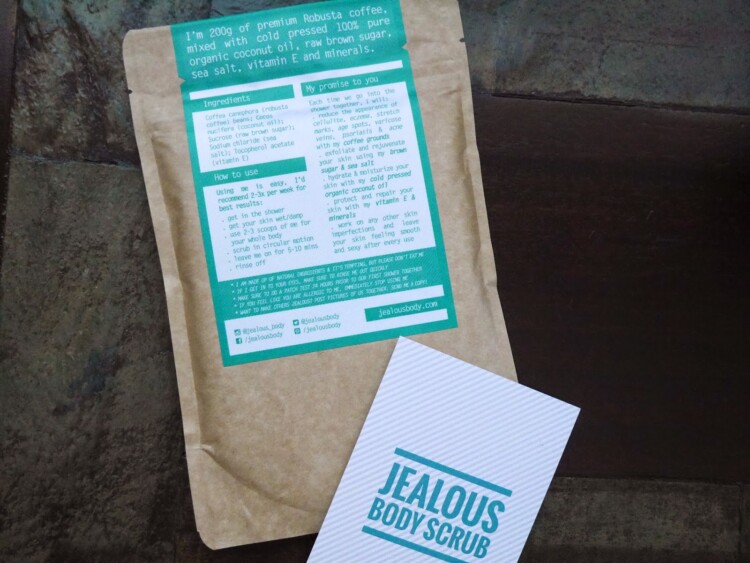 Package comes with instructions and list of ingredients on it, brilliant!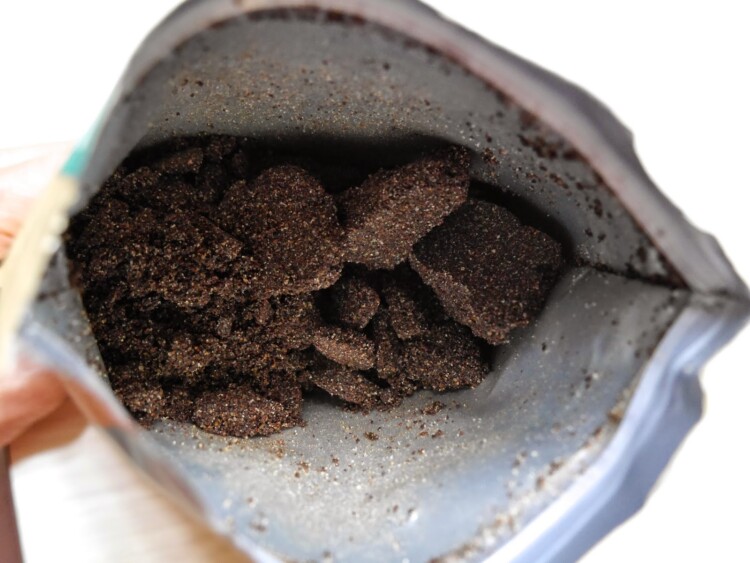 Jealous Coffee + Coconut body scrub
Jealous Coffee + Coconut Body Scrub* is made with 100% natural ingredients and the best part? It's made locally in Vancouver, Canada. I recently have been trying to make it my mission to discover Canadian brands so this scrub came at the perfect time.
From Jealous Body Scrub website:
What's in it:
In each package, there's a mixture of ground coffee (that has never been brewed before), cold pressed coconut oil, sea salt, raw brown sugar, vitamin E & minerals. All of our scrubs are made in Vancouver, Canada (with lots of love of course). What does it do: It's rough enough to improve your skin's imperfections, but at the same time, hydrating to leave your skin moisturized after every use. By using the scrub on a regular basis, it will:
reduce appearance of cellulite, eczema, stretch marks, age spots, varicose veins, psoriasis and acne
exfoliate and rejuvenate your skin, taking off dead skin and leaving skin moisturized
hydrate your skin
protect and repair skin
work on other skin imperfections and leave skin feeling smooth and sexy after every use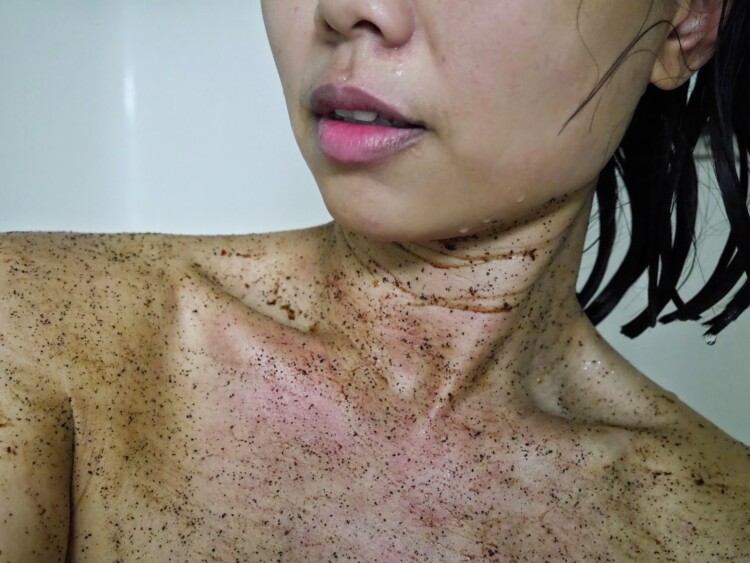 My skin is a little red due to the warm shower and NOT caused by the scrub
So does this deliver on any of its claims? The answer is yes and more! But first let's talk about the yummylicious scent. Your bathroom and yourself will smell like a delicious coffee house. If you are not a fan of coffee then this is not the scrub for you. Actually scratch that, even if you're not a fan of coffee (what is wrong with you?! kidding…or maybe not) you still need to try this scrub because it is that good! I've been using this scrub twice a week and all but one of my dry patches are gone within less than two weeks. Now one might argue that the change in weather might also contribute to this but I personally am convinced it's all about this scrub. Unfortunately, I can't comment on how effective this scrub is in improving stretch marks and cellulite because I have none (yet!) but my skin is softer and smoother than ever. I do still apply body lotion after using this scrub but it's a habit that I have since I was a child. I only need a small handful for a whole body use and applies this by rubbing the scrub in circular motion onto my skin. I then leave it for 10 minutes and finally rinse it all off. Now I have to warn you that this gets messy, veryyy messy. It's like naked mud wrestling messy so you best be careful to rinse it all off, last thing you need is coffee grounds stuck somewhere in the land down under. Sorry Aussies…but gosh is it ever easy to use that phrase. The one thing that gets to me is the packaging. Yes, it comes in a resealable bag but the bag is NOT WATERPROOF. I do wish it is but for now, just take a handful in a bowl into the shower with you. If you're looking for soft, smooth and gorgeous glowing skin all ready for Spring then do try this body scrub. I know there are many DIYs out there and yes, DIYs might be a cheaper alternative but there is something very special about Jealous Coffee + Coconut Body Scrub*, something that I have never experienced before with DIY scrubs. An open packet of this scrub is good for 6 months but trust me, it won't last that long because you'll be as addicted as I am to this! Jealous Coffee + Coconut Body Scrub* is retailing at CAD17.95 for 200g and they offer free delivery within Canada and to the US. Better news? They ship worldwide, yes, WORLDWIDE. Click here to find out more about Jealous Body Scrub. **I received this product for free but my thoughts and opinions are 100% unbiased, honest and my own. There is no place for any sort of BS here.