ipsy has been the one subscription that I have long wanted ever since I first started reading beauty blogs. Back then when I was living in Malaysia, I often went 'ooo…' and 'ahhh…' whenever a blogger wrote about her ipsy Glam bag. So it would come as no surprise that I was quick to sign up for it as soon as we migrated to Canada. And I wrote about ipsy on here for a few months and then there was silence.
ipsy and I had a tumultuous relationship; some months it was bad and other months it was beyond horrid. And I was determined to break up in November before the next yearly billing started but something magical happened…
Like an effing' wanker who knows he is about to get the boot, ipsy smartened up and has been on its best behaviour for the past two months.
November 2015 'BEAUTY BLAST' Glam Bag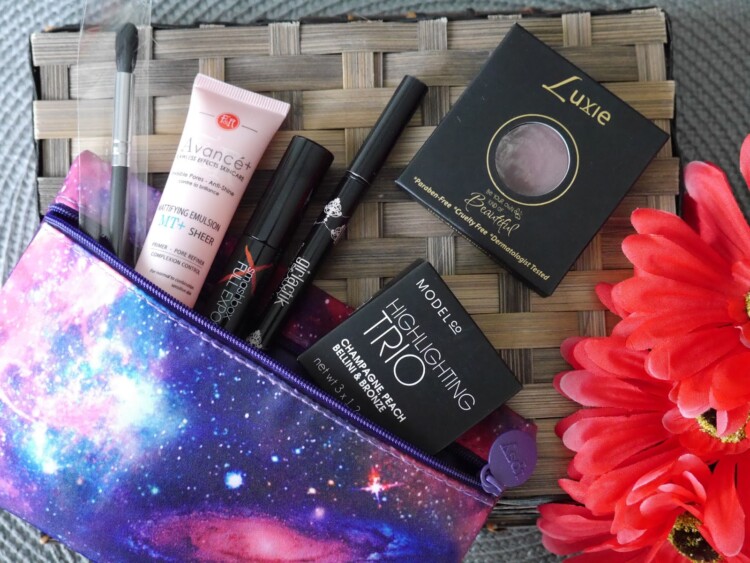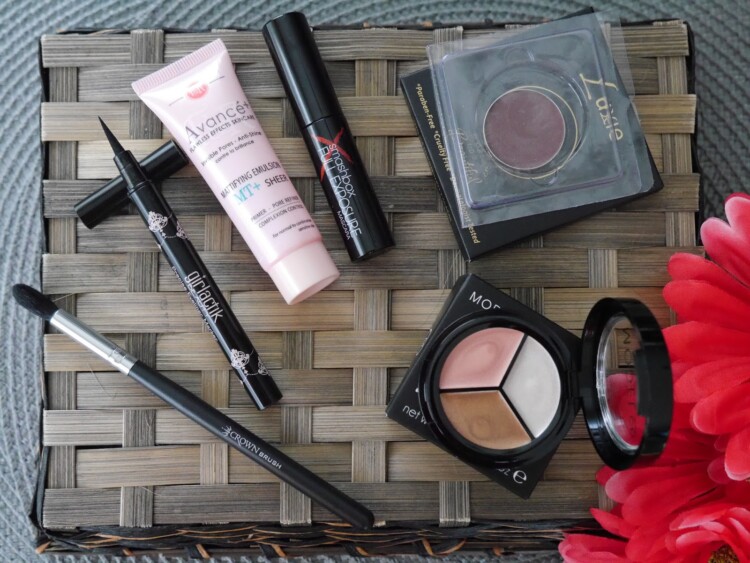 Smashbox Full Exposure mascara was included in everyone's November glam bag and I was a little disappointed when I first saw it. I received this same mascara when I purchased Full Exposure palette and I wasn't wow'ed by it at all but this turned out to be brilliant. I do wish the wand was smaller, I mean seriously, who needs a big arse wand like that?! You'll see how huge the brush is in the picture at the end of this post.
Luxie Beauty eyeshadow is a gorgeous deep matte plum shade, the highlighting trio from ModelCo took me by surprise at how gorgeous all three shades are and finally, Girlactik Precise Eyeliner was redeemed using my points and it's one of the best eyeliners that I have ever used.
Now to the not so good, I was severely disappointed by Crown Brush Deluxe Crease Brush because it sheds like no other. I have a couple of Crown brushes and they are some of the best I've used so I have no idea what happened to this and it ended up in the bin. Figs & Rouge Mattifying Emulsion and Pore Refiner is the worst primer that I've ever tried. All and I really mean ALL my foundations balled up with it so into the trash it went too.
While I had two duds, I was seriously pleased with the November Glam bag because the majority are makeup products. It finally felt like ipsy was listening and taking note of what I want so I renewed my one year subscription.
December 2015 'FOR YOU WITH LOVE FROM IPSY' Glam Bag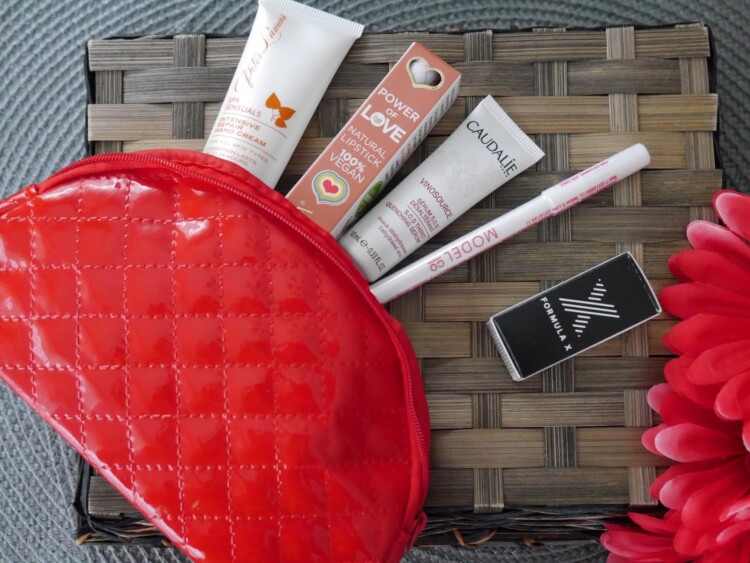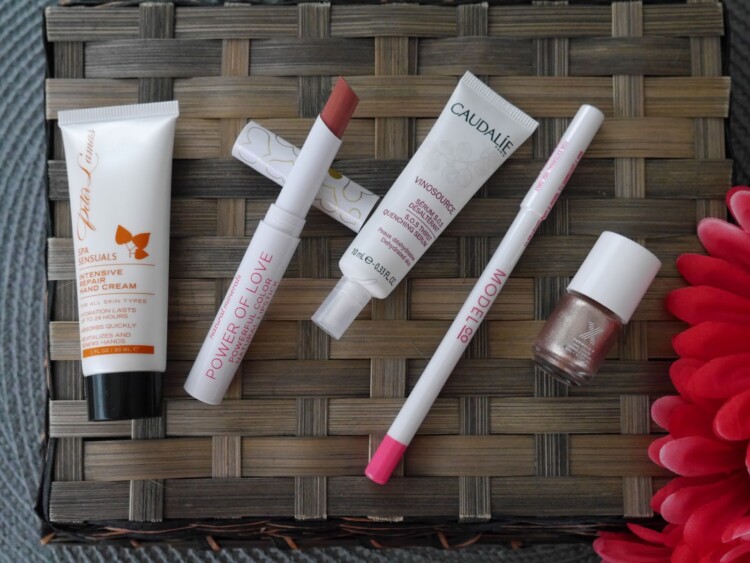 When December arrived, I took a quick peak into my Glam room and gosh, I was so glad that I renewed my subscription! I loved everything that I received with the exception of the hand cream. It's not the hand cream's fault, it's pretty good and leaves my hand so soft and smooth but I'm just not the biggest fan of receiving hand creams in my beauty subscriptions.
I was most excited for Caudalie Vinosource S.O.S Thirst Quenching Serum and the best part is this sample came in 10mL which is a third of the full size. I used this serum back when I was in Malaysia and loved it so I'm so happy to receive this generous sample. I have long wanted to try Formula X nail polish so this little sample size came at the right time. I received the shade Revved Up which is a stunning rose gold and I wore it for Christmas. The nail polish is not as long lasting as I hoped it to be, it lasted only three days before chipping but then again, I did lots of cooking and cleaning over Christmas. Pacifica is a 100% vegan, cruelty free brand and this Power of Love Natural Lipstick is my first product from the brand. I received the shade Tender Heart which is a nude shade. It's a touch pale on me but it's easily transformed into a gorgeous everyday shade with an addition of a lip liner. I have yet to try the ModelCo lip liner but I have no doubt it's lovely as all the other products that I've tried from the brand.
#MOTD (Makeup Of The Day)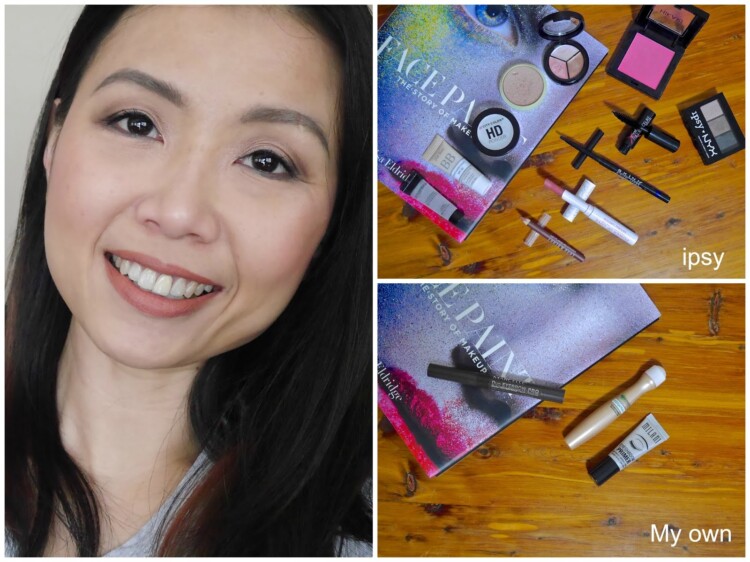 I've recently read a few #MOTD posts using solely makeup received through ipsy so I thought I would try creating it myself. Unfortunately for me, I have never received eyebrow products and eyeshadow primer so I had to use my own and while I once did received a concealer, it was absolutely horrid and I threw it away. So with the exception of the said three products, the look was created with everything that I received from ipsy. BASE Smashbox Photo Finish Primer pur~lisse BB cream ModelCo Highlighting Trio Pixi beauty bronzer in shade Summertime Garnier BB Eye-Roll (my own) Hikari blush in shade Tango City Color HD Powder Eyes Milani Eyeshadow Primer (my own) Marcelle Duo Eyebrow-Pro (my own) ipsy NYX eyeshadow trio Skinn eye liner in shade Navy Seal Smashbox Full Exposure mascara Lips Lord & Berry lip liner in shade Nude Pacifica Power of Love Natural Lipstick in shade Tender Heart I honestly am eager to know what will be in my January Glam bag and I hope it will be great as November and December bags! If any of you lovelies are located in US or Canada and would love to give ipsy a try then you can use my referral link by clicking here. What are your thoughts on beauty subscriptions, are you a fan or not?