It has been some time since I last wrote about my skincare routine and I thought it was high time for me to share what's in my current rotation. There have been some changes as in extra steps that didn't exist before the extra mile which actually helped boost my skin from very dry to almost normal.
It has been months since I last noticed a dry spot on my face, my foundation applies so much better and if I could stop trying to extract white and black heads with my dearest torture device, my skin would be scar free. Well, I can't win them all no?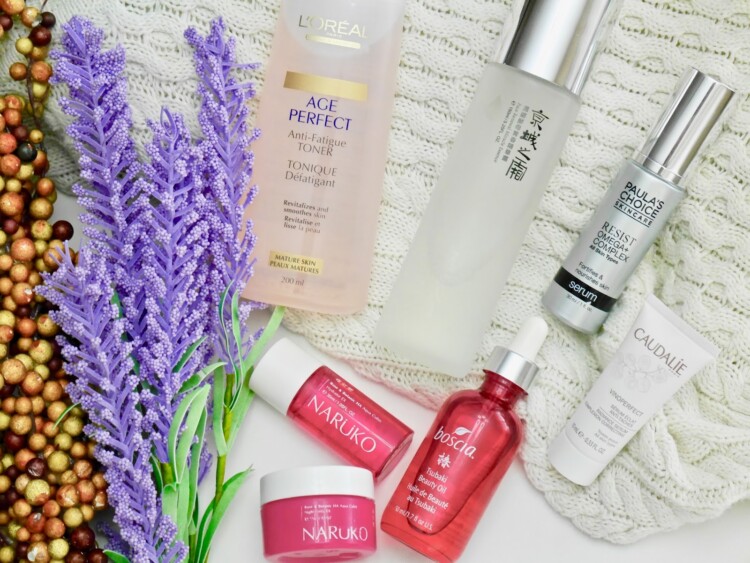 The biggest change in my routine has been the appearance of a few Asian beauty products, more specifically from the brand Naruko. I was very kindly sent a lot of products to test a couple of months back so most of the products have been in my rotation for at least 5 weeks.
I personally feel the main reason why my skin is currently leaning more towards normal than dry is the fact I have layer not one, not two but three toners to prep my skin for the other skincare products. Yes, I know some might dismiss it as an overkill but it works for me.
TONERS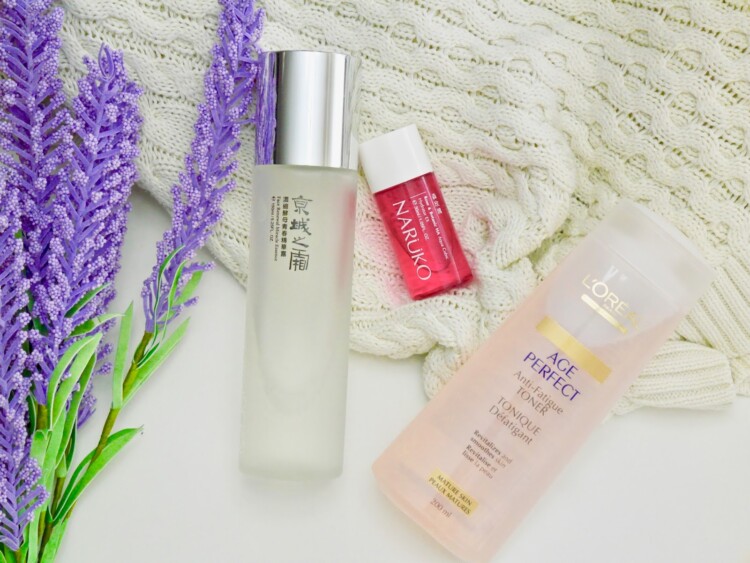 I start with my old trusty L'Oreal Age Perfect Anti-Fatigue on a cotton pad and follow by patting in 3-4 drops Naruko Jing Cheng Face Renewal Miracle Essence* (reviewed here) and finally, Naruko Rose & Botanic HA Aqua Cubic*. Naruko Rose & Botanic HA Aqua Cubic* is a hydrating toner that you can apply with a cotton pad or pat it in and I prefer the latter. It has a thicker watery jelly texture and a very soft pleasant rose scent. Long time readers will know that I am not a fan of rose scents because too many are artificially sweet and overpowering but this is soft and natural. Rich with Hyaluronic Acid, ATP (Adenosine Triphosphate), Snow Fungus Extract, Willow Bark Extract, Vitamin B5 and Ceramide, it is meant to deliver intense hydration with brightening properties. I strongly believe that this toner is the reason why my skin has been looking so plump and bouncy recently. Sometimes I will mix a drop of The Ordinary Niacinamide and Hyaluronic Acid (reviewed here) into it and my skin just drinks up the concoction.
SERUMS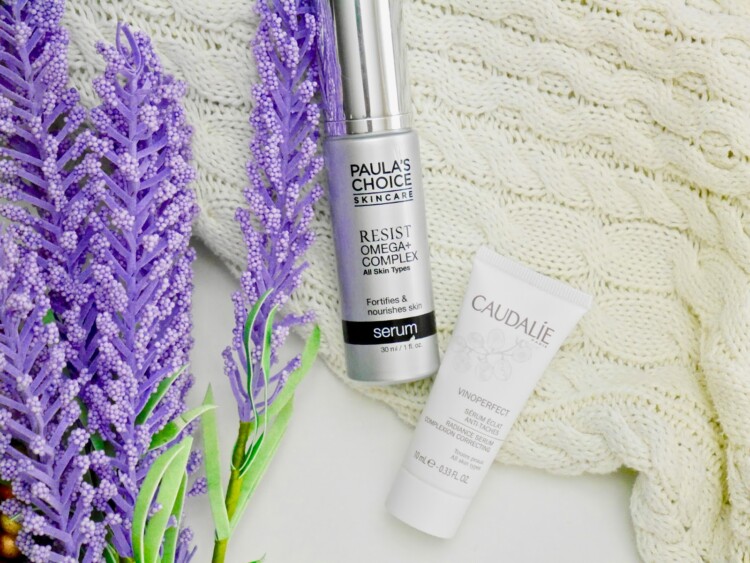 Depending on how my skin feels and looks, I sometimes layer two serums; one for brightening and the other to nourish and protect my skin from environmental damage. My current pairing is Caudalíe VinoPerfect Radiance Serum and Paula's Choice Omega+Complex Serum*.
I just finished Paula's Choice RESIST Brightening Essence* (reviewed here) and was about to repurchase but a dear friend gifted me this Caudalíe serum to try and I actually like it a touch more than the former. That said I am not a fan of its price of C$86.00 so if you guys have suggestions of a reasonably priced brightening serum, I am all ears. Paula's Choice Omega+Complex Serum* is amazing. My skin fell in love with it at first use and after using it for a few weeks, I noticed significant improvement in my skin elasticity. I will not go in-depth about it because this product deserves a review on its own so look out for that.
MOISTURIZER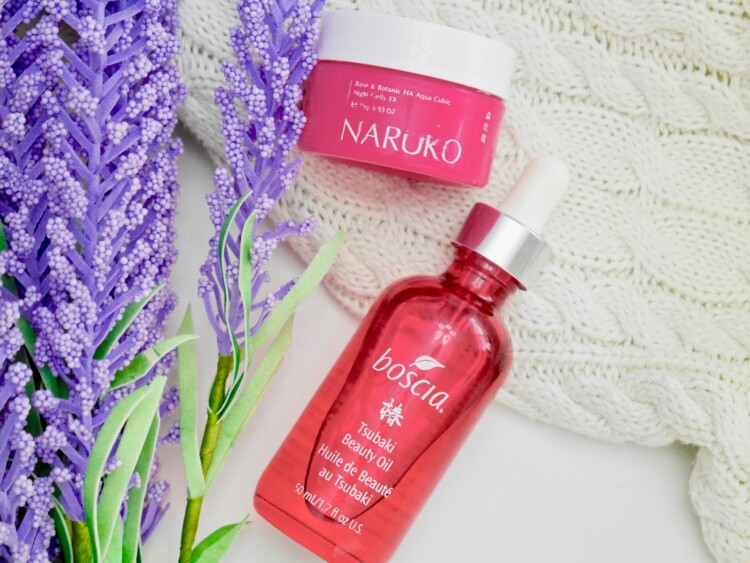 Naruko Rose & Botanic HA Aqua Cubic Night Jelly EX* has been my go-to moisturizer for the past month and I am close to finishing it. This softly rose scented lightweight moisturizer has a gel like texture and it absorbs almost instantly into the skin.
This moisturizer is rich in AQUAXYL™, Willow Bark Extract, Snow Fungus Extract, Ascorbyl Glucoside, Tocopheryl Acetate, Ceramide and Niacinamide, it is the perfect lightweight moisturizer that would suit normal to oily skin. Dry skin lovelies might find this to be too light which occasionally happens to me but I just add a couple drops of my beloved Boscia Tsubaki Beauty Oil (reviewed here) and that solves the problem. Naruko Rose & Botanic HA Aqua Cubic Night Jelly EX* is meant to brighten, plump, strengthen and protect the skin and it does all that well. After adding this and the toner into my rotation, I find myself needing to blot my forehead and cheeks at the end of the day which never ever happened to me since my early 20s! Another reason why I absolutely adore this moisturizer is it layers so well under sunscreens and makeup and it's fast absorption also means I don't have to wait minutes before layering my next product.
SUNSCREEN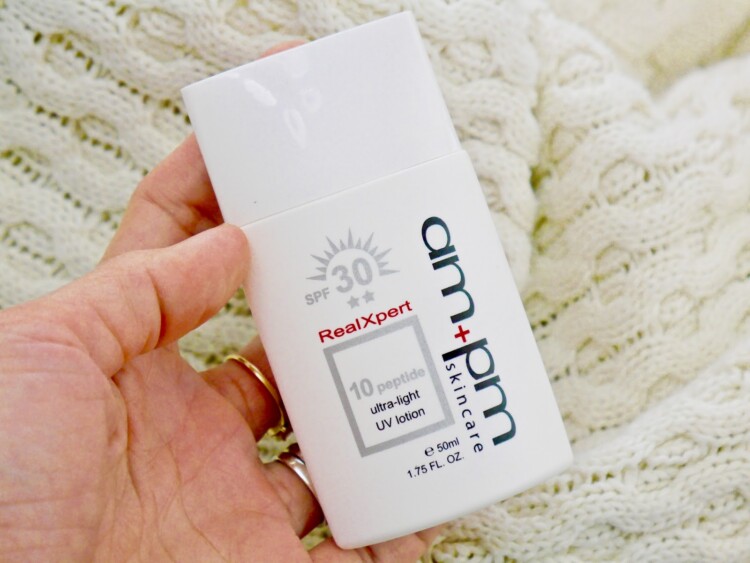 I am still obsessed with Naruko am+pm 10 Peptide Ultra-Light UV Lotion SPF30* (reviewed here)! I am so close to finishing it and am planning to repurchase the SPF50. I swear that this sunscreen not only protects my skin from the sun and environment but it also helps improve my skin over time. Its lightweight texture and fast absorption without leaving any white cast and residue also means it layers amazingly well under makeup. Absolutely love this! So there you have it, my current day time routine for Spring. What products are in your routine?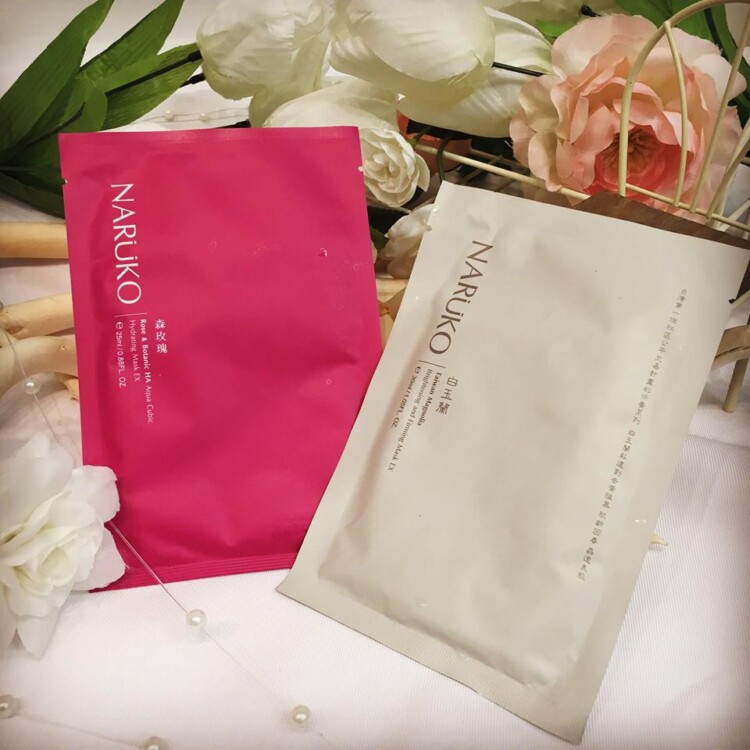 Naruko is holding a GIVEAWAY where you can win two of their sheet masks. GIVEAWAY is open to Canadian residents only and head over to my IG account here to join! Naruko Canada has very kindly provided a discount code for my readers. Enter 'BloggerCodeforShireen' and you will receive $10 discount when purchasing on Naruko Canada. *Products marked with * were received for free but my thoughts and opinions are 100% unbiased, honest and my own. There is no place for any sort of BS here.