The beauty world went absolutely gaga for Make Up For Ever Ultra HD Foundation last year and it has remained as one of the top favourites for many. I personally have yet to try the foundation but now that my spending ban is broken, it will be mine soon.
As the name suggested, this Make Up For Ever Ultra HD Concealer is part of the Ultra HD line that looks invisible to the naked eyes and 4K camera. This concealer has Anti-Dark Circle Complex with Radiance Booster which supports collagen to refresh and awaken the undereye area. Not only does it fill and smooth fine lines, its lightweight formula is also infused with Pure Focus Pigments which are meant to reflect light to erase shadows, while the hylauronic spheres prevent moisture loss. (context taken from Sephora.com)
There are ten shades all together; five colour correctors and five concealer shades:
Color Correct: neutralize dark circles with a peach shade: 
R20: Light Skintones
R22: Light to Medium Skintones
R30: Medium Skintones
R32: Medium to Tan Skintones
R40: Tan Skintones
Conceal: brighten and awaken undereye area: 
Y21: Light Skintones
Y23: Light to Medium Skintones
Y31: Medium Skintones
Y33: Medium to Tan Skintones
Y41: Tan Skintones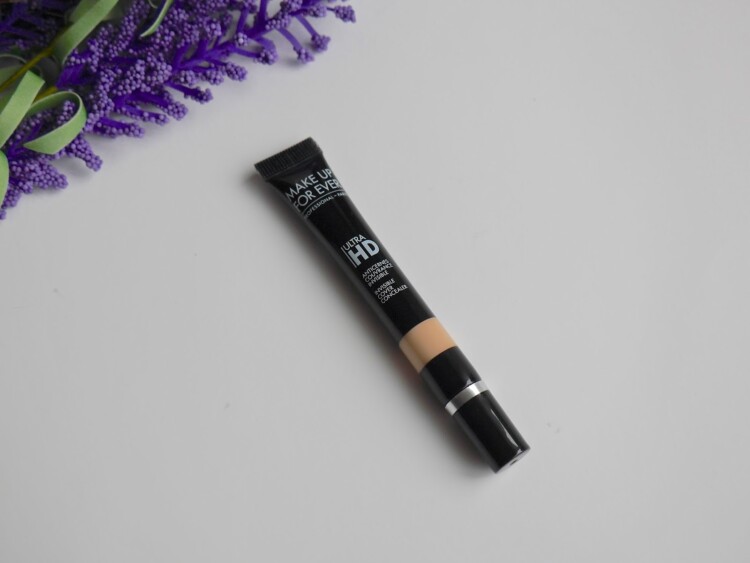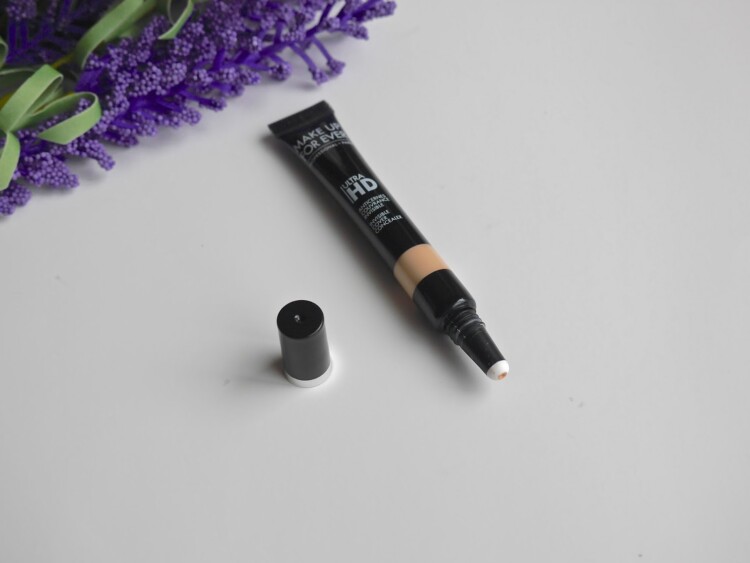 I was kindly given the opportunity to test Make Up For Ever Ultra HD Concealer and after spending almost an hour googling the correct shade, I chose the shade Y23*. A word of warning, the shades do run on the lighter side so either swatch it in store before purchasing or do your research and google for swatches if you're planning to purchase it through online.
When I first received this concealer, I was taken aback at how tiny the tube is. You'll get 7mL for $32.00CAD so if you're a person who needs to use lots of concealer then this tube won't last you long. It has a six month expiry date but ahem! between you and me, let me tell you my naughty little secret…my concealers usually last me more than a year and my face hasn't fallen off, yet.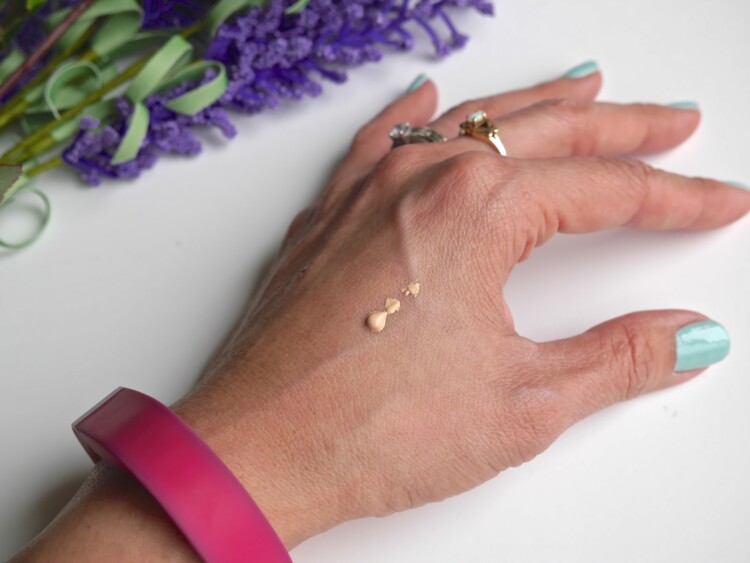 I only need 1/3 of this amount to conceal and highlight my eyes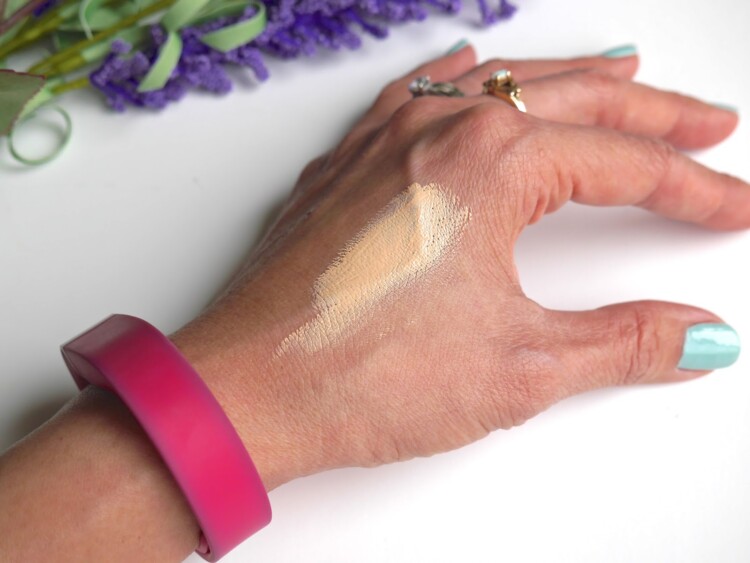 Too much product results in cakeyness
To apply I squeeze a little on to the back of my hand and apply it under my eyes. Be gentle when you squeeze because the product tends to flow out very fast so you risk wastage. The texture is light and there's no need to warm up the product in between your fingers.
While I initially frowned on the tiny weeny amount that came in this tube, I discovered I only need the smallest amount to conceal and highlight my face and under my eyes. This concealer gives amazing coverage, blends and melts into the skin beautifully and easily lasted me 9 hours before I noticed any fading. If I set it with powder then it will last me all day long. If you have severe dark circles then I highly suggest purchasing one for colour correct and another for conceal but personally the shade Y23* did both for me. Another thing to take note on, a little goes a very long way so start very little and gradually apply more if needed or you'll risk creasing and emphasizing your fine lines.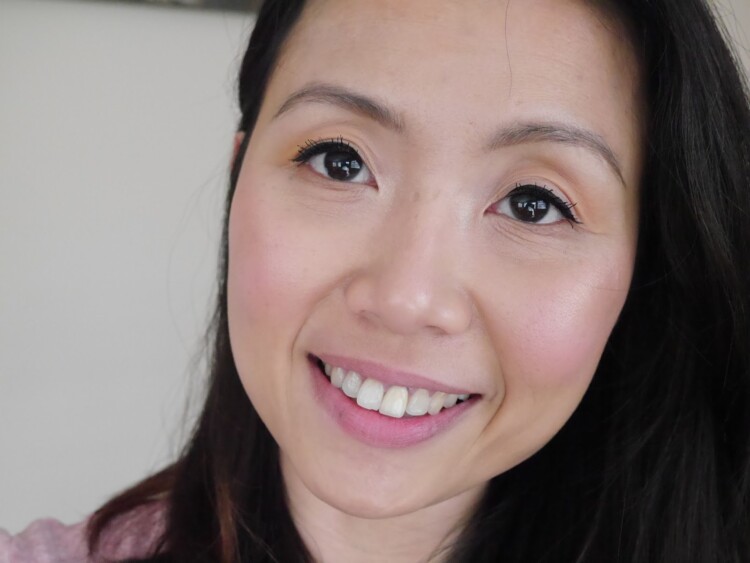 I only noticed I'm not wearing a lipstick in this picture late in the evening so it was impossible to take another picture! Oops!
If you're a long time reader then you know I am not one who will splurge for concealers because I don't have much to conceal but…much to hubby's chagrin and the deathly screams from our bank account, Make Up For Ever Ultra HD Concealer has successfully changed my mind. Oh yes, it's another one to spend the extra $$$ on. Highly, highly recommended!
Have you tried Make Up For Ever Ultra HD Concealer or foundation? What's your favourite concealer and do you prefer drugstore or high end? *I received this product for free but my thoughts and opinions are 100% unbiased, honest and my own. There is no place for any sort of BS here.Over the weekend: We were partying like it was 1991 on Saturday…I jest. Actually we went over to our friend's place and had pizza night with wine, oh yea, that's as wild as our party gets these days. Sunday was my MIL's birthday and I made tapas; meatballs simmered in tomato sauce, garlic prawns with smoked paprika, sautéed mushrooms, breaded chicken bites with homemade honey mustard sauce (I know it's not tapas but it's something for Little Tyke) and finally, homemade french loaf. It went over really well but definitely some tweaking needed to be done.  Little tyke is still sleeping with us, a habit that we haven't managed to break until now. He was sleeping in between us throughout our trip and he now refuses to sleep in his crib! Anyone has any tips to get him sleeping in his crib again? Pleaseeee share! ps: I LOST ALL my comments no effing thanks to G+ going absolutely tits up on me last week hence I finally used Disqus. I'm so sorry if I didn't visit your blog (yet!), I heavily rely on comments so with G+ going bonkers, I'm back to square one again.