Korean skincare or Asian skincare in general can be confusing to newbies like me. My journey to discovering Korean skincare didn't come without a few hiccups here and there. So far I've managed to over-moisturize my face and use products for the wrong steps.
Emulsion, essence, ampules…why can't they make it easy for someone like me?
So today we'll be talking about two of the most confusing products in Korean skincare or at least the most confusing one for me; essence vs emulsion. What are they are and which comes before the other?
If you're a complete noob like me then I hope you will find this post helpful and to the veterans of Korean skincare, please correct me if I'm wrong or share your thoughts about Asian skincare in general if you personally find it to be better than the Western skincare approach.
ESSENCE
Essence is often mistaken as a toner but depending on the level of its ingredient concentration it's similar to a serum or is a serum. Application technique is different as it is meant to be patted into the skin instead of swiping or massaging as patting motion allows better absorption. You then layer your usual serum on top of essence for everything else; diminishing fine lines, brightening, etc. Both are very similar but with small differences. Why is it necessary to use the extra step for essence when you can straight use a serum? To my understanding, essence is more targeted for drier skin types for the additional layer of hydration after cleansing. In short, essence may not be suitable or even necessary for oily and combination skin lovelies but normal or dry and dehydrated skin like mine would appreciate it more.
EMULSION
For the longest time I was under the impression that emulsion is a serum well, I was both right and wrong. How could that be I hear you ask? Well, the problem with the term emulsion is different Korean brands have different meanings to it which makes it confusing and inconsistent across the board. Some emulsions are used before serum and others are right after but in order not to confuse you and me, in general an emulsion is like a light watery moisturizer. And to know which step to use your emulsion for, the best and only way is using common sense and read the instructions.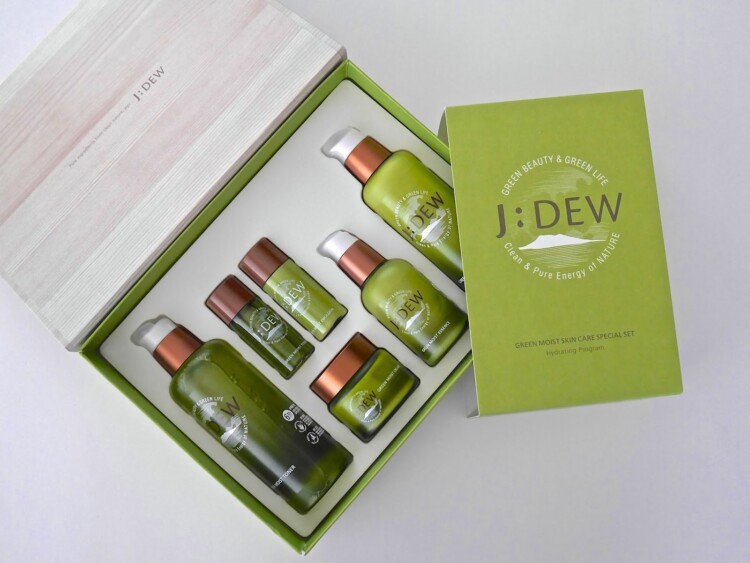 (Check here, non affiliated link)
And I did use common sense and yet when I received J:DEW Green Moist Skincare Set (Hydrating Programme)* through Q-Depot.com a leading online Korean store, I used them wrong for the first few days. This beautiful looking set comes with a toner, essence, emulsion, cream and sample sizes of essence and emulsion.
"J:Dew is manufactured by J'ers, a small award-winning company based out of Jeju-si in Jeju-do and they pride themselves as an environmentally friendly brand. The products are made free from parabens, mineral oil, animal derivatives, artificial aromas and colourings, benzophenone and silicone oil. Their key ingredients are organic aloe vera and green tea from Jeju Island with lots of anti-oxidant from broccoli extract."
Initially I was using all 4 products together and it felt way too much even for my dry, dehydrated skin. The products were sitting on top of my skin and made it impossible to wear makeup because my foundation and concealer would slide despite using a primer beforehand. So after being absolutely frustrated for 4 days, I finally turned to trusty ol' Google and discovered that I only needed to use toner, essence and emulsion during the day and use either the cream in place of emulsion or use both emulsion and cream in the evening if my skin is feeling extra parched. Duhhh….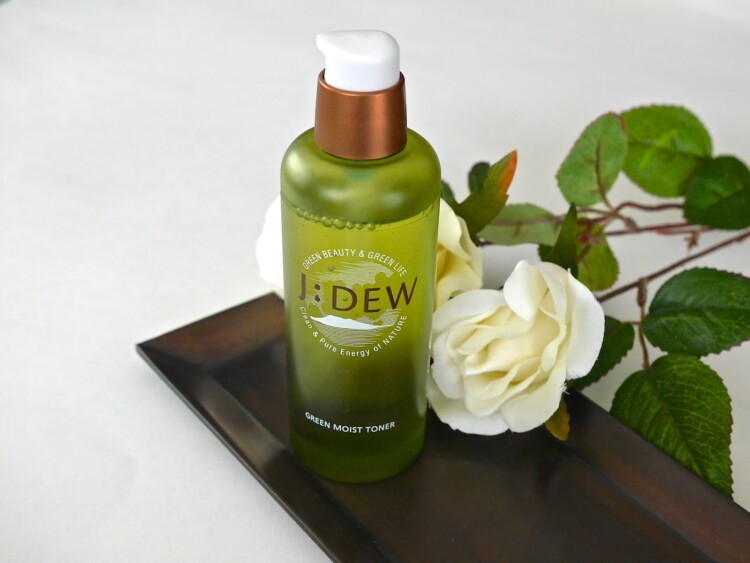 (Check here for ingredient list)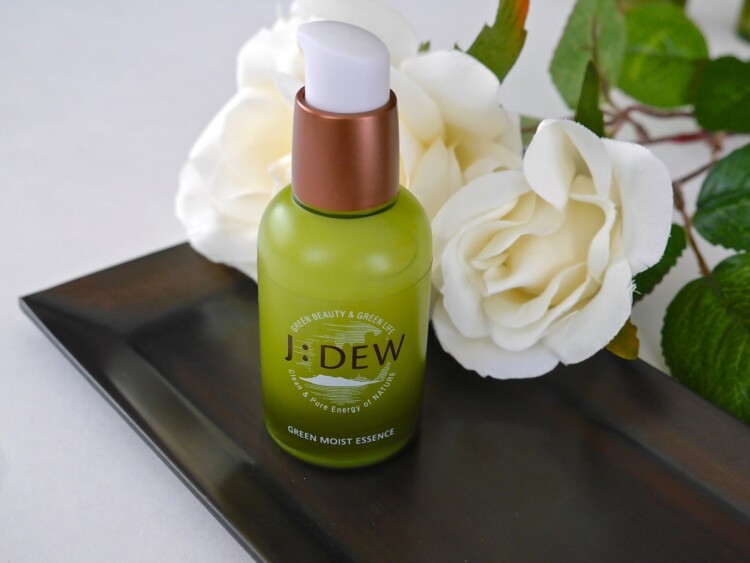 (Check here for ingredient list)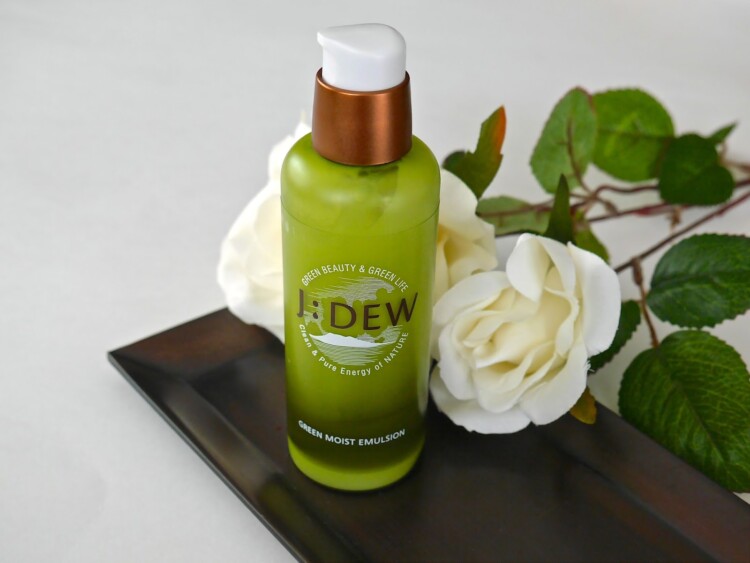 (Check here for ingredient list)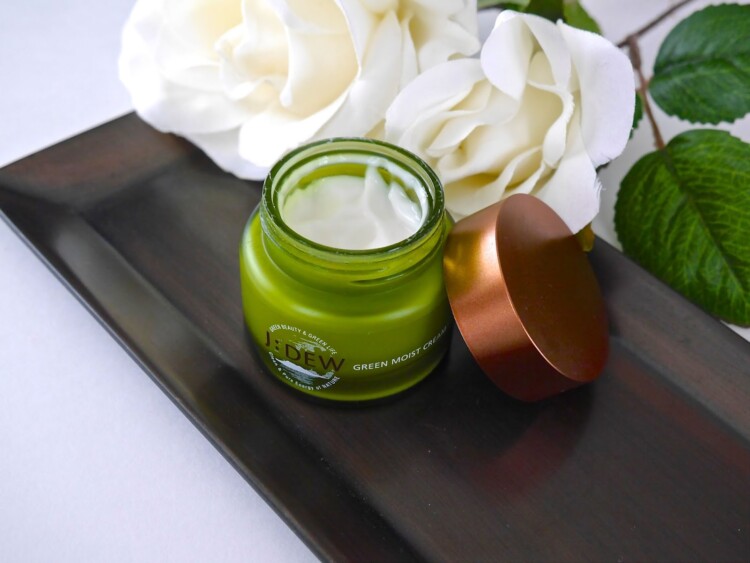 (Check here for ingredient list)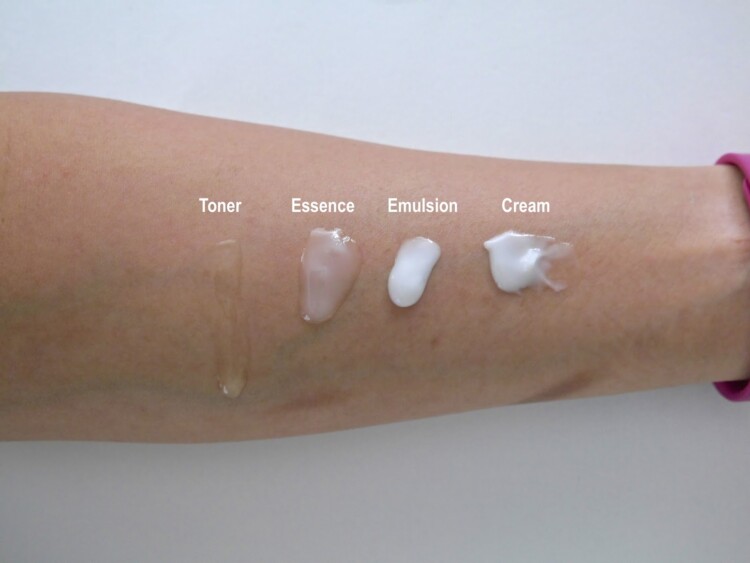 The toner is different from anything that I have tried before as it has a light, watery gel like texture. I use two pumps onto a cotton pad and it instantly leaves my face looking fresh. Despite it's gel like texture, it doesn't leave my skin feeling sticky.
I really like both essence and emulsion for day time. Initially I was a little worried that the light texture meant lack in hydration but on the contrary, both provide ample hydration throughout the day. Both absorb quickly and leave my skin feeling soft and fresh and provide the perfect base for makeup. I haven't been using primers ever since using J:DEW toner, essence and emulsion, I find my foundation sits beautifully on top of my skin while looking naturally dewy and healthy.
Now to the real star of this whole range, the cream. Guys, this little pot looks so unassuming and ordinary but I absolutely adore this! The texture is light cream and absorbs quickly leaving my skin looking instantly fresh, supple and hydrated.
Honestly I didn't know what to expect while testing this range but it turned out to be an amazing surprise. I also love that none of the products have overwhelming scents, they do have a fresh scent to it but it's soft and very pleasant.
If you have dull, tired looking skin and need something that gives a huge boost of hydration then I highly suggest checking out this range. The price is also surprisingly reasonable as you get 4 full size products and two sample sizes for only $69.99. Let's be honest, you would spend way more than that for a couple of skincare products from drugstore brands.
If you are new to Korean skincare and have no idea where to start then I highly suggest checking out J:DEW Green Moist Skincare Set (Hydrating Programme)* (check here, non affiliated link), you won't regret it.
Head over to Q-Depot.com (here) to check out the huge selection of Korean beauty products that are available. They offer free worldwide shipping for above $49.00.
*I received this product for free but my thoughts and opinions are 100% unbiased, honest and my own. There is no place for any sort of BS here.