Recently there has been a boom of gold in skincare again. I first noticed the trend 2 years ago and it was gold in everything! Facial oils, primers, face masks and then it was silent for a long while until recently.
First came the stupid GlamGlow Glitter mask, yes, I used the word stupid because it's gimmicky AF and then I started seeing gold making waves in skincare again; Peter Roth Thomas with its 24k Gold Mask and more recently, Avon Anew Ultimate Gold Peel-Off Mask* landed on my doorstep.
Let me start by saying I do NOT have the best of luck with peel-off masks; Freeman Cucumber Peel-off Mask (meh..), Boscia Luminizing Black Charcoal Mask (wtf is this shit, I almost have to scratch my face off), Elizabeth Arden Prevage City Smart Double Action Peel-Off Mask (an absolute wank, it's the wankest of all wanks) and then Avon.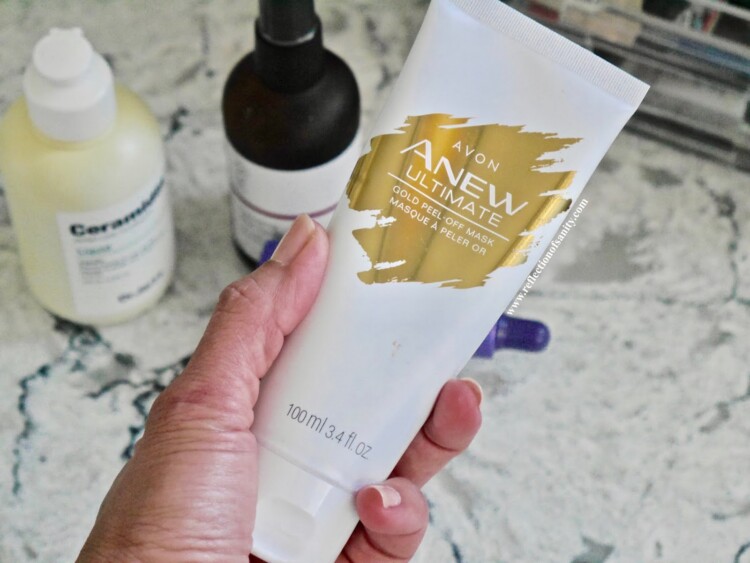 My first instinct was to look at the ingredient list.
Water/Eau, Polyvinyl Alcohol (used in peel-off masks for its ability to form a thin layer of plastic on top of the skin so that these masks can be easily removed *source*), Alcohol Denat, Glycerin (skin replenishing), Butylene Glycol, Glycereth-26, Niacinamide (skin restoring, antioxidant), PEG-8, Hibiscus Sabdariffa Flower Extract (skin firming and lifting, increases skin's elasticity), Calendula Officinalis Flower Extract (antioxidant, anti-inflammatory), Bentonite (clay, absorbs oil and impurities), Caprylyl Glycol (skin conditioning, emollient), Xanthan Gum, Salicylic Acid (BHA, exfoliant, anti-acne, anti-inflammatory, skin soothing), Hexylene Glycol, Sodium Hydroxide (pH adjuster), Coco-Glucoside, Alcohol, Glaucine (a new ingredient to me but a very interesting one, read here), Silica, Fragrance, Phenoxyethanol, Gold, Silver, Titaanium Dioxide, Mica, Iron Oxides
I'm actually surprised that this gimmicky mask actually packs a decent ingredient list. Forget about the gold and silver at the end of the list, I don't believe they bring any extra skincare benefits but that aside, I really enjoy this mask.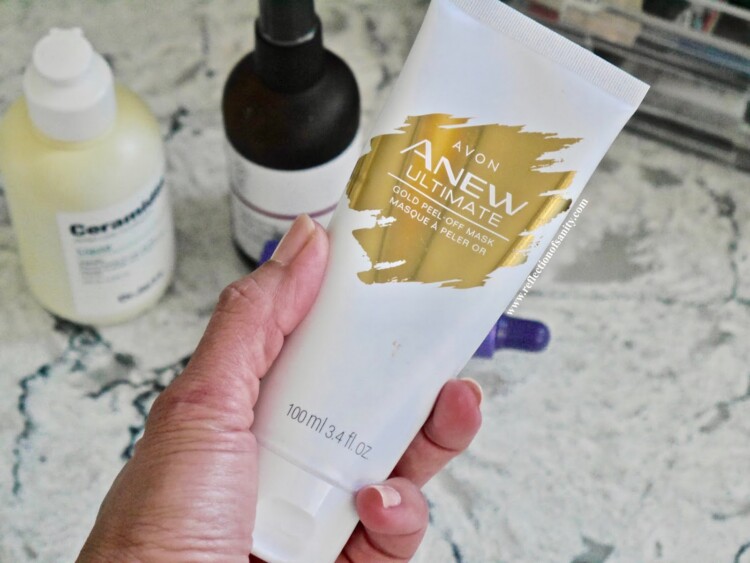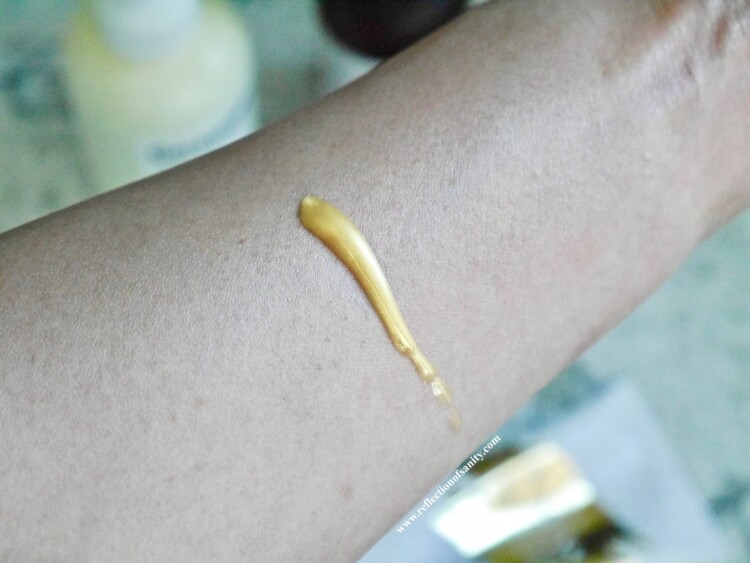 The texture is very thick so it doesn't spread as easily but that also means it dries down quickly and peels off very easily. No pain, no missing eyebrows or hair but on the contrary, you get clean, firm, smooth, baby soft, glowing and poreless skin.
I leave this on for 10-15 minutes and my skin will feel tight as the mask dries down but wow, the result is incredible. My skin doesn't feel dry nor uncomfortably tight instead it feels firm and looks lifted. And the glow, oh my the glow that it leaves my skin is remarkable.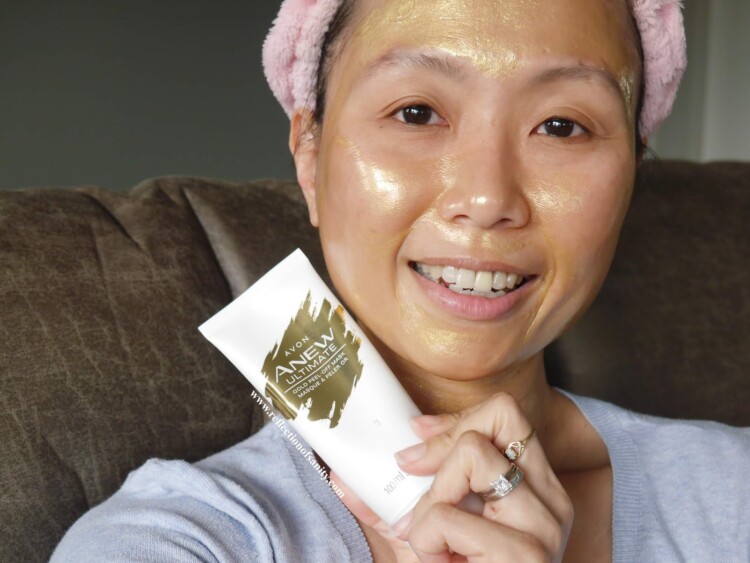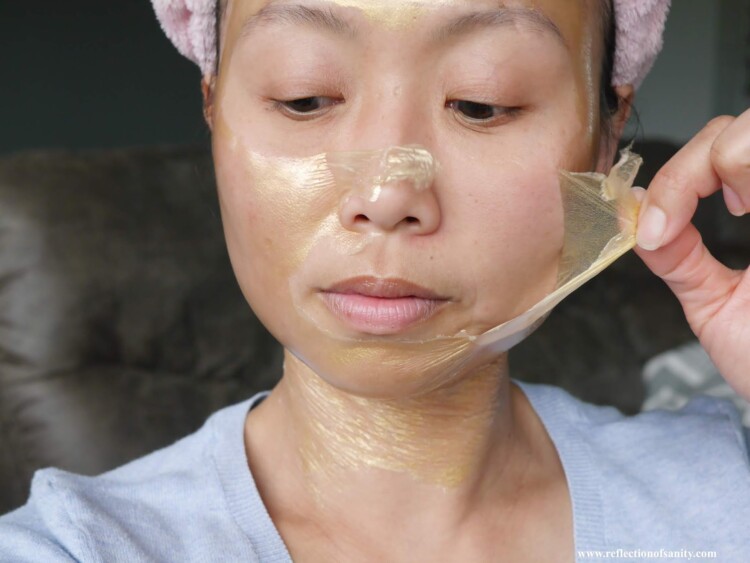 Does it have a negative? Yes, it has a soft perfumey scent to it which I personally don't mind but some of you might not be a fan. I also wish they didn't market this as a 'gold mask' because it comes across very gimmicky and will be off-putting to some.
Personally, I will always repurchase this or at least until Avon decides to discontinue it (I hope they never do!) because a.) it works brilliantly b.) I truly love the results on my skin c.) decent price if you buy it during a sale.
What are your thoughts on gold in skincare?
Avon Anew Ultimate Gold Peel-Off Mask retails for $39.00CAD (currently on sale for $24.99CAD) and is available for purchase through your local Avon reps. *Product marked with * was received for free but my thoughts and opinions are 100% unbiased, honest and my own. There is no place for any sort of BS here.