I have been a bad bad, make that very bad blogger recently. Forget about the stress of moving or the fact my MacBook decided to go tits up on me…I felt something in me changed.
I will just utter the impossible…I haven't been interested in anything beauty related at all.
Okay, to say at all would be a complete lie but my heart no longer skips a couple of beats over most beautiful makeup and skincare. And this nonchalant attitude has also trickled down towards product testings.
Like I said, I have been a very naughty blogger.
Case in point, this Naruko Supreme Rejuvenating Elixir Oil* has garnered countless amazing reviews and while initially I was over the moon about it, it took me what seemed like forever to properly test it. For the first two weeks it was using it twice a day for two days, forget about it for three days and then use it again for another two or three days; wash, rinse and repeat.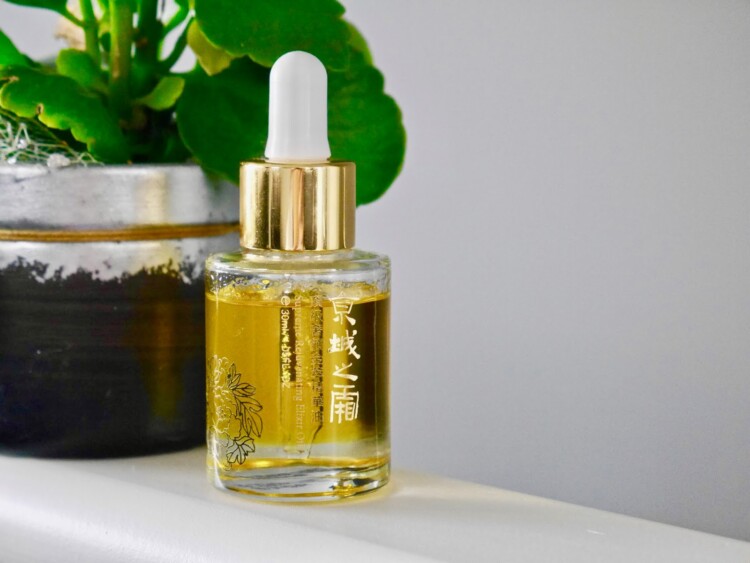 But when I finally dedicatedly started using it…this little bottle is liquid gold. I first read about Naruko Supreme Rejuvenating Elixir Oil* when one of my favourite bloggers, Jenny who blogs at Geeky Posh shared her enthusiasm and love for it. I have not seen her that excited about a product before and for obvious reasons, I too had to know why. Why and how this little bottle of oil is able to make her skin so freaking happy. Naruko Supreme Rejuvenating Elixir Oil* can be used either as an essence meaning right after cleansing or as a serum. It is a bi-phase formula so you have to give it a good shake before application. I use 4-5 drops each time (because my old fart skin needs a heck of a lot more moisture) and this oil does exactly what it's supposed to do; rejuvenates and nourishes the skin.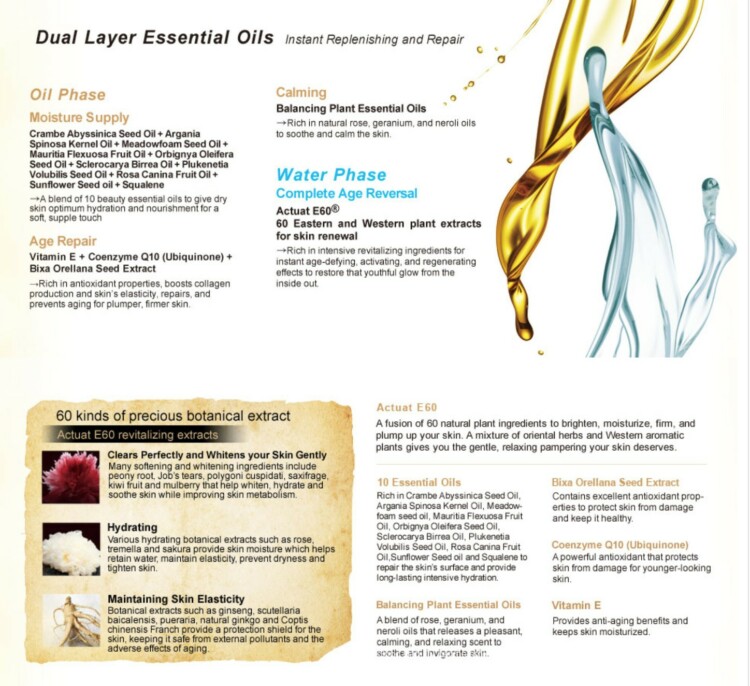 Not trying to be a lazy blogger but this picture on the Naruko Singapore site best explained the holy mother of God massive ingredient list best and my stupid MacBook died on me multiple times while I was trying to finish this post 😭
I am on the fence about calling this an oil because of the texture. It looks and feels like an oil but it absorbs almost instantly as I pat it into the skin. Once it absorbs, my skin feels like a soft, plump pillow with zero residue. You read that right, no oiliness, no residue, no shine and only very soft , plump and healthy skin. I have been consistently using this oil for the past month and I feel like my skin looks better than ever. When I look up close in the mirror, I could see some of my fine lines especially around my mouth, high points of my cheeks and eye areas have softened considerably. The results that I have with this oil are very obvious even though 90% of the time I am blessed with pretty good skin. That said, I have yet to notice any brightening effects but I will continue to use this daily and will report back on Instagram if I notice any changes.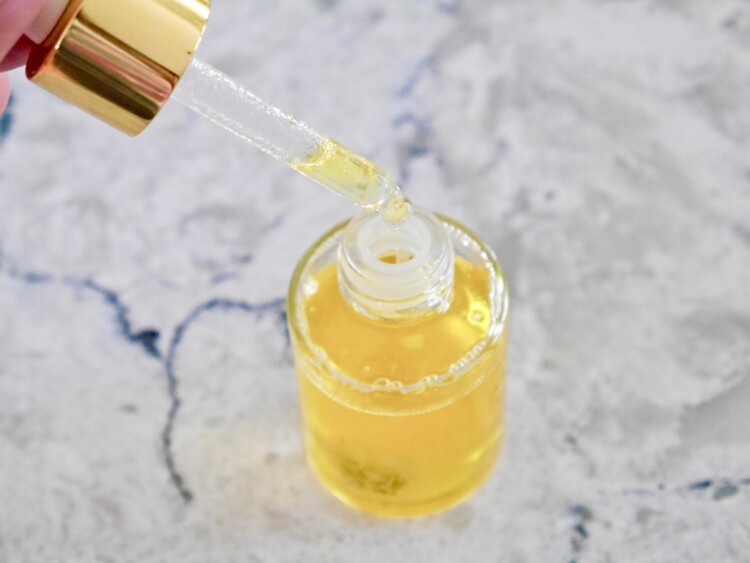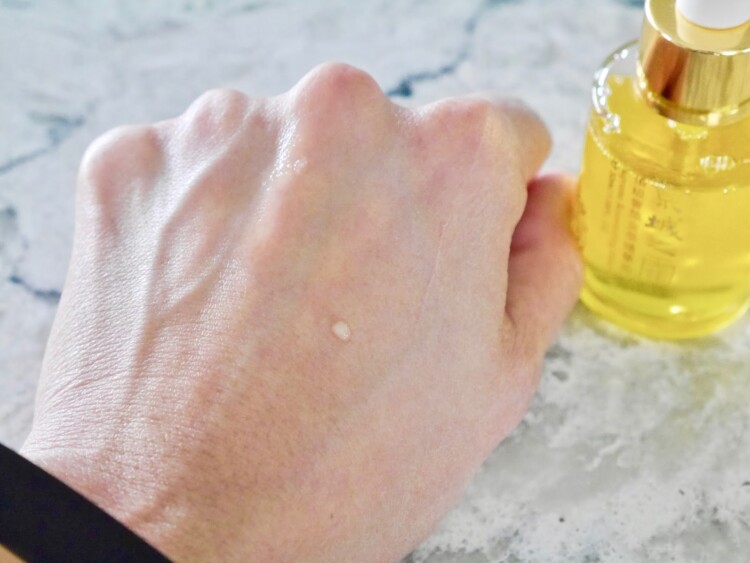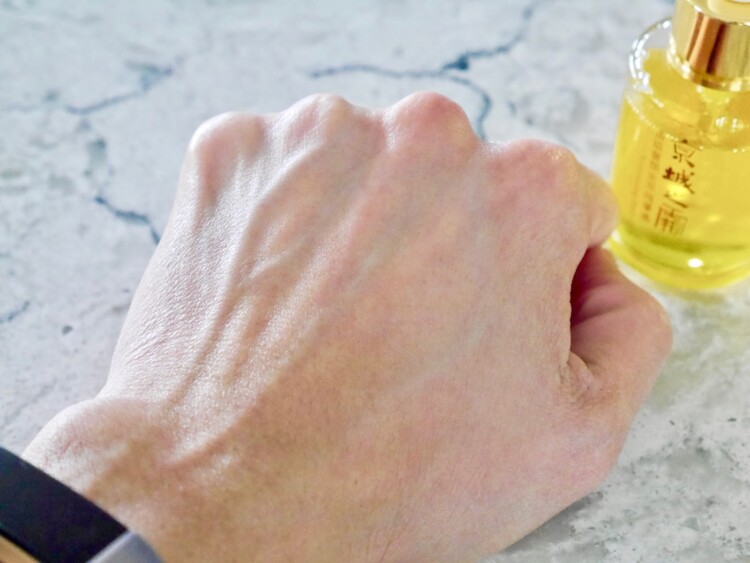 This oil does have an earthy scent and if I sniff the bottle closely, I can smell the ginseng in it which I think might bother some. It took me a few uses to get used to the scent and thankfully it doesn't bother me at all now. Let's just say if you grew up being forced to drink ginseng infused water because your dad believed it was the cure of all cures then the scent will haunt you for the rest of your life…just saying. As much as I love this oil, like seriously, it comes with a massive downside for me…the price. The little 30mL bottle comes with a whopping C$115.00 price tag which would make most of us cringe and die a little inside. And for this reason alone, it's really hard for me to recommend this oil to anyone. Do I love it? 110% yes! Like how can anyone not love it? It literally looks like liquid gold, comes in a beautiful glass dropper packaging and makes my skin silky soft and plump.   Now to the most important question, do I recommend it? Yes, it's an investment which let's be honest, skincare generally are. That said, I highly suggest to wait for it to go on sale before snapping it up. Naruko Supreme Rejuvenating Elixir Oil is available for purchase on NarukoCanada.com. *Product marked with * was received for free but my thoughts and opinions are 100% unbiased, honest and my own. There is no place for any sort of BS here.