Let me take a moment to whine about the end of my vacation…how the hell did two weeks pass so quickly? I honestly felt like it was only yesterday I was super excited about taking two weeks off and now poof!…it's all gone.
As much as I love taking a break from my usual schedule and visiting other cities, my skin seems to hate it with a passion. I actually experienced one of the worst breakouts on my skin and am still slowly recovering from it. I had major spots and pimples all over my right jaw line and temple, on my forehead, a couple on my left cheek and one stubborn pimple situated in between my nose and upper left lip that won't go away so I've adopted it and named him Joe.
Does anyone else have skin that goes absolutely berserk while on vacation?! Or is it just me?
Right before I took two weeks off, I received a package from Vichy that contained three of their latest  mineral face masks and the newest thermal water spray. I have been testing all three face masks and the thermal water for the past few weeks and read on to see how I got along with the products.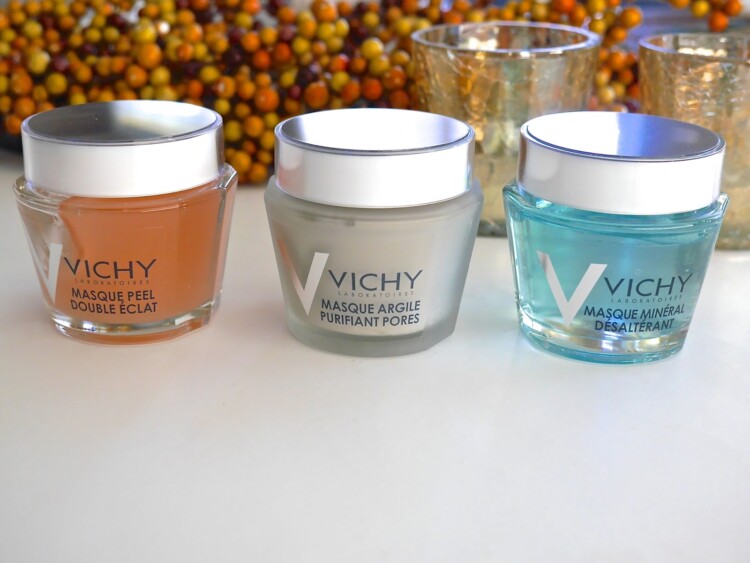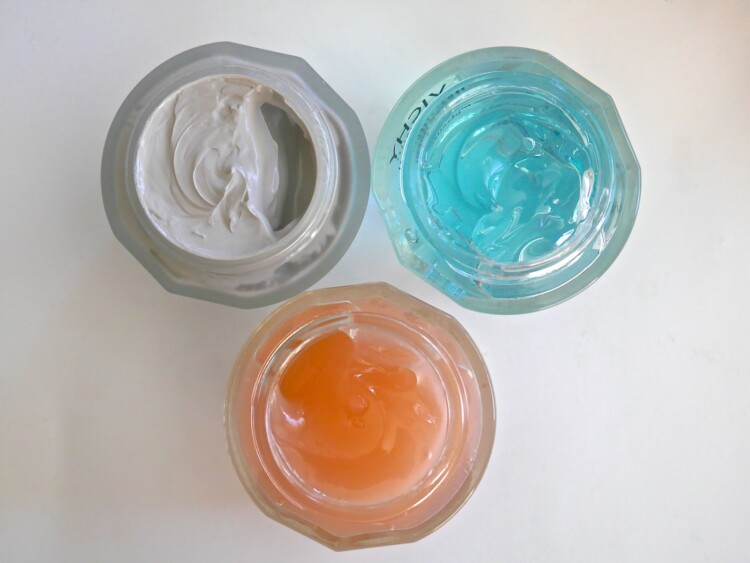 Vichy recently launched a complete range of 3 mineral-infused masks to target all skin problems, regardless the skin type. These masks are aimed to refine pores, exfoliate and hydrate at the same time. It is suggested to do multi-masking (using multiple masks at the same time to target a specific problem in a certain area of the skin) with these masks for a healthier looking skin.
I have tried using these masks each on its own and with multi-masking and the results are always softer, clearer and healthier looking skin.
DOUBLE GLOW PEEL MASK* CAD$34.00 (non-affiliated link)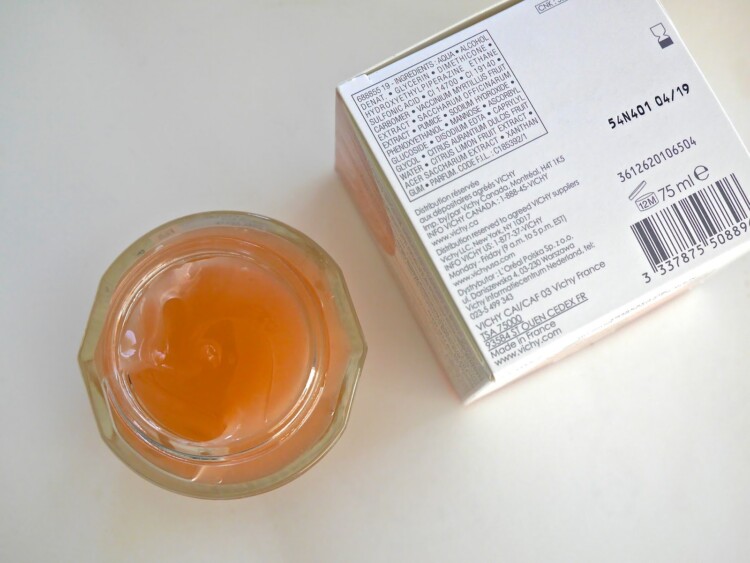 This mask has volcanic stone and AHA to gently exfoliate dead skin cells and has a light fragrance of peach, white musk and black tea. It also has mineralizing thermal water and Vitamin C which strengthens and brightens the skin.
The mask has a light gel texture and the scent is very refreshing. I did detect the peach and tea scent in the mask and thankfully none were overpowering.
It is suggested to apply this mask on the skin, let it sit for 5 minutes for AHA peeling and then rub the mask in circular motion for exfoliation. I was a little worried that the peeling and exfoliation would be too harsh on the skin but thankfully, it is not. Once rinsed, I am left with baby soft and smooth skin and my face always looked slightly brighter.
A word of caution though, never leave the mask sitting on your skin for more than 5 minutes, I learned it the hard way as my skin was left looking red and raw after I left it for 10 minutes. Little Tyke had an accident which I had to attend to and I could feel the stinging on my face due to the peeling and by the time I rinsed the mask off, I just knew my skin would look irritated. As long as you follow the recommended time, you will reap the benefits of this mask without any irritation.
PORE PURIFYING CLAY MASK* CAD$34.00 (non-affiliated link)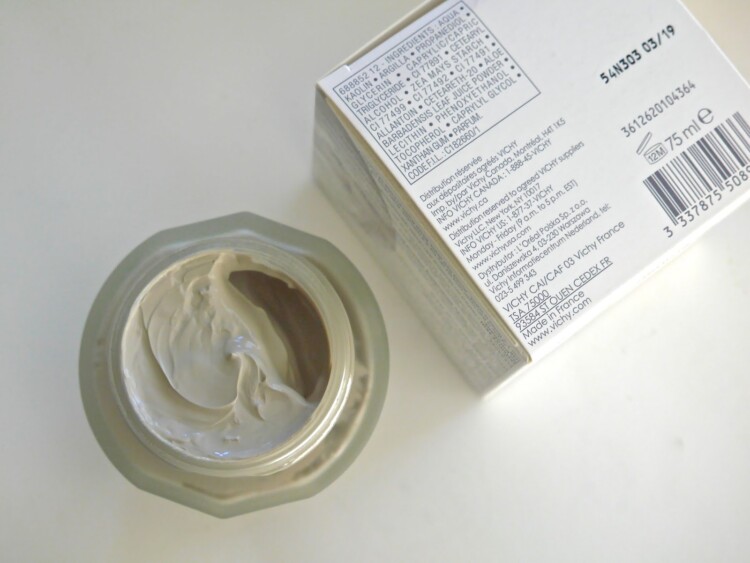 This pore purifying mask is formulated with two white clays; Kaolin and Bentonite to help purify and refine pores. It also has mineralizing thermal water and aloe vera to help strengthen, soothe and keep the skin hydrated.
Unlike many clay masks, this has a very creamy texture and it applies and spreads easily on the skin.  I usually apply a thin layer and as it dries down, I can see it drawing out the impurities on my skin. Yes, it's a little gross but I like that I could see it doing its magic on my skin. It does dry down a little tight but not as uncomfortable as my other clay masks.
I love using this either on its own or apply it only on my t-zone and then use Double Glow Peel Mask* on the rest of my face, let the masks sit for 5 minutes and then rinse. I love how fresh, radiant and clean my skin looks every time after multi-masking.
QUENCHING MINERAL MASK* CAD$34.00 (non-affiliated link)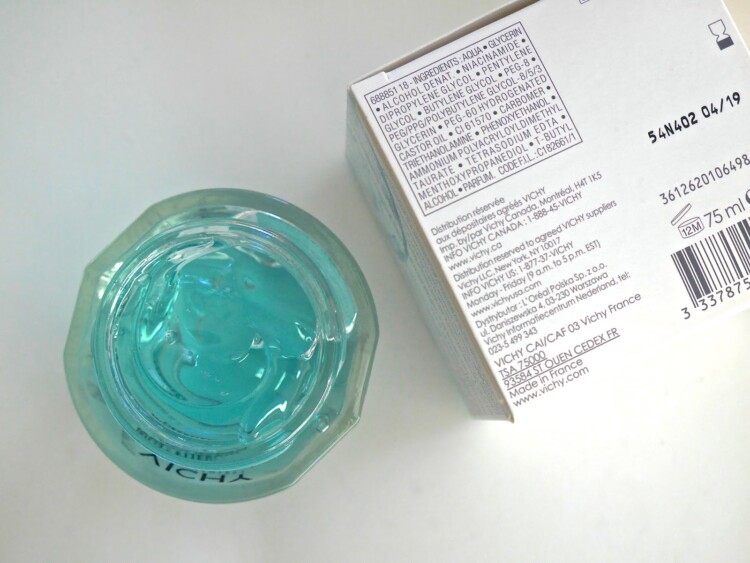 This mask is enriched with mineralizing thermal water, Vitamin B3 and glycerin to strengthen, hydrate, calm and soothe the skin. It has a refreshing scent of green tea, jasmine water and bamboo which I find to be very pleasant.
It has a thick gel texture and feels cooling as soon as it touches the skin. To use is simple; apply it to the skin, leave it for 5 minutes and massage the excess in. No rinsing required and this mask helped soothe my skin after the crazy breakout which I experienced throughout the two weeks vacation. I skip using my serum whenever I use this mask and only follow up with my eye cream and facial oils to lock everything in.
I do suggest applying a very thin layer instead of a thick one as I made that mistake with my first two tries and it left my skin feeling very tacky and it took a couple of hours for the tackiness to go away.
VICHY THERMAL SPA WATER* CAD$13.00 (non-affiliated link)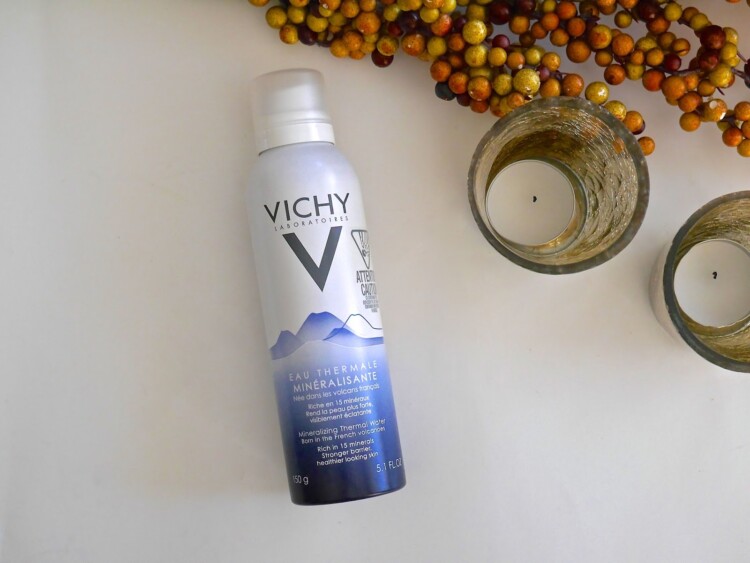 Vichy Mineralizing Thermal Water* has 15 minerals which is the highest diversity of minerals amongst all French thermal waters to help rebalance, strengthen and regenerate the skin.
I have a confession, for the longest time I was under the impression that thermal water spray was just gimmicky and an overpriced water with no real visible results. I am happy to admit I am wrong because I absolutely love this new thermal water from Vichy!
I have been using this almost everyday after my toner to give a boost of hydration to my skin or a quick spray before applying facial oils for better and quicker absorption. I also use it to re-wet my clay masks so I can rinse it off easier and after using Quenching Mineral Mask* as it makes it easier for me to massage the excess into my skin. I have a feeling that this could also soothe my skin if I experience sunburn which is pretty unlikely as I almost never burn thanks to my naturally tan skin and my religious usage of sunscreen. This thermal spray is sooooo good, I love the multiple ways I can use it and needless to say this is a permanent staple in my routine.
Vichy has nailed it right again with these new launches and my skin is thankful with these additions into my routine. The best part? All these masks only need 5 minutes so I could use either one or do multi-masking without rushing for time. Mr. Platt is definitely a huge fan of me using these.
Have you tried any of these mineral infused masks from Vichy? What are your thoughts on thermal spray water?  *I received these products for free but my thoughts and opinions are 100% unbiased, honest and my own. There is no place for any sort of BS here.