The new Sigma launches have got me into a so-called Snow White mood; I have this strong temptation to start singing and twirling around the house with so much joy. While I dare say I am a pretty good twirler (is that even a word?!), I can't sing.
I would say I croak but I would severely insult the frogs.
Today is a very simple post; it's not a tutorial so there is no step by step and it's actually just me being experimental with my new Sigma goodies. Frankly I'm feeling really iffy with the way it turned out but this look is very different from my usual so I thought why not share it here. Maybe one day I'll look back at this and will feel proud about how far I've come along….provided my skills with eye makeup improve in the future. But hey, if I can't laugh at myself then who can, eh? I will also give my first impressions on some of the products, it's not a habit that I like getting into (I am not the biggest fan of first impressions because most Youtubers/bloggers never do a follow up with an in-depth review) but I've scheduled a more detailed review coming up in the next couple of weeks.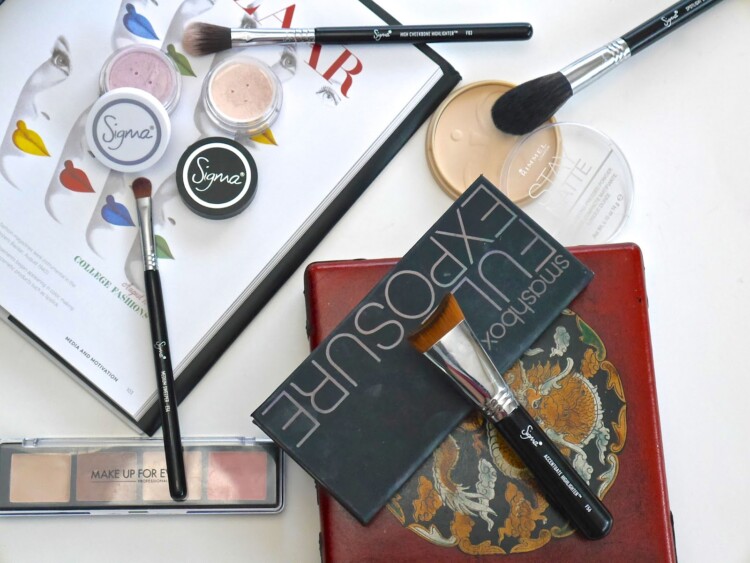 My first experiment with Sigma F56* was to contour with powder and it worked surprisingly well. This time I used it with a cream contour from Make Up For Ever Pro Sculpting Face palette* (reviewed here) and once again, it was a success. Sigma did state that this brush is meant for both cream and powder and that much is true. I did watch the video on how to use this brush for highlighting and will try it in the new few weeks so I will report back on whether it was a success or a dud.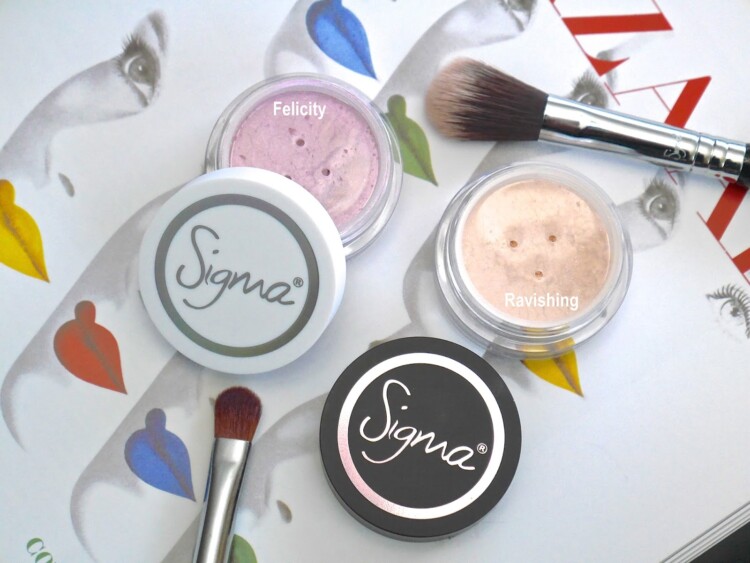 These are the two stars of my look; the new Sigma Loose Shimmers in shade Felicity* and Ravishing*. I use a damp Sigma E54 to apply Felicity* all over my lids and blend out the edges with a few matte shades from Smashbox Full Exposure palette. I applied Ravishing* on top of my cheek bones with Sigma F03* and if you guys saw my InstaStories about this brush then you already know I'm a massive fan of it. I think this is one of my top favourite Sigma brushes to date. Now to my first impressions of the loose shimmers, so far I feel only okay towards both shades. Felicity* is a beautiful dimensional pink, meaning you will see different hues from different angles but I just know it is not a colour that I will ever reach for. It is stunning when used to highlight the cheekbones and I will show how it looks in a different post.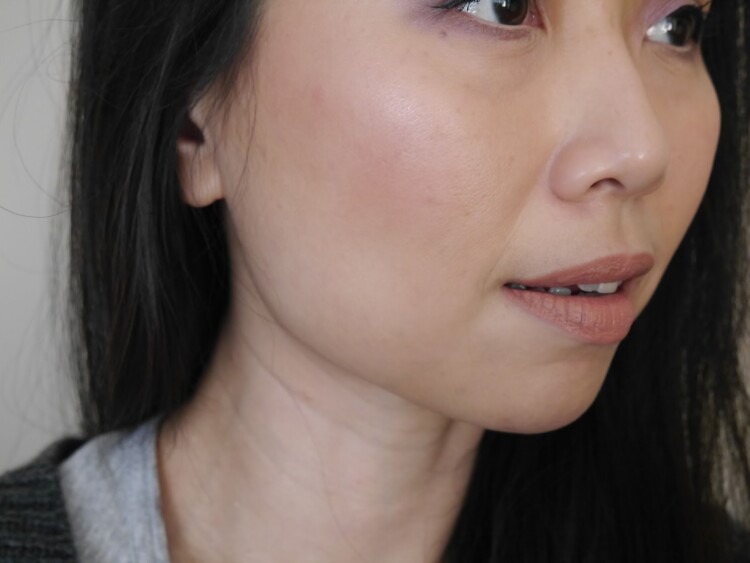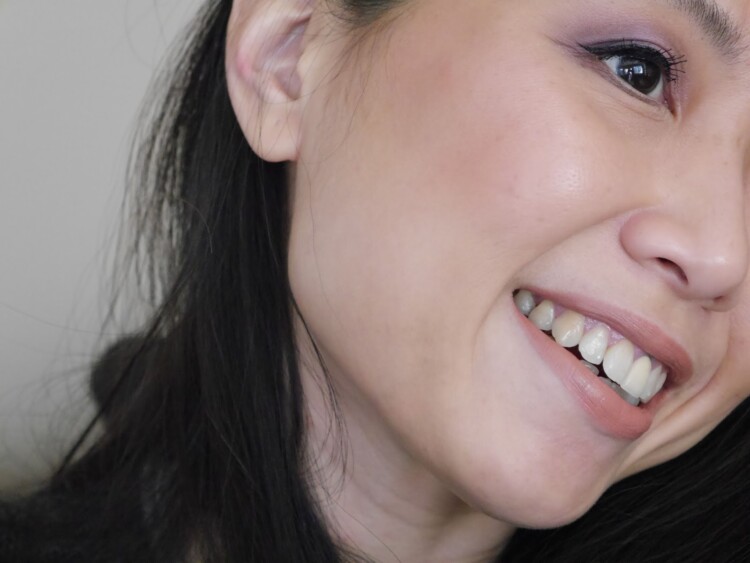 Ravishing* on the other hand was a bit of a let down. I thought it would be a stunning champagne highlighter but on my skin it blends into nothing but a bunch of glittery specks (see the above on both pictures). Now if I was heading to Mardi Gras then I might dust it all over my face and tits but I don't think I have any use of it for day to day basis.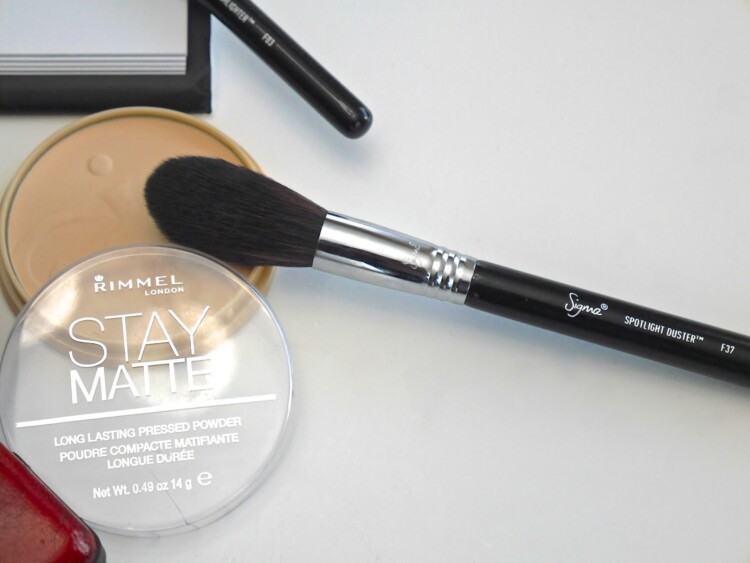 Now to my new favourite powder brush, the Sigma F37*. Believe it or not, this has taken over my Wayne Goss Air-Brush for powder application! It's so soft, the perfect medium size and applies powder beautifully on my skin. It applies the perfect amount of powder without making my face looks cakey and trust me, I have tried applying layer after layer and more layers of Rimmel Stay Matte and the finish is always just right and very natural. I don't know how this brush does it but it's magic!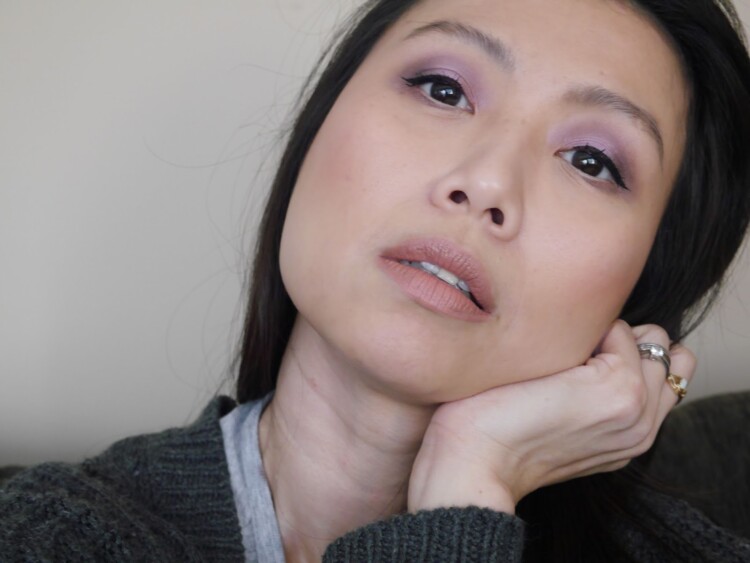 I don't know how Dagmara (say hello here) does it, her eye makeup is always ace, perfectly blended and you can see how the colours blend and merge together seamlessly. I look like I'm ready to jump into a 70's porn.
Sigh, time to practice, practice and more practice in the art of eyeshadow blending.
Are you familiar with Sigma? What are your thoughts on the loose shimmers and the new Sigma brushes?
*Products marked with * were received for free but my thoughts and opinions are 100% unbiased, honest and my own.  Post contains affiliated links. There is no place for any sort of BS here.