As I am drafting this post, I just noticed that I have been featuring more hair products on the blog recently which is surprising as I am the most boring person when it comes to hair care. When it comes to hair care, I'm the complete opposite of how I am with skincare meaning I am a lazy twat.
A few months ago I was given the opportunity to test a few products from a professional Italian hair care brand bbCos Hair Pro (check here) and have been testing the products for the past couple of months.
"bbCos Hair Pro products are made from the purest active ingredients and certified raw materials and are all designed, researched and produced in Italy.
bbCos' Kristal Evo line contains the nourishing power of linseed and argan oil and other natural ingredients while having the styling capability to create the perfect look.
Argan oil deeply nourishes hair, instantly repairs the fiber and protects it from external aggressions. Due to argan oil's natural antioxidants, it performs an anti-aging effect to hair. The abundant omega-3 fatty acids in linseed oil have been shown to contribute to healthy hair growth. The combination argan oil along and linen seed oil bind directly to the hair structure, making it healthier and richer, while making it shine."
I was very kindly sent a whole lot of products but unfortunately I was unable to test everything as some are not suitable for my hair type and Mr. Platt…well, let's just say he hasn't need anything hair related for the last couple of decades.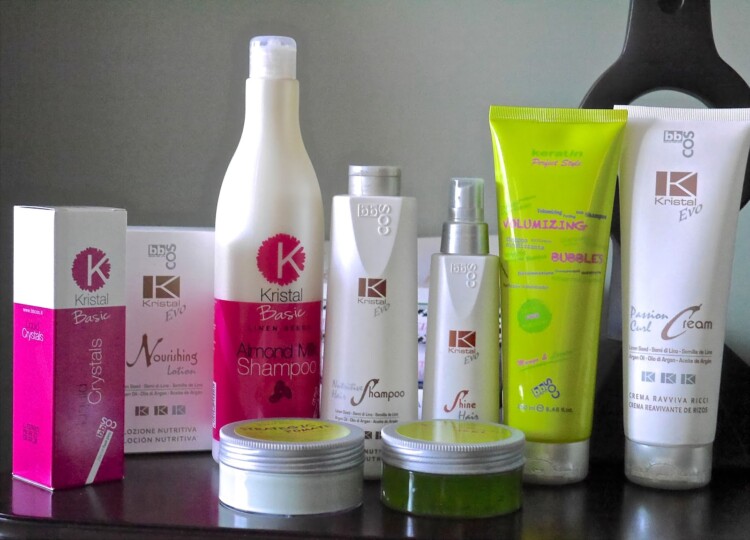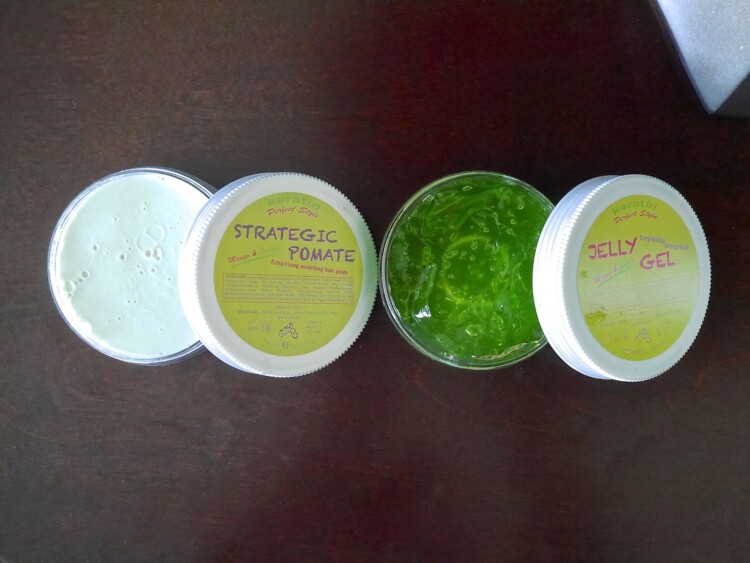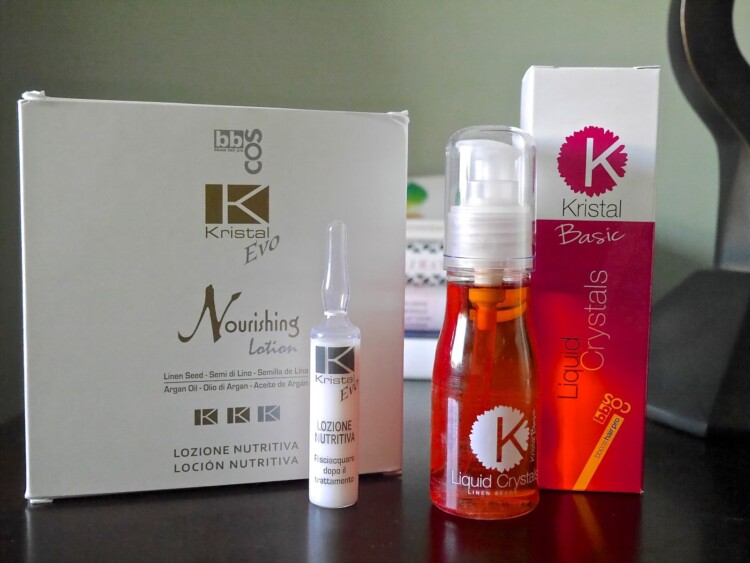 Let's talk about the most obvious; the packaging is not the most attractive and reminded me of salon haircare products in the 80s. Actually the whole range reminded me of that in the matters of scent, product and texture.
Do you remember the 80s hair salon smell? The shampoo, conditioner, the massive amount of hair mousse and the thick hair gel that would make your hair so sticky and shaped into spikes that were hard enough to stab someone in the eye? …..I am feeling sooooo old suddenly….. 
That said, the products are in no way bad quality on the contrary, they are brilliant and leave my hair feeling and looking healthy, shiny with the fresh out of a salon smell and vibe.
INGREDIENTS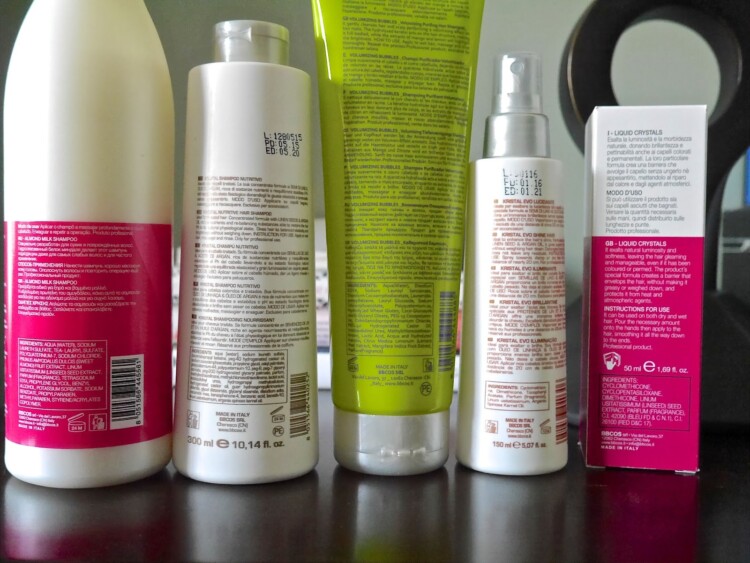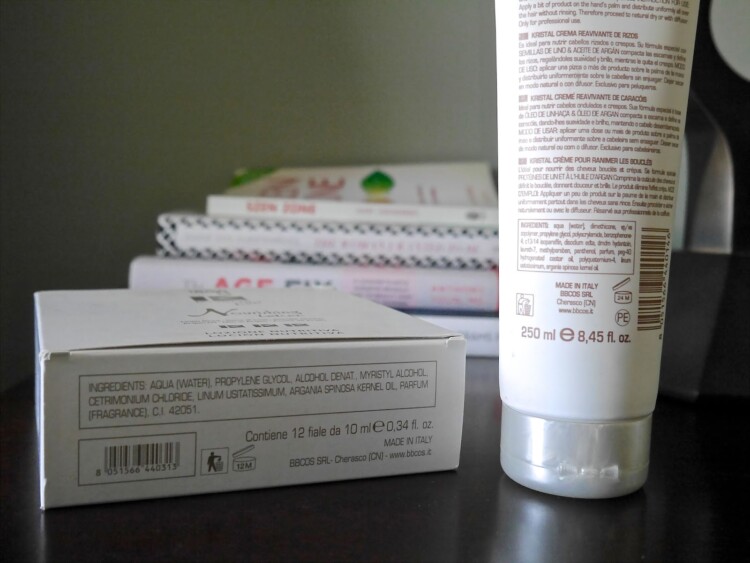 EFFECTIVENESS
I tested all three shampoos, nourishing lotion, shine hair spray and liquid crystal hair serum and frankly, I love them all for different reasons.
Out of the three shampoos, my favourite has to be Keratin Perfect Style Volumizing Bubbles Shampoo* (check here) which unlike the other two that have SLS in them, it has sodium lauroyl sarcosinate which is a mild but very effective cleanser and foam booster. "Sodium lauroyl sarcosinate is a natural found in the human body and just about every type of biological material from animals to plants." (source)
Kristal Evo Nourishing Lotion* (check here) comes in a glass vial that is best broken outside the shower. The texture is just like water so I have to carefully pour it into my palm and massage it into my hair. Glass vial and watery texture aside, I used this once a month as a special treatment and it leaves my hair feeling really soft and smooth. It's like a spa treatment for my hair, absolutely love this!
Kristal Basic Liquid Crystal* (check here) is a thick serum and all I need is one pump because anything more will weigh down my hair. I warm it up between my palms and I prefer to apply it on my air dried hair. I tried applying it on towel dried hair and I find it leaves a sticky residue if I don't massage it properly. If you have dry and split ends on your hair then this would be your hair new best friend.
Kristal Evo Shine Hair* (check here) does exactly what it says, it gives amazing shine to the hair that lasts for days! I love, love, LOVE this! It doesn't weigh down my hair and smells heavenly. This will be a repurchase for me.
As much as I like bbCos Hair Pro products, I have a couple of concerns. Most of their products have 'only for professional use' which quite frankly, is very intimidating. I was worried that I might do something wrong and cause damage to my hair instead of nourishing it. Secondly, all the products are very heavily scented which doesn't bother me because as I said earlier in the post, it gives me the feeling of being fresh out of the salon but I know this would bother many. Again, heavily scented products might be a necessity for professional products but if they are trying to break into the end user market then this is a point worth considering. And lastly, I wish Kristal Evo Nourishing Lotion* came in plastic vials instead of glass vials. Maybe the glass vials have their purpose in protecting the products and I think it's fine for salon usage but it's not the best for home use. I don't want glass fragments anywhere in my bathroom especially with Little Tyke around.
If you are a professional hair stylist or someone who is interested in professional grade haircare then I highly recommend checking out bbCos Hair Pro. The good news? They are now available for purchase through Amazon.com (check here). *I received this product for free but my thoughts and opinions are 100% unbiased, honest and my own. There is no place for any sort of BS here.