Let's sit down and talk about hair today, how much do you spend on hair care? Do you pay as much attention to your hair as your face and body?
I don't, hence the lack of hair posts here and the fact that I get excited about hair care as much as freezing my tits off during winter. Being blessed with thin, fine but otherwise normal hair, I am ashamed to admit that I usually purchase whatever hair product that is on sale. And don't tell me I'm the only one who does that, come on, own up!
So when I was given the opportunity to test HASK Argan Oil Repairing Hair Care Collection* (check here), I was naturally curious if it would do anything extraordinary to my ordinary hair.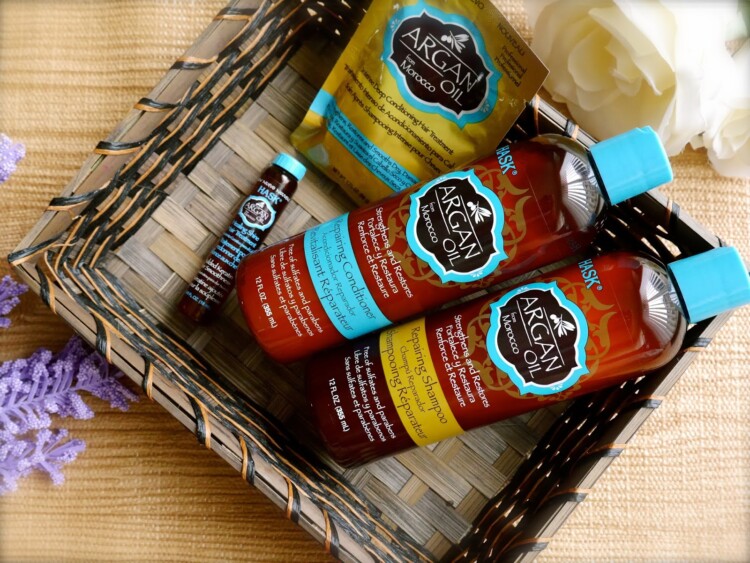 HASK is a made in USA hair care brand that is colour-safe, not tested on animals and made without sulfates, parabens, phthalates, gluten, drying alcohol and artificial colors. Infused with Argan oil also known as liquid gold which is loaded with vitamins and antioxidants, the range promises to repair, strengthen and moisturize hair, while taming frizz and adding shine. Argan Oil Repairing Shampoo and Conditioner* has to be one of the best duos that I have ever tried. Unlike another sulfates free shampoo that I've tried and hated, this gives a good amount of suds and leaves my hair and scalp clean without feeling stripped. The conditioner is very thick and surprisingly I only need half the amount I usually need with other brands. It leaves my hair feeling so soft and smooth as if I had a deep hair conditioning treatment. The best part? Both shampoo and conditioner smell like oranges. The scent is soft and won't put your nostrils into a chokehold. Don't let the tiny bottle of Argan Oil Shine Treatment* fool you because it packs a powerful punch. The oil is very thick and I only need very little for my shoulder length hair. It didn't weigh down my thin, fine hair which is a huge bonus as most hair oil do. Argan Oil Deep Repairing Conditioner is a hair mask and it' suggested to use on damaged area, leave on for 10 minutes and rinse. I used it on 2/3 length of my hair avoiding the scalp and I have to say I didn't notice much difference to my hair. To be honest, I much prefer the conditioner to this but it could be due to my hair is normal and not damaged. I never thought I would say this but I think I've finally found a hair care system that is worth a holy grail status. My fine hair means it usually goes flat within one day but HASK allows my hair to be fresh and bouncy up to two days! I've also noticed my hair to be so much softer and smoother after two weeks of testing. What I like most about this range is it won't make your wallet weep for mercy, the price ranges between $2.99 – $5.99. HASK has definitely gained a permanent customer in me. To find out more and shop for HASK hair care products, click here.