Hello, hello, helloooo and thank goodness it's Friday so let's all give ourselves a pat on the back for surviving another week. Today's review is a short one or my version of short because I can be quite chatty and have the tendency of veering off topic.
Mr. Platt has always said talking to me is like talking to a 2 year old; he never manages to get my full attention for more than a minute and I'll be distracted by something shiny at the corner of my eyes.
Today's review is on Avon True Color Multi Benefit BB Nail Enamel which claims to be a hybrid nail polish that has built in primer (check here). I received all three shades; Lilac Love*, Restoring Beige* and Perfect Pink*.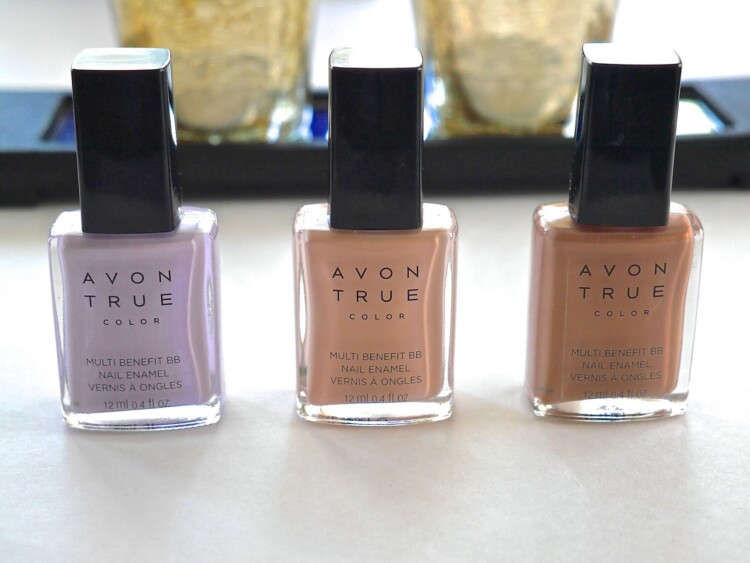 (From L to R: Lilac Love*, Perfect Pink* and Restoring Beige*)
Benefits:
· increases nail strength by 72%
· primes by filling in imperfections and ridges
· protects and conditions for a smooth finish
· UV filter prevents discolouration and yellowing
· formula infused with vitamins C & E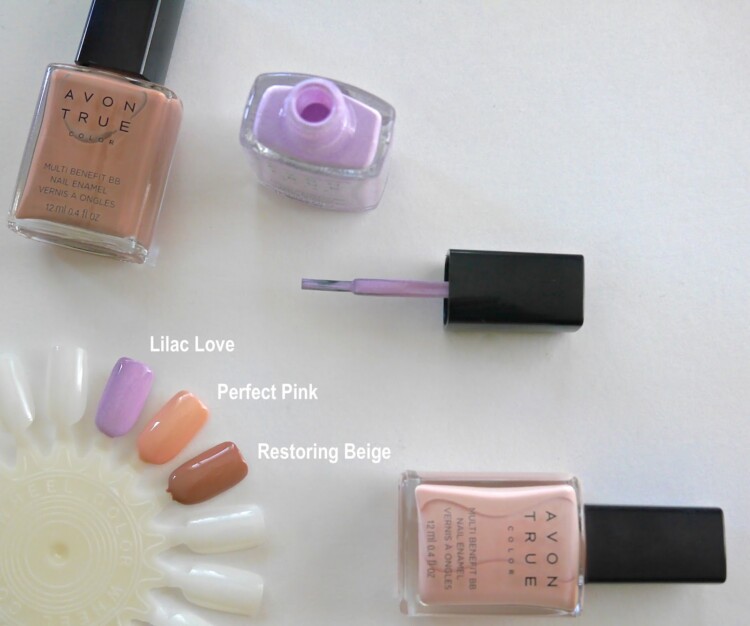 Two coats for full opacity
I have long been a fan of Avon nail polish and have purchased a few ever since I arrived in Canada. They are very pigmented and all I need is one layer for full opacity, the texture is fairly thick but never gloopy and the brush gives smooth, precise and streak free application. On top of all that, they are also very long lasting and my manicure easily lasts 4-5 days without chipping. On my toes they usually last more than two weeks without chipping. I would go as far as to say that they are one of my top three favourite nail polish brands to wear. My nail polish application is always with an OPI base coat and Seche Vite Top coat but I could easily skip the base coat when applying Avon True Color Multi Benefit BB Nail Enamel. This nail polish didn't stain my nails unlike many other nail polishes I have in my collection. The finish without a top coat is quite shiny but I still use one out of habit.
It would come as no surprise that I am in love with Avon True Color Multi Benefit BB Nail Enamel. The texture is slightly thinner than my other nail polish from Avon so I definitely need two layers to reach full opacity. The brush is the same so application was a breeze and the best part is they lasted 5 days before I saw the first chip!
​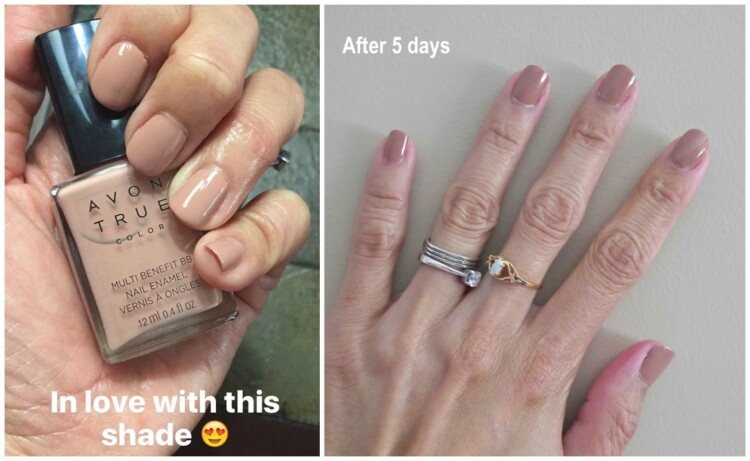 My nails was painted on Saturday as was shown on my IG Stories and on the right, 5 days later.
I highly recommend checking out Avon True Color Multi Benefit BB Nail Enamel and they are currently retailing for only CAD$5.49 (introductory price). Actually I highly recommend Avon nail polish in general, the prices are very reasonable, the quality is as good if not better than most nail polish brands and they are long lasting. Seriously, you can't go wrong with them. Have you tried Avon nail polish before? What are your experience with them?
*I received these products for free but my thoughts and opinions are 100% unbiased, honest and my own. There is no place for any sort of BS here.