It's no secret that I am a huge fan of beauty boxes. If it was up to me, I would subscribe to every single beauty box available out there, from Canada to Timbuktu to the Himalayan mountains, if they do delivery, I would be their faithful subscriber. Alas, such dream remains a dream as my Chief Financial Officer aka hubby dearest would have banished me to the dog house, for good.
Luxe Box is my latest beauty box subscription and I have the beautiful Simera to thank/blame for this. She posted about her Winter Limited Edition Enchantress Luxe Box which offered a discount for her readers (read here) and needless to say, I fell for it hook, line and sinker. Doomed? Or maybe not.
Luxe Box is slightly different from all the other beauty boxes that I have tried. It's seasonal which means you only get 4 boxes a year. The amazing thing about it is you have the option to upgrade your normal box for a small fee. Cool, eh? What's even more cool was I subscribed for my Winter Box at a discounted price (thanks Simera!) and I was offered the opportunity to upgrade my normal box for free. Awefreakingsome!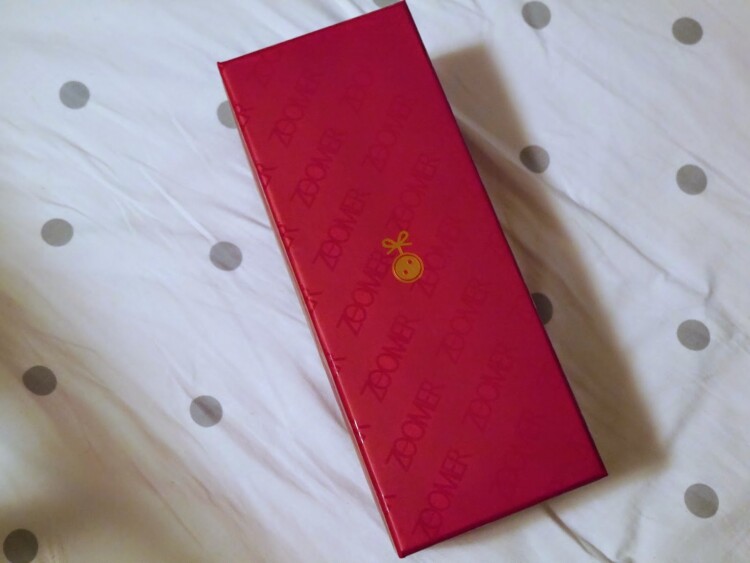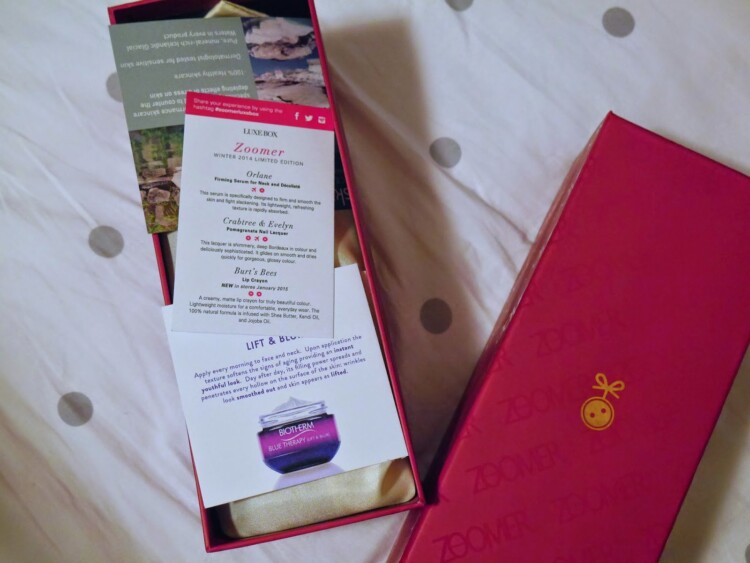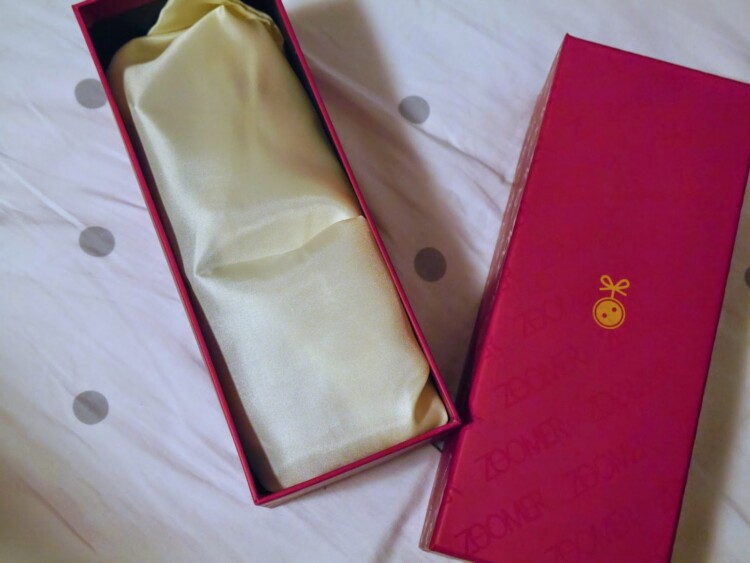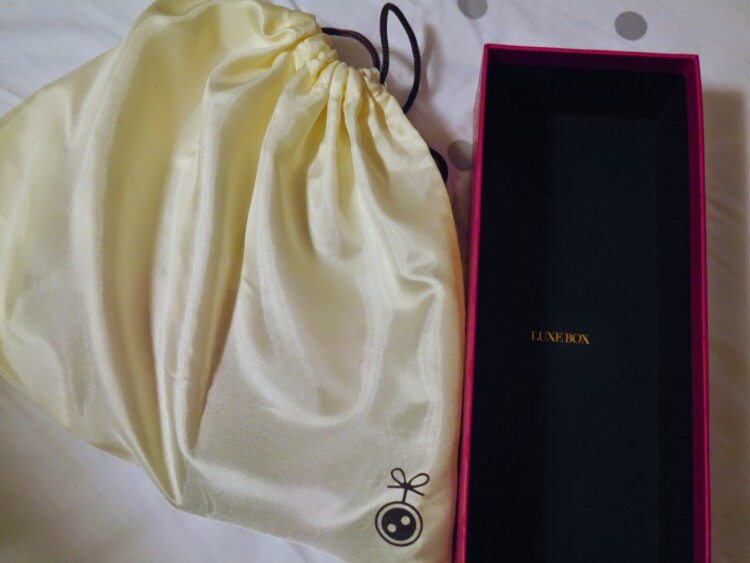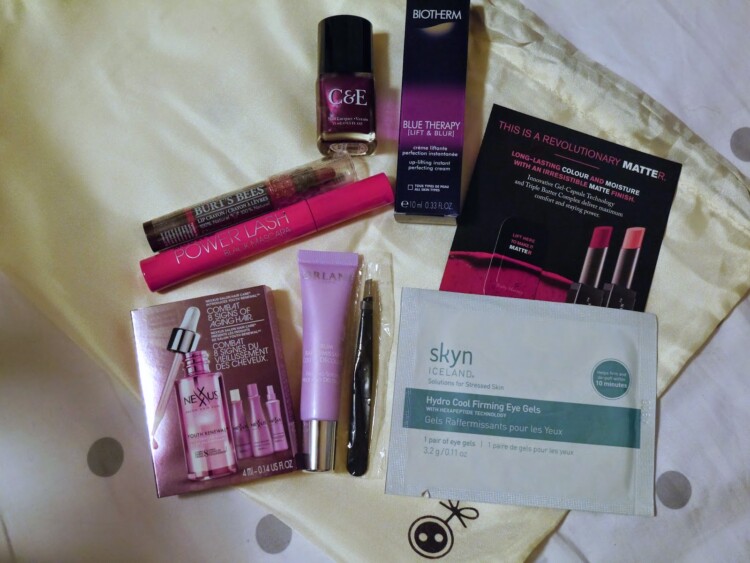 Luxe Box ZOOMER Winter Edition 2014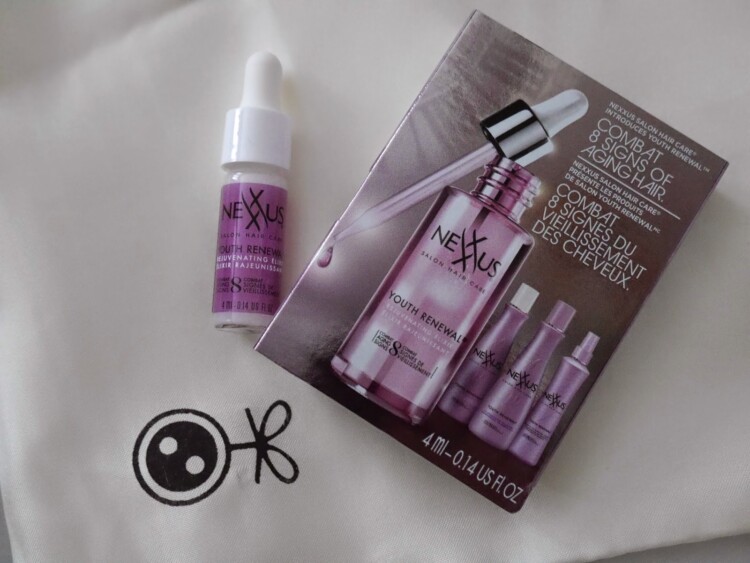 Youth Renewal Elixir NEXXUS Sample Value: $3.00 / 4 ml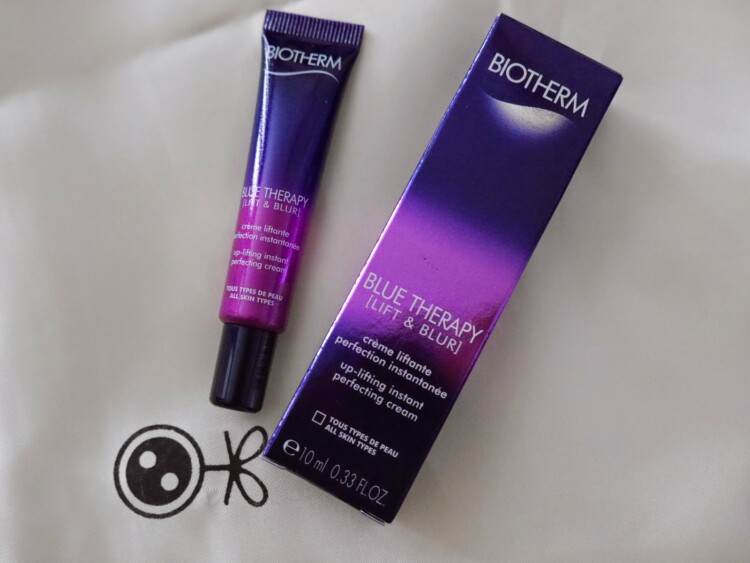 Blue Therapy Lift & Blur BIOTHERM Sample Size: $16.00 / 10 ml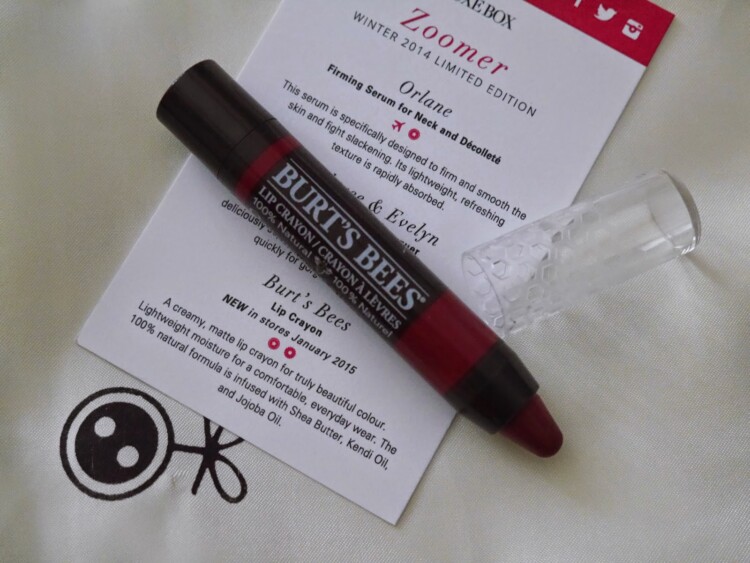 Lip Crayon BURT'S BEES® Retail Value: $9.99 / Full Size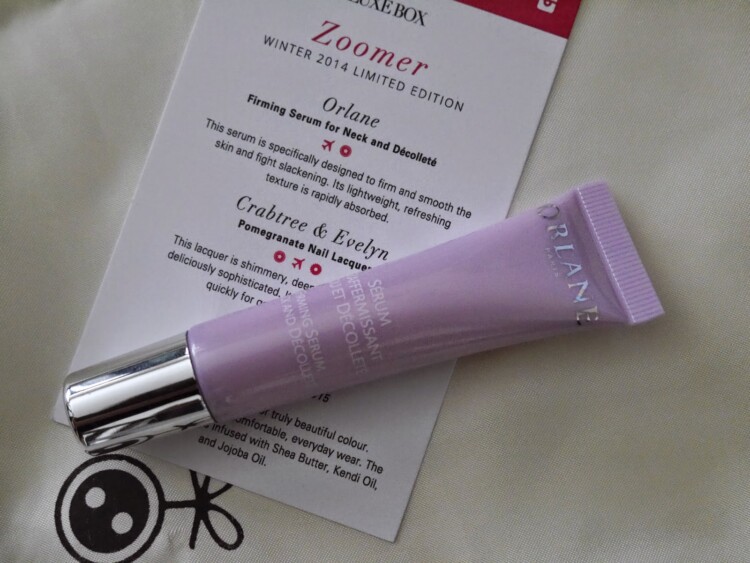 Firming Serum For Neck And Décolleté ORLANE Sample Value: $26.70 / 15 ml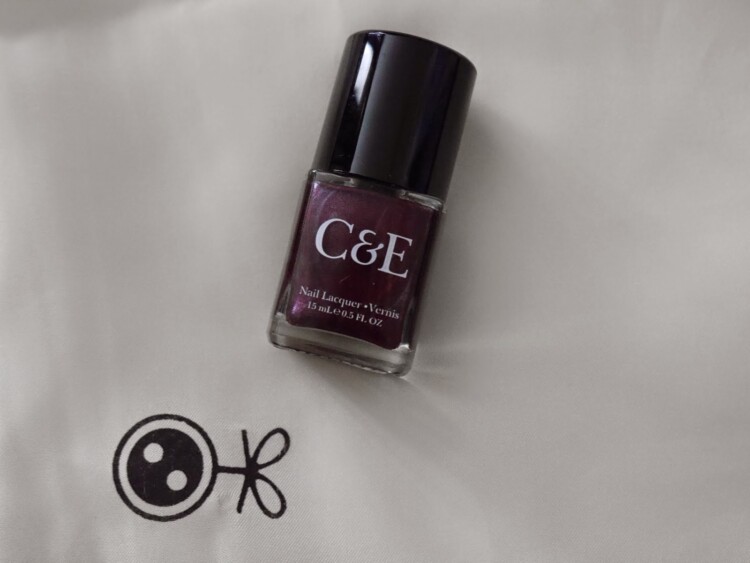 Pomegranate Nail Lacquer CRABTREE & EVELYN Retail Value: $6.00 / Full Size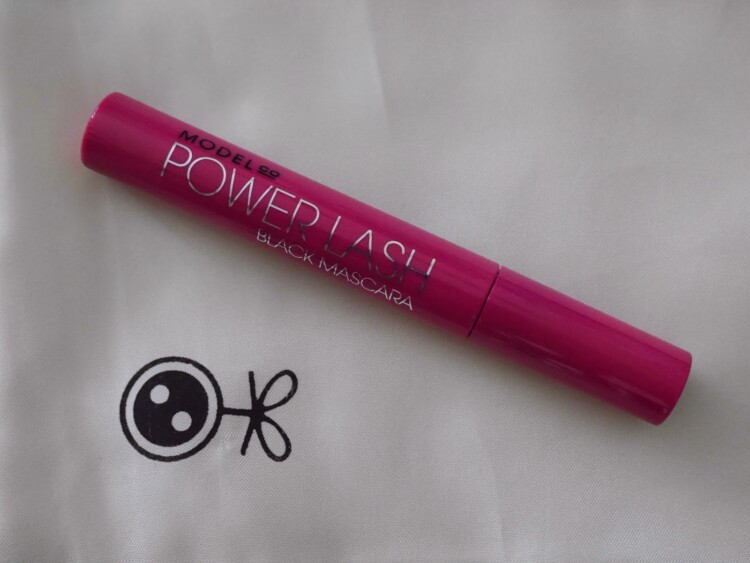 Power Lash MODELCO Retail Value: $20.00 / Full Size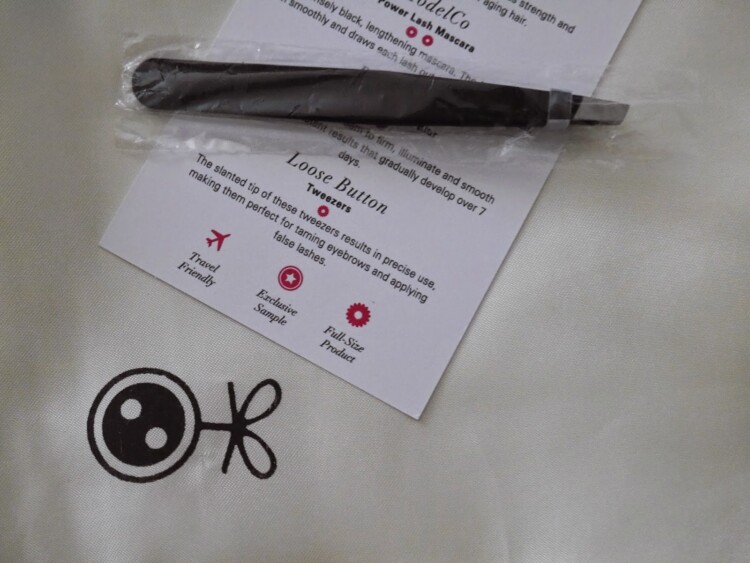 Tweezers LOOSE BUTTON Retail Value: $14.00 / Full Size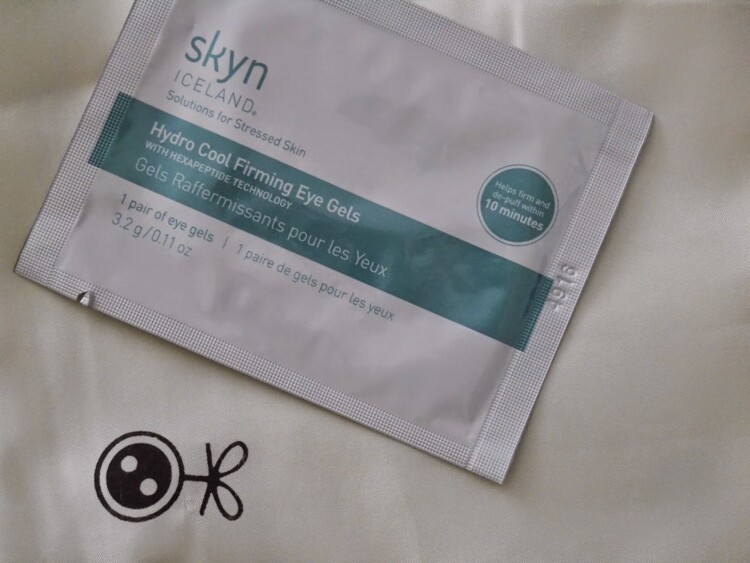 Eye Gels SKYN ICELAND Retail Value: $7.59 / Full Size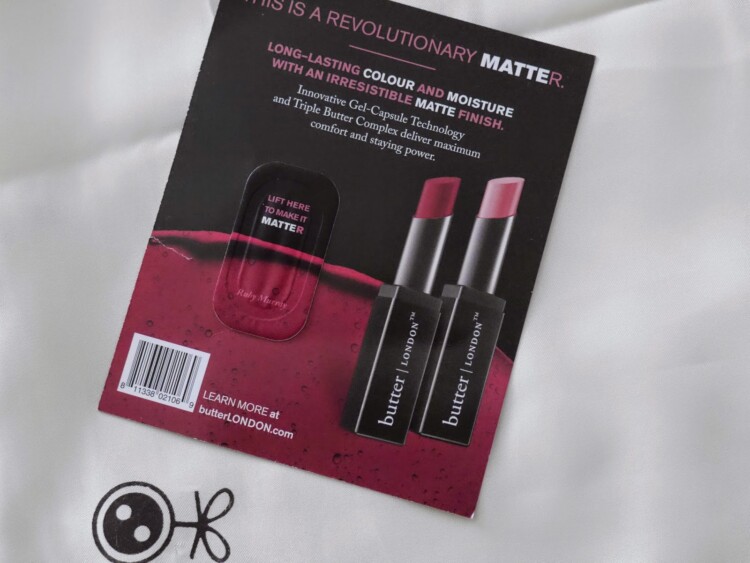 Ruby Murray Moisture Matte Lipstick BUTTER LONDON Retail Value: $25.00 / Full Size
I must say Luxe Box packaging is the best that I have seen so far. The box and dust bag(?) is of great quality and I can easily reuse it. And 5 full size products and 3 deluxe samples? Major love! I also love that it comes with a card which explains each of the product, it's a very nice touch. I personally feel this is by far the best beauty box that I've received. I am a fan of all the products and there is none that I won't use. However, one must remember that this is an upgraded box and from all the other reviews that I've read, the normal boxes are quite a disappointment. Luxe Box also claims that the value of this ZOOMER box is $120+ but I calculated it to be less? Hmmm….
If you're in Canada and looking for a beauty box subscription then do check out Luxe Box, it's worth considering. Unfortunately Luxe Box only ships within Canada but the good news is, shipping is FREE.
Membership: $26/quarterly; $50/semi-annually and $96/annually
I am on the fence about subscribing annually so please share your thoughts about this beauty box? Do you think it's worth an annual subscription? I personally don't mind paying for upgrades but am also curious on how good/bad their normal box is. And we all know that curiosity usually kills the cat or in this case, me.
Looking forward to your thoughts and have a wonderful weekend. Can't believe Christmas is next week, yay!
p/s: I originally wanted to post a review on the glittery Nicole by OPI nail polish which I received in my November ipsy bag (read here) but hello Mr. Sun, where are you?