If you are a long time reader of Reflection of Sanity, you'll be well aware of my disdain of online shopping. I love purchasing handbags, watches and skincare but I'm completely anal when it comes to clothes and makeup.
So when Tmart.com contacted me asking if I would be interested in reviewing one of their products, I was feeling a little iffy about it. Not wanting to throw blind judgement, I spent hours reading up reviews about the site. Some are good, some are average and others are just downright catty. One bad review even stated bloggers sell their soul to the devil for a free product. Yea, okay….
If you read my review on eShakti.com (reviewed here), I am very skeptical about online sites that offer very cheap items. Majority are fakes and scammers however, if a site is confident enough to send me one of their products to be reviewed then there must be some merit to it.
Tmart.com kindly sent me the 11pcs Professional Multifunctional Cosmetic Makeup Tool Finishing Brushes Kit* (check here) to be reviewed and after using it for more than 2 weeks, I am ready to give my thoughts on it.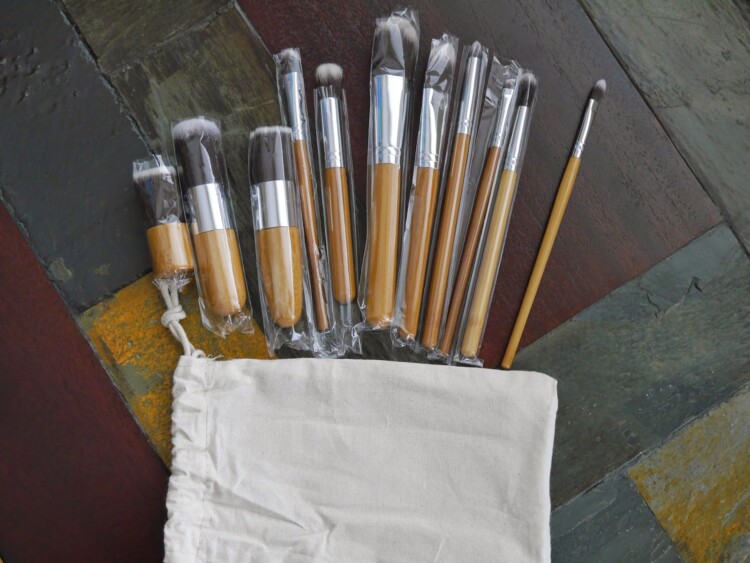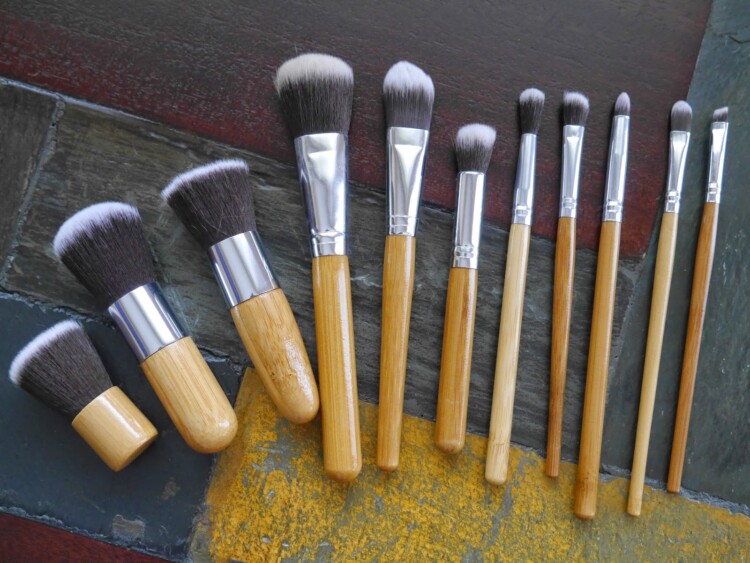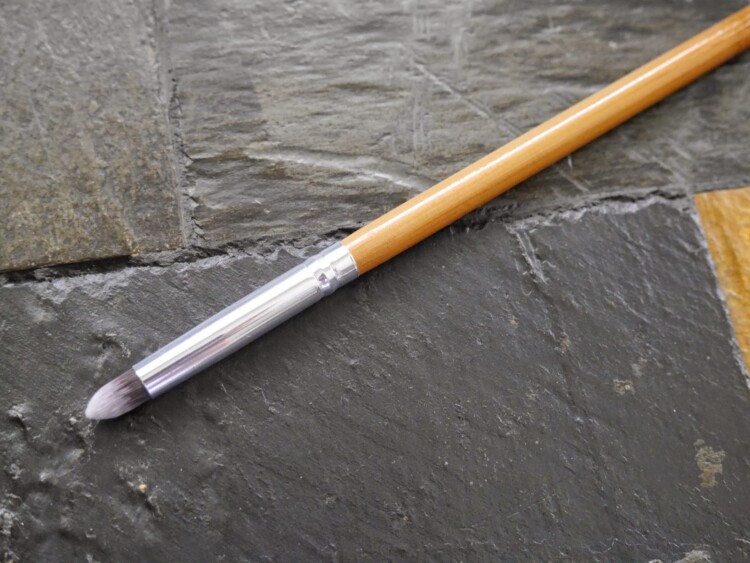 Round nose brush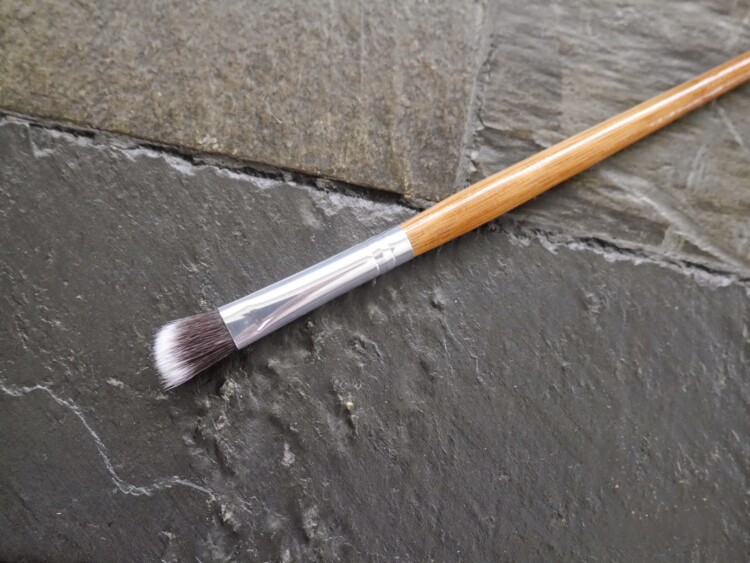 Angled brush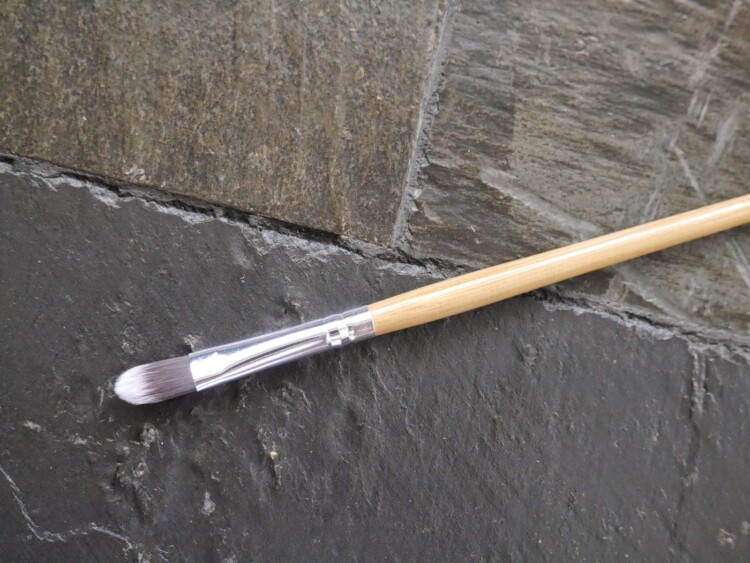 Eyeshadow brush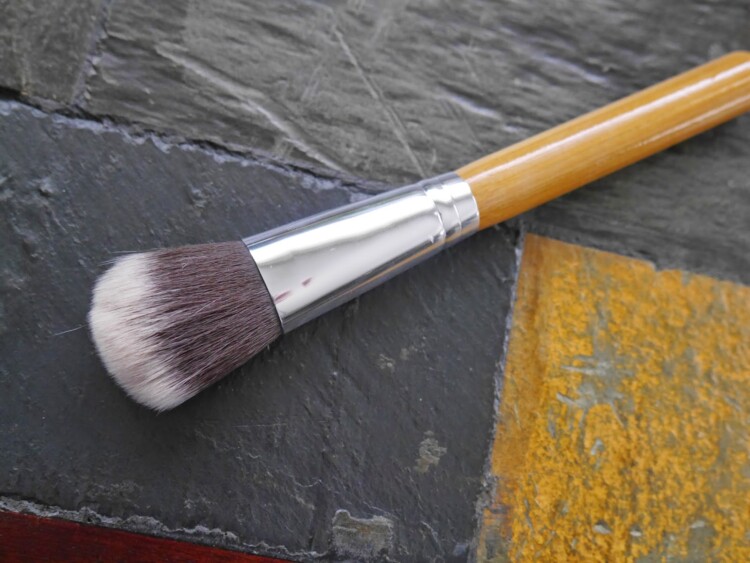 Dome Blush Brush
To order:
It's extremely easy to navigate through Tmart.com. It's very user friendly and frankly, it's a no brainer. You can opt to pay by PayPal or credit card and you have the option to choose your delivery method.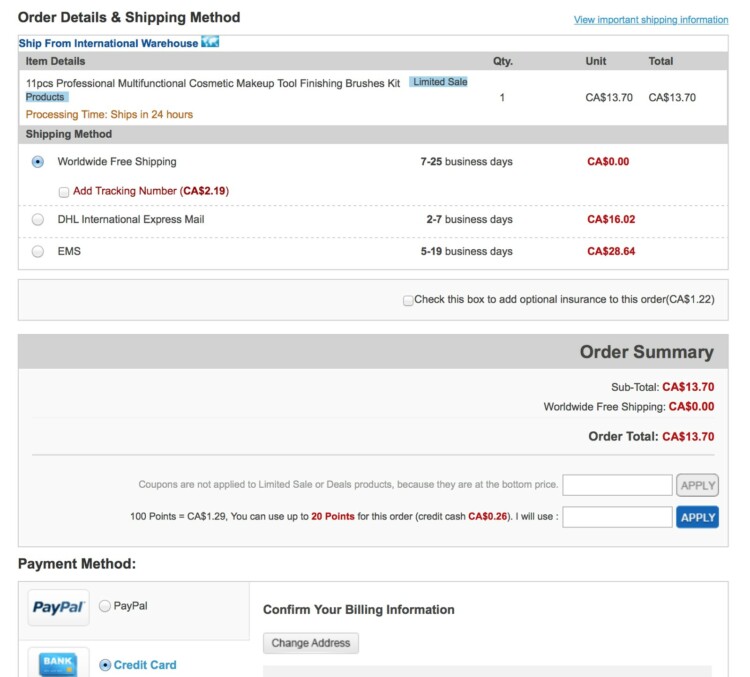 Delivery time:
This is where the biggest problem lies. I'm not sure which delivery method they used to ship the item to me but it was unbelievably slow. I think it took almost a month for it to arrive and I was convinced someone tried delivering this by a paddle boat across the ocean. All jokes aside, the package was stuck at customs for some time…maybe the custom officer thought there was cocaine hidden in these brushes.
Quality:
I had zero expectation from these brushes because I was convinced these brushes would fall apart or scrape my skin off. The brush set came in a recycled bag and the handles are made of bamboo which reminded me of Ecotools.
I washed all the brushes before using and there was only 3 fall outs from the set, that was impressive. The brushes held their shape back without any problems after washing, I am impressed again. These brushes are also soft and not scratchy however, the flat top, kabuki and buffing brush are not as dense as I like them to be. Does that make these brushes terrible? Well, no but that's just me being fussy and spoilt.
Out of the whole set, I am in love and yes, in love with four of the brushes; round nose brush, angled brush, eyeshadow brush and dome blush brush.
Round nose brush – It's dense and brilliant for smudging.
Angled brush – This by far is the best brush I've ever used for my crease. My eye shape is a little wonky and trying to contour the crease is a freaking nightmare but this brush made is so easy.
Eyeshadow brush – This is too stiff for eyeshadows but amazing as a concealer brush.
Dome blush brush – Soft, fluffy and just downright great for powder, blush and bronzer.
Final verdict:
While the delivery time was a major hiccup, the brush set itself was a pleasant surprise. True, it's not the most outstanding makeup brushes but the bristles are soft, very minimal fallout even after three washes and overall, the quality is decent.
If you are someone or know someone who is a beginner in makeup then you can consider purchasing these makeup brushes for practising before investing in a very expensive set.
Are you familiar with Tmart.com (check here) and would you consider purchasing from them?
*I received this product for free but my thoughts and opinions are 100% unbiased, honest and my own. There is no place for any sort of BS here.