Early this year L'Oreal Paris launched their newest range Revitalift Bright Reveal that is designed to gently exfoliate the skin to reveal brighter, radiant and even tone skin. I was one of the lucky few who was selected by Influenster to test the range and received the Glycolic Acid Cleanser*, Brightening Peel Pads*, Brightening Moisturizer SPF30* and Brightening Dual Overnight Moisturizer*.
I have been testing the range for the past 3 weeks plus and while it took me a while to warm up to a couple of the products, it is safe to say that I really did enjoy using them. Do take note that I have dry, dehydrated skin but not sensitive or acne prone so some of these products might not work the same for you if you have a different skin type.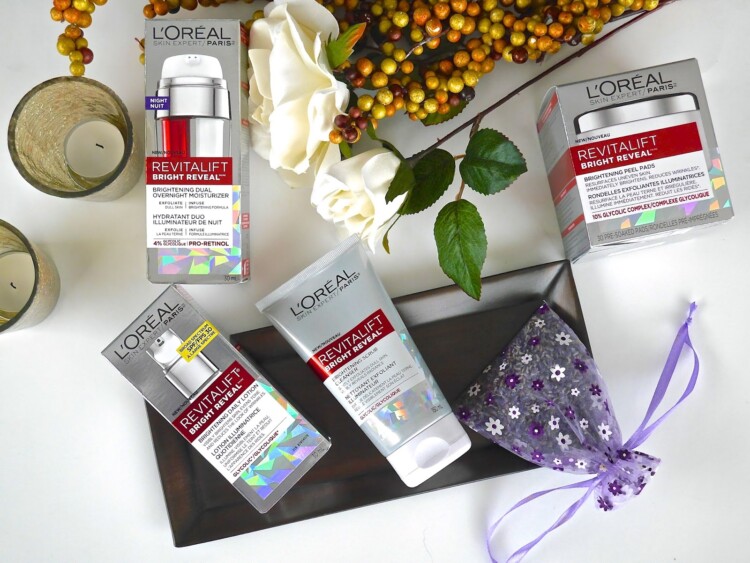 Revitalift Bright Reveal Glycolic Acid Cleanser*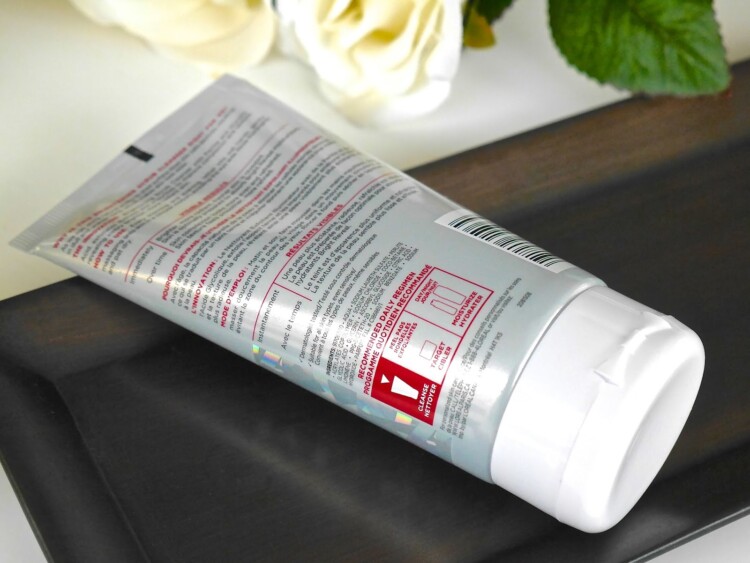 This cleanser helps to exfoliate the skin both manually with volcanic particles (perlite) and chemically with glycolic acid. It is recommended to use this cleanser for both morning and night but if you have dry skin like me then I highly suggest not to use it twice a day. I was most excited to use this but unfortunately after using it twice a day for just two days, my skin felt extremely tight and dry. Frankly I can't even use it every night so I've been using it only twice a week to make it work for my skin.
All that aside, this is a very lovely cleanser. My skin looks instantly bright and radiant after each wash. I only wish it wasn't so drying on me but I can see combination and oily skin lovelies really enjoying this.
Revitalift Bright Reveal Brightening Peel Pads*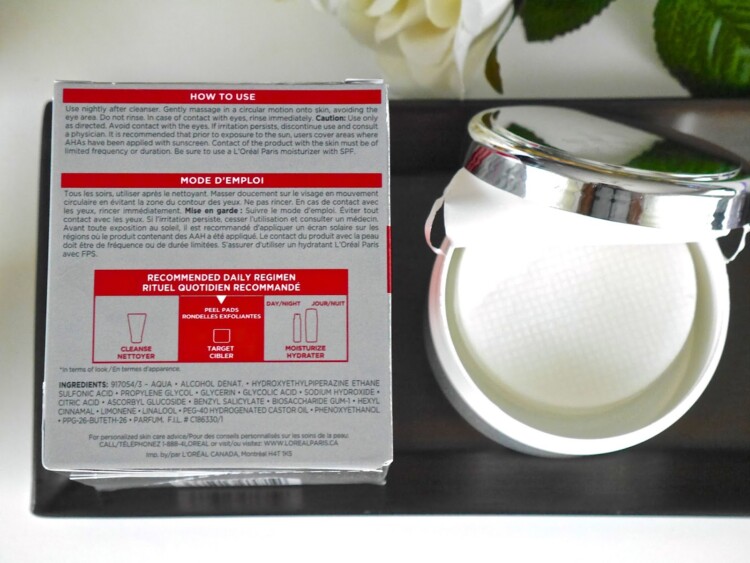 I love, love, love exfoliating pads and they are a key step in my skincare routine. I have been using Nip + Fab and Clearasil exfoliating pads for some time now but both have very low glycolic acid and salicylic acid so while they are less harsh on the skin, it also takes a longer period of time to see results. L'Oreal Revitalift Bright Reveal Brightening Peel Pads* has 10% glycolic acid complex, the highest that I have ever tried and my gosh, my skin is loving this. I use one pad every evening after cleansing my face and this doesn't dry my skin out; on the contrary my skin has been looking brighter than ever. The colder weather usually means dry patches are starting to show up on my skin but there hasn't been any and I do think these pads are a contributing factor. My only complaint? These pads are on the drier side so I can't take my time to wipe it on my face as it dries out pretty fast. I wish it was slightly wetter but that's just my personal preference.
Revitalift Bright Reveal Brightening Moisturizer SPF30*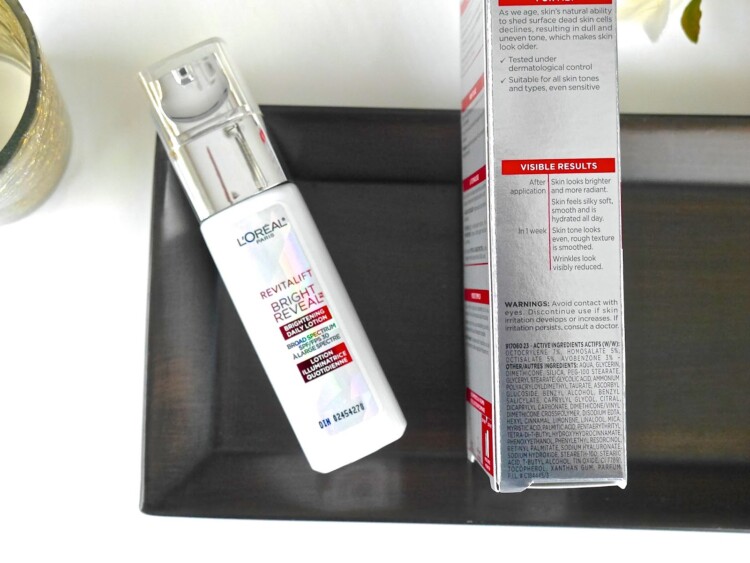 This day moisturizer is my favourite of the bunch! This powerhouse has glycolic acid, vitamin C, Pro-Retinol and comes with a broad spectrum SPF30. The texture is a thicker lotion and I need two pumps to cover my face, neck and décolletage. It does have a faint scent but I can't quite pin point what it reminds me of. Be warned that with two pumps it does take a minute for the moisturizer to completely sink into my skin so oily and combination skin lovelies will have to use sparingly. Not only do I love this moisturizer for the additional SPF (I still use a separate sunscreen on top), but my skin also looks clearer, smoother and more radiant after 3 weeks of daily use. Take note that there have been complaints that this does not play well with makeup and causes primer and foundation to ball up but I personally never had that problem.
Revitalift Bright Reveal Brightening Dual Overnight Moisturizer*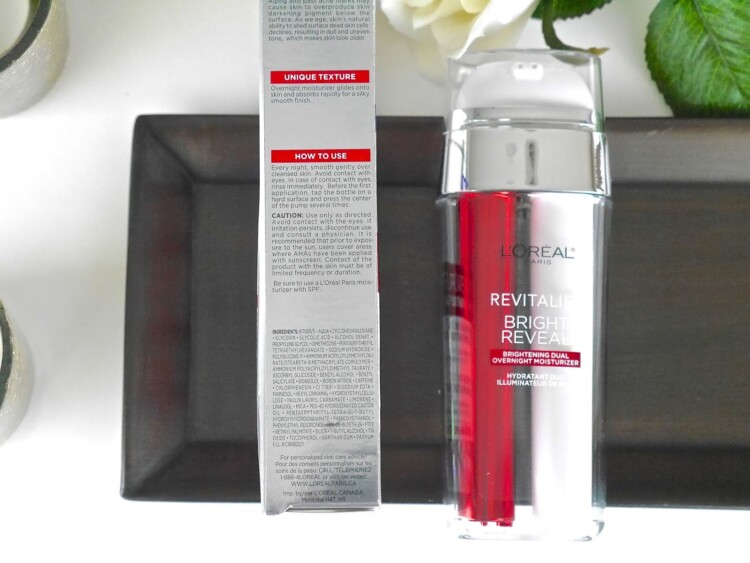 Last in the range is this Brightening Dual Overnight Moisturizer* which combines two treatments in one pump. Yes, you read that right, two treatments. The red chamber (exfoliate dull skin) contains glycolic acid and the white chamber (infuse brightening formula) contains vitamin C and Pro-Retinol. This combination helps to brighten, enhance skin clarity, reduce visibility of dark spots, uneven skin tone and wrinkles. All of that sounds so promising but unfortunately for me, it has been an uphill battle for me to find the right way to use this moisturizer. I can't use it on its own as it's not moisturizing enough and while I do wake up to smooth and brighter skin, it also feels really tight. To stop the tightness, I try adding facial oil on top of the moisturizer to lock everything in but it causes the moisturizer to ball up. Using a facial oil before the moisturizer creates a barrier and I find it to be less effective. The only way for me to make this moisturizer work is to apply my facial oil before the moisturizer fully sinks into my skin and that way the moisturizer doesn't ball up and my skin gets the extra boost of hydration. L'Oreal Paris Revitalift Bright Reveal range has been a hit and miss for me however, I am glad that the drugstore is really upping the skincare game. Skincare can be an investment but you can't really go wrong with these products as the price ranges from only C$12.00 – C$26.00.
Have you tried L'Oreal Paris Revitalift Bright Reveal range before? Which product are you most interested in? *I received these products for free courtesy of Influenster but my thoughts and opinions are 100% unbiased, honest and my own. There is no place for any sort of BS here.