Let's talk about good ol' boring sunscreens….do you wear one all year round or only when you see the sun peaking through? Do you skip it when it's raining or do you faithfully slather some on your face? Is moisturizer with SPF enough protection for you or do you still wear a sunscreen on top?
Yes, so many questions but you'll be surprised at how different our approaches are towards sun protection. Personally I wear sunscreens all year round, it doesn't matter rain, snow or shine, I will use one every day. The one and only time a moisturizer with SPF is enough protection for me is when I know for sure that I am not leaving the house and it's a cloudy day. And if my plans change and I do need to step out, guess what? Yes, I will apply sunscreen before leaving my home.
I guess my point is, I have tried, tested, hated and loved many sunscreens over the years. Hey, I even declared a few holy grails but…yes, a big fat but. I think I finally found that one sunscreen that beats all the other sunscreens. Meet my true love, Klairs Soft Airy UV Essence*.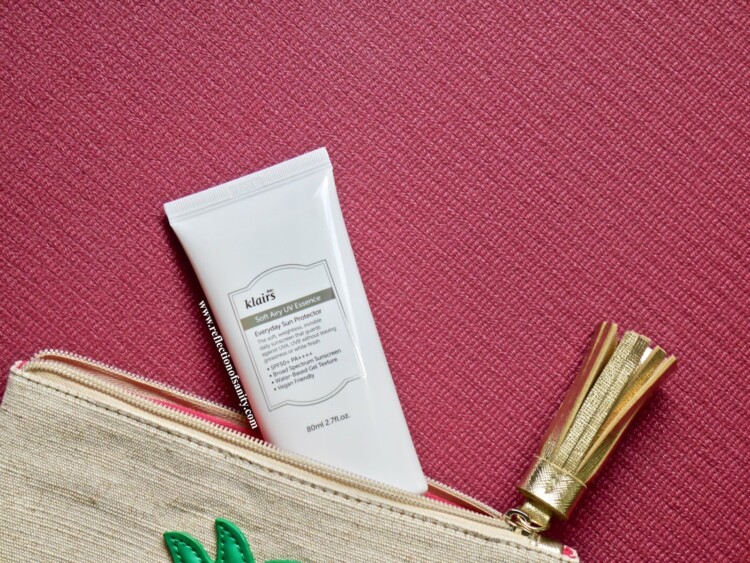 So what makes this sunscreen so special? Truthfully? Everything. I adore everything about it; the texture, the finish, the ingredient list and the way it doesn't leave any white cast on my skin.
PACKAGING & PRICE/mL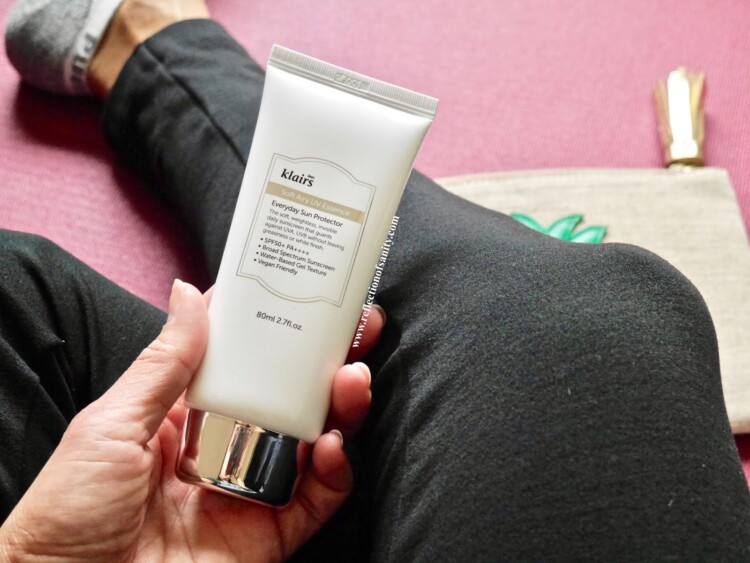 Klairs is known to be a no-fuss, no-gimmick and just pure functionality when it comes to packaging. This sunscreen comes in an opaque white plastic squeeze tube which I love because it's so easy to control how much product to dispense. Price wise, it's a budget friendly US$23.00/80mL (currently on sale for US$20.70).
INGREDIENT LIST (click here for full ingredient list)
Notable ingredients:
• Niacinamide (Vitamin B3)
• Glycerin (skin-conditioining, humectant)
• Adenosine (skin soothing and restoring)
• Panthenol (Vitamin B5)
• Beta-Glucan (antioxidant, skin-soothing)
• Sea Buckthorn Oil (antioxidants, skin-restoring)
• Citrus Junos Fruit Extract (skin conditioning, antioxidant)
• Sodium Hyaluronate (humectant, hydration)
• Anthemis Nobilis (Chamomile) Flower Oil
• Tocopherol (Vitamin E)
• Allantoin (skin soothing and restoring)
This sunscreen is filled with antioxidants and skin-soothing, hydrating goodness and all this wonderful stuff reflects in the texture and finish too. It contains two UV filters; Diethylamino Hydroxybenzoyl Hexyl Benzoate (also known as Uvinul A Plus) which is a UVA filter and Ethylhexyl Triazone (also known as Uvinul T 150 and sometimes referred to as Octyl Triazone) which is a UVB filter. All the goodness aside, be warned that Citrus Aurantium Dulcis (Orange) Oil is listed at the very end and it's known to increase photosensitivity.
TEXTURE AND FINISH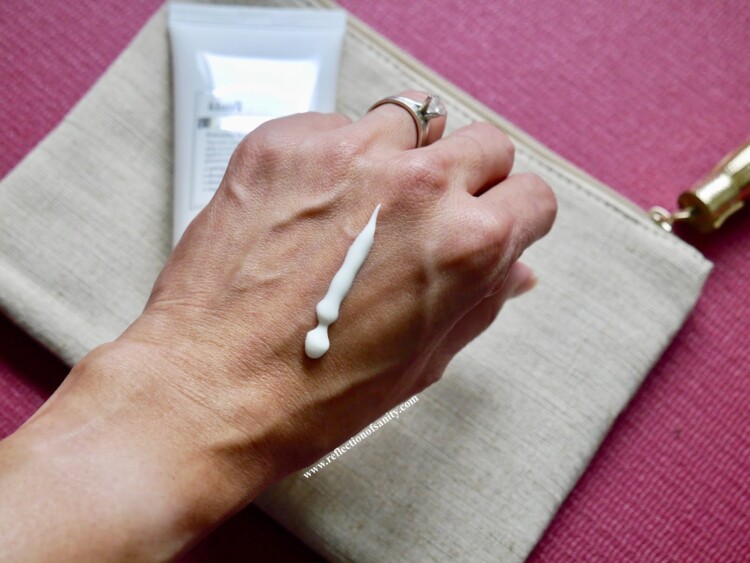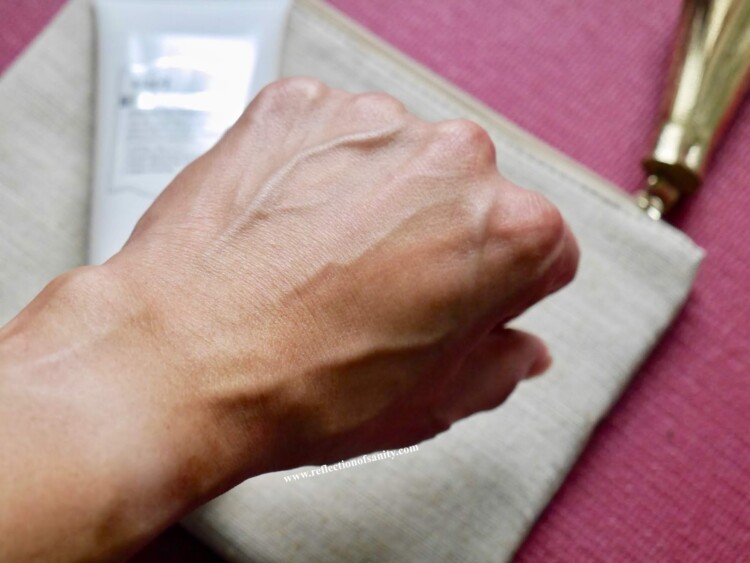 One word, perfection. The texture is a lightweight water-based lotion and feels more like a moisturizer than a sunscreen. It doesn't have the usual sunscreen scent, it doesn't leave a white cast and it leaves my skin looking and feeling hydrated. It doesn't leave any residue or tackiness on my skin and it never caused pilling under makeup. But what makes me love it more than all the other sunscreens that I have ever tried? It makes the best hydrating primer. Remember all my struggles with Dior BackStage Foundation (reviewed here), Revlon ColourStay Foundation and Marc Jacobs Shameless 24Hr Foundation (reviewed here)? This sunscreen magically transformed those foundations into diamonds in the skies. It is the missing key to making those foundations flawless and fabulous. All three foundations wear beautifully on top and I no longer experience any dryness or texture issues with them. Now is this sunscreen all rainbow, sunshine and unicorns? Yes, if you have dry to normal skin and combination skin lovelies might even love this but I do think this might be a touch too rich for anyone who has oily skin. Final verdict? I love this, I will forever repurchase this and kudos to Klairs to acing the formula of this sunscreen. Oh, did I mention this sunscreen is also vegan and cruelty-free? Oh yea, freaking fabulous! Klairs Soft Airy UV Essence* is retailing for US$23.00 and available for purchase on WishTrend.com. *Product marked with * was received for free but my thoughts and opinions are 100% unbiased, honest and my own. Post contains affiliate links. There is no place for any sort of BS here.