I've said this before and I'll say this again, 2016 so far has been an amazing skincare discovery year for me and hopefully, also for you lovelies who read my humble blog. Some of the best parts about these recent discoveries are local Canadian brands who specialize in natural beauty and wellness products and today, Bella Aura takes centre stage.
From the brand:
"Bella Aura sets itself apart by using only the highest quality ingredients like Argan (certified organic), Fig de Barbary (certified organic) and Nigella (100% natural). Our products are produced using no chemicals or pesticides during planting, farming and harvesting. We guarantee the production of 100% premium and natural ingredients. The seeds are cold pressed using the latest technology in a high standard production facility."
Yasmine, the beautiful founder of Bella Aura created the brand after going through a very stressful time in her life (read the inspiring story here). What started as a personal journey to heal her own skin has now fruited one of the best natural skincare products that I have ever used.
Yes, one of the best. Not joking, not exaggerating, just truth.
I was kindly sent the whole range of Bella Aura products; Gentle Purifying Cleanser*, Night Cellular Renewal Emulsion*, Daily Moisture Repair Emulsion*, Antioxidant Booster Emulsion* and Instant Lifting Eye Contour*.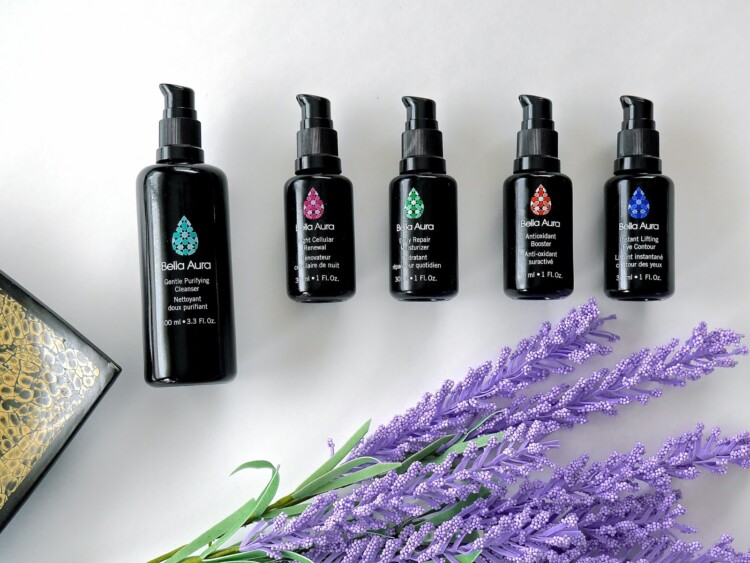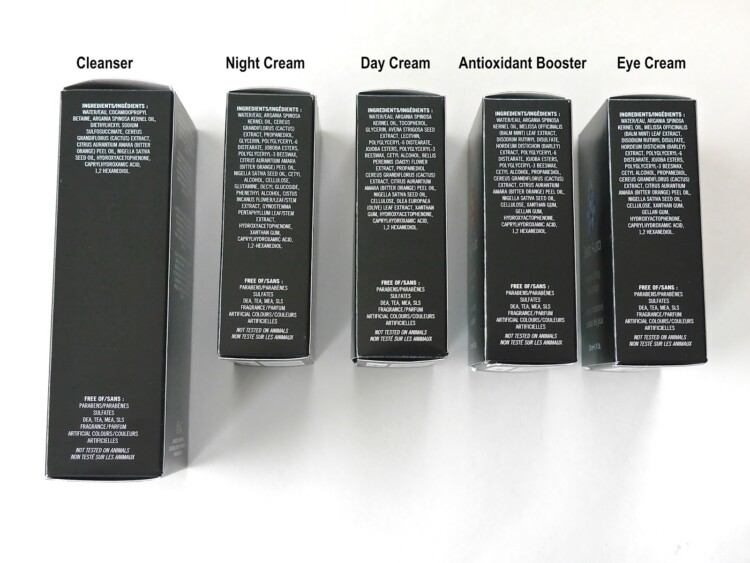 Bella Aura is a no fuss, no hanky panky skincare brand meaning you only get these five products to use, nothing more, nothing less.
Gentle Purifying Cleanser* ($42.00CAD): has an exquisite combination of Kamilah blend oils containing Argan, Fig de Barbary, Neroli and Nigella. This cleanser is also loaded with vitamin E, vitamin B complex to help exfoliate, replenish and protect the skin's moisture barrier as well as vitamin C to purify and detox with anti-oxidants. That's not all, it has Omega 3, 6 and 9 and also contains minerals such as potassium, calcium, selenium, zinc, iron, magnesium, beta-carotene and amino acids.
Night Cellular Renewal Emulsion* ($148.00CAD): is high in Vitamin E, C, A, B complex K, F, D, omega 3, 6, 9 fatty acids, minerals and nutrients to nourish, replenish, renew, rejuvenate and rebalance the skin while improving skin hydration, firmness and elasticity. It also restores skin's ability to reach its ideal cellular renewal during sleep when cells are at their most efficient at healing.
Daily Moisture Repair Emulsion* ($148.00CAD): provides skin with vitamins K, C, E, A, F, D, B complex, minerals, omega 3, 6, 9 fatty acids to nourish, replenish, rejuvenate, rebalance the skin while providing better hydration properties than Glycerin or Hyaluronic Acid.
Antioxidant Booster Emulsion* ($148.00CAD): infuses skin with vitamins C, E, A, K, D, F, B complex, minerals, omega 3-6-9 fatty acids to nourish, replenish, and rejuvenate the skin. It reduces the appearance of dark spots, discolouration, blotchiness and redness while repairing and restores the skin's natural barrier.
Instant Lifting Eye Contour* ($128.00CAD): is designed to help the eye areas to appear brighter, smoother, firmer, younger and more radiant. It also helps to reduce the appearance of dark circles, puffiness, crow's feet, dryness and uneven texture.
Let's talk about the packaging, how sleek and beautiful are the bottles? They are dark violet airless pump glass bottles specially designed to protect sensitive and natural products from excessive exposure to air and increases up 15% of the product shelf life. All of the products have an almost similar lotion texture with the eye cream being the thinnest which allows it to absorb quickly and is suitable to be used under makeup. They all have a fairly strong natural scent which reminds me of bell peppers. The scent is earthy, musky and spicy but it's not unpleasant in any way…although Mr. Platt got a whiff of it one morning and his exact words were… "You smell funny…" We got to love the way men describe products or scents or taste or texture or just things in general. Initially I thought the cleanser was a non foaming cream so for the first time I tried it, I used 3-4 pumps to clean my face which was such a waste. I found out later in the evening that I only need 1-2 pumps with a little water and it will foam up nicely to gently clean my face. The cleanser leaves my skin feeling soft and hydrated and I don't feel the need to instantly reach for a moisturizer. I have been using the eye cream and antioxidant booster twice a day followed by either the day cream or night cream for the past month and guys, I swear my skin has changed from dry, dehydrated to normal. My skin no longer feels tight due to dryness, there are no dry spots, not even around my nose areas where it's notorious for dryness and I actually could get away with only using the antioxidant booster without the day cream on top. I find some of my foundations especially the demi-matte ones go on smoother but on the other hand, I also discovered the dewy ones such as Bobbi Brown foundation (reviewed here), Bourjois Healthy Mix Serum and Almay Skintone Matching base (reviewed here) don't look as good on my skin as they used to. I do suspect the fact that my skin is no longer dry has something to do with it but this tiny problem is easily fixed with a good primer underneath. The past month has seen my skin go from slightly dull to healthy, glowing, radiant and normal which is a word that I never ever thought I would use to describe my skin. Now I know the price point is a touch steep for the majority of us so if you are interested in trying a couple of products from Bella Aura then I highly recommend checking out either the cleanser or the eye cream. The cleanser is one of the best that I have ever tried and I love how soft, smooth and hydrated it makes my skin feel. And the eye cream is currently holding the holy grail status for me. My eyes have never looked so fresh, awake and radiant. If you have puffiness, dark circles and just general dullness around your eyes then you need to try the eye cream! As cheesy and as cliche as this might sound, I am truly glad to have been given the opportunity to discover the world of Bella Aura and it will always be a part of my journey to age as gracefully as I can. Turning 40 in the next couple of years doesn't feel as worrisome anymore.
Bella Aura has kindly provide the code 'SANITY' for my readers to receive 25% off all products and with FREE SHIPPING during the month of May. Just enter the code at checkout to enjoy the discount. Bella Aura is also donating 20% of online sales to the Red Door Woman' Shelter.
In addition, all orders come with the Guaranteed Happiness policy, if you are not satisfied with your purchase then simply return it for a full refund. Shipping is available only to Canada, United States and international markets except EU countries and China.
Find out more about Bella Aura by clicking here. *I received this product for free but my thoughts and opinions are 100% unbiased, honest and my own. There is no place for any sort of BS here.