I was going through my stash a couple of weeks ago and I suddenly noticed the increase of Asian skincare in my collection. It wasn't done on purpose though, I was lucky to win a couple through a giveaway, some was purchased by myself, others were given by lovely friends and then there are a few which were sent for testing.
And I dare say this, I think I'm enjoying Asian skincare more than Western ones. Makes sense doesn't it? Asian skincare for Asian skin and I am an Asian woman. Call me Captain Obvious and call that the 'how many Asian's can you put in a sentence?' game.
Some time ago I was lucky to receive a couple of products from AmorePacific, a brand that I had no clue about until I received the email in my inbox. I usually do my research online on the company, brand and products before replying and lo and behold, I found out that this is a Korean brand and is available for purchase through Sephora. And later, I again read about AmorePacific on Rowena's blog (say hello here) where she mentioned they are a big player in the Asian skincare market. 'AmorePacific uses concentrated, botanical-infused treatments with Asian ingredients like green tea, bamboo, and Korean red ginseng. Their products are also made without parabens, sulfates and phthalates.'
I was kindly sent Moisture Bound Rejuvenating Eye Treatment Gel* (check here) and Moisture Bound Rejuvenating Crème* (check here) and have been testing both twice a day for the past month.
My hopes are high for this duo…so let's see if these are worth the money. Be warned, the price will make your heart skip a couple of beats.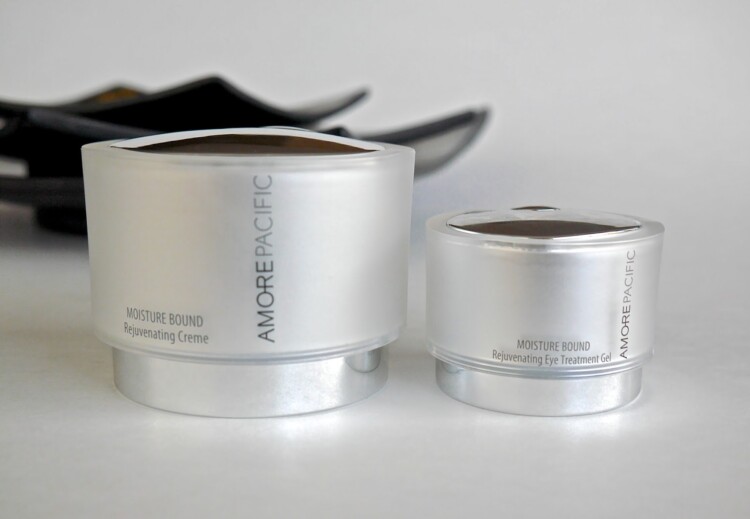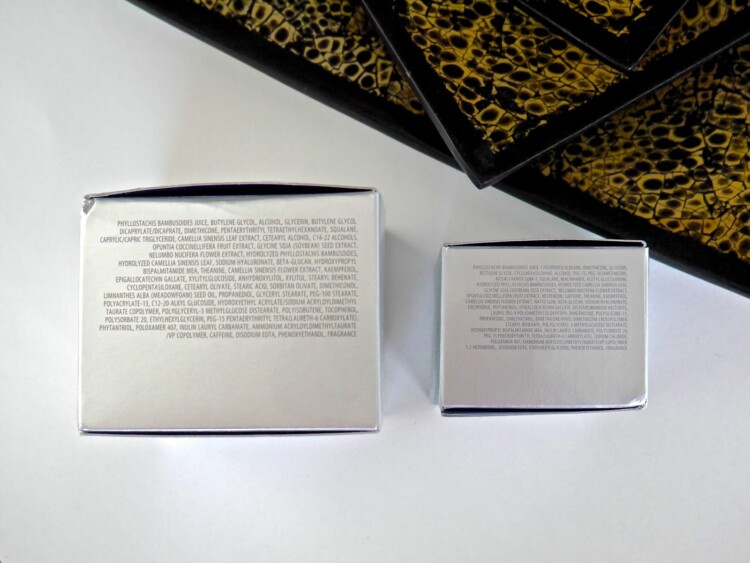 AmorePacific Moisture Bound Rejuvenating Crème* $CAD160.00 50mL (check here)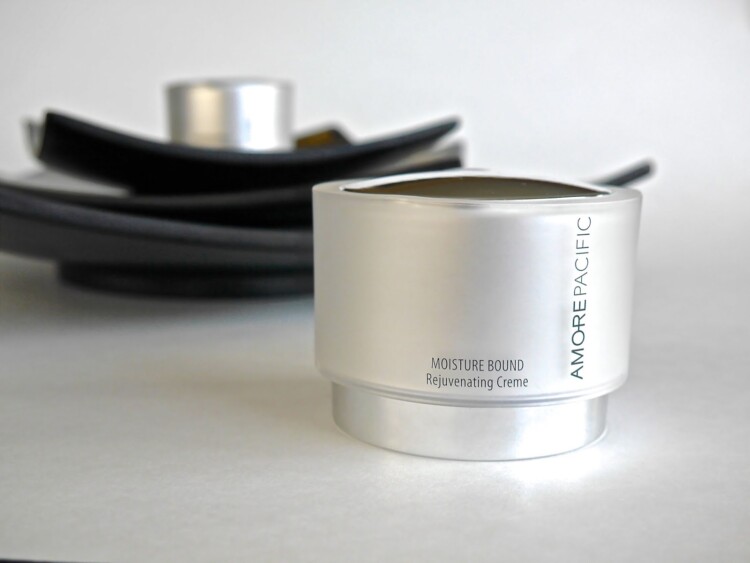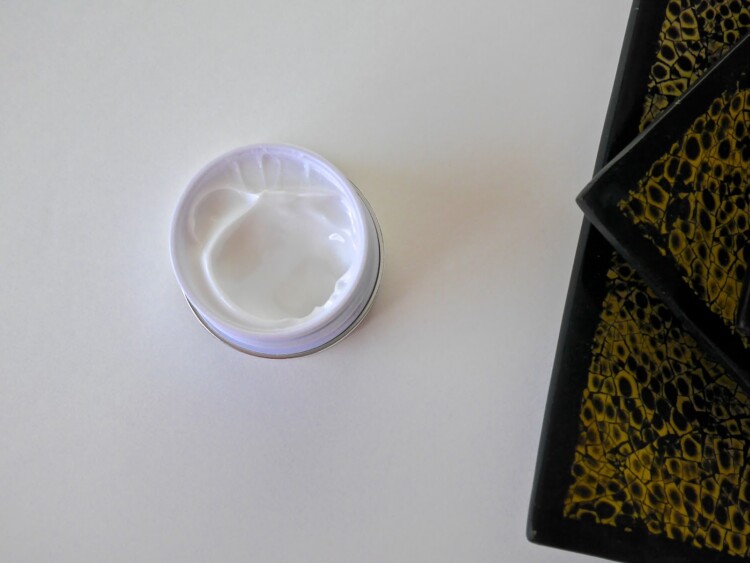 I love the texture of this cream, it's like whipped gel and I have nothing quite like it in my skincare stash. It's thick but at the same time light and airy, I know I sound like I'm talking out of my arse but that's the best way I could describe it. Despite the whipped gel like texture, this is in fact a very rich cream and it will need time to fully absorb into the skin. That being said, I have no problem using it in the daytime but I do have to let it sink in for 2-3 minutes before applying my sunscreen and then wait a further couple more minutes before my makeup application. It doesn't cause my makeup to move throughout the day but I do think this is more suitable as a night cream for combination and oily skinned lovelies.
It does have a perfumed scent which would be too strong for some but I personally don't mind it and I think the scent adds the feeling of luxury to this already luxurious cream. I have no idea what I expected with this moisturizer but all I know was for the price of $CAD160.00, it better give me baby smooth skin, even out my skin tone, trim my eyebrows, cook and then do the household chores. According to Sephora.com, Moisture Bound Rejuvenating Crème* is meant to be the one stop solution to dry skin, fine lines, wrinkles, dullness and uneven skin tone. No household chores mentioned but the good news is, it delivered on most of the claims. Believe it or not, I actually noticed huge differences in my skin within one week. My skin has always been good but the differences were very obvious. My fine lines around the high points of my cheeks are softened, the deeper lines on my forehead lessened considerably but the biggest differences are the way my skin seems to glow. My skin looks evened out, bright and feels soft and smooth to the touch.
AmorePacific Moisture Bound Rejuvenating Eye Treatment Gel* $CAD95.00 30mL (check here)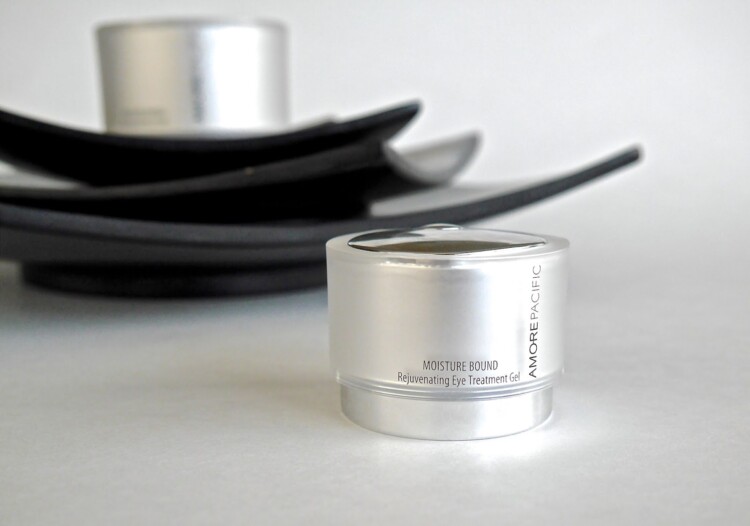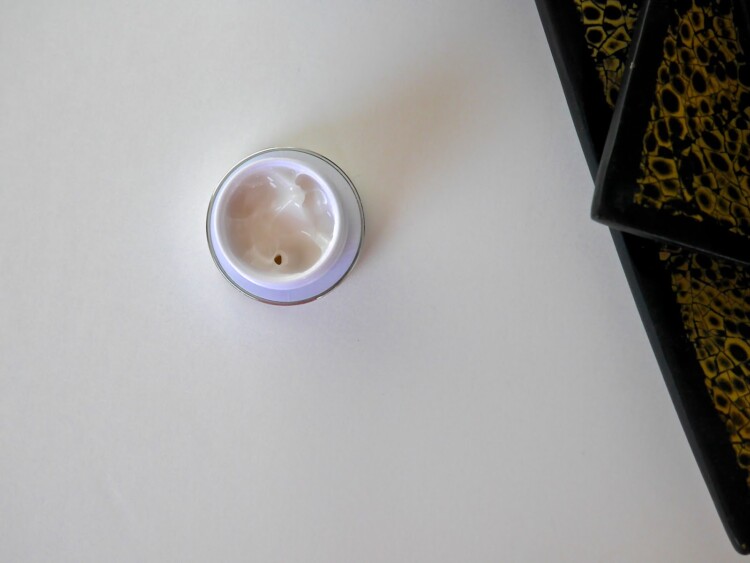 This is by far the priciest eye cream that I have ever tried and unfortunately for me and my wallet, my under eye areas really, really, like seriously really love this. Moisture Bound Rejuvenating Eye Treatment Gel* is meant to diminish fine lines, wrinkles and on top of that improve the appearance of dark circles and puffiness.
The texture is very thick and a little goes a very long way. I used too much the first time and it took forever to sink into the skin. Just like the moisturizer, it's a rich cream and has the same perfume scent. The scent is strong enough that you will smell it upon application but it doesn't linger. I have no problem using it under makeup, it didn't make my concealer crease but I do wait for at least 5 minutes for my skincare to sink in before applying makeup.
Now I don't have problems with puffiness and very little dark circles so I can't attest to those claims however, this eye cream did a brilliant job with hydrating my eye areas. It softened down the fine lines around my eye areas and I find my eyes to look bright, fresh and healthy despite the lack of sleep on most nights.
After educating myself more on what to look out for in my skincare with The Age Fix* (reviewed here), I am happy to report that Moisture Bound Rejuvenating Crème* and Moisture Bound Rejuvenating Eye Treatment Gel* contain antioxidants to protect our skin from free radical damage. I still have a ways to go to educate myself on ingredient lists but it's good to see soy and tea leaf extracts are listed for both products. The eye cream also has niacinamide but one thing to note, both products have alcohol listed quite high in the ingredient list but I think this is pretty common for Asian skincare. I was kindly sent a Biore sunscreen by the beautiful and super cool mummy, Emmy (say hello here) where alcohol is listed as the second ingredient. If anyone is familiar with Asian skincare and is able to explain why alcohol is always present then please leave it in the comment section below, I would love to know.
This post has turned out to be wayyyy longer than I originally intended but there's so much to point out about both products. Bottom line, this has been a fantastic introduction to AmorePacific and I am planning to explore more from then brand. Are you familiar with AmorePacific or Asian skincare in general? Edit:
On the matter of alcohol used in skincare, below is the explanation from Anne, the beautiful blogger behind Linda.Libra.Loca (say hello here) who is a physician so this lady knows her stuff!
"One: Alcohol acts as preservative, that way you can get away with putting in less preservatives without compromising shelf life. Two: Alcohol removes some of the skins protective layer, which makes it drying on the one hand, but helps other ingredients to penetrate more easily and deeply. The reasoning behind that is you take the drying side effects for the sake of your other stuff to work more effectively and double up with more hydrating ingredients to make up for it."
*I received this product for free but my thoughts and opinions are 100% unbiased, honest and my own. There is no place for any sort of BS here.