My skin has definitely gone through some changes over the years. It went from combination to dry and then very dry no thanks to Canadian temperamental temperatures and finally, dry-normal. I feel like I've finally found the perfect happy place for my skin but the journey to get here has been challenging.
Today I'm sharing a few products which helped my skin to stay normal. Some of these discoveries are old and permanent staples and the others are new but they were love at first use.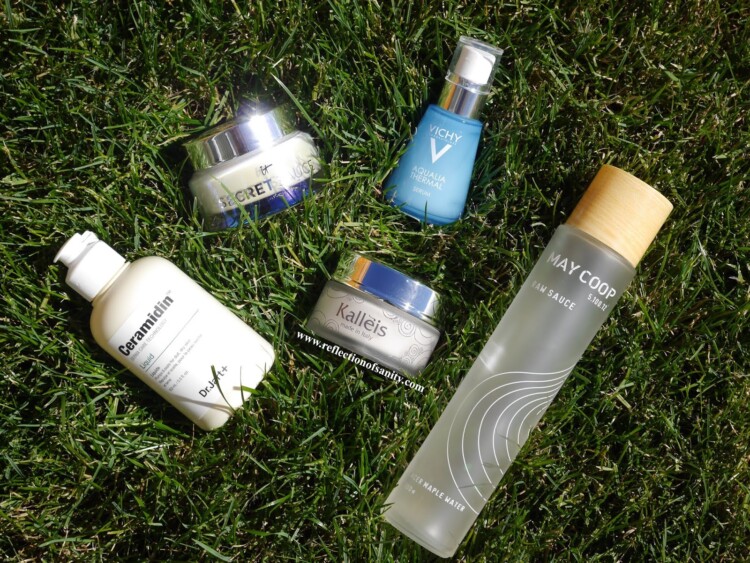 IT COSMETICS SECRET SAUCE* ($88.00CAD)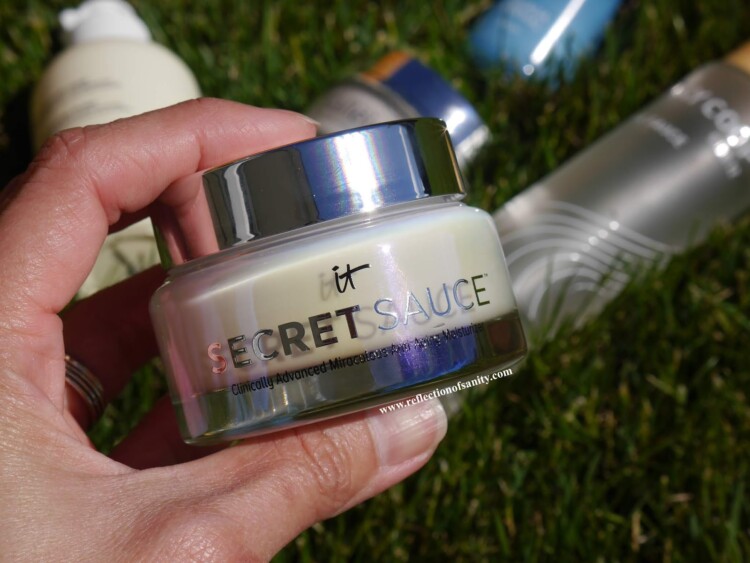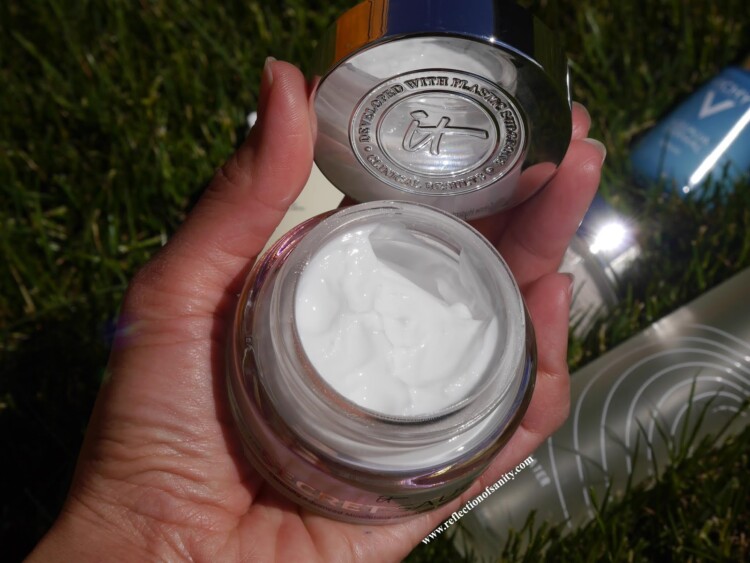 This is a little miracle in a jar. The scent is very pleasant, the texture is rich without being suffocatingly greasy and a little goes a very long way. It has a very long list of ingredients but most of them are botanical/plant extracts and ferment filtrates. It also has peptides, Vitamin A&E, Squalane, Niacinamide, actually reading the list makes me want to break into a happy dance. I'm starting to wonder why no one talks about IT Cosmetics skincare because this moisturizer is one of the best that I have ever tried. My skin looks soft, hydrated and radiant after a week of use and I like this way better than IT Cosmetics Confidence In A Cream (reviewed here). I have seen some reviews complaining about this cream being too heavy and I think they are applying too much. Imagine what you need and use half of that and you might be pleasantly surprised. I recommend this cream for anyone who has dry, normal or mature skin that needs plumping aka me. If you're young then you might not appreciate it as much.
KALLEIS ILLUMINATING DAY CREAM* ($89.00CAD)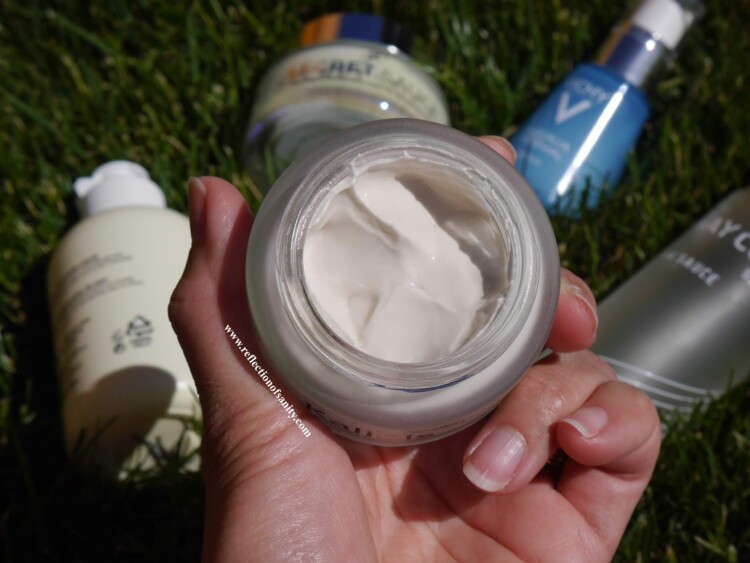 More people should take note of this small Italian family-owned brand because all their products are packed with goodness. I absolutely adore their Detox Cleansing Milk (reviewed here) and I'm also in love with one of their serums. Illuminating Day Cream* looks thick in the jar but the texture is actually lightweight and absorbs quickly without leaving any residue or tackiness. It has a fresh and earthy scent which I adore and it wears beautifully under makeup too. It also comes with SPF18 which I don't think is enough protection but I always wear a separate sunscreen so I'm not too fussy about it. It's rich with antioxidants, Vitamin E, Glycolic Acid, Lactic Acid, Urea and leaves my skin looking plump and refreshed after a mere two weeks. Over time I find some of my pigmentations are notably softer in appearance too. My skin absolutely drinks up this moisturizer and if your skin needs the extra boost in hydration and radiance then I highly recommend giving this a try.
DR. JART+ CERAMIDIN LIQUID ($49.00CAD)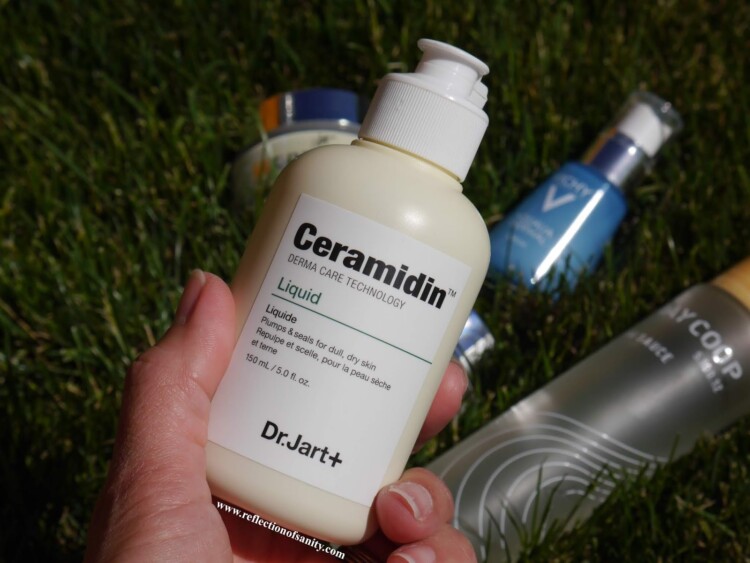 I am kicking myself for not discovering this sooner. This rich watery lotion is a magic potion for my skin. It's magic because it's richly hydrating and yet at the same time it feels so lightweight on the skin and absorbs easily. If you're not familiar with Ceramides, they are lipids aka fats and the building blocks of our skin. In layman's terms, if our skin is made out of building bricks then they are the mortar that holds the bricks together. This potent concoction is made out of Ceramides (surprise!), soluble collagen, lots of plant extracts and fatty alcohols. It's super hydrating so oily skin lovelies can use this in place of moisturizer for Summer. On my dry/normal skin, it's a highly nourishing serum that leaves my skin looking and feeling soft, smooth and plump.
MAY COOP RAW SAUCE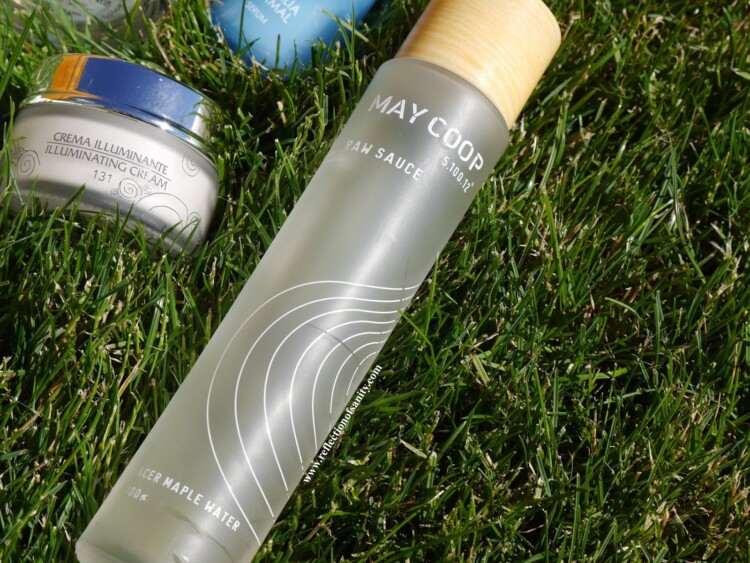 I saw Mili (say hello here) gushing about this so I just had to buy it…and I love it so much that I already have a back up. This is an all-in-one product (toner/essence/emulsion) with a thicker and higher viscosity texture and because alcohol is the second ingredient on the list, it dries down/absorbs very quickly. Initially I thought this would dry the hell out of my skin but it does anything but that.
May Coop Raw Sauce is made out of 93% maple tree sap which is highly hydrating, nourishing and packed with antioxidants. I love using it alone as my second step (after FTE) or mixing it with a pump of Paula's Choice 1% Retinol Booster as my treatment. Either way it's very versatile and because of it, my skin has been at its best most of the time.
Is there a negative? Yes. It's very highly fragrant, so much so that it took me weeks to get used to the scent. If you are sensitive to fragrance then it's best to get a sample before committing to a full size.
VICHY AQUALIA THERMAL SERUM* ($42.95CAD)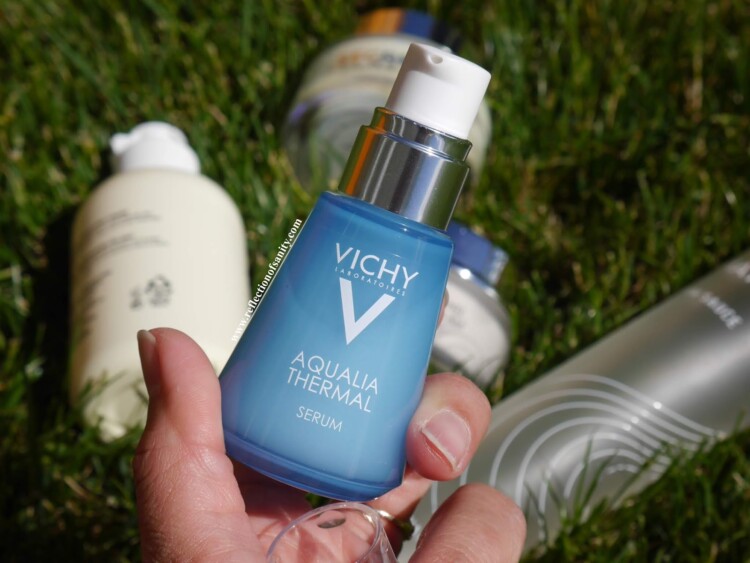 When I saw Vichy relaunched their cult favourite Aqualia Thermal range, I was nervous…make that very nervous. I wasn't impressed when they revamped my favourite Idealia range so I was pretty much biting my lips nervously about this.
Well, all that worry was for nothing because mama loves this serum!
The biggest difference with the new range is the products are made with only 20 ingredients, 97% are natural origins and are without silicones, mineral oils and parabens. Yes, there is still fragrance but it doesn't bother me because my skin is not sensitive to it but if you are then best to get a sample beforehand. This serum is so lightweight in texture but it packs a huge hydration punch. It has a lot of slip to it so I only need one pump for both face and neck. My skin feels so soft and plump after a mere week of adding it into my routine and I see myself repurchasing this again and again in the future! Who do I suggest this to? All skin types especially if dehydration is your main concern. What is your favourite product to compact dry, dehydrated skin?
*Products marked with * were received for free but my thoughts and opinions are 100% unbiased, honest and my own. There is no place for any sort of BS here.