I did it, I finally did it. And before any of you jump to the conclusion that I have done something that will land me behind bars, I'll clarify that I finallyyyy dyed my hair.
Oh yes, it happened.
The thought of streaking my hair the colours of a rainbow has long lingered in my mind but my husband and my hair stylist back in Malaysia were adamant that my hair be left untouched. The opportunity finally came knocking when I was given the opportunity to try SPLAT Rebellious Colors* through CBB. I sneakily applied for the campaign without telling my husband.
Desperate times call for desperate measures.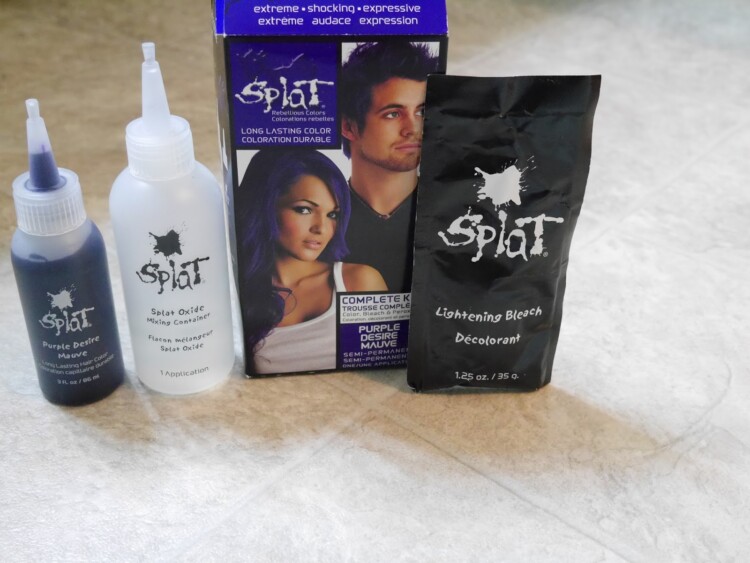 I chose the shade Purple Desire* because purple is one of my favourite colours and I believe it would look better with my skin tone. The kit comes with a pair of plastic gloves, bleach, peroxide and the hair colour. What makes this kit different from other hair dyes in the market is the hair colour is a stain, yes, you read that right, a stain. Meaning the dye is not a developer and it will not ruin your hair like others. Unfortunately for me the bleach leaked through the package so I was left with less than half of the original content. I contacted Farleyco which was the company that markets SPLAT to inform what happened and they offered to send me another bottle of bleach which I turned down. I wasn't planning to dye all my whole hair because that would send hubby dearest into ER so I used whatever that was left. Usage was extremely simple, I mixed Lightening Bleach powder (roughly half packet) into SPLAT Oxide Mixing container, shake until the mixture thickens up and pour it to parts of my hair I wanted the colour to be. I left the bleach in my hair for close to an hour, rinse, shampoo and dried my hair and then applied the hair colour. I waited almost two hours before washing my hair like usual. The result?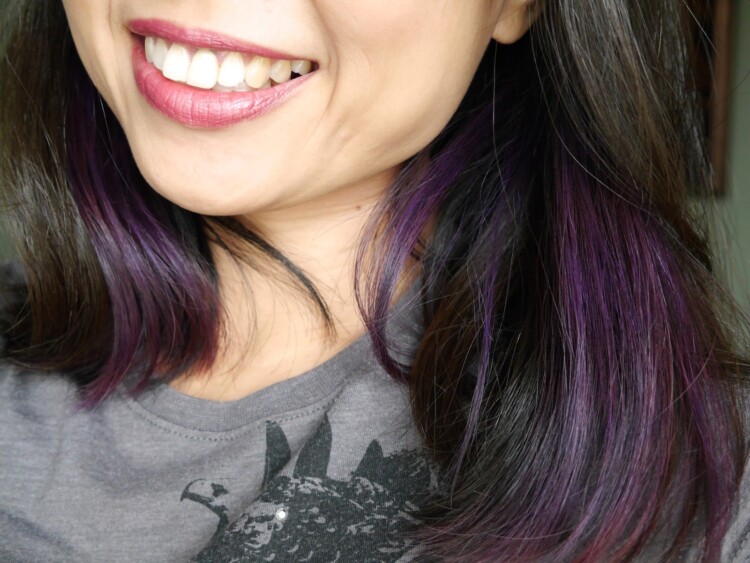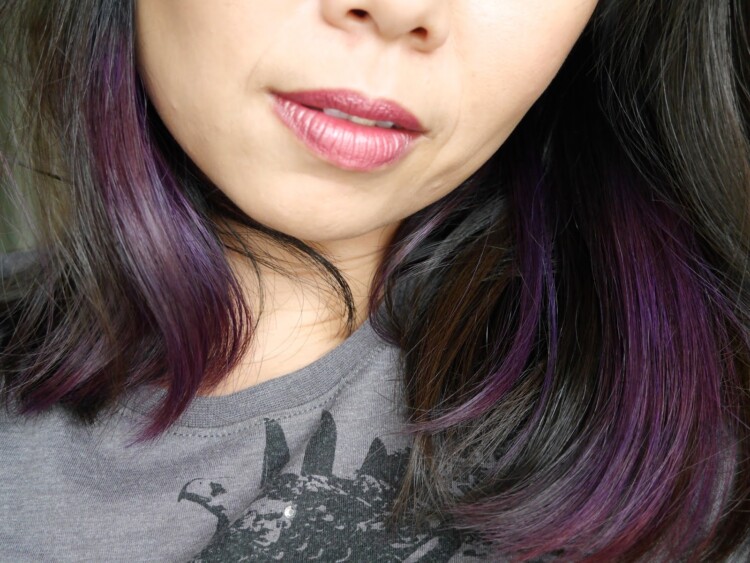 I freakinggggg love it! The best part is my hair feels really good, it's not dry or ruined despite the bleach. Initially the thought of bleaching my hair worried me because we all have read/heard the horror stories of fried, frizzy, terrible hair due to bleach but my hair is absolutely fine. The idea of spending huge tons of money and so many hours in salon to have my hair coloured is no longer a worry because I easily achieved this with SPLAT. Is there a negative about SPLAT? Well yes. You have to be 100% sure about the colour you want, this is a stain so if you plan to change your hair colour from purple to let's say, silver, it's almost impossible to bleach the colour out. It won't work and you'll end up destroying your hair. I honestly foresee SPLAT making regular appearances in my life in the future, I highly recommend this! Have you tried SPLAT Rebellious Colors before?  SPLAT Rebellious Colors has a variety of colours and are available for purchase at Jean Coutu, London Drugs, Shoppers Drug Mart, Pharmasave, Walmart, IDA, Guardian, Familiprix, Lawtons Drug, Save On, Value Drug Mart and Peoples Drug Mart.
*I received this product for free but my thoughts and opinions are 100% unbiased, honest and my own. There is no place for any sort of BS here. Special thanks to CBB for arranging this opportunity.