Whether guys should wear capris pants has been an ongoing debate for about five decades. Capri pants were first popularized when the wife in the Dick Van Dyke Show appeared in them back in the '60s.
If you're wondering, "should guys wear capri pants?" You should know that there are pros and cons to wearing them, and styling them is unexpectedly nuanced. We discuss everything you need to know before deciding about wearing the pants in this post.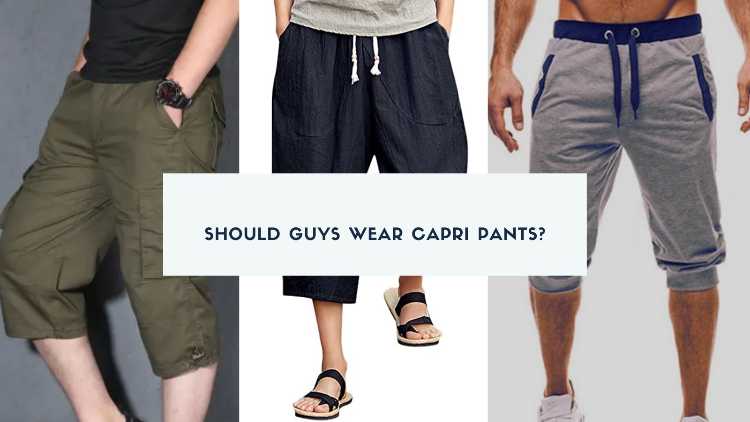 Quick Answer
It's not common for guys to wear Capris, however, if you want to wear capri pants, go ahead and rock it! Wear them in a color that suits you and wear shoes that work well with the pants. While these are not meant for formal occasions, you could wear a khaki pair of capris. Capris joggers are increasingly becoming the hikers' go-to pants. Guys should avoid wearing flip-flops and sandals with capri pants since they can make the pants look more like children's pants.
These pants have gone in and out of fashion notoriously quickly, and pulling off wearing capris pants is decidedly complicated. We've broken down the nuances below.
Should Guys Wear Capri Pants?
As mentioned earlier, it's entirely your decision, and you should wear them if it suits your preference. Capri pants are functional, stylish, and comfortable and make an excellent addition to any man's wardrobe.
But it's more a question of whether you can pull the look off or not.
There are three distinct characteristics of capri pants that get in the way of making you look good:
No matter how hard you try, you cannot cuff them into shorts.
Since they reveal half the leg, they can make you look like you're wearing child-size pants.
Shins are not a flattering part of the body, leaving little reason to reveal just those.
This is not to say you can't pull off wearing capri pants. The typical pair of capri pants is plain. It has sharp creases, simple pockets, and a flat front. You wear these with a nice buttoned shirt and sophisticated leather sandals.
Tall guys can pull it off easier than shorter guys because capri pants cut the leg in half, which can give the pants a cartoonish look. Finding the right pants and pairing them with heavy sandals or shoes is the best way to pull off wearing capri pants.
Guys avoid wearing flip-flops and Espadrilles with capri pants since they can make the pants look more like children's pants.
If you love the pants and value the comfort they offer, you should wear them. But it's best if you have thick enough skin to handle the occasional critic.
When Can Guys Wear Capri Pants?
Capri pants are short, falling at about mid-shin length, which gives them a casual look. These pants are of different kinds, and you will find them in casual and athletic styles. Depending on the kind of capri pants you find, these can be form-fitting or have a flared bottom.
Guys wear capri pants in the warmer months and climates on informal occasions and during casual outings.
Wearing them in cold months is not a good idea for obvious reasons. What's important to remember is that capri pants are too informal for professional and upscale settings.
Cropped pants, which are cut a little above the ankle, typically complement the body better. For this reason, men choose to wear cropped pants over capris.
But there is a specific kind of capris that always looks great and apt for the occasion: athletic capris pants.
Why Athletic Capri Pants Deserve a Spot In Your Wardrobe
Rock climbers and hikers have found a great use for athletic capri pants, which are also called ¾ joggers and crop joggers.
The design of capris pants protects the knees from the elements but allows a lot more airflow and flexibility than cropped and full pants. There is a growing market for these athleisure capris pants.
The options you'll find in the market have features ranging from gusseted crotches and UPF sunlight resistance to waterproof fabric and chamois-lined waistbands. These pants offer a lot more than a nice change from the usual track pant and jogger. Finishing a hiking trail will be a little easier with these pants.
What Shoes Do You Pair with Capri Pants?
The short length of capris pants limits you to wearing shoes lower than your ankle. A nice pair of sneakers or sandals will go great with a pair of capris pants.
If you have a Capri pair of joggers, pairing them up with comfortable plain sneakers is the right way to go.
On the other hand, if you're going for a business casual look with a pair of capris pants, boat shoes, or some sophisticated loafers will complete the look nicely.
The bottom line is that capris are versatile, and you can pair them up with all kinds of shoes. As long as you remember to wear low-cut shoes, you will be able to pull off a classy look with capris pants.
Do Capri Pants Make Guys Look Shorter?
Capris pants end at the shin, which can make it look like you're wearing children's clothing or pants that are awkwardly short. However, wearing capris pants does not make guys look any shorter.
Furthermore, since most capris pants are made from khaki material, the pants don't look as good on someone with a heavier build. Cropped pants and chinos seem like a better option for style and comfort to most guys, leading them to avoid wearing capris pants.
Are Capris Back in Style?
Capris were huge in the '60s, after which they've fallen out and come back in style repeatedly. Summer 2021 was a big season for capris pants, with designers from Levis to Stella McCartney coming out with their takes on the pants.
Capri pants have undoubtedly carved out a niche market, so finding some nice capri pants shouldn't be too challenging. But it's important to know how to approach wearing these pants. You will need to put some extra thought into the outfit if you want to nail the look.
3 Tips for Guys Wearing Capri Pants
Here are three tips to help you do capri pants justice:
Get the right fit: The pants must be slim enough to look sleek, but broad enough to keep you comfortable. If you feel like your calves are chunky or too muscular, you can get longer cropped pants. Pedal pushers (knee-length capris) are also in style, so you can wear them if you want to show off your legs.
Explore your accessory options: Besides your shoes, you can also wear a belt, watch, or bracelet to compliment the capri pants.
Avoid wearing socks: Capri pants don't look good with socks, but if you like the comfort they offer, you can wear ankle-length socks with capri pants.
Wrap Up
Wearing capris pants is hard to pull off simply because the pants can look awkwardly short (which some people mind a lot), failing to deliver the style and comfort most men want from their clothing. Pick the right pants and pair them with appropriate footwear to pull off the look.
Just like when shopping for any other pair of pants, look for comfort and quality. Cropped and chino pants are good alternatives to capris pants if you don't like the look.