Today's review is on a brand that is very close to home…well, technically my previous home. b-liv is a Singaporean brand but its HQ office is located in Malaysia and I recently had the opportunity to test a couple of their products.
I'm not sure how the mentality is in the western countries but in Malaysia, many locals are under the assumption that anything that is locally made usually lacks in quality. And this is also the reason why you'll find local Malaysian beauty brands have their products made in countries such as Korea, Japan, France, Italy, etc. I do suspect that it's to give the impression of higher quality which encourages local consumers to purchase.
So when I received b·līv sheet masks, the first thing that I noticed was they are made in Singapore which instantly gave me a good impression. A local brand which is locally made and it's something that I wish Malaysia beauty brands would follow suit.
I have been using sheet masks for many years, they are my best friends actually they are any lazy girl's best friends. Easy to use, fuss free and you don't get your hands or face towels dirty, what is there not to like? But the real catch is, many sheet masks either don't do much or the results are only temporary and the ones that do offer amazing results are usually pretty pricey.
I was kindly sent 3 pieces each of Knock Off Age* (check here) and Leach Me* (check here) and let's see if they did anything for my skin.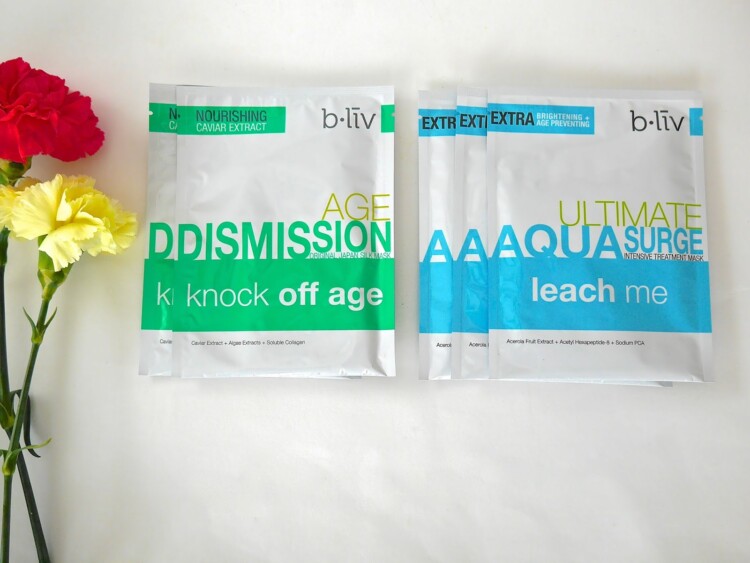 If you're wondering why there's only two pieces of Knock Off Age* masks, I had to retake the pictures because the previous pictures were useless and I already used one of the masks. Ugh!
Knock Off Age* $25.00 for 10 pieces (check here)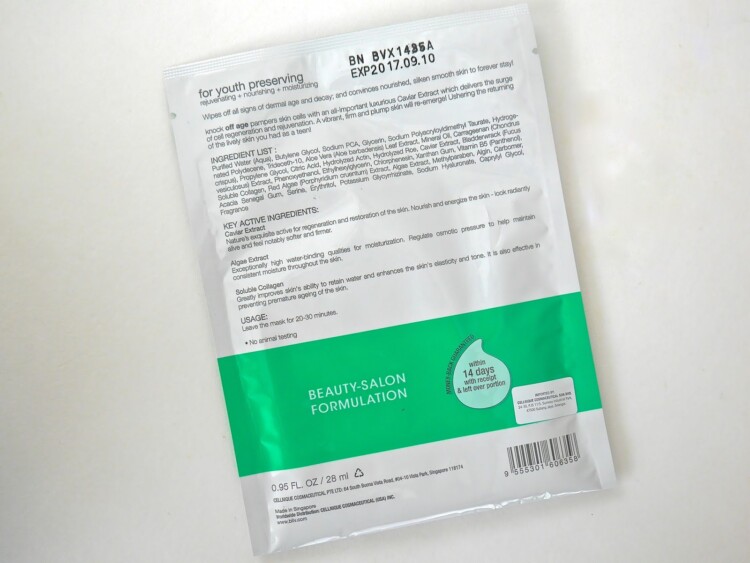 Benefits:
• caviar extract stimulates cell regeneration and has powerful restorative properties.
• rebuild, re-plump and re-firm the skin, resulting in a refined texture and a youthful look
• nourish and energize the skin
• provide instant hydration and help the skin preserve its optimum moisture balance.
Silk masks have been all the rage since last year or at least that's when I first read about them but this is my first experience with one. I was pleasantly surprised at the generous amount of serum that the mask is soaked in, it was enough for me to put the excess away and use it for the next two days! The texture of the mask is thinner than your usual sheet mask and the size is perfect for my face, not too big nor is it too small. I did find out that once it adhered to the skin, it's not wise to try and adjust it again as it will tear so be forewarned to adjust the mask so it fits comfortably and perfectly before pressing it down over your face.
This has been a life saver, my skin has been super dry, flakey and spotty recently after testing a new serum and this made a whole world of differences after one use. Now don't get me wrong, it's not a miracle cure but 30 minutes with this mask soothed my skin like no other. My skin instantly felt and looked much better, no more tightness, the redness had reduced and my dry spots were not as angry as before. The best part is the results were not temporary and the feeling of tightness and severe dryness on my skin diminished when I woke up the next day. My skin also looked so much better and almost back to normal. I can already imagine how amazing this mask would be with continuos usage.
Leach Me* $25.00 for 7 pieces (check here)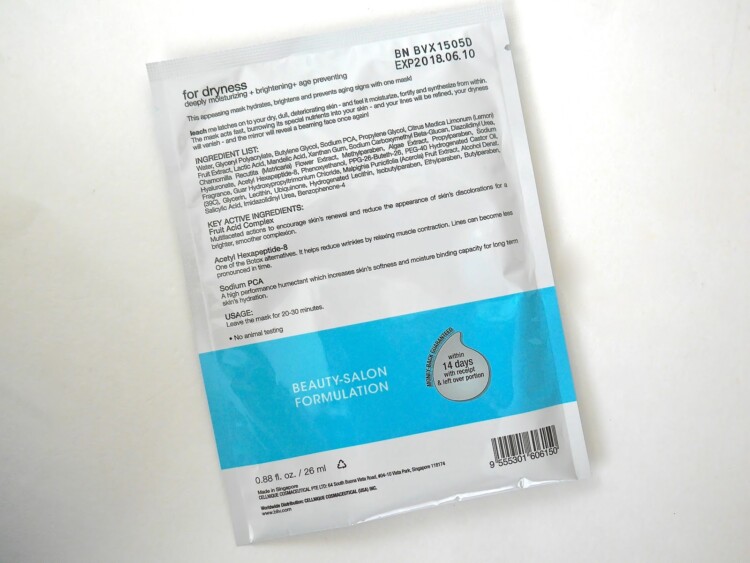 Benefits:
• long term deep moisturizing
• retain & replenish moisture
• age prevention
• anti-oxidant & anti-bacterial
• lightening & whitening effect
Leach Me* has a thicker texture than Knock Off Age* but it has the equal generous amount of excess serum in the package. Again, I had enough to use the serum in the span of next two days which for me is such a huge bonus.
The only way I could describe Leach Me* is the best, my ultimate holy grail sheet masks. I have never ever used a sheet mask as amazing as this. I noticed the results as soon as I took off the mask the first time. My skin looked so much brighter, radiant, smooth and young, honestly I couldn't believe my eyes. I even rushed down to tell Mr. Platt about it, to which as always, I received a stare, one raised eyebrow and 'how much it's going to cost me?'.
While I was so freaking excited about the instant results, the real test was to see if my skin would still look as good the next morning and over the next few days and guess what? It did. Seriously guys, I can't rave enough about Leach Me*, I need it, you need it, your mum and grandma and the neighbour's cat needs it. It's so so good and I can't believe how reasonably priced a box of 7 pieces is!
b·līv really knocked it out of the park with both sheet masks and I know I sound like a broken record but for something that works and delivers amazing results, I can't believe how reasonable the prices are.
Another huge bonus point is the delivery is amazingly fast, they ship out of Malaysia with DHL and you will receive the package between 5 to 7 days. I know because I received my package within 7 days and was super impressed by the fast delivery. Not only that, b·līv ships internationally and offers free shipping for any order of $USD50.00 and above.
If you love sheet masks but are tired of getting temporary or no results then I highly suggest giving these a try. Even if you already have a favourite sheet mask brand, I still recommend giving these a go, you will not regret it. Amazeballzzz! They are so good, so soooo good! *I received this product for free but my thoughts and opinions are 100% unbiased, honest and my own. There is no place for any sort of BS here.