In my attempt not to bore you lovelies into snooze land, I thought I would do a different post for today. I noticed that I have never shared my morning/night skincare routine (which I swear will be a bloody pain in my arse to write) or my daily makeup products so here is me sharing which makeup products I reach for almost daily.
I promise that I will eventually write about my skincare routine but gawd knows how fickle I am with my skincare so it would need me to do a lot of thinking which on most days, my brain doesn't have the capacity of doing. Early mornings, late nights, on most days it felt like my brain is permanently sleeping.
Anyway, enough of me babbling and let's see what are the products that I reach for the most!
MY ACE OF BASE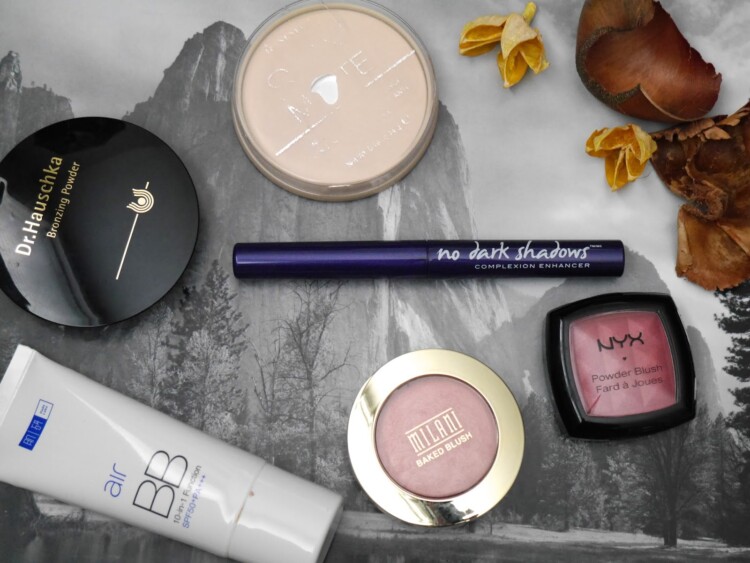 With the much warmer and sunnier weather that we have been experiencing for the past one month, all my other base products have taken a back seat with the exception of Hada Labo Air BB Cream SPF50++ (reviewed here). This has been a rediscover as my skin is finally loving it again after hating it for many months. Due to my dry skin, I rarely feel the need to use a powder but when I do, my go to powder would be Rimmel Stay Matte. As you can see it's the only powder that I have hit pan not once but twice.
No Dark Shadows Complexion Enhancer (check here) is new to my ever growing makeup collection but I have been using it every single day! It's brilliant for highlighting my under eye areas, around my nose and the side of my mouth. It offers light coverage so if you're looking to use this as a concealer then you're bound to be disappointed.
Few months back bronzer is a huge no-no to me but recently I can't get enough of it and my current obsession is Dr. Hauschka Bronzing Powder* (reviewed here). It gives such a natural, lovely warmth to my face and it's brilliant for Summer. As for blushers, I rotate between Milani Baked Blush in shade Luminuso and NYX Powder Blush in shade Pinched.
TWINKLE, TWINKLE MY LITTLE EYES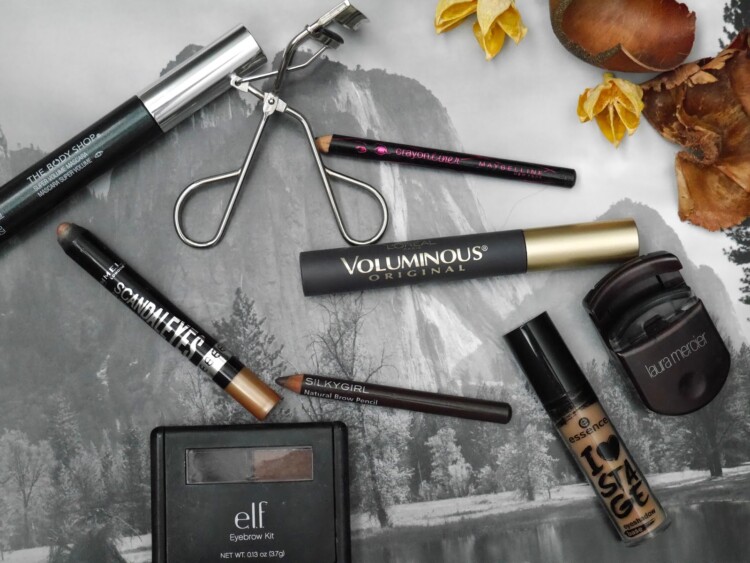 I've said this before and I'll say it again, my eyes are so small that I really need all the help I can get to make them appear larger. Essence I Love Stage Eyeshadow Base (reviewed here) is my go to product for my daily makeup routine. I love Urban Decay eyeshadow primer but I save that for special occasions and let's be honest, that shitzz is pricey and to use it everyday is just bonkers!
SilkyGirl Natural Brow Pencil is my failsafe eyebrow product and I have been using it for years. Unfortunately I've only seen this brand in Asia and I will be stocking up when I return to Malaysia next year. I am still faithful to e.l.f Eyebrow Kit however I only use the powder to fill in my eyebrows after pencil. I like my brow to be natural looking and I find the mixture of both products work best for me.
I don't use a lot of eyeshadows for my day to day makeup other than a soft wash of colour with Rimmel Scandaleyes in shade Bulletproof Beige and Maybelline Crayonliner in shade Brown. I do have to use two different eyelash curlers (Shu Uemura for my left, Laura Mercier for my right) because my right lashes have a natural curl while my left is poker straight. As for mascaras, I have been rotating between The Body Shop Super Volume Mascara and L'Oreal Voluminous Original. Both are absolutely brilliant in separating my lashes, giving it volume and length.
PUCKER UP CHEERY LIPS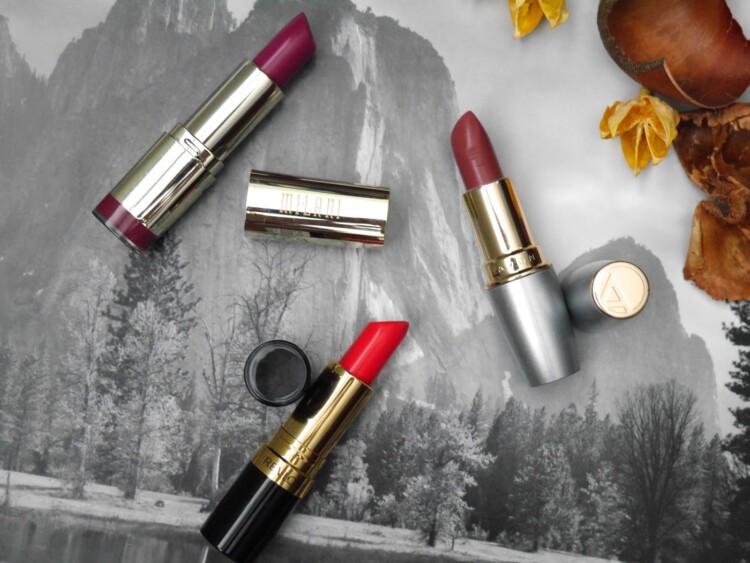 And finally, I save the best for last…it's lipstick time baby! I have been rotating between Milani Uptown Mauve, Revlon Fire & Ice and Avon Beyond Color Plumping Lip Color in shade Twig.
I will be doing a separate review on Twig but for now, all I can say it's a gorgeous brownish shade that is perfect for a low key look. Uptown Mauve is one of the prettiest shade that I own, it's bold and instantly brightens up my face.
Fire & Ice is nothing like any lipstick that I have ever tried. I found out (in a hard way) that I have to use extremely little to no blusher with it. And if I do use blusher, it has to be a more muted, brownish or coral shade. I used Pinched with it and ohh my goodness…let's just say, if my head to ever rolled off, you'll be screaming 'The Attack of the Killer Tomato'. It made my whole face look so flushed and beet red! It's without a doubt gorgeous but I have to conceal any redness on my face whenever I plan to wear it.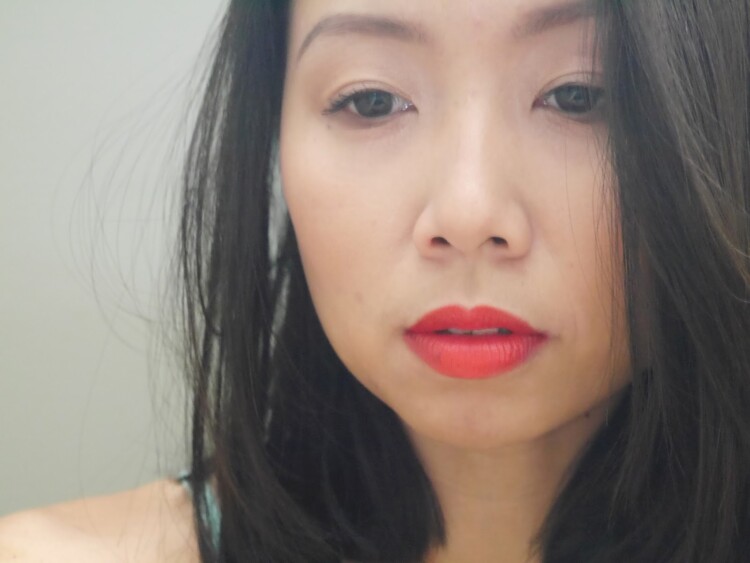 So that's my favourite makeup products that I have been loving for Summer. Have you tried any of the products? And please share your daily makeup favourites, I would love to know!