Autumn as you know is one of my favourite seasons. The colder temperature is welcome after months of heatwave but with Autumn comes the endless rain and the temperature has dropped below 10C.
We finally caved in and started turning on the heater in the house but while that keeps us warm, it dries out my already dry and dehydrated skin. The tell tale signs are most obvious close to my hair line, where splatters of dry spots start to appear, the lines on my elbow and knee areas will start becoming more apparent and the skin becomes rough. Lastly, I can clearly see the fine lines on both my shins.
It's the curse of being a hairless girl….I see every single damn fine line on my body which is multiplied when the cold climate is against me.
Today I'll be sharing my routine to keep my skin in its best condition throughout Autumn and the upcoming Winter.
STAY HYDRATED
This advice does sound hypocritical coming from me as I'm lucky if I finish 4 glasses of water a day. Terrible I know, but for all your lovelies out there, drink up! Water, juice, beer, gin…whatever that rocks your boat.
USE MOISTURIZING BODY PRODUCTS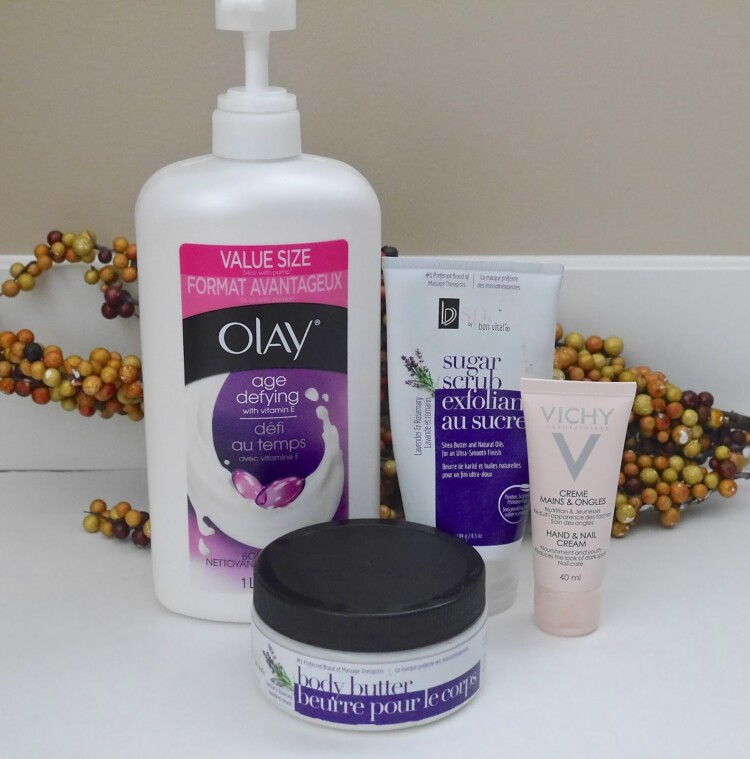 Olay Age Defying Body Wash with Vitamin E is one of the latest additions to my body care routine. I picked it up by mistake, well, truth be told I chose it while under immense pressure…from hubby dearest. I was trying to choose a new body wash to try and was trying to be a smarty pants by reading the ingredient list but the intense death stare from a far from impressed Mr. Platt made me throw this into the shopping cart.
And it turned out to be a brilliant mistake. Put aside the ridiculous anti-aging claim, this is a very creamy body wash with a soft floral scent. It rinses off easily without leaving any residue and leaves the skin feeling very soft and smooth. I highly recommend checking this out and as much as I take Paula's Choice experts' reviews with a pinch of salt, for what it's worth, this body wash has a 4 out of 5 star rating on the site (read here).
Next I use a gentle body scrub twice a week to exfoliate my skin so it stays silky smooth. I try to avoid harsher scrubs like coffee scrubs as it can exfoliate too much and irritate my skin. I am loving BVspa body scrubs* (reviewed here) for the colder months as they are gentler to the skin but effective. I finished the salt scrub over Summer but didn't repurchase as I much prefer the sugar scrub which I am currently using and will be repurchasing soon.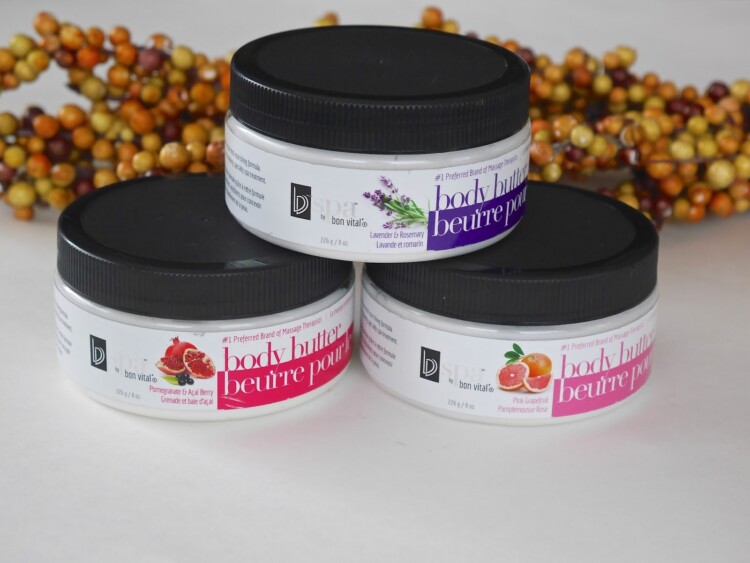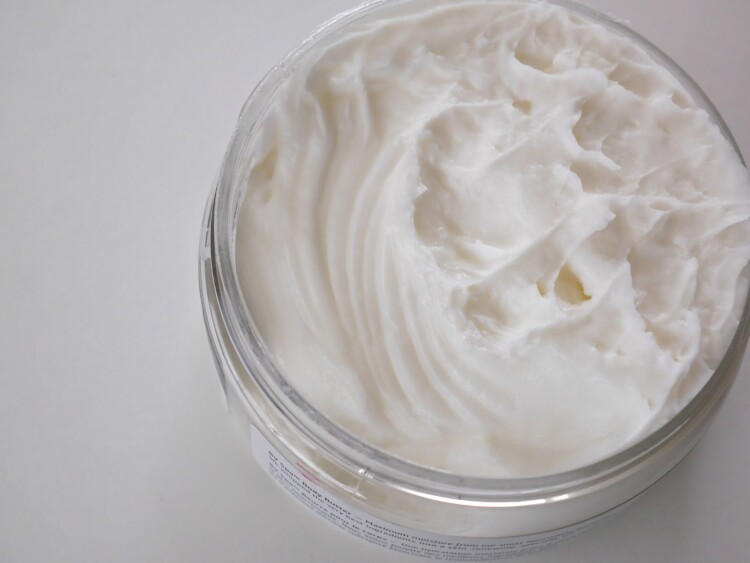 I know many are not fans of using body moisturizers; lotion, body butter or oil but I swear by them. My most recent body butter obsession is BVspa Body Butters and the range comes with three fragrances; Pomegranate & Acai Berry*, Lavender & Rosemary* and Pink Grapefruit*. These body butters are made with Cocoa Butter, Shea Butter, and essential oils and is extremely hydrating to the skin. The texture reminds me of a whipped thick cream and I only need little to keep my skin moisturized the whole day.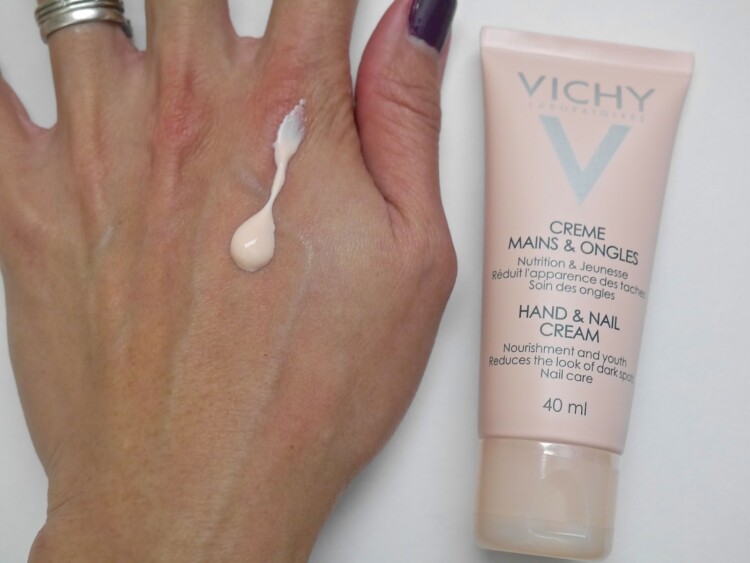 And finally, one shall not forget to keep our hands moisturized. Do you know that other than the neck, our hands are one of the first body parts to show signs of aging? I've started to apply sunscreen on my hands and recently have been loving Vichy Hand & Nail Cream*. This little tube of goodness comes in 40mL and has 10 natural oils + LHA to nourish and soothe, Vitamin C that targets hyper pigmentations and dark spots for even skin tone and Ceramids to strengthen nails. It has a light gel/cream hybrid texture with a fresh citrusy scent and absorbs quickly without leaving any residue on the skin. It also kept my hands moisturized for hours or until the next time I washed my hands. Now I can't attest to the anti-aging claims yet but my hands are so soft ever since using this. Buh-bye dry, rough hands!
FACIAL SAVIOURS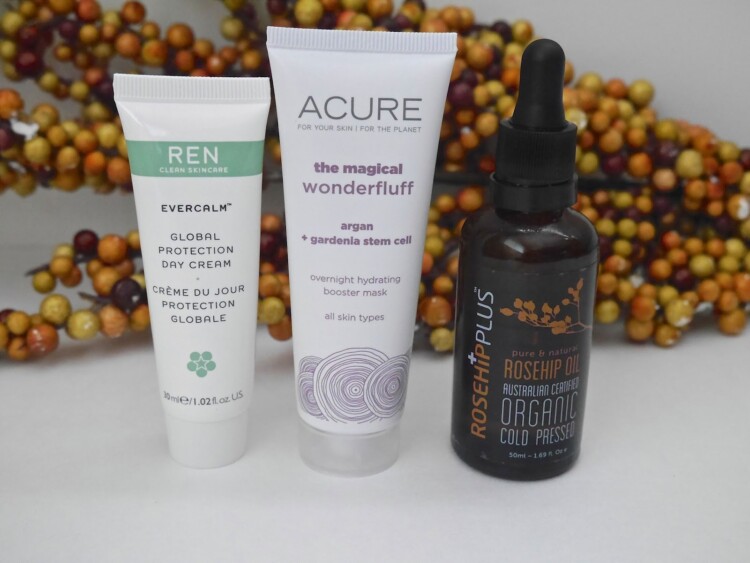 Facial oil and overnight mask, that's all I have to say. If you are a dry skin girl like me then you need to add these two products into your skincare routine and thank me later.
My go to facial oil has been cold-pressed organic Rosehip oil. It is a thicker oil with one hell of a funky smell, actually it smells fishy to me but if you are able to control your gag reflex then it's a damn good one to try. I also highly recommend purchasing cold-pressed Rosehip oils as this process helps retain the beneficial properties.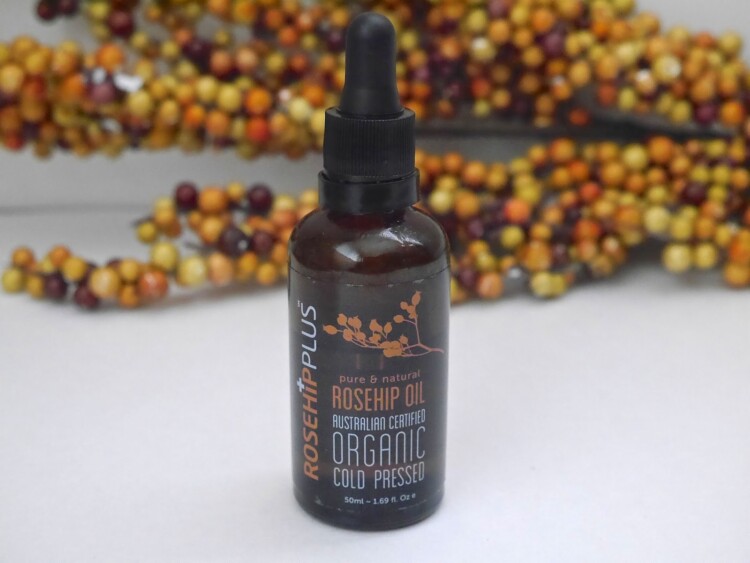 Benefits of Rosehip Oil (source):
· Rosehip oil quickly absorbs into the skin, proving needed moisture.
· Used sparingly, it will leave no more greasiness on the skin than your average skin cream.
· It can heal scarring that has been caused by acne when a person was younger.
· It can help reverse the damage of excess sunlight during the summer.
· It can provide a protective barrier on the skin, which will prevent further moisture loss.
· It can help to correct any darker patches on the face.
· It can help heal facial skin that is suffering from skin conditions such as eczema, psoriasis, and dry, itchy skin.
· It can reduce fine lines and wrinkles.
· A bottle of rosehip oil is affordable for everyone. I always apply my facial oil by warming up 3-4 drops in my hands, gently pressing it into the skin and finally massaging my face with upwards strokes. I also started applying facial oil as the last step in my skincare routine after learning that oils penetrates water based products easily therefore providing better results and it also helps to lock in all the moisture. The theory is if we apply a water based product on top of oil, its penetration will be limited and will render the moisturizer/serum less effective which makes absolute sense.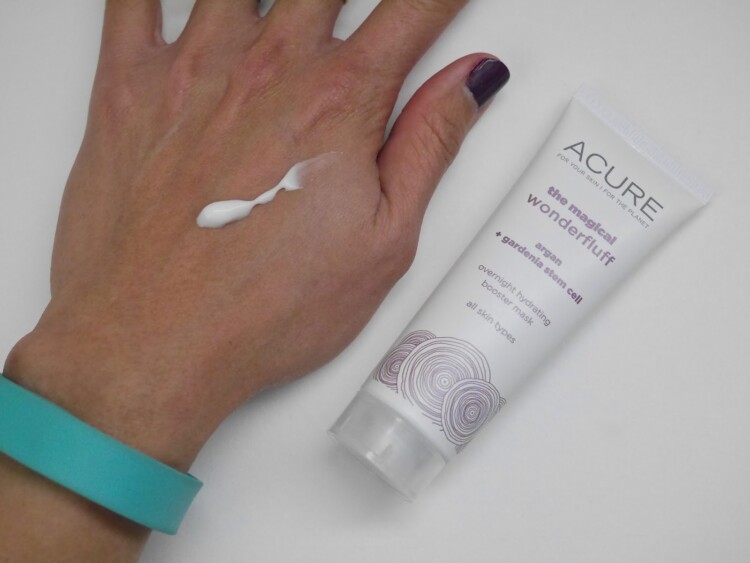 Ingredient list: purified water/aqua/eau, aqueous extracts/extraits aqueux: aloe barbadensis leaf juice, organic euterpe oleracea (acai) extract, organic rubus fruticosus (blackberry) extract, organic rosa canina (rosehips) extract, organic punica granatum (pomegranate) extract, organic calendula officinalis (calendula) extract, organic matricaria recutita (chamomile) extract, organic aspalathus linearis (rooibos) extract, prunus armeniaca (apricot Kernel) oil, persea americana (avocado) oil, vegetable glycerin, prunus dulcis (sweet almond) oil, glyceryl stearate, simmondsia chinensis (jojoba) oil, glucose (sugar), glucose oxidase, lactoperoxidase, organic chlorella pyrenoidosa extract, organic oenothera biennis (evening primrose) oil, organic argania spinosa (argan) oil, hypericum perforatum (st johnswort) oil, olea europaea (olive) oil, gardenia jasminoides (gardenia) cell culture extract, argania Spinosa (argan) cell culture extract, lavendula angustifolia (lavender) essential oil, citrus reticulata (red mandarin) oil, thymus mastichina (marjoram) essential oil, anthemis nobilis (Roman Chamomile) essential oil, nardastachus jatamansi (spikenard) essential oil, xanthan gum.
Acure The Magical Wunderfluff* has me flipping inside out with happiness from the first try! This overnight mask is made of all the magical (okay, not really but it sure comes close!) good stuffs. My skin is drinking up all the goodness from the ingredient list as it is so soft, smooth and radiant every single time I use this. It's suggested that you can use this as a moisturizer or on top of night cream as a booster overnight mask and my favourite way is the latter. The texture is a light cream with a soft herbal scent which is pretty common with natural products and absorbs really quickly into the skin. Once absorbed, it doesn't leave any residue, oiliness or tackiness on the skin which makes it brilliant even for oily skin lovelies. I am no stranger to overnight masks so you know I'm bloody serious when I say this by far is the best I have ever used and yes, I love it way better than my previous 'ride or die' Laneige Water Sleeping mask (reviewed here).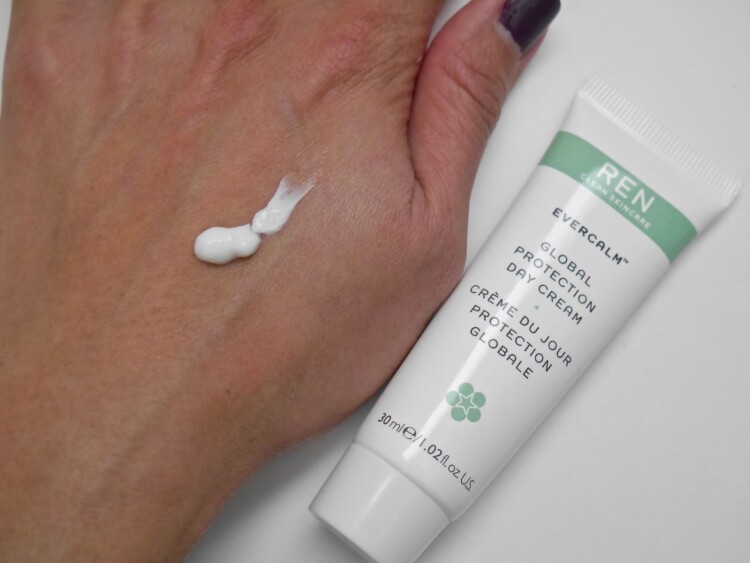 Ingredient list: Water, Cetearyl Alcohol, Camellia Oleifera Seed Oil, Cetearyl Ethylhexanoate, Myristyl Myristate, Sesamum Indicum (Sesame) Seed Oil, Glycerin, Butyrospermum Parkii (Shea) Butter, Caprylic/Capric Triglyceride, Cetearyl Glucoside, Triheptanoin, Oryzanol, Helianthus Annuus (Sunflower) Seed Oil, Vaccinium Macrocarpon (Cranberry) Seed Oil, Bisabolol, Ribes Nigrum (Black Currant) Seed Oil, Carbomer, Hippophae Rhamnoides Fruit Extract, Citrus Nobilis (Mandarin Orange) Peel Oil, Tocopherol, Anthemis Nobilis Flower Oil, Cinnamomum Camphora Linalloliferum (Ho Wood) Leaf Oil, Pelargonium Graveolens Flower Oil, Phenoxyethanol, Pueraria Lobata (Kudzu) Symbiosome Extract, Cassia Alata Leaf Extract, Laminaria Ochroleuca Extract, Sodium Hydroxymethylglycinate, Calendula Officinalis Flower Extract, Fragrance, Rosmarinus Officinalis (Rosemary) Leaf Extract, Citronellol, Geraniol, Limonene, Linalool.
Last but not least, I can't end this post without the honourable mention of the best facial moisturizer that I discovered this year…maybe even the best of all time, REN Evercalm™ Global Protection Day Cream. I don't think I have ever fallen head over heels in love with a moisturizer as much as I did with this. This light cream also boasts an impressive ingredient list and has a fresh herbal scent which reminded me of the brands Jurlique and Acure Beauty. I have been really lucky as ipsy actually gave out 30mL deluxe sample (full size comes in 50mL) of this moisturizer and while I didn't get it in my bag, I managed to purchase and swap for 5 tubes of it through a Canadian FB beauty group that I am in. Yes, I hogged 3 full sizes of this moisturizer! I'm almost done with my second tube and it's my go-to whenever I am not testing moisturizers. It keeps my skin moisturized, soft and supple throughout the day and it performs really well as a night cream too. This also never fails to calm down my skin whenever I have a breakout! I love pairing it with Acure The Magical Wunderfluff* in the evenings as together these two are a powerhouse combo fighting against irritation, dryness and all sorts of not-so-lovely signs of aging. If you have dry, dehydrated skin like me or even sensitive skin then I highly recommend this. I hope you enjoy my recommendations on how to maintain silky smooth skin through Autumn and please share your recommendations! *Products marked with * were received for free but my thoughts and opinions are 100% unbiased, honest and my own. There is no place for any sort of BS here. Post contains affiliated links.