A couple of days ago I came across an article describing a class-action lawsuit against Procter & Gamble. While lawsuits are probably nothing new against such a giant company, this lawsuit however was caused by one of the longest selling deodorant brands, Old Spice. Multiple men came forward revealing rashes and chemical burns caused by Old Spice products.
Now you might wonder why on earth I'm bringing this up well, this was how California based brand, Only Goodness Inside came to life. The family developed an array of toxin-free, hypoallergenic and gluten-free body care products after seeing their son suffer from skin irritation from over the shelf deodorants.
I was very kindly sent the whole range of deodorants and an acne/spot treatment to try and have been testing them for more than three weeks. The best part? My husband and my good friend Jill helped me with testing the products as well!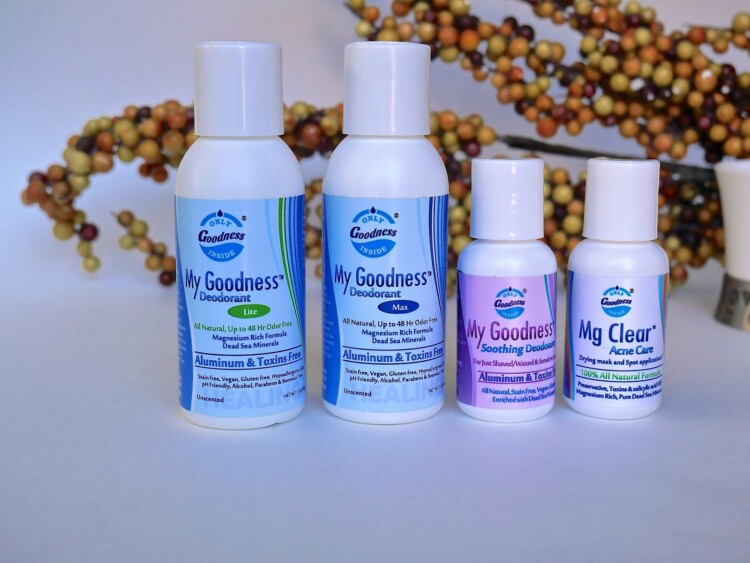 Sorry for the missing 'Regular' deodorant, I passed it to my good friend before taking pictures. I am a genius, aren't I? *slaps self*
"Approved by doctors and skincare clinics, the company's five deodorants' strengths are designed to match every skin type at any condition, weather condition and stress level. The deodorant dries clear in seconds making it stain-free; it is Aluminum free and any toxins' free, baking soda and alcohol free, non-GMO, vegan, cruelty free and has no synthetic preservatives. Truly natural ingredients including pure Dead Sea minerals, vitamins, essential oils and organic grade food ingredients are in the patented formula to eliminate odour and maximize comfort."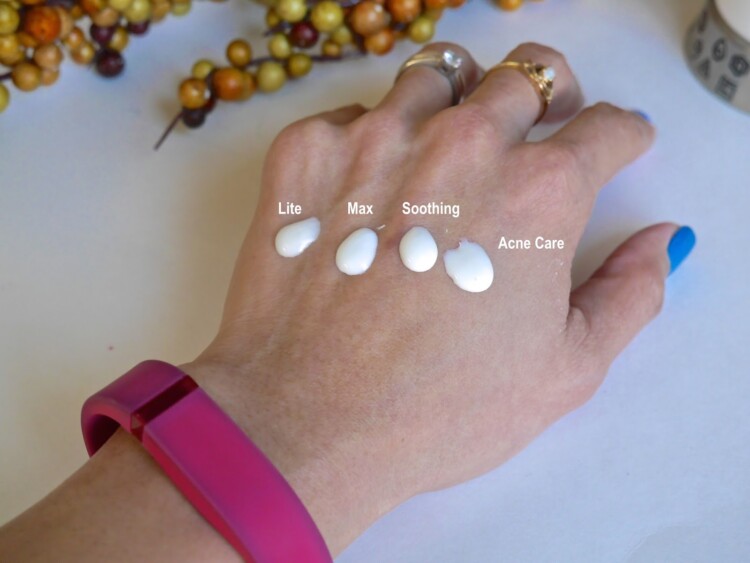 As you can see in the picture above, all products have the same texture; a light white lotion with a very soft almost powdery scent. The scent is very light and dissipates as soon as the product absorbs into the skin. The deodorants don't stain your skin or clothes and the acne/spot treatment also doesn't leave any white residue on the skin. I tested My Goodness Deodorant (Lite)*, hubby tested (Max)* and Jill tested (Regular)*. All three that I received are unscented so it doesn't interfere with fragrance however, if you prefer it to be scented then you can personalize your deodorant with your favourite scent (click here for list) at no additional charge. I personally like this deodorant but the claim that it will keep you odour free up to 48 hours is just bonkers. No, it's doesn't last 48 hours, it didn't even last up to 24 hours but it did keep me fresh through a hot, sweaty power yoga (yes, I actually took a couple of sniffs at my pits after a session) so that is pretty impressive considering I'm using the Lite* version. Jill who is using the Regular* version finds it to be an okay deodorant. She didn't find that the claim 'up to 48 hours' held up as well because she needed to reapply especially after an active and busy full day. Now to the unfortunate part, hubby tried the Max* version for two days and his whole under arms broke out in painful white rashes. He developed a pretty severe allergic reaction to the deodorant so in the trash it went. I have yet to try the Soothing Deodorant* (a girl can only use so much deodorant) and hubby is extremely reluctant to give it another shot after what happened which is understandable. His under arms stung badly and it took 3-4 days to fully heal. I will definitely keep you guys posted on it; I meant the deodorant and not my husband's under arms situation… Now to the last product, Mg Clear Acne Care*, I really like this! I had a few spots no thanks to the change in weather but none developed into full blown pimples after applying this product. To use is easy, just dab on the spot and massage it into the skin. Unlike some spot treatments that leave white residue, this dries down clear so it's perfect under makeup. I applied it twice a day and the spots went away after a couple days. It's brilliant!
I am glad that more natural companies and products are emerging into the market offering healthier options for our body care. If you are looking for a more natural product to be added into your routine then I highly recommend checking out Only Goodness Inside. To find out more about Only Goodness Inside, click here. Are you using off the shelf or natural deodorants? What are your thoughts on natural deodorants, is it important to you? *I received this product for free but my thoughts and opinions are 100% unbiased, honest and my own. There is no place for any sort of BS here.