I am on a serious skincare roll recently as today's post features a few products that are currently in my routine. A few readers took note that I used a lot of Vichy's products in my skincare routine post (read here) and I noticed that I have not shared in-depth reviews on them yet so I'll be sharing the lowdowns on a couple of the products today.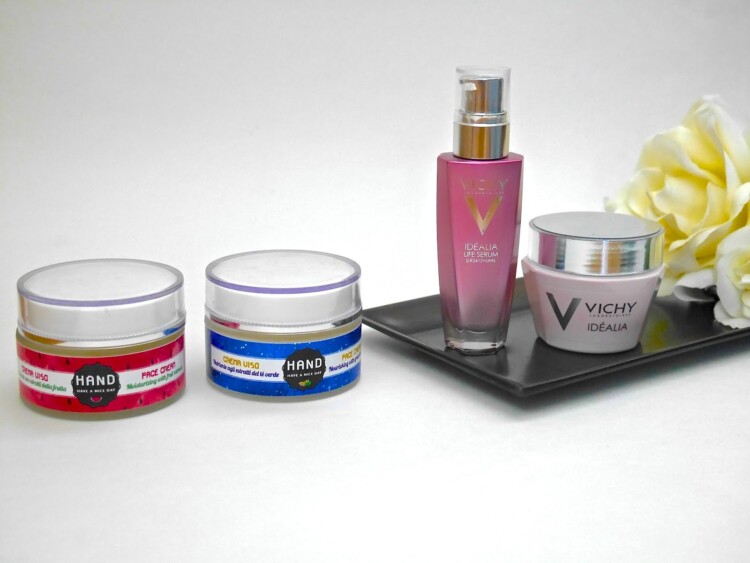 To my readers who are fans of all natural, organic products, don't fret because I got you covered too as I will also be sharing two moisturizers from the Italian brand HAND (read first post here). Without beating around the bush, HAND has seriously surprised me with how amazing the products are and these moisturizers are fast becoming some of my favourites to use.
VICHY IDÉALIA LIFE SERUM* CAD$59.00/30ML (here)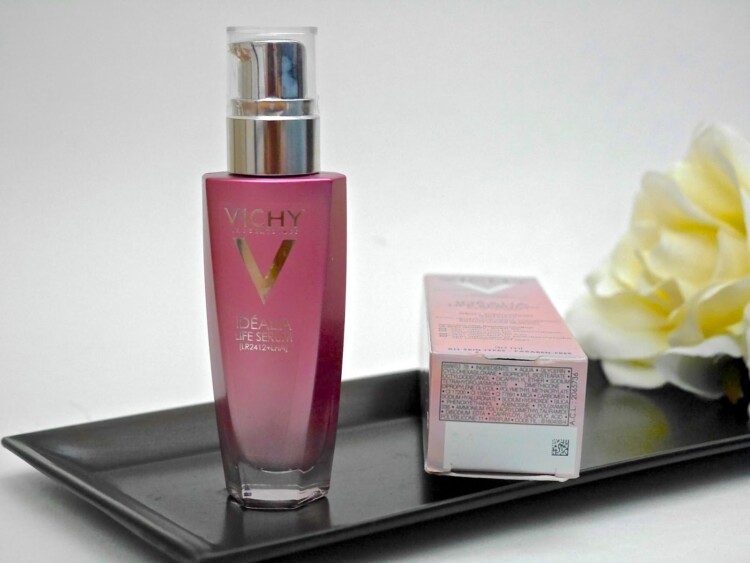 Right off the bat, the first thing that I noticed was how strongly scented this serum is. Now this doesn't bother me but I know many would be bothered by it. Thankfully the scent doesn't linger long and dissipates a few seconds after the serum absorbs into the skin.
Now that the one and only negative is out of the way, let's talk about everything that I love about this serum. This serum comes in a heavy glass bottle with a pump which is not the most convenient for travelling because it's heavy but on the other hand, it's so easy to dispense the right amount and it's hygienic. I usually use travelling containers when I travel so the heavy packaging doesn't bother me. The texture is thicker than my other serums but it's silky smooth and absorbs easily. The silkiness shouldn't come as a surprise as cyclohexasiloxane, a silicone is listed third in the ingredient list. The thicker texture also means I need less product (one pump) for both my face and neck so this serum will last me a long time. I love how this serum makes my skin feel and look, just like the eye cream, it has illuminating properties so my skin looks so smooth, fresh and glowing with it. I don't notice any reduction in my wrinkles and fine lines so I have stopped using it in the evenings but I love this under my makeup.
VICHY IDÉALIA DAY CARE* CREAM CAD$45.00/50ML (here)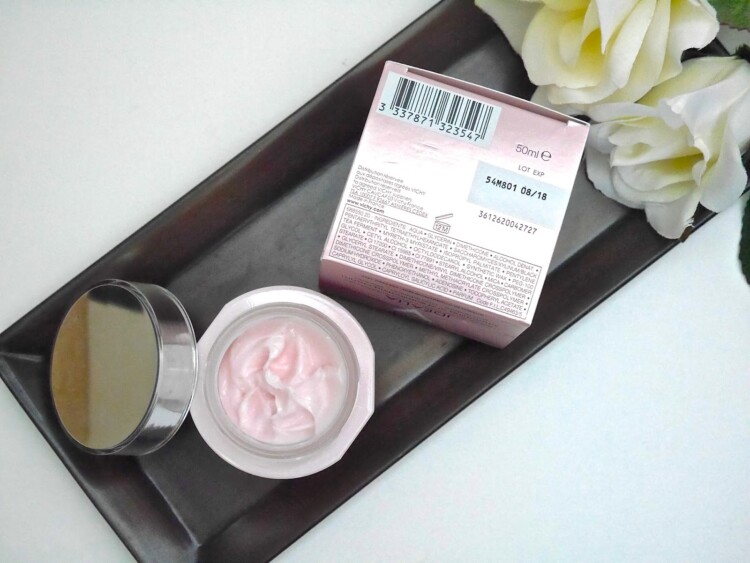 Vichy definitely didn't disappoint with their packaging as this day cream also comes in a heavy glass jar like the serum and the evening version, Idéalia Skin Sleep* (reviewed here). I do wish that both moisturizers in the Idéalia range came in pump packaging but that's just my personal preference. Again, this day cream has a scent but it's soft, pleasant and very relaxing. Active ingredient (from Vichy.ca):
· Kombucha: Obtained from Ceylon black tea, which naturally contains a unique combination of AHA + Vitamins + Probiotics + Polyphenols
· Vitamin E: Natural anti-oxidant playing a key role in the reducing signs of aging
· Adenosine: Stimulates the renewal of the epidermis and boosts the anti-wrinkle activity of Kombucha
· LHA: Activates micro-exfoliation and promotes the absorption of Kombucha and Adenosine
· Mineralizing Thermal Water: Soothing and fortifying
I love this day cream, it softens and hydrates my dry skin throughout the day and the best part is it doesn't disturb my makeup. It has a light whipped texture, absorbs quickly and leaves my skin looking instantly radiant and fresh. If you have mature, dry to combination skin then I think you will really enjoy this.
HAND GOOD MORNING* (here) & GOOD NIGHT* CREAMS (here) $18.00/50mL each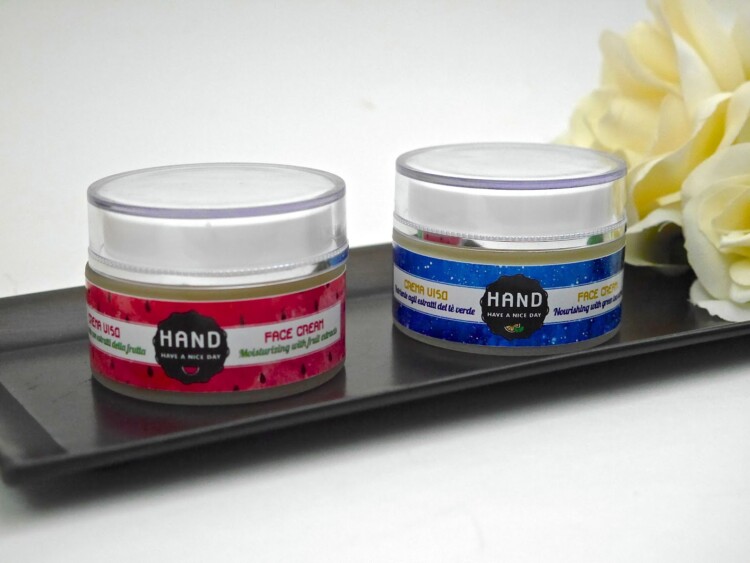 Not only do both creams contain a lot of natural and organic ingredients, they are surprisingly affordable too. When I first opened the jars and scooped out the products, I was taken aback at how thick both creams are. They were almost solid balms and I was really worried about the products sitting on top of my skin.
I couldn't be more wrong.
Both creams warm up and melt into the skin quickly and I was surprised that they both left my skin looking instantly smooth and matte. Yes, matte. There was no greasiness, no shininess or tackiness, just soft, smooth skin and the perfect base for makeup in the day and my facial oils in the evening. I recently started applying my facial oils as the last step in my skincare routine to lock everything in and I've noticed better results for my dry, dehydrated skin.
If you are looking for a good, affordable natural moisturizer then I highly recommend checking out these creams from HAND. I think these will suit oily skin lovelies too so if you struggle with most moisturizers leaving you looking greasy and oily within the hour then please give these a go. And you really can't go wrong with such low price and I can honestly vouch for the quality.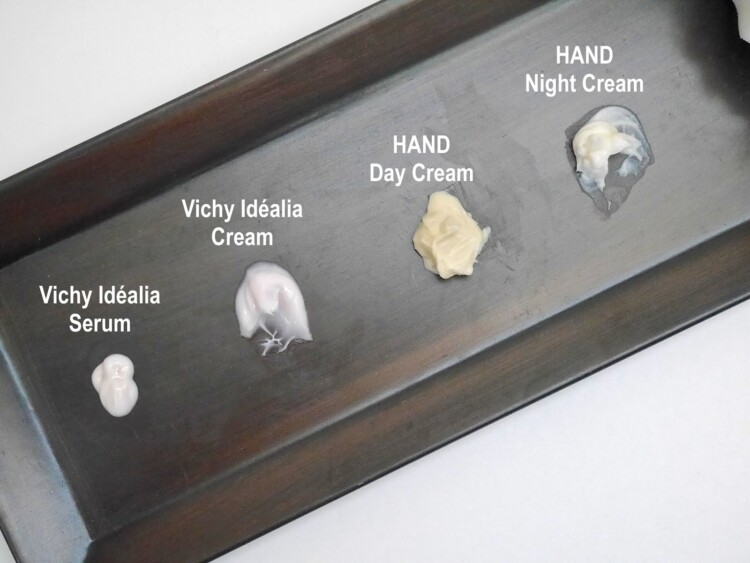 So there you have it, the serum and moisturizers that are in my rotation and I really hope you enjoyed this post. Do leave your suggestions on what post you would like to see next and I'll try my best to come up with it!
What serum and moisturizer are you loving currently? *I received these products for free but my thoughts and opinions are 100% unbiased, honest and my own. There is no place for any sort of BS here.