Oh my gosh, another day, and I'm still wearing the same type of shirt. So boring! We adore shirts but never seem to have enough variety. Did you know there are so many types of women's shirts, and each style has its own unique purpose and function?
There are t-shirts, tank tops, camisoles, blouses, polo shirts… The list goes on! This guide will help break down the main types of women's shirts and when to wear each type.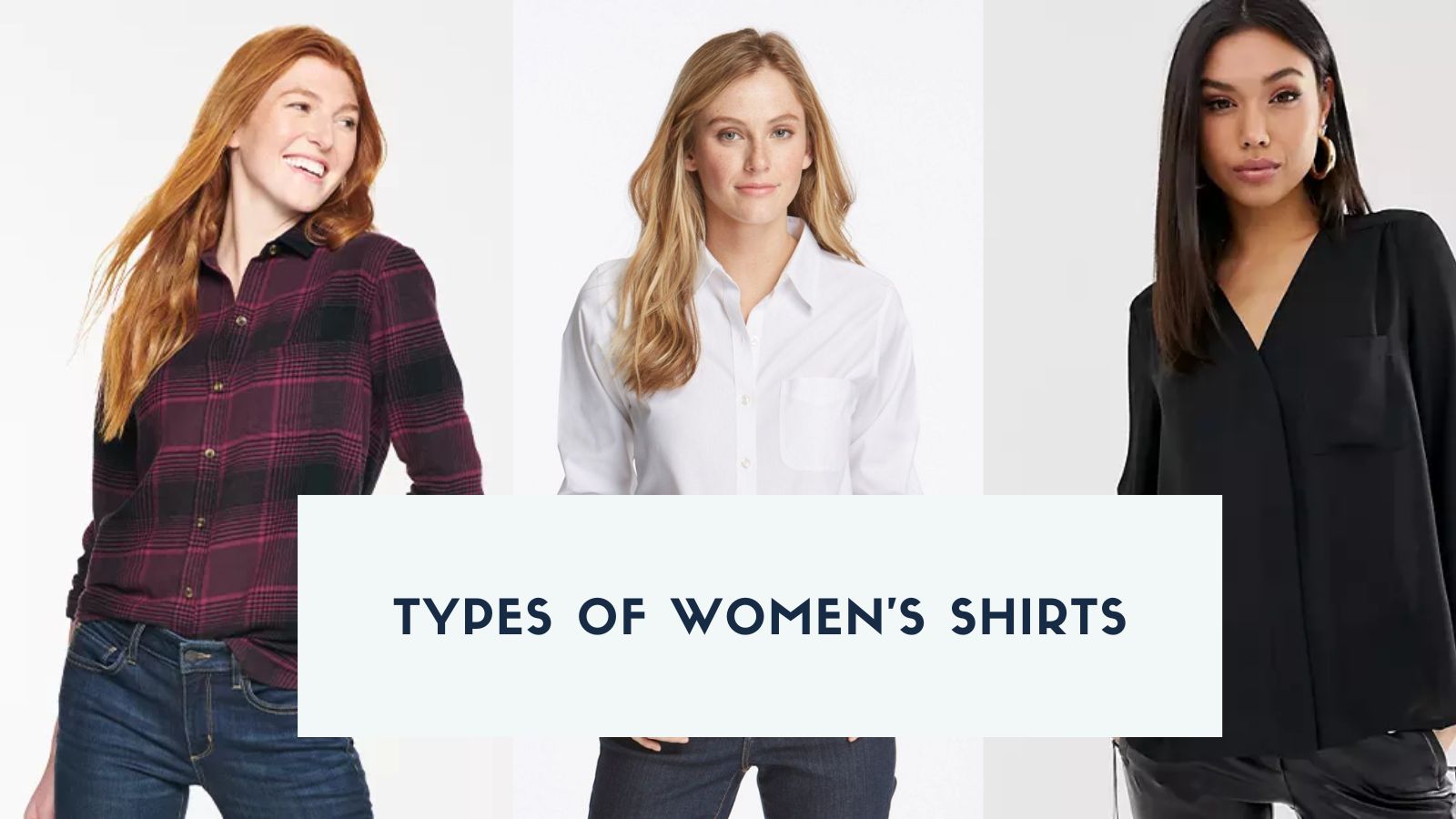 Quick Answer
There are many women's shirts that you can choose from, depending on the occasion. The most common shirt types include blouses, tunics, polos, t-shirts, tank tops, and classic shirts. These different types vary in terms of fit (loose or tight), neckline (V-neck or round neck), length (short or long), sleeves (short, long, or sleeveless), and materials. However, one thing is for sure: there is a perfect shirt out there for every woman.
Let's take a look at all the options
T-Shirt
T-shirts are casual tops that provide comfort and can be worn in many different ways, including under other clothing items or alone as streetwear, especially in summer months when it gets hot. A t-shirt is constructed from knitted cotton fabric with a crew neckline and short sleeves.
Since there are so many styles of t-shirts available it's important to know what kind you are buying. A t-shirt can be fitted, semi-fitted, or relaxed-fitting like your favorite T-shirt of choice, more of a relaxed cut with room for movement. For example, men's t-shirts tend to be more generous than women's t-shirts.
T-shirts are typically made in jersey knits, which vary between brands and styles. The comfort of a T-shirt is in the fabric you choose for it. Viscose knits feel luxurious against your skin, while cotton pique provides a crisp look that can pair with suits or jeans.
Sweatshirt
The sweatshirt is a classic American style. It's a comfortable, relaxed-fit top made of heavyweight cotton or fleece fabric. Sweatshirts often have a hood and kangaroo pocket.
The sweatshirt's popularity has led to many variations, like the zip-up hoodie and the crewneck sweatshirt. Crewnecks are similar to t-shirts in fit and can be worn on their own or layered under other clothing.
Zip-up hoodies provide more warmth than a standard sweatshirt and have a convenient front pocket. As a result, they are perfect for cold-weather layering or lounging around the house on weekends.
Camisoles
Camisoles are sleeveless and tight-fitting tops, sometimes with a built-in bra, typically made of sheer or clingy fabrics like nylon, rayon, or spandex. Camisoles can be worn on their own or under other clothing items.
They come in various necklines, including the classic tank top style, V-neck, scoop neck, and halter neck. Camisoles are also available in different lengths, such as mini, knee-length, and maxi.
Maxi camisoles are perfect for wearing with skirts and dresses to create a layered look. Knee-length camisoles can be worn as an everyday top, while mini camisoles work well as layering piece undershirts, sweaters, and blazers.
Sleeveless Shirt
Sleeveless shirts are the shirt version of the tube top. These tops don't have sleeves but do provide coverage for your shoulders and arms. They can be dressy or casual depending on fabric choice and cut.
If you like to show off your arms, sleeveless shirts offer a sexy alternative to short-sleeve styles. Petite ladies with slender arms will look great in sleeveless styles that help showcase their figures. Sleeveless shirts also work well for layering, providing warmth under another garment.
Like other shirt types, there are many variations of the sleeveless shirt based on collar style, embellishment, hemline shape, color choice, and pattern. Seersucker is a popular summertime fabric for sleeveless shirts.
Tunic
A tunic is a type of shirt that extends past the waist. Tunics are often billowy and comfortable, making them perfect for everyday wear. They also have a relaxed, flattering fit.
Tunics come in a variety of fabrics like cotton, linen, and rayon. You can find tunics with exciting details like lace trim, buttons, or tie-ups. These tops can be dressed up or down to suit any occasion.
Tunics are an excellent choice for women who want a stylish and comfortable top to wear every day. You can quickly wear them to work, out with friends, or run errands.
Tuxedo Shirt
The tuxedo shirt is a dressier version of the traditional button-down shirt. It usually has a point collar and French cuffs. The fabric is often silk or satin and comes in a variety of colors, such as black, white, or pink.
Tuxedo shirts are perfect for wearing to formal events. They can be worn with a tuxedo or with dress pants for a more casual look. You can also wear them unbuttoned and untucked for a more relaxed appearance.
Baby Doll Shirt
The baby doll shirt is a loose-fitting, short-sleeved blouse that typically ends at the high hipbone or just below the bustline. This was made popular by Marilyn Monroe and is a popular style with both men and women.
This shirt is perfect for the warmer weather, but it can also be worn during chilly nights with a pair of jeans or leggings. If you want to cover up more, you can layer this shirt under a sweater or blazer. Because of their loose nature, baby doll shirts aren't well suited for any formal events.
Tube Top
A tube top is a simple shirt that's made from knit material. It can be either long or short, ending just below the chest or all the way up to your neck. Tube tops are low cut in front and back, so they don't cover much of the upper body.
Tube tops are generally not meant to be worn alone but as part of an outfit. They should always be paired with another shirt or tank top underneath them. For example, you could wear a tube top under a sheer blouse for added coverage or under a blazer for a fashionable look.
Sports Bra
A sports bra is an undergarment designed to reduce movement during exercise. It's made with stretchy, sweat-wicking material that allows your skin to breathe while you work out.
There are many different types of sports bras, including compression and encapsulation styles. The right style for you will depend on the intensity of your workout and your breast size.
Sports bras come in all colors, shapes, and sizes, so you can find one in any style you like. Some women prefer wireless or minimizer styles that give them a more natural look when not working out. For high-impact activities like running or jumping, go for racerback or T-back styles instead.
Cossack Shirt
The Cossack shirt is a relaxed-fit top that's boxy and falls loosely around the body. It has a high neckline, usually with a band collar and long loose sleeves.
Cossack shirts are often made from flannel or other heavy fabrics and are perfect for winter weather. They can be dressed up or down and are a popular choice for casual Fridays at work.
Bandeau
The bandeau is similar to a tube top, except it features straps. This top is perfect for adding some extra support and coverage. Bandeaus are often made from stretchy fabrics like spandex or nylon.
Bandeaus are perfect for wearing under-tank tops, sweaters, or blazers. They come in a variety of colors and styles. You can find bandeaus that are strapless, have thin straps, or even crisscross straps.
Pintuck Blouse
Pintuck blouses are a type of women's shirt that has been around for many years. They can be dressy or casual, making them a versatile top choice.
The pintuck is a fabric pleat. Pinching the fabric at regular intervals and sewing it into place creates a pleated look. This process is used on everything from curtains to tablecloths.
Pintuck blouses get their name from this fabric pleating technique. The blouse will have several vertical rows of these pleats running down the front or back of the shirt. They often add visual interest and can make you appear taller and thinner.
Pintuck blouses come in materials like cotton, silk, polyester, and poly-cotton blends. Colors range from muted to bright shades.
Classic Blouse
A classic blouse is a tailored shirt that buttons up the front. These shirts have a long, slim fit and are often made from lightweight materials like cotton or silk. The neckline can be anything from a high neck to a low scoop neck.
Classic blouses are perfect for professional attire. A well-fitting blouse can take your suit from average to polished. They also look great with skirts and slacks for a more casual but still put-together look.
Western Shirt
Western shirts are the epitome of country. They're decorated with cowboys, horses, and rodeos. The classic style is called a snap shirt because the front closure is made with buttons that connect to small metal snaps on the shoulders. Traditional rancher styles often have an attached bib.
Polo Shirt
A polo shirt is a short-sleeved shirt with a collar and placket front. The placket usually contains buttons along its vertical edge; there is no fastening on the horizontal part of the opening against the chest. These shirts can be worn tucked or untucked in casual settings like business meetings, hikes, or an impromptu night out with your significant other. They come in many colors, patterns, and styles, so you'll have plenty to choose from when building a wardrobe around this staple item.
Sailor Shirt
Sailor tops have been a part of the wardrobe for many years. Sailor shirts are simple, white button-down tops with a square or rounded collar and a chest pocket on the left side. They're usually made from cotton. Traditional sailor shirts often have anchor buttons – sometimes two – at the center front of the shirt. The cuffs typically hem to just below the elbow and may have epaulets, pleats, as well as straps that attach to an underarm gusset.
Sailor-style shirts can be worn by both genders as well as children. This is not always true of other styles on this list. Many men wear pants fitted specifically to their bodies rather than borrowing from another gender's wardrobe. Additionally, children's sailor shirts are often embellished with graphics or fun details that make them unique.
Smock
A smock is a straight, loose-fitting shirt. It's designed to be oversized and often features a high neckline and long sleeves. Smocks are made from lightweight fabrics, making them perfect for the spring and summertime.
Smocks can be dressed up or down. Pair a smock with dress pants for a formal event, or wear it with jeans for a more casual look. Because of their relaxed fit, smocks are also an excellent option for pregnant women or those who are postpartum.
Classic Shirt
The classic shirt is a versatile top that can be dressed up or down. It's a tailored shirt with long or short sleeves, a collar, and buttons. The hemline is typically straight or pointed.
This shirt suits all body types and can be worn to the office, out to dinner, or on the weekend. There are many different styles of classic shirts, so finding the perfect one for your shape and personality is easy. You can choose from a variety of fabrics, including cotton, linen, and wool.
Gypsy Shirt
The gypsy shirt is a peasant-style blouse. It is often made of light, airy materials like cotton and linen. The gypsy shirt has a relaxed, comfortable fit with billowing sleeves and a high-low hemline. This top is perfect for hot summer days or vacation wear.
Gypsy shirts come in many different styles and colors. You can find them with lace trim, embroidery, or beading. They are also available in a variety of prints like floral, paisley, and damask.
Sweater
Sweaters are a type of knitted clothing that covers the body. Sweaters are typically worn in cold weather to keep a person warm.
There are many types of sweaters, but all have certain similarities. They are made from wool, cashmere, cotton, or synthetic fibers. They are often hand-knitted or machine-knit. Sweaters come in a variety of colors, styles, and patterns.
Sweaters can be worn as an outer garment or as part of an inner layer. Sweaters can be dressy or casual. They can be paired with slacks, skirts, or jeans for a variety of looks.
Peplum Shirt
The peplum shirt is a fashion-forward garment with a bit of flair. It's a lady's top with a flared skirt that attaches to the bodice just below the bust. Peplums are often made from flowing fabrics like chiffon and can be short or long-sleeved.
The peplum shirt was introduced in the 1950s as a way to add fullness to skirts that were becoming narrower. The shirt became popular again in the late 2000s as part of the retro revival trend.
A peplum shirt is perfect for showing off your curves. They can be dressed up or down and are a great choice for any body type.
Henley Shirt
The Henley shirt is a classic and versatile style. It's a collared, button-up shirt with a small placket in the front. The Henley typically has 3 to 5 buttons, but there are also 6-button versions.
Henley shirts can be worn as an undershirt or as an outer shirt. They are often made of cotton or a blend of cotton and polyester for a soft feel. Henley's come in many colors and prints, making them perfect for both casual and dressy occasions.
V-neck Shirt
A V-neck shirt is a classic women's shirt style. The neckline is deep and wide, exposing a woman's cleavage. A V-neck shirt can be soft and floaty with gossamer fabrics, or it can have a sleek fitted design that enhances the body line.
V-neck shirts are loved for their versatility. These blouses go well with business dress pants, casual denim jeans, athletic tights, skirts, and shorts. They also look great layered under cardigans, sweaters, or blazers. V-necks work great as transition pieces to carry you from the office to evening activities.
Turtleneck
A turtleneck shirt is a top with a high collar that completely covers the neckline. It doesn't have sleeves or arms. The fabric of a turtleneck usually has ribbing in the form of vertical lines at the hem and cuffs, giving it structure to keep its shape.
Turtlenecks are a winter staple because they provide warmth and cover your throat from the cold air. Turtlenecks can be made from any type of fabric, including cotton or wool, for different seasons. In addition to traditional colors like black and grey, you can also find them in print designs as well as bright colors for pop fashion style.
Many sweaters have turtlenecks built into the design, so they are often seen as a layering piece under jackets or vests.
Tank Top
Tanks tops are sleeveless tops, usually made of a stretchy fabric. They often have a scooped neckline and formed armholes to accommodate the style's lack of sleeves.
Tank tops come in a wide range of lengths – from hip-hugging cropped lengths to long styles that cover the stomach. These shirts can be worn on their own or layered under other clothing pieces for more coverage.
From athletic wear to transitional essentials, tank tops come in many forms. Like sports bras, they serve as both workout wear and streetwear staples. Tank tops can also function as swimsuit covers or tube top substitutes under sheer garments.
Halter Top
Halter tops are sleeveless shirts that have strap that's wrap around your neck and crisscross in the back. Halter tops are often decorated with intricate trim, beading, or sequins for a fancier style.
Halters can be dressed down too. They look great with cutoff shorts for a casual outfit, or they're perfect under a blazer for workwear.
Ruffle Front Shirt
The ruffle front shirt is a whimsical and feminine top. These shirts add a touch of flair with their cascading ruffles. They come in many different styles, including blouses, peasant tops, and tunics.
Ruffle front shirts can be made from a variety of materials like cotton, silk, or polyester. They are often brightly colored and embellished with lace or beading. The flowing ruffles add movement and drama to your outfit.
A ruffle-front shirt is perfect for dressing up or down. Wear it to work with a skirt or slacks, or dress it down for a more casual look with jeans.
Sportsman
A sportsman's shirt offers an everyday version of the military-inspired look with bright pops of color and patterns to offer some flair! The style has roots in Great Britain, where this type of shirt was part of the officially required school uniform.
Sportsman shirts are designed for comfort and superior function. They are crafted with sturdy fabrics to withstand the wear and tear of active lifestyles. The collars are styled straight or button-down, exposing your neckline, unlike other everyday tops that may cover it up under a cardigan or jacket.
A sportsman shirt is perfect for a casual day running errands or outdoor activity. The style is also appropriate for semi-formal events when you want to add a bit of edge.
Military
Military shirts and blouses derived from classic military uniforms offer a modest take on the button-down shirt. Military-style garments are typically long-sleeved and feature metal buttons down the front.
Military apparel is available in a variety of styles like short sleeves or as a pajama-style lounge shirt. Military shirts can be paired with dress pants for work or play, or they make great sleepwear. Dress them up with black leggings and boots for edgy streetwear at nightclubs and bars.
Wrap Up
In conclusion, knowing the different types of women's shirts and when to wear them can help you look polished and pulled together. Mix and match these different styles to create your own personal look!
Which type of shirt is your favorite? Let us know in the comments below!