There are certain things in life which are an acquired taste for each individual and the best example for this is durian, also known as The King of Fruits. It's best described as tastes like heaven but smells like hell and it's one of Malaysia's well known fruits. I actually loved the dang thing until I was 12 years old but have never touched it again until today. And I honestly can't explain why my sudden hate for it.
Another good example is seaweed. I love it because my mum made Chinese egg drop soup with seaweed a lot when I was growing up and it was also my favourite snack when I was pregnant with little tyke. Mr. Platt on the other hand will only eat it when it's a part of sushi because on its own, the taste and smell can be a little too much.
So when I was offered the opportunity to test Sea Flora, a skincare brand whose products are made out of wild organic seaweed, I was intrigued if I would be wearing the scent of the ocean on my face. Seaweed is known as a potent antioxidant so needless to say, I had high expectations for this mask.
"Sea Flora skincare is based on thalassotherapy (healing from the sea) and formulated with certified organic hand-harvested seaweeds, ocean mud and marine minerals. All ingredients are certified organic or certified food-grade before infusion with high quality organic seaweeds from Canada's Pacific Coast." 
I was kindly sent Iridaea Light Facial Masque $CAD49.00/60mL (check here) and have been testing it for the past 3 weeks.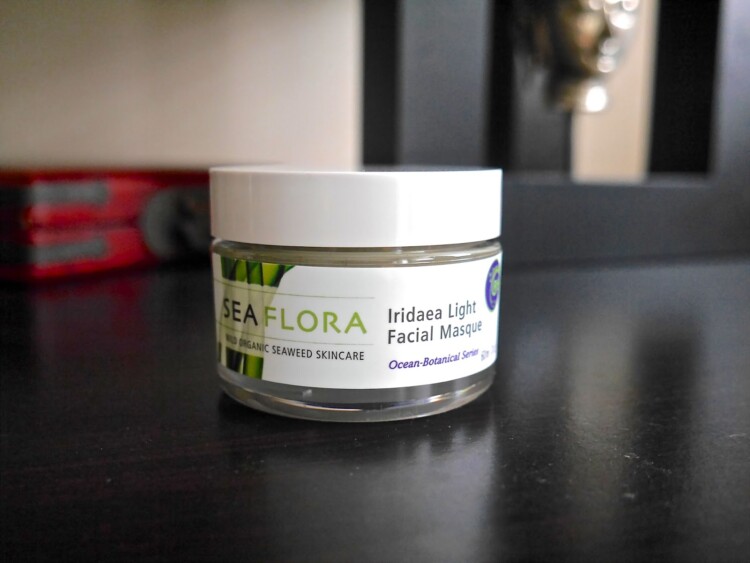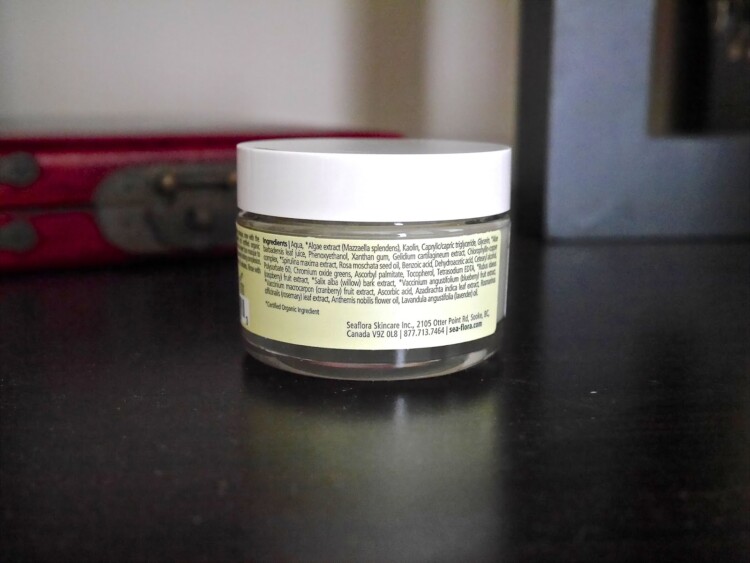 Active ingredients:
· Certified Organic Rhodophyta to firm, tone and boost skin with antioxidants.
· Certified Organic Aloe Vera leaf juice to calm irritation and hydrate skin. The second to the fifth ingredients are really impressive as they are great for detoxifying and repairing the skin.   Kaolin is pretty common in purifying masks because it helps to clear impurities from the skin. I'm also happy to see caprylic/capric triglyceride listed as the third ingredient as it's great at moisturizing and replenishing the skin while aloe vera, which is listed as the fourth ingredient is packed with vitamins and minerals. Basically this little jar packs a powerful punch to nourish the skin.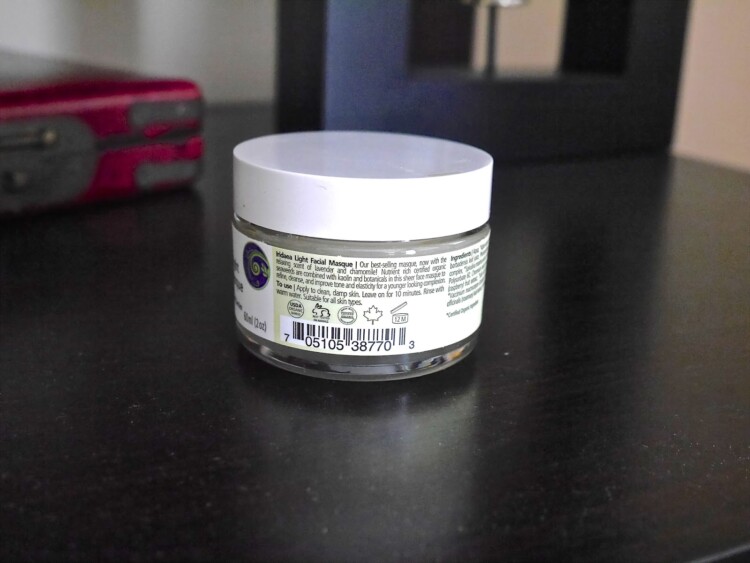 Certified organic, leaping bunny certified and made in Canada, can it get any better?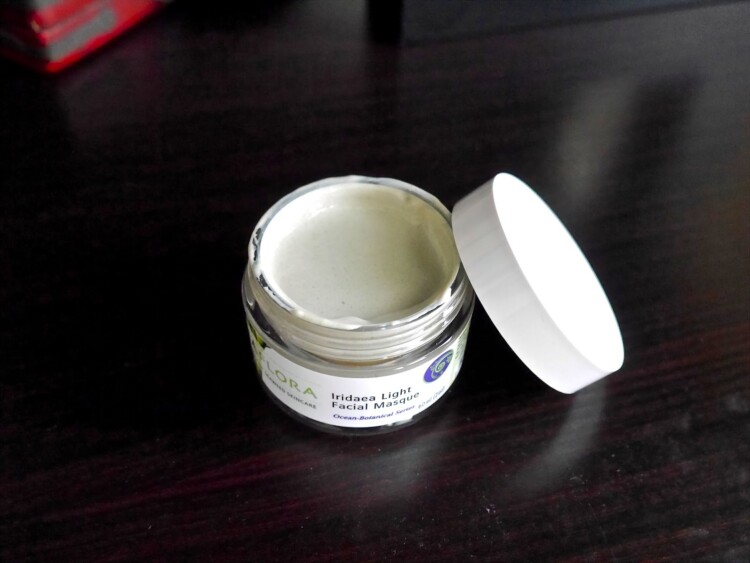 This mask is watery so I have to be very careful in scooping out the product for application. The best way for me to apply this without wastage is to use a clean flat brush to scoop out the product to the back of my hand and then apply it to my face with the same brush. I have no idea why the direction to use on the jar is different from the website but I personally like applying this with a flat brush instead of massaging it in circular motion as suggested on the website.
The mask is scented with lavender and camomile however, I still sense a faint seaweed smell. It's barely noticeable but if I put my nose really close into the jar and take a big whiff then I will detect it. Let's talk about the good, it didn't irritate my skin and there was no breakouts on the contrary, my skin has been really soft, smooth and supple. I actually noticed huge differences every time I used this mask, my skin is left looking bright and fresh and with continuous use of 3 times a week for the past three weeks, my skin has been in some of its best condition. It also helps to hydrate the areas around my nose that are very prone to dryness, I haven't seen any flaky skin since adding this mask into my routine. To the not so good, I hate how messy this mask can be due to the runny texture. Yes, I know that I can scoop the mask into a container but I dislike the extra chore. #lazygirlproblem  Secondly, this mask stings. It didn't sting as bad as Arbonne SeaSource Detox Sea Mud mask (reviewed here) but the first couple applications hurt. The weird part was my skin wasn't red when I rinsed off the mask. I thought the stinging meant angry, red skin but nope, only soft, smooth, hydrated and plump skin with zero signs of redness. As I said, weird. So just how much did I like this mask? It's definitely one of my favourites so far. It has not taken over my favourite which is Nip+Fab Kale Fix Clay mask (reviewed here) but it sure comes close. Also, if you are someone who is not a fan of clay masks because of the tightening effect when it dries down then you will love this as the effect is minimal. This has been a really good introduction to Sea Flora and I am already planning to try the Potent Seaweed Serum (check here). Find out more about Sea Flora by clicking here and find out the nearest store to you by clicking here.
 Have you heard of Sea Flora before and what are your thoughts on using seaweed in skincare? Are you sensitive to seaweed scent? *I received this product for free but my thoughts and opinions are 100% unbiased, honest and my own. There is no place for any sort of BS here.