Avon is a brand that has been around for many years and is a strong favourite for many however, I am always iffy about placing an order. It's extremely hard to judge the shades from a catalogue and often the shades arrive looking completely different. This is also the reason why I am anal about purchasing makeup online.
A couple of months ago, Avon had CAD20.00 for any 5 lipsticks promotion and I couldn't resist the great bargain. Today I'll be reviewing three of the lipsticks from the Ultra Color Indulgence range and I will review the other two in a later date.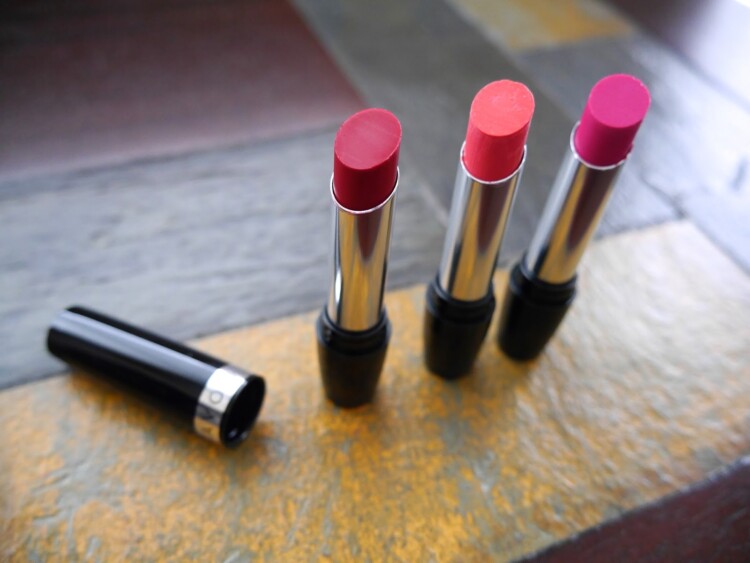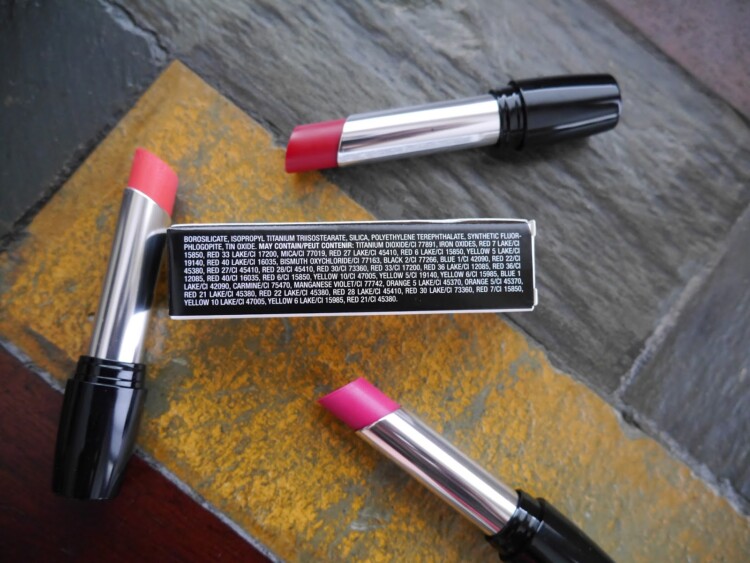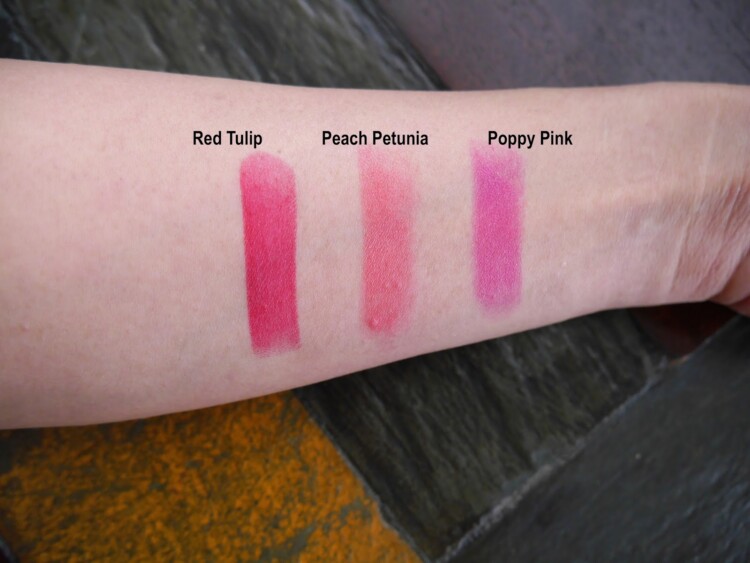 Swatches with one light swipe
Let's start with the texture and formula of this lipsticks…they glide smoothly, creamy, moisturizing and don't settle into my lips lines, in short? The formula is just a dream to wear. My lips never felt dry and uncomfortable throughout wear time. These lipsticks have lustre finish however I didn't experience any feathering. The degree of pigmentation and wear time varies on each shade with Red Tulip being the standout of the three.
On to the packaging, I know there are some who frown on the plastic packaging however I am not bothered by it. The lipsticks are housed in a slim, sleek, black plastic tube with a chrome ring in the middle. I personally think the simple packaging is great because I know I am not paying extra $$$ for a pretty casing.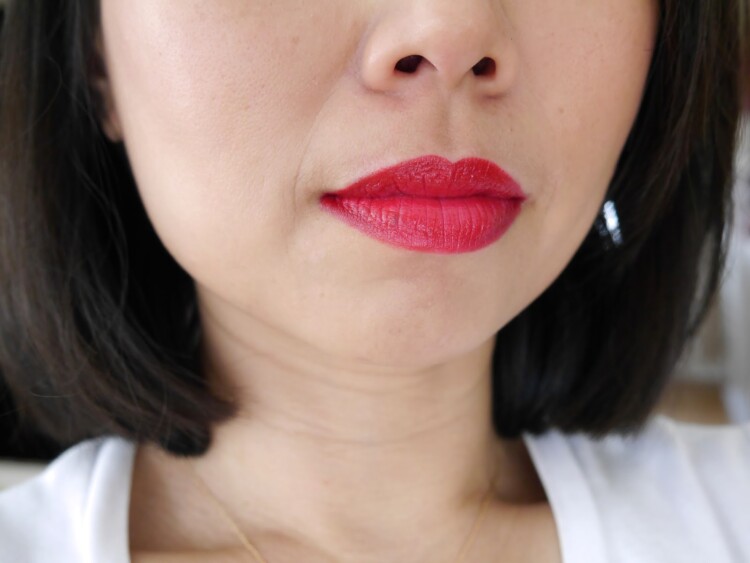 Red Tulip
Red Tulip is a blue based red that makes my teeth look whiter. It's opaque in one swipe (as in the picture) and easily last 6 hours with eating and drinking.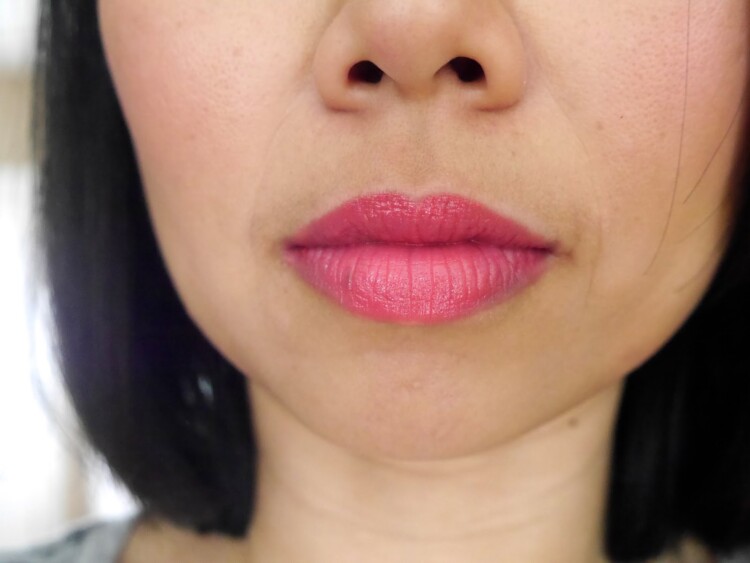 Peach Petunia
Peach Petunia is one of the most beautiful coral shades that I have in my collection. It has a tinge of pink undertone in it and I personally think it would suit most skin tone. I do need a few swipes to achieve the intensity that you see in the picture, it's no where as opaque as Red Tulip. The biggest downfall of this shade is it only lasted 3 hours with drinking. I would need to reapply after eating.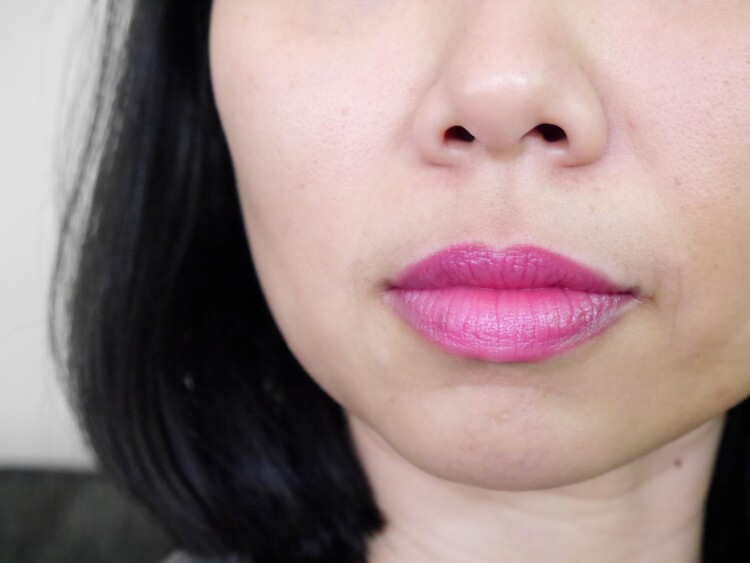 Poppy Pink
Poppy Pink is a bright, blue based bubblegum pink and the perfect shade for my lazy, minimal makeup days. The pigmentation is decent and I only need two swipes to reach the colour intensity that you see in the picture. The wear time is in between Red Tulip and Peach Petunia, roughly 4 – 5 hours with drinking. It will fade a little and requires minimal touchup after eating.
I bought these lipsticks with no expectations however, these turned out to be one of my favourite formulas to wear. All three lipsticks are permanently in my everyday rotation and I am planning to pick up a couple more the next time Avon has a great bargain.
Have you tried Avon lipsticks before?
Wishing you a fabulous weekend, lovelies!