A few months ago while I was still working in the beauty department, Burt's Bees launched their much anticipated makeup range. This new makeup range prides itself as 98.9 – 100% made from natural ingredients, is cruelty-free, free from parabens, phthalates, SLS, petrolatum or synthetic fragrances and goes with the slogan "I Am Not Synthetic". It also focuses on a minimalistic approach towards enhancing our natural beauty which is such a refreshing thing in the beauty world today.
I was one of the lucky few who received some of the new products to create a whole look and have been playing with them for the past few days. Yay or nay? Read on to see how I got along with the makeup.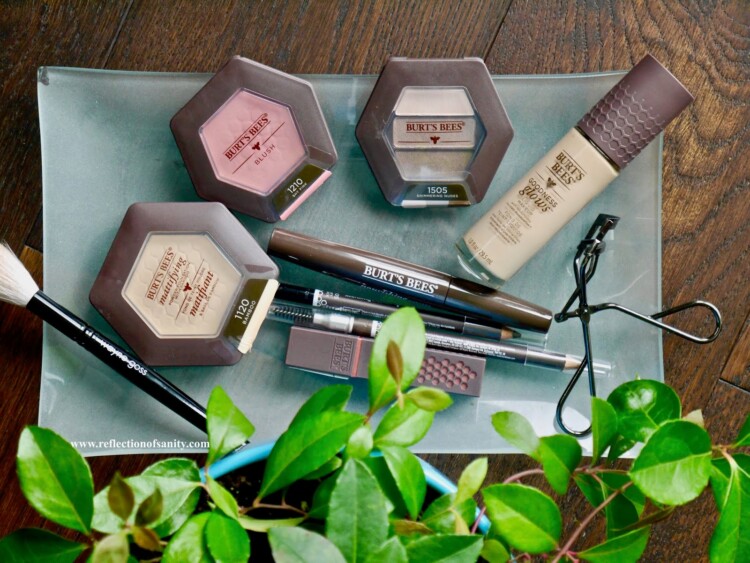 ps: If you follow me on Instagram then you have probably seen my first impressions on them….spoiler alert, my thoughts on some of the products remained the same.
BURT'S BEES GOODNESS GLOWS LIQUID MAKEUP (1025 NATURAL BEIGE*)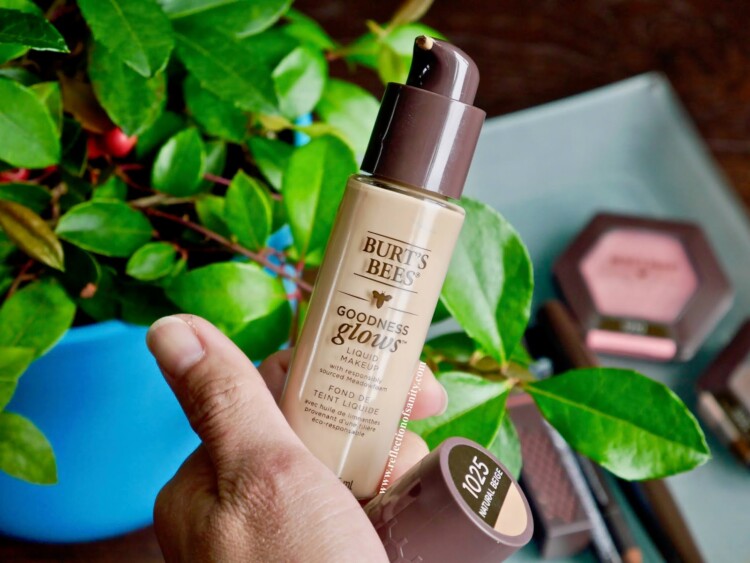 This foundation has a medium texture, it's neither too thick nor runny and it applies great with either brush or sponge. The finish is skin like with a slight dewiness to it and it offers a light-medium coverage.
While my initial impressions of this foundation were really good, I have noticed a few downsides after a few days of testing. This foundation clings onto my dry spots and if I am not careful with blending, it will apply quite patchy. It's not the longest lasting foundation either as I noticed fading after 4 hours. It definitely wears better with a blurring primer but on its own, it has the tendency to highlight my pores after 2-3 hours wear.
Final verdict? Unfortunately not for me.
BURT'S BEES MATTIFYING POWDER FOUNDATION (1120 BAMBOO*)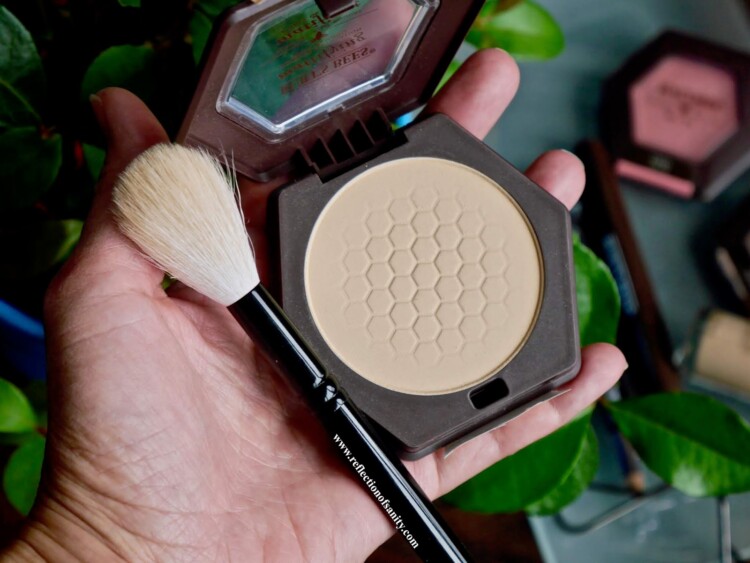 I don't usually get along with mattifying compact powders because I find them to highlight all my skin textures but I really enjoyed this. I apply it with Wayne Goss Brush 14, a very soft and loose bristle brush and dust under my eyes and the centre of my face. It gives a soft focus effect and keeps my t-zone shine free all day.
Final verdict? I think I like this better than Rimmel Stay Matte!
BURT'S BEES BLUSH (1210 SHY PINK*)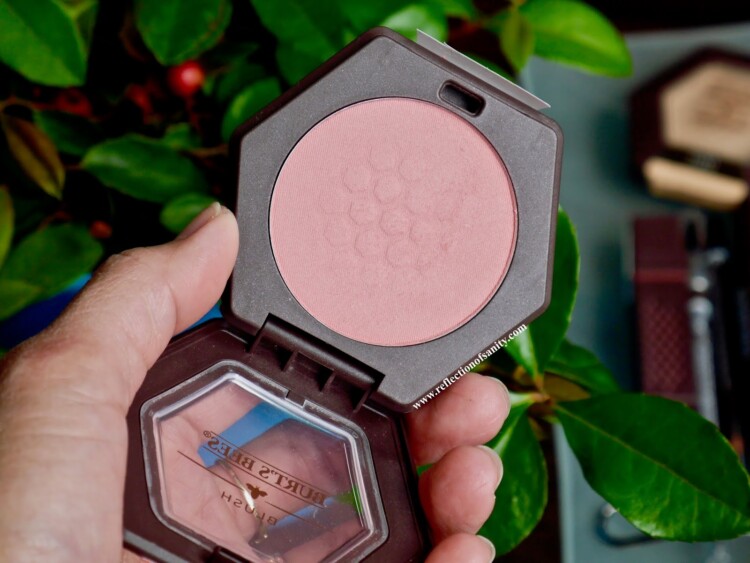 This is a really good blush and I have been wearing it non stop since receiving it. It has buildable pigmentation (no clown cheeks!), blends beautifully and long lasting too. The shade Shy Pink* is perfect to bring my skin to life and I only noticed fading after 7 hours which is remarkable!
Final verdict? Buy! It's definitely a winner from this range.
BURT'S BEES EYESHADOW (1505 SHIMMERING NUDES*)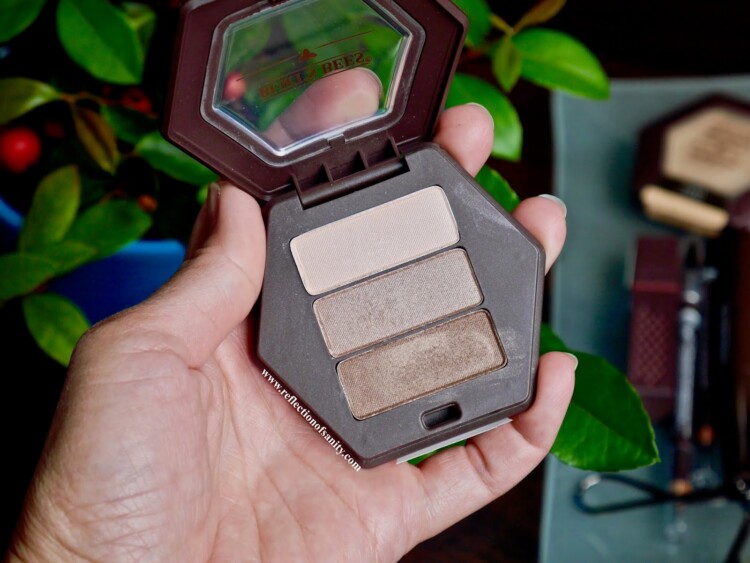 I'm going to be short and curt about this eyeshadow trio; packaging is crap as one eyeshadow fell out upon opening, pigmentation is nil and it's very shimmery which in return highlighted all the textures on my eyelids that I never knew existed.
Final verdict? No, just no.
BURT'S BEES GLOSSY LIPSTICK (505 PEONY DEW*)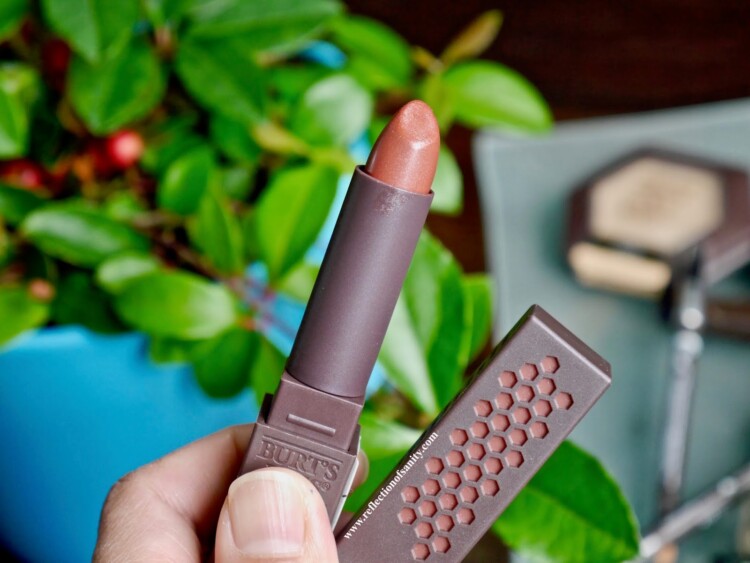 Very creamy and moisturizing albeit not the most pigmented. Maybe it's just the shade that I received but that also means it's so easy to reapply. It has decent lasting power and lasted 6-7 hours with drinking and light meal.
Final verdict? I'm curious about the other darker shades and might purchase a couple to try.
BURT'S BEES NOURISHING EYE LINER (1405 SOFT BLACK*)
Surprisingly I really enjoy this eye liner! The nib glides smoothly, it's pigmented and lasts all day long. It doesn't smudge or fade and I just like the blusher, I have been reaching for this every day. The shade is definitely appropriately named as this is a soft and wearable black so it doesn't look harsh on the eyes.
Final verdict? Brilliant and I highly recommend it!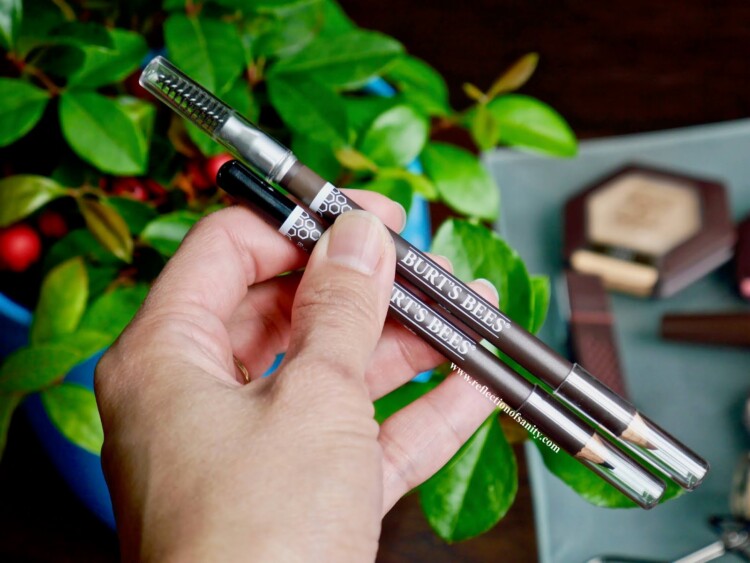 BURT'S BEES BROW PENCIL (1610 BRUNETTE*)
I didn't like this eyebrow pencil at all. I find it to be way too waxy which makes it hard to get an even application. It also tends to blend away into nothing on some spots whenever I use the spoolie. The spoolie itself is another disappointment as it's very stiff and scratchy.
Final verdict? Hard pass.
BURT'S BEES NOURISHING MASCARA (1305 CLASSIC BLACK*)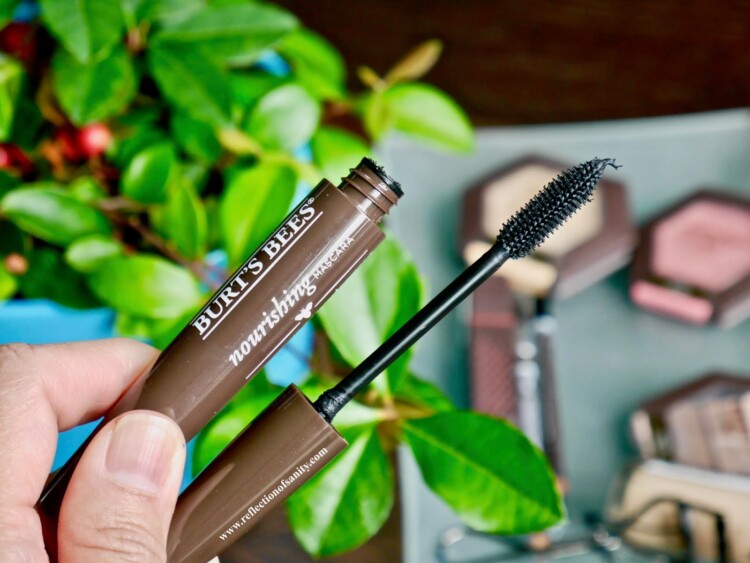 I saved the worst for last…how should I even put it to words? Yes, my lashes are beyond pathetic but as I said in my InstaStories, this made me look like I have no lashes. The formula is thick and gunky and the wand is terrible at dispersing the product evenly throughout the lashes. I get little clumps of product all over my lashes and yet, this mascara gives no length, no volume, no curl and made my lashes look sadder than ever.
Final verdict? I need life long therapy after seeing the devastation this mascara gave my lashes.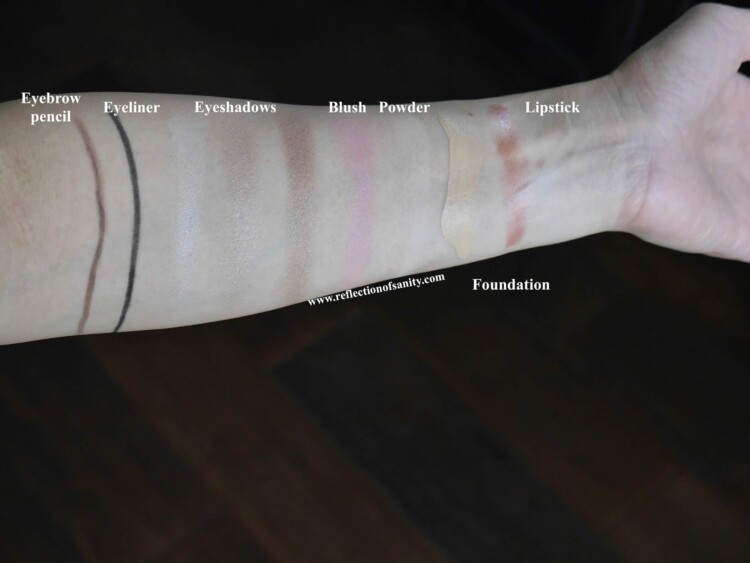 I have very mixed results with this new Burt's Bees makeup range and judging from what I have seen elsewhere, the consensus is similar; more misses than hits. I think it's brilliant that the brand is creating natural cosmetics but there is definitely a lot of room for improvement. Have you tried any of the new Burt's Bees makeup? If yes, what are your thoughts? *Products marked with * were received for free but my thoughts and opinions are 100% unbiased, honest and my own. There is no place for any sort of BS here.