Today's review will the third review on the amazing Singaporean brand b·līv and the second review on their sheet masks. If you missed the first and second reviews then you can read all about them here and here.
On today's edition, I will be sharing my experience with two types of sheet masks that are meant to give an intense hydration boost to our skin, something that my dry skin thoroughly appreciates. I was kindly sent three pieces of each mask and have been testing them the past month.
Say hello to Immerse Me* (check here) and Glow & Glory* (check here).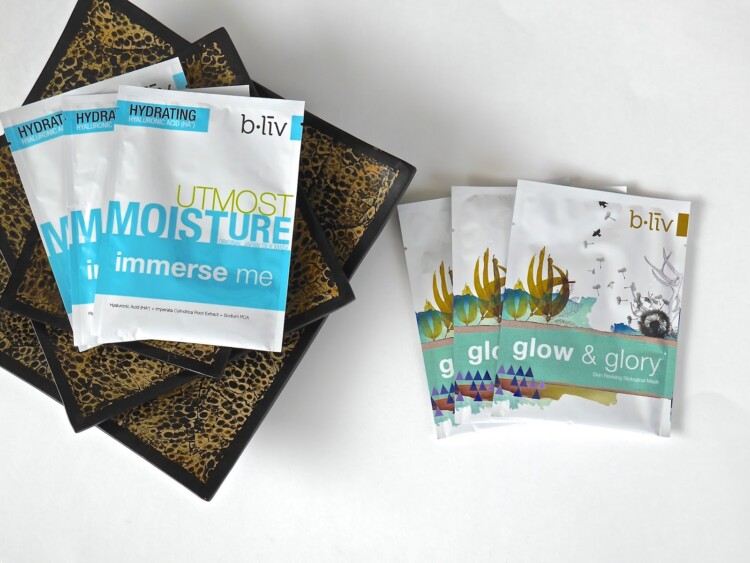 Immerse Me* $25.00/10pieces (check here)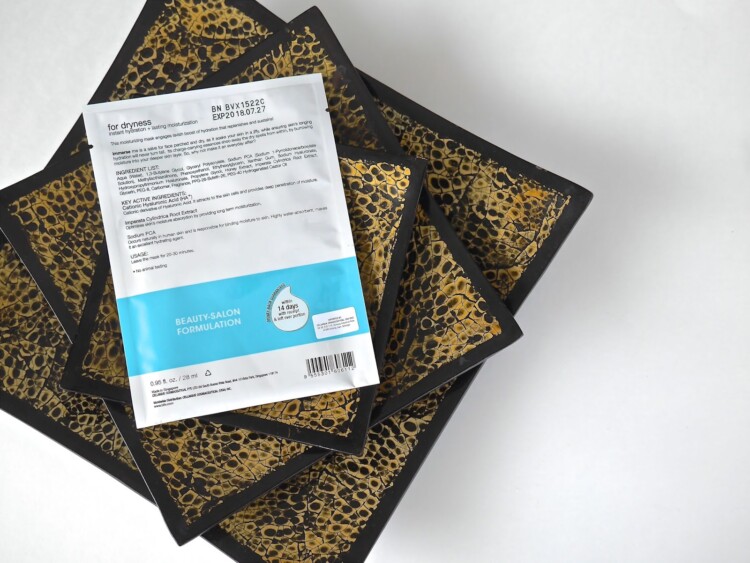 Benefits:
• provide instant hydration
• help skin preserve its optimum moisture balance
• improve skin water retaining ability and provides long lasting hydration
Immerse Me* is a Japanese silk mask and it's thinner than your usual sheet masks and it reminded me of Knock Off Age* (reviewed here). I need to carefully place the mask on my face before pressing it on my skin because it will tear if I try adjusting later.
The first thing that I noticed about this mask is the immense amount of serum that it's soaked in. The mask is extremely wet so I recommend laying down while using this. The first time I used this mask, Mr. Platt looked at me funny and said 'your face is sliding off….'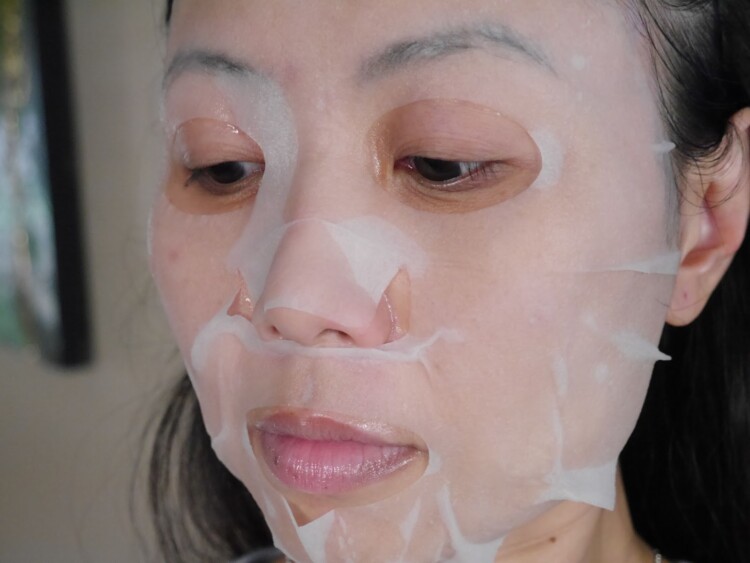 Very, very, veryyyy wet mask
It's suggested to wear the mask for 20-30 minutes but I love leaving it on until it's almost dry on my face. Maybe I'm a fool but it gives me the illusion that my skin is drinking up as much hydration as possible. Once the mask if off, I am left with very plump, extremely smooth and soft skin. I follow up with an eye cream, a facial oil and an overnight mask while skipping my usual serum and evening moisturizer.
Because of the intense hydration that this mask provides, I only use it once a week and right after I do a very deep cleansing to my skin. I will double cleanse to remove my makeup with micellar water followed by a cleanser with my Olay Pro-X, exfoliate, acid toner and finally this mask.
The result? Very clean, smooth, clear and plump skin for almost the rest of the week. I am in love and will definitely be repurchasing this!
Glow & Glory* $25.00/3 pieces (check here)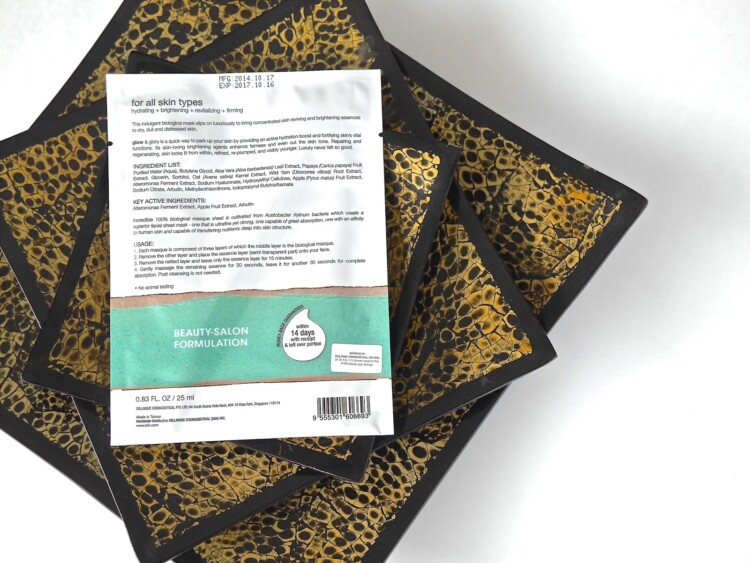 Benefits:
hydrating + brightening + revitalizing + firming
• premium 100% biocellulose facial treatment mask – brings concentrated essence and hydrating benefits to dull, overstressed and dehydrated skin.
• the infusing texture of this mask envelopes the skin in a thermal bath and releases high performance hydrating essences to immediately infuse and retain water in the skin for optimal hydration.
• to reduce grey veil, unevenness and discolourations – to increase the skin's light capacity. immediately skin glows with transparency.
• it helps maintain skin's natural renewal cycle to its optimum condition to allow skin nourishment.
• reviving and relaxing, it leaves the skin noticeably radiant, soft and crystal clear. you can show your skin without fear.
• incredible 100% biological mask sheet is cultivated from acetobacter xylinum bacteria which create a superior facial sheet mask – one that is ultrafine yet strong, one capable of great absorption, one with an affinity to human skin and capable of transferring nutrients deep into skin structure.
No, I didn't make a mistake about the price and the amount that you receive and no, you didn't read it wrong either. This mask is super expensive and I cringed when I saw the price; my head, heart and wallet hurt and felt the pain.
All that said, I have never tried any masks such as this before and that is saying a lot as I've been using sheet masks for many years and this is also not my first rendezvous with biocellulose masks. The essence that this mask is soaked in well, I was taken aback when I first saw it. It was very thick, gooey and frankly, I stared at the mask for a long while because I felt a little queasy just by looking at the essence.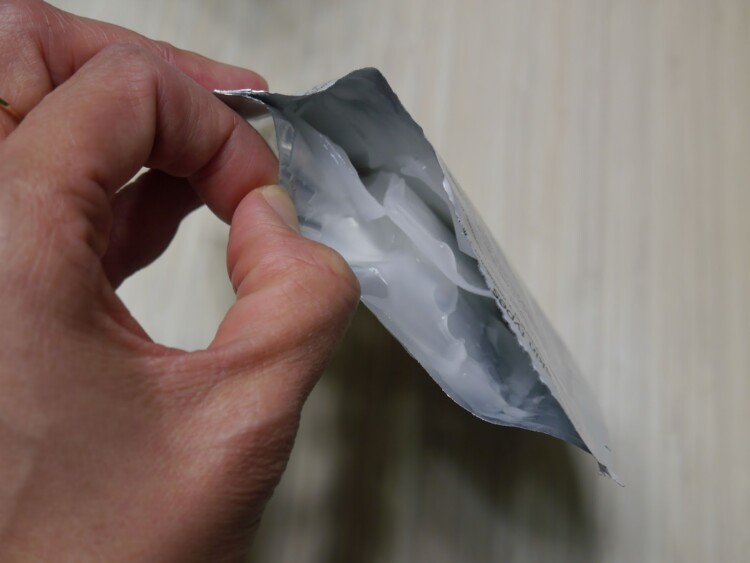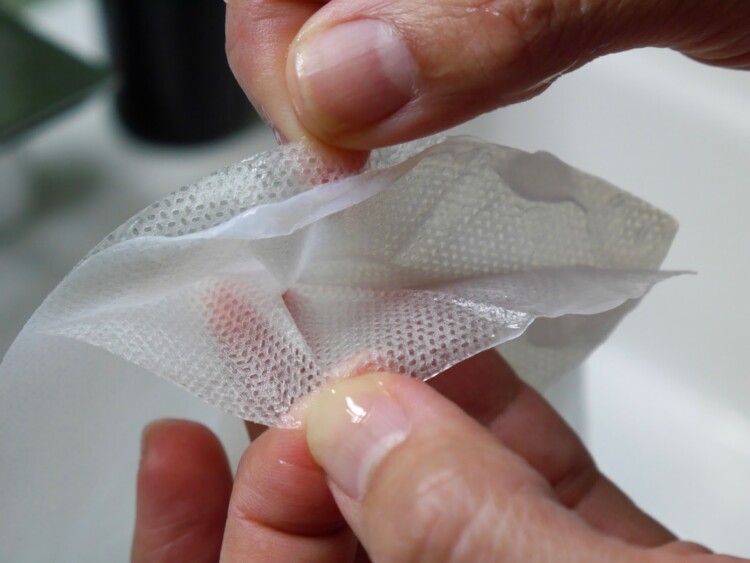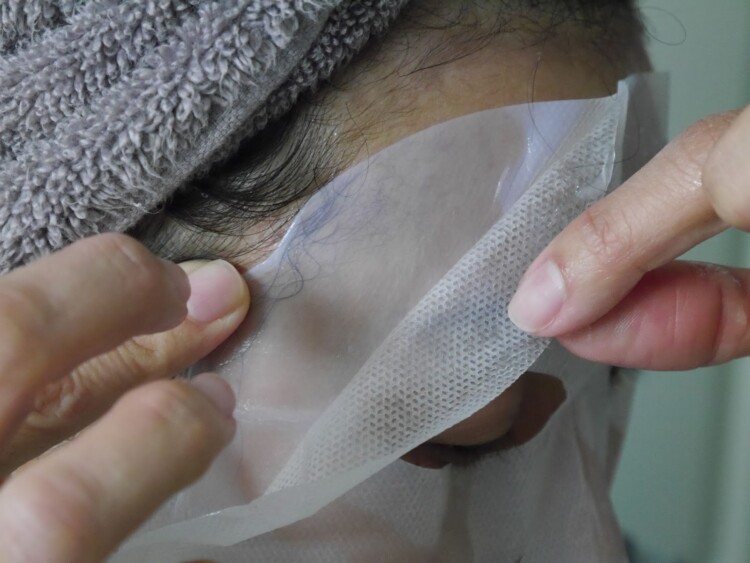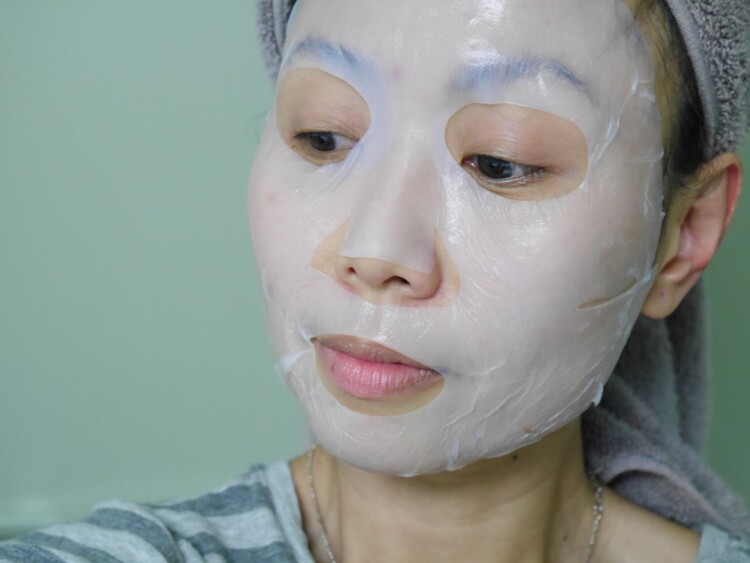 Once I got over the initial grossness, this mask was a pleasure to use. It sits comfortably on the skin and right at the 15 minutes mark, it'll start to dry out on the face. However upon taking the mask off, there is still a good amount of serum left on my skin which I massage into the skin. I am tempted to dip my hand into the package to get the rest of the essence out which I usually do but frankly I couldn't do the same with this. I can't get over how thick the texture is and call me immature but I do feel a little grossed out…okay, I lied, I felt a lot grossed out.
I thought this mask would blow me away, maybe I'll have gold and diamond flakes on my skin but I was left a little disappointed. Don't get me wrong, it's a brilliant mask, my skin looks plump, supple, refreshed and glowing but….I got the same results with Leach Me* (reviewed here) which by the way is cheaper in price and I don't have to force myself to think happy thoughts in order to use it.
In summary, once again I had amazing experience with b·līv sheet masks and while I highly recommend trying Immerse Me* especially if you have dry, dehydrated skin, I do suggest giving Leach Me* (check here) a try before investing in Glow & Glory*.
What are your thoughts on b·līv sheet masks? Are you a fan of sheet masks in general? *I received this product for free but my thoughts and opinions are 100% unbiased, honest and my own. There is no place for any sort of BS here.