I know this palette is no longer available and you've probably seen a couple million reviews on it by now but I had to share my humble opinions on this palette. This will be another long post because I'm covering a few things so grab a coffee, beer, champagne or prosecco and hopefully you'll enjoy the post. I'm going to jump right in and let you know that before we get into the review, I'm going to let off some steam first. Be forewarned, I'm a grumpy old hag in the next few paragraphs.
I was so close to purchasing the eye palette but when I went onto Sephora.com, I saw that the Face Palette was out of stock. The eye palette on the other hand was only CAD$48.00 and I was short of CAD$2.00 for Sephora free shipping so I decided to refrain and wait until the Face Palette came back in stock and purchase both together. Yes, I was too cheap to fork out a little extra for free shipping…and that decision turned out to be one of the wisest that I've done.
But when the damn Face Palette came back in stock, I noticed that f*cking Becca decided to increase the price from CAD$59.00 to CAD$62.00 which instantly ticked me off. This was not a wise decision on their side because it gave me the impression that they hiked up the price to cover the cost of their mistakes with the eye palette. Yes, maybe the price increased because of currency exchange but to do that right after their eye palette was pulled off shelves put them in a more negative light in my eyes.
I still bought it because I thought it was a great value; 3 blushers and 2 highlighters. I told myself never mind that I will have two Champagne Gold highlighters, the other 4 products make the palette worth it. And then Becca decided to stick it up my arse one last time by releasing the f*cking split blusher/highlighter. If I would have known then I wouldn't have bought the bloody Face Palette. Yes, Becca f*cked with me, I am still very bitter about it and I will be highlighting my arse with Champagne Pop till I'm 90. It might even outlive me. Bloody hell…
Rant over and let's get to the review.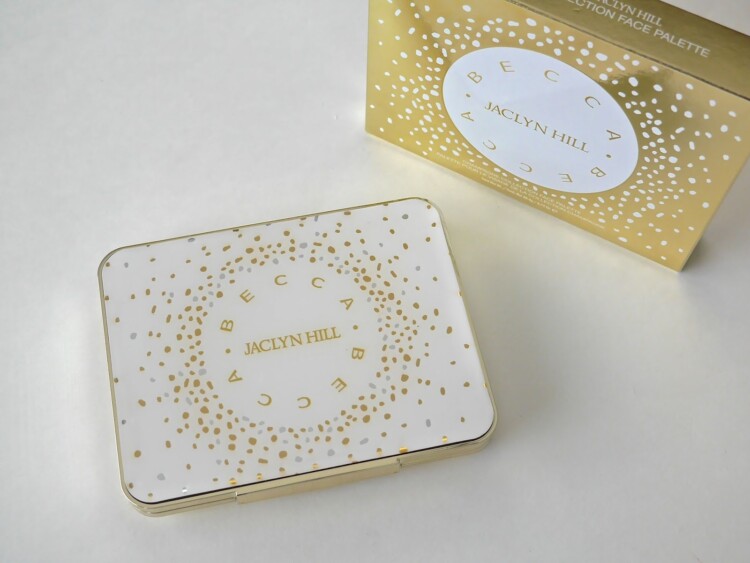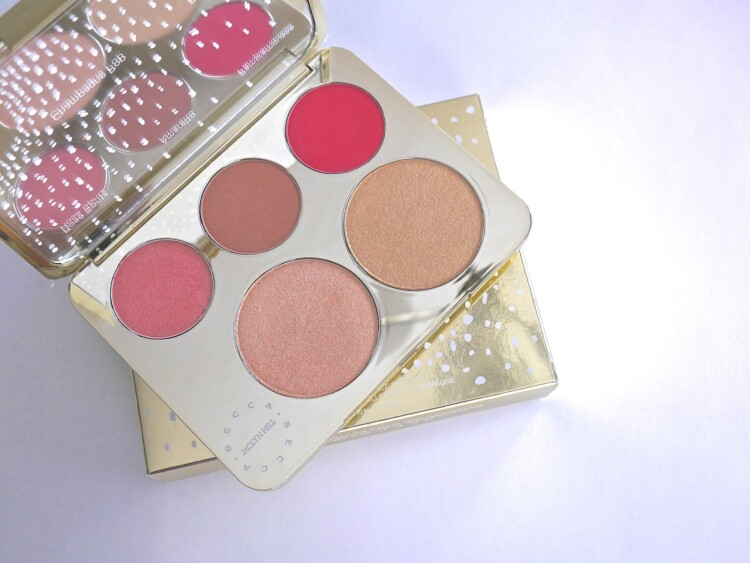 (Top L-R: Rose Sprits, Amaretto, Pamplemousse; Bottom: L-R: Champagne Pop, Prosecco Pop)
For CAD$62.00 this palette comes with 20.4g products and for the sake of comparison, you get 8g of product in the single Shimmering Skin Perfector Pressed which retails for CAD$46.00. So this palette is a good value for your money. The packaging of this palette is without a doubt one of the prettiest that I have in my makeup collection. The palette itself is heavy, well made and definitely not flimsy in any way. You get 3 blushers and 2 highlighters; · Rose Spritz (luminous blush) – pale peachy pink with gold shimmer which is very similar to Nars Orgasm · Amaretto (mineral blush) – matte warm brownish pink · Pamplemousse (mineral blush) – almost matte warm coral pink · Champagne Pop (highlighter) – pale champagne gold · Prosecco Pop (highlighter) – yellow gold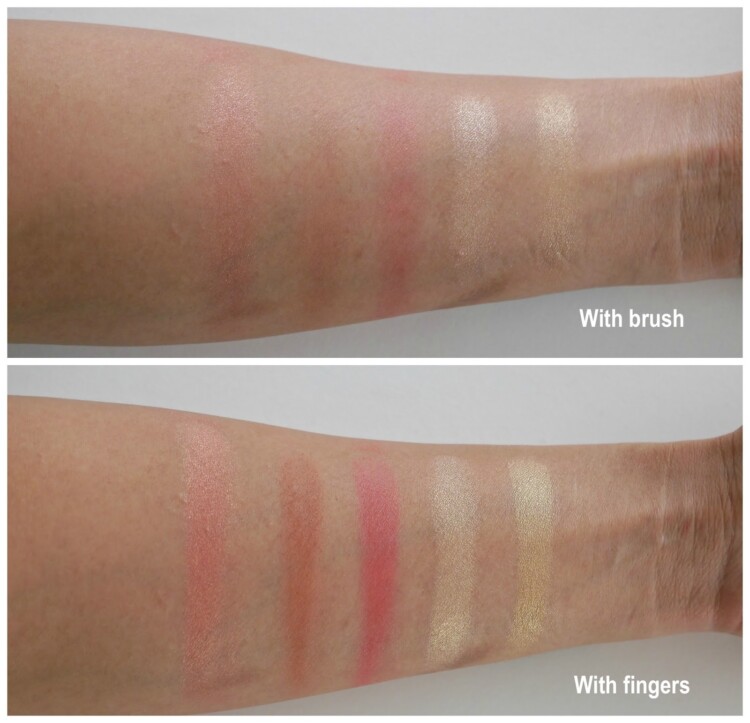 (From L to R: Rose Sprits, Amaretto, Pamplemousse, Champagne Pop, Prosecco Pop)
I know many said the pigmentation from this palette is outstanding unfortunately I don't find it to be so. Maybe it's my skin tone but with the exception of Pamplemousse which is beautifully pigmented and lasts forever on me, the other two blushers barely showed up unless I pile on layer after layer and then 300 more. As you can see above, the pigmentation is great when swatched with fingers but using a brush (Wayne Goss 06 which is similar to MAC 217), the swatch above took 5-6 layering for the shades to show up. Amaretto while beautiful and great for my 'no makeup' makeup days, can be patchy and look muddy if I don't blend it out properly. It also fades within 4 hours regardless whether I wear a primer or not. And Rose Spritz, well, it's a lovelier version of my much hated Nars Orgasm and so far I've only used it as a blush topper because it's very shimmery. At one glance it looks like a great dupe for Orgasm but upon swatch, it's not. Orgasm is a very pale shimmery pink and Rose Spritz is a pale peachy pink with gold shimmer. See below.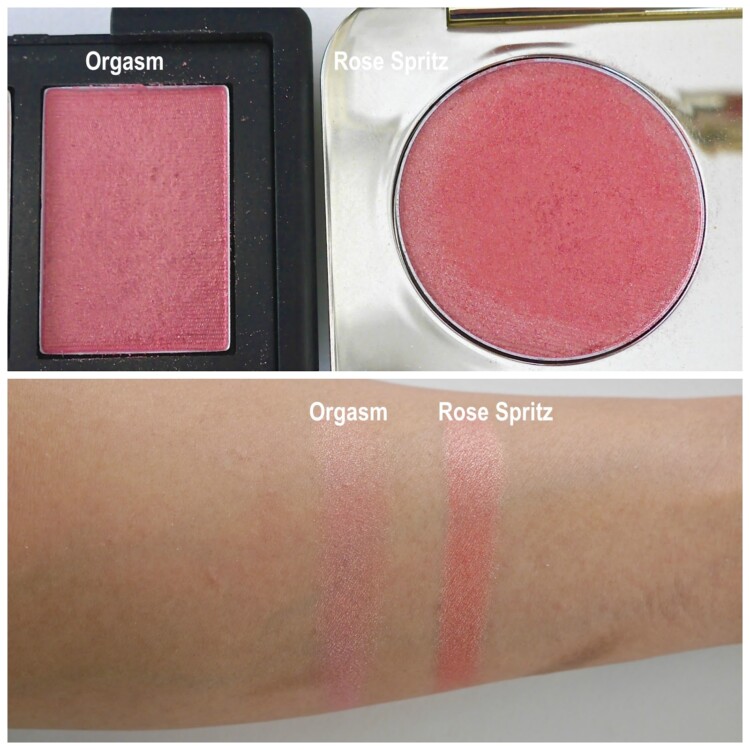 The highlighters are the real winners in this palette, Prosecco Pop is a stunning yellow gold highlighter and initially when this palette arrived, I couldn't use it on its own. It showed up way too yellow on me but as the day progressed, it somehow adjusted to my skin tone…that or maybe it faded or my eyes got used to the stark yellow gold stripe on my cheeks. But now that Summer is almost over and I am super tanned, Prosecco Pop has been my go to highlighter. It's pigmented, buttery soft, blends beautifully and lasts the whole day on me. Onto Champagne Pop in this palette which courted its own controversy as there were many who claimed that the texture and shade is different from the original. I have the original and I did my own comparison, see below.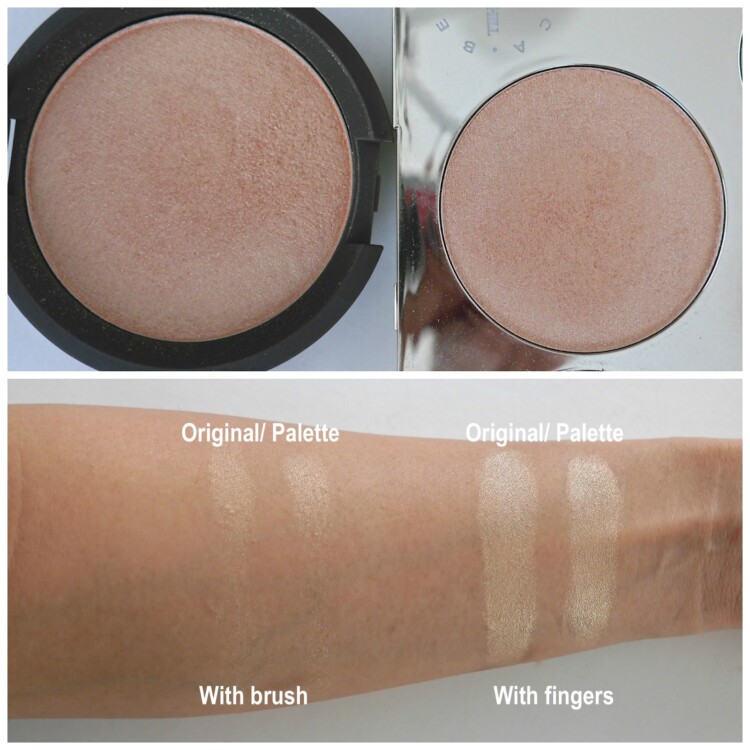 I personally find both to be similar and I don't see the differences between the original and the one in the palette. I also find the texture to feel the same and as hard as I try to find the differences that some have claimed, I don't see it. I hope this review hasn't been all over the place but I thought I would address a couple of things that I've read online and share my thoughts on them. Am I happy with this palette? Yes and no, I am a little gutted that the blushers are not as pigmented as I thought they would be. I can make them work but I hate having to go the extra mile for it. A good palette shouldn't need the extra effort to make it good or at least that's how I feel about it. On the other hand, I am happy to have it as it's a great value for my money. Do you have Becca x Jaclyn Hill Champagne Collection Face Palette? What are your thoughts about it?